This post may contain affiliate links.
We've known for a while that Platform 9 3/4, the secret platform accessible only to wizarding folk departing for Hogwarts, really does exist in London, but it's taken us 6 months to actually get there.
Why? My elder son is as big a Harry Potter fan as you could possibly imagine, claiming to have read the whole series 22 times, you'd think it would have been top of our list.
We've already stumped up the considerable cash to visit the Warner Brothers Harry Potter Studios tour just north of London and found it to be worth every cent. It was worth double the admission price to see my children open the door to the Great Hall, that's the REAL Great Hall, as seen in the movies.
We've also ridden the "Hogwarts Express" in Scotland, which wasn't such a great experience, along with taking a Harry Potter walking tour of London to discover the movie locations, so we're really getting into the Potter theme.
Yet we hadn't made it into King's Cross, an easy tube ride away, to see platform 9 3/4 London, a free attraction. Why not?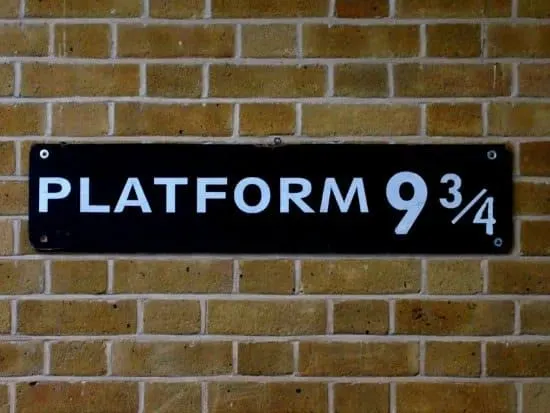 We'd Read Some Bad Reviews of Platform 9 and Three Quarters
Words like "tourist trap", "rip off" and "don't bother" kept cropping up on the review sites for Platform 9 3/4.
Potter fans of all ages had been disappointed and hadn't held back in sharing their disgust online.
Well, stuff the reviews, I like to find out for myself, so we went.
What is Platform 9 3/4?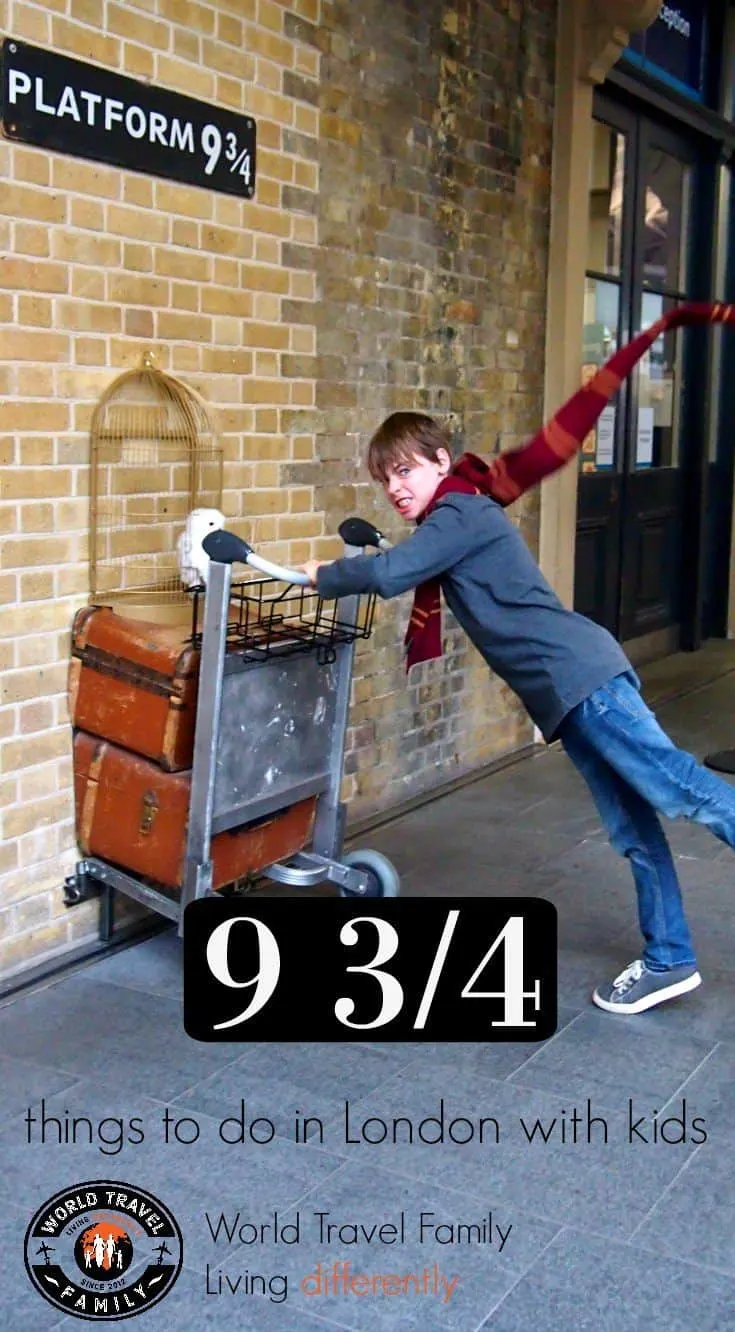 There's not much to it. It's a sign and a luggage trolley made to look as though it's passing into the station wall, just as it does in The Philosopher's Stone. What more could it be?
I've heard that the attraction used to be inside the station, on the platform, but they've moved it outside to reduce congestion, you can see where a new brick wall panel has been added to house it.
Basically, it's a photo opportunity, a fun one.
It's also a shop. Next door, the Platform 9 3/4 shop is the only place in the world you can buy 9 3/4 branded merchandise. So they say.
It's the only Harry Potter shop we've seen outside of the Potter studios, although movie merchandise is available in many shops in London, including Hamleys and speciality fandom shops.
This Harry Potter shop is a destination in itself for Muggle Potter fans, it's beautifully styled after Olivander's wand shop.
This shop was the first Harry Potter wizarding shop in the world.
Yes, this shop is expensive, Harry Potter merchandise is expensive everywhere, I still think it's cool and so did the kids. The shop is small, nothing compared to the huge shop at Warner Bros or the Potter stores in Florida, but it's fun.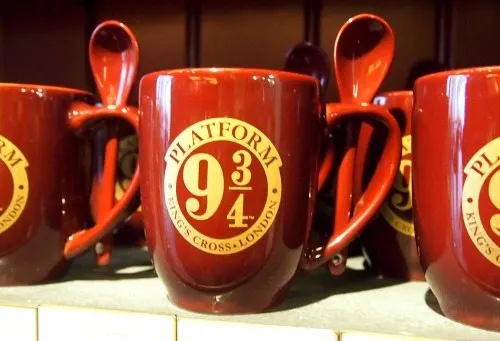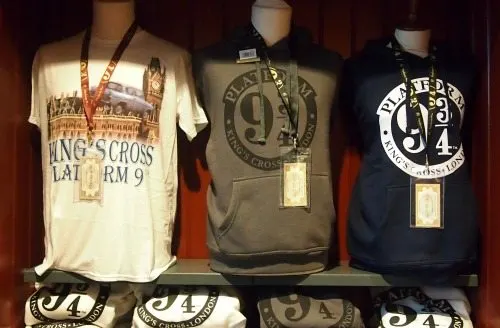 Wait Times To Get Your 9 3/4 Trolly Photo
We visited at 11 am on a wet Wednesday in October.
There were 3 people in the line in front of us. I'd read horror stories of hour-long waits and expected the worst, to find nothing.
Just a few other patient yet excited witches and wizards.
London is a very different place during the long summer school holidays, you'll notice that everywhere, even on the streets. I wouldn't even think of trying to visit 9 3/4 then.
It has been suggested that late at night is the time to get your photos here, no people around, and maybe a few butter beers inside you for optimum action shots.
Butterbeer, as served at Hogwarts School, is available at the studios and, I've heard, in Universal Orlando.
Photography and Photo Cost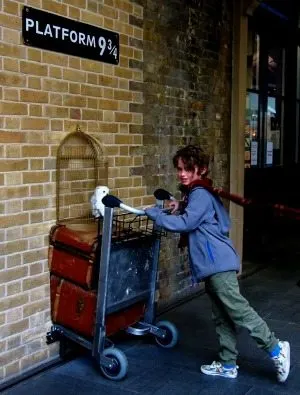 There is an official photographer with an assistant distributing Hogwarts scarves and helping them look wind-blown for your shot, but there is no up-front charge and everyone is free to take their own photos.
If you choose to buy a professional image, they were just under £10.
There was zero hard sell and the atmosphere was fun and laid-back.
Where to Find Platform 9 3/4
Platform nine and three quarters, the sign, trolley, and shop, is inside the King's Cross Station building, under-cover near the other shops and food outlets. If you go through the station turnstiles, you've gone too far. Ask if you can't find it, the staff will help you out.
Kings Cross and St Pancras rail stations are very close together on St Pancras Road, Central London. The two share a tube stop and interlink multiple tube lines. The Kings Cross St Pancras station is the biggest interchange on the London tube system.
There is a real Platform 9 and real Platform 10 inside Kings Cross but there is no brick wall between the two. J K Rowling has said that she chose Kings Cross as the departure point for magical folk heading to Hogwarts because her parents met on a train departing this station.
Our Verdict?
Cool, very cool, a little bit of fun on a wet morning, and a happy memory of London and her unique culture and connections. We think you should go. Take the chance to try these sweets (candies or lollies) too, everybody should try dirt flavour beans (they were 50p cheaper at 9 3/4 than in this London sweet shop).
Have fun, take it for what it is and just enjoy!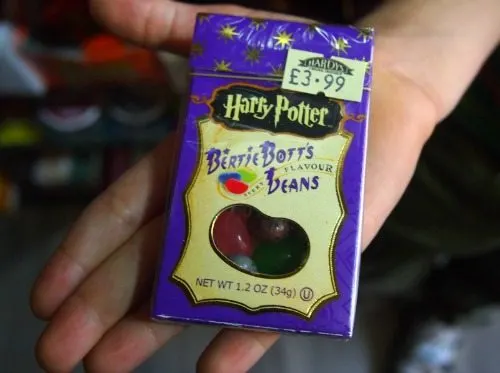 Buy Your Own Platform 9 3/4 Sign
You can buy a Harry Potter Platform 9 3/4 sign online.
Various styles exist. Start your search here.
Harry Potter 9 3/4 Mugs
You can buy Harrt Potter Platform 9 3/4 mugs at the Harry Potter shop in London.
Alternatively you can find various 9 3/4 mugs here.
Platform 9 3/4 is just one of the dozens of London's child-friendly tourist attractions that we have reviewed on this site. Check out the related posts below or visit our London travel directory page.
If you'd like to hire a car during your stay, use this car rental comparison tool to find the best deal!

We also suggest you take a look at this company to get a quote for all kinds of the more tricky adventure or extended travel insurance.

Try Stayz / VRBO for an alternative way to find rentals on homes/apartments/condos in any country!