This post may contain affiliate links.
Singapore with kids – Highlights of Singapore for families and is Singapore a good destination for a family holiday or trip? Tips and ideas for Singapore trips
With Singapore opening up for international travel and being such a major transport hub, we can see a very big future for travel to Singapore. We recently spent Christmas in Singapore, staying on Sentosa Island and in the city itself. Today we bring you kid-friendly things to do in Singapore, for locals, expats, tourists, holidays, and vacations.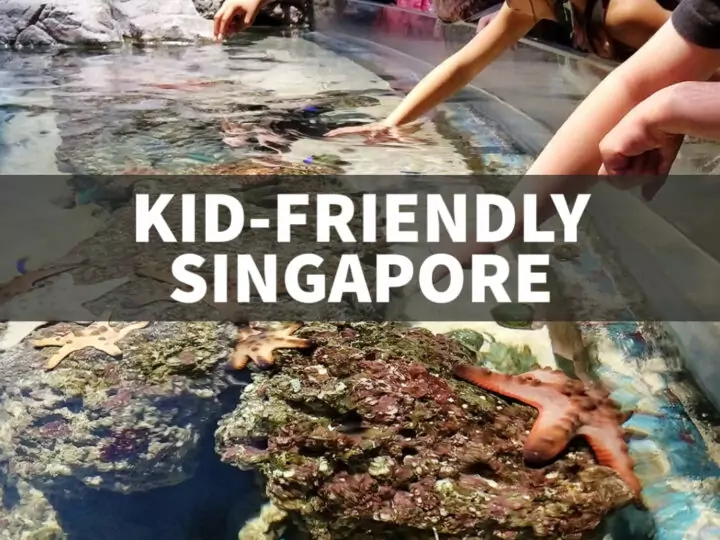 If you'd like to book an amazing family photo shoot in Singapore to remember your special holiday, you can! You can choose one of Singapore's glittering landmarks as your backdrop. Your family will treasure those photos forever, book that here.
---
Leave us a comment. We love to talk to our readers and find out, from you, how we can best help you. We read and respond to every one.
---
Singapore is tiny, but it's absolutely bursting with family activities and attractions, some are free, but many have a price tag.
We walk you through the best things to do in Singapore with kids. Places to see, things to do, fun and cultural activities and explorations.
Our kids were tweens and young teens when we last visited, but we include great options for younger kids and toddlers too.
Family-Friendly Hotels in Singapore
You need to find a hotel with family rooms or suites in Singapore, kids' clubs are an added bonus, babysitting and kids' activities are better again. The most kid-friendly hotels in Singapore include the following accommodation options:
Book the Marina Bay Sands Hotel (the giant boat hotel pictured above at Marina Bay and Gardens by the Bay) This hotel is superb, they can accommodate families, but larger family groups may need to book multiple rooms. Babysitting can be arranged but the facilities here are more adult-friendly.
Village Hotel Sentosa by Far East Hospitality has family rooms (with adequate beds) with a pool suitable for young kids and various activities for guests. Great location near Universal Studios, beaches, and the aquarium. A great family option and not too costly.
Raffles Hotel to experience old-world service. A luxury hotel, larger families may need to book multiple rooms or suites.
Hard Rock Hotel (Part of the Resorts World Complex on Sentosa Island) This Hard Rock Hotel has triple rooms.
Festive Resort (also Resorts World Sentosa) This hotel had family rooms with kid-pleasing bunk beds. We have stayed at this hotel but it seems to not be taking bookings currently.
Telunas Private Island Resort, actually in Indonesia, but a short boat journey from Singapore for over-water bungalows, it's a great spot! The bungalows do accommodate families and there were plenty of activities to keep families happy. The food was great too!
Kid-Friendly Things To Do In Singapore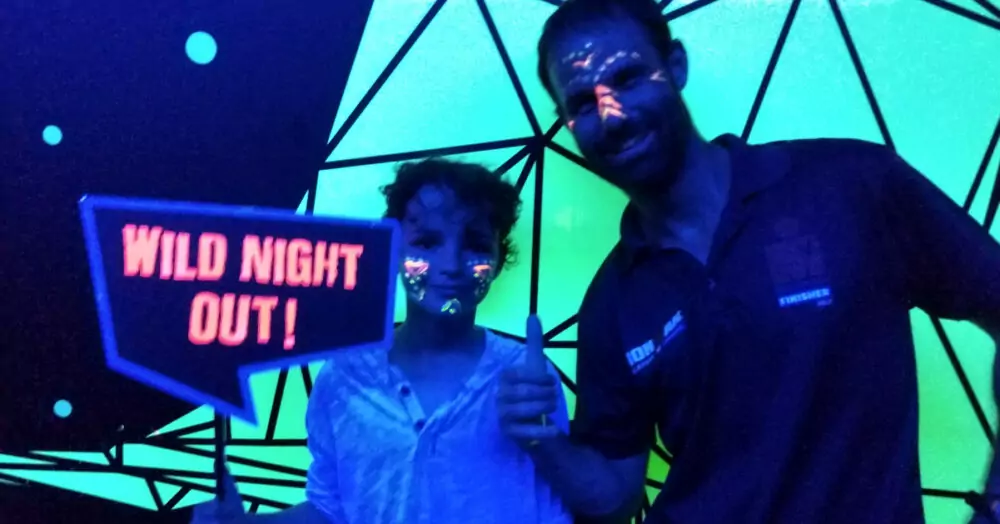 Our kids loved Singapore and we hope your family will love a Singapore vacation too! Here are some of the best things to do in Singapore with kids, and some of the most child-friendly, fun attractions.
Singapore is a fantastic holiday destination with kids and after you've browsed our collection of things to do, take a look at some of the truly child-friendly hotels on offer.
Your Singapore holiday should be one you never forget, and I think we all need a good holiday as the world opens again. I'm heading to Singapore from Australia, the moment I can book a flight!
Singapore will be my stop-over on the way to the UK from Australia and it's the perfect destination to see (or re-visit) this way.
As Singapore is such an expensive destination, in terms of accommodation and attraction admission prices, we suggest you plan your trip carefully.
Keep your time in Singapore short, plan and book your activities in advance to avoid disappointment.
Truly Child-Friendly Hotels in Singapore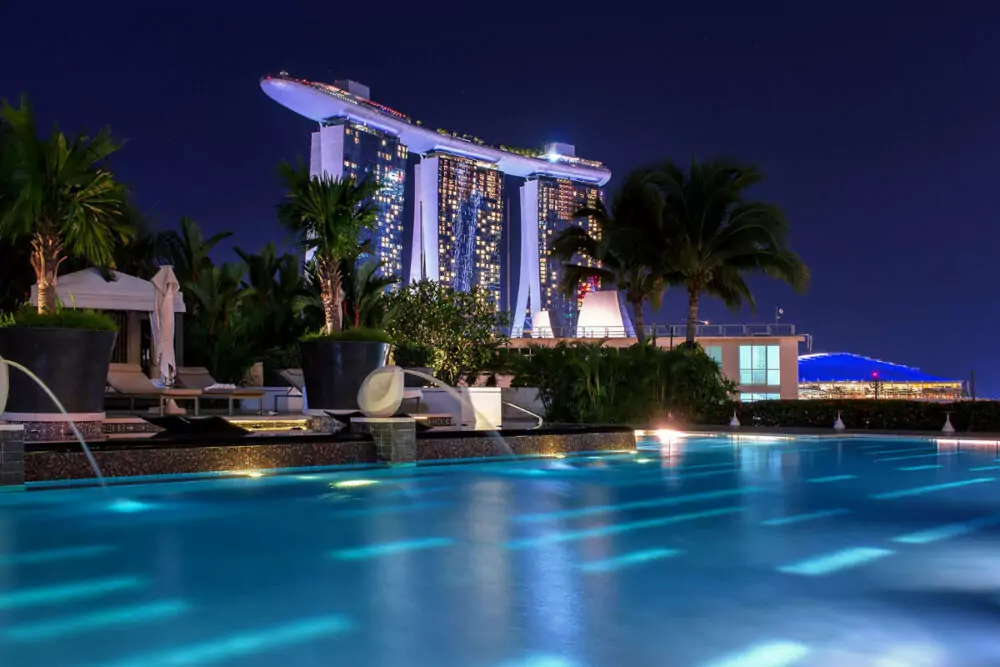 Let's start our post with a quick look at where to stay in Singapore with kids. You'll want to be centrally located, so either near Gardens by the Bay, Between Clarke Quay and Marina Bay, or on Sentosa Island, the local entertainment and leisure hub.
The airport (Singapore Changi Airport) is something of a destination in itself, so allow yourself time to check it out. The drive time from Changi to Sentosa is about 30 to 40 mins, passing through the Marina Bay Sands/Gardens by the Bay area on the way. So it's not too far.
If you're visiting Singapore with kids it really is worth splashing out on a more luxurious hotel with family rooms or suites.
Singapore should be a big-budget family trip to remember, it's worth it.
Shangri-La Rassa Sentosa
The Fullerton Hotel Singapore
Shangri-La Singapore
Raffles Hotel Singapore
Marina Bay Sands Hotel. In the photo above. An icon of Singapore, the famous "boat in the sky" hotel with its rooftop pool and incredible views has a super-convenient central location and yes, it has family rooms!
If you're keeping a closer eye on your spending, there are also family rooms in hostels in Singapore, but these won't be as cheap as in most parts of Southeast Asia.
After years of travelling Southeast Asia with kids, Singapore is absolutely the most expensive destination we've visited.
Getting Around Singapore With Kids
Getting around Singapore with kids wasn't too hard but at times it was expensive.
Even with the efficient tube system, there was a lot of walking. You'll probably want to pack a pram or stroller for little legs.
We often took taxis to more distant Singapore attractions. This was fine for a family of four. Three people were allowed to sit in the back. For single travellers this wouldn't work out as cost-effective.
Food in Singapore – With Kids
Singapore is a famous destination for foodie travel and, like neighbouring Malaysia, is somewhere you can taste just about any variety of Southeast Asian food, along with Asian and Western.
You'll find a lot of Indian food, particularly South Indian, Chinese food, and the Singaporean blend that came about through the mixing of cultures.
For Indian food head to Little India, for Chinese visit Chinatown.
Of course, like anywhere, western food and fast food are easy to find, with many well-known chains having a presence.
Hawker food courts are common in Singapore as they are in Malaysia and these will likely be your cheapest places to eat.
Fine dining is to be had at many of the luxury hotels and in Resorts World Sentosa
Cooking classes and food tours are two of my kids' very favourite things to do in any destination. Sometimes you have to hunt around for tours that will take kids.
Jewel at Changi and More at Changi Airport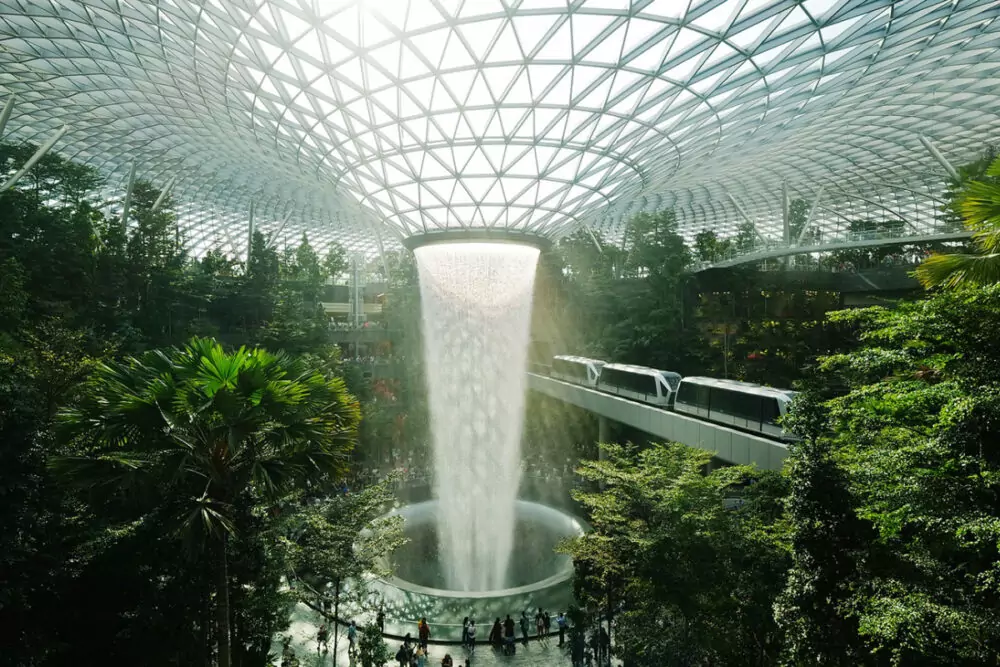 You can enjoy Singapore without even leaving the airport! Singapore's international flight hub, Changi Airport, is located about 20km east of Marina Bay and its showpiece, Jewel, is connected to all four terminals.
Jewel has multiple venues for shopping, dining and relaxation, but it also goes further. You can sample hawker food here and explore Singapore's proud coffee heritage at the coffee museum.
The magnificent rain vortex in the show stopper in an interior tropical garden. If you're lucky enough to be there at night, take in the light and sound show at the vortex.
While enjoying the foliage, visitors can bounce on sky nets, slip down slides and get lost in the mirror or hedge mazes, there is an admission fee for most of these activities, they're not free. You even have to pay to use the giant slide, but admission to Jewel is free, and it is spectacular.
The gardens at Jewel contain over 2,000 trees and 100,000 shrubs, making this one of the largest indoor plant collections in the world.
There is also the 12m slide @T3. This is separate from the Discovery Slides at Canopy Park, the top story of Jewel Changi.
There are minimum and maximum height restrictions for these slides. Check if your child will be able to ride to avoid disappointed kids.
There are also dedicated kids' play areas at Changi, as there are at most large airports these days. You may be able to find some of the following, best to check directly with Changi Airport to see what will be open when you visit.
Dinobounce bouncy castle
Dinokart Go Kart racing at T4 (older kids to 14 yrs)
DinoWanderland at T3
Tokidoki snow holiday at T3
Jurassic Mile
If you just have a few hours of lay-over at Changi you can enjoy these in-airport things to do, or you can even book a free Singapore tour from Changi in normal times. Hopefully, they'll be back soon .
You may need to book tickets in advance for the mirror maze, Canopy Park and Sky Nets at Jewel. Book those tickets and skip the line here.
Gardens by the Bay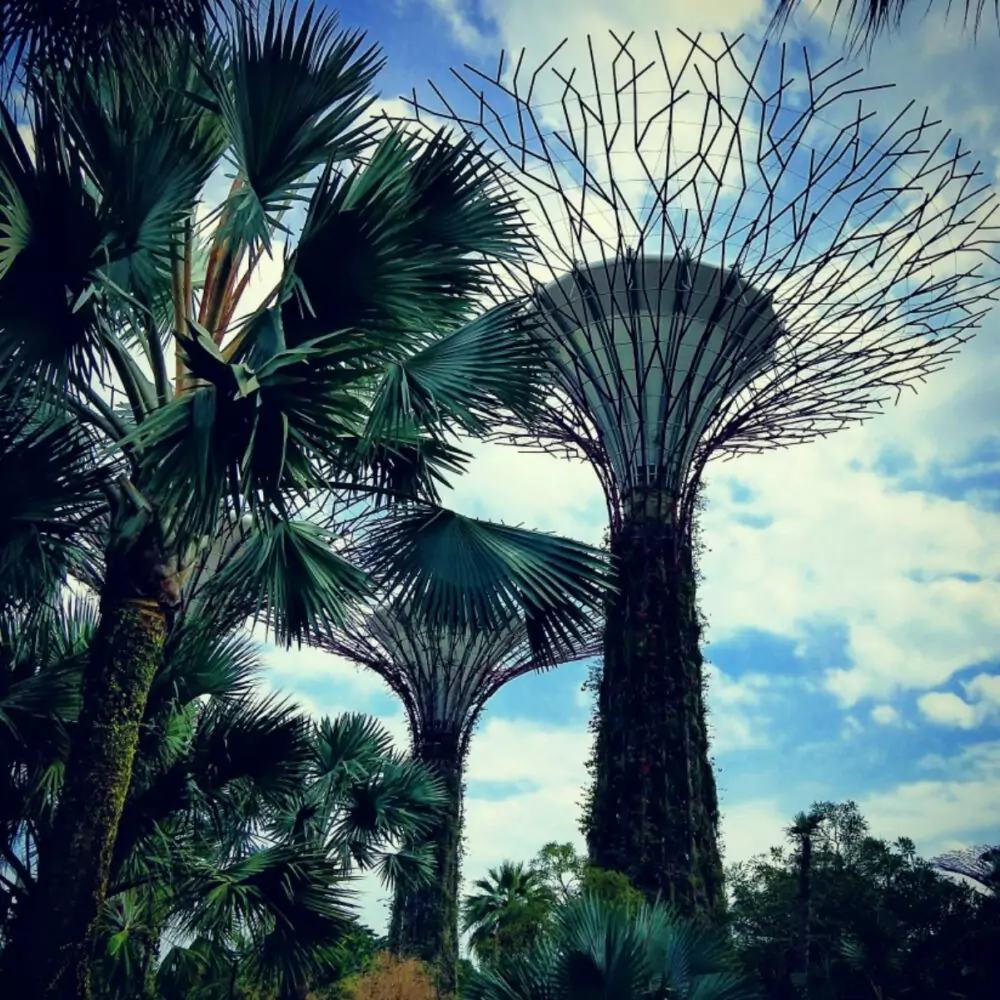 Gardens By The Bay Singapore is where you'll find Singapore's famous supertrees, but there is more to this area than the space-aged, magnificently glowing trees.
There are also some incredibly good kids' playgrounds with water play, and acres of beautifully-kept gardens to explore, along with the Cloud Forest and Flower Dome.
These huge plant-filled glass structures have separate entrance fees. The Flower Dome was hosting a special Christmas exhibition and an Alice in Wonderland themed event at the time we visited.
The actual Singapore Botanic Gardens is elsewhere, a little inland.
Because we visited at Christmas much of this area was fenced off for a Christmas event, meaning we couldn't explore the area fully, but nonetheless, we really enjoyed this spectacular area of Singapore.
Be aware that it's likely to be incredibly hot. Be certain your younger children are coping with the heat OK. The water play area may be a great chance to cool down.
Chinatown Singapore With Kids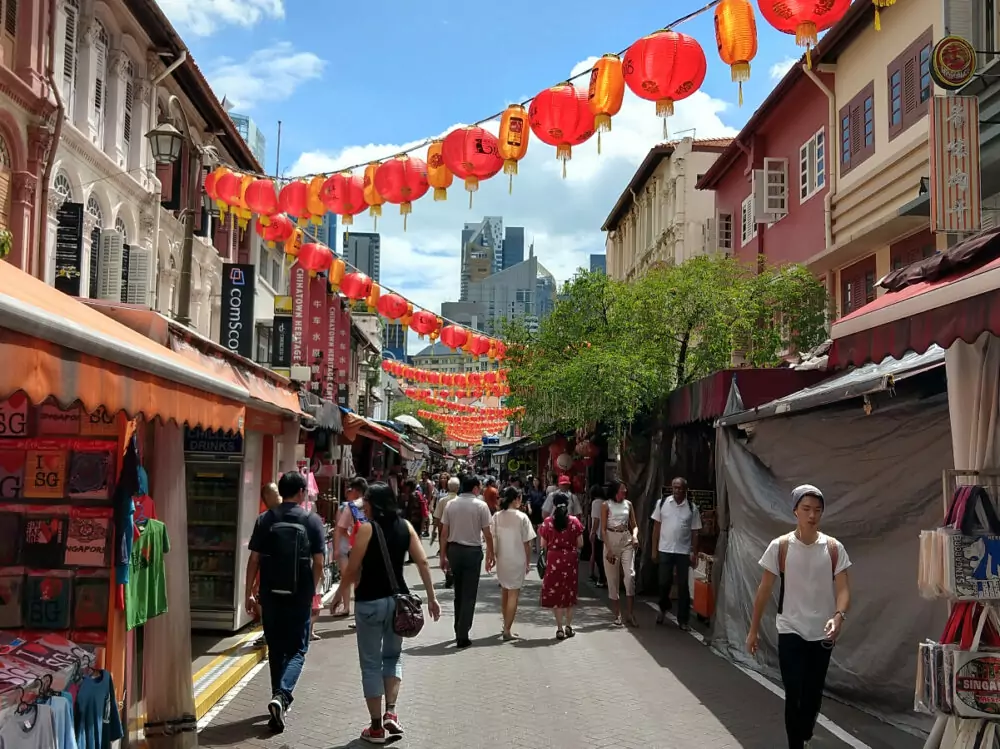 Little India Singapore With Kids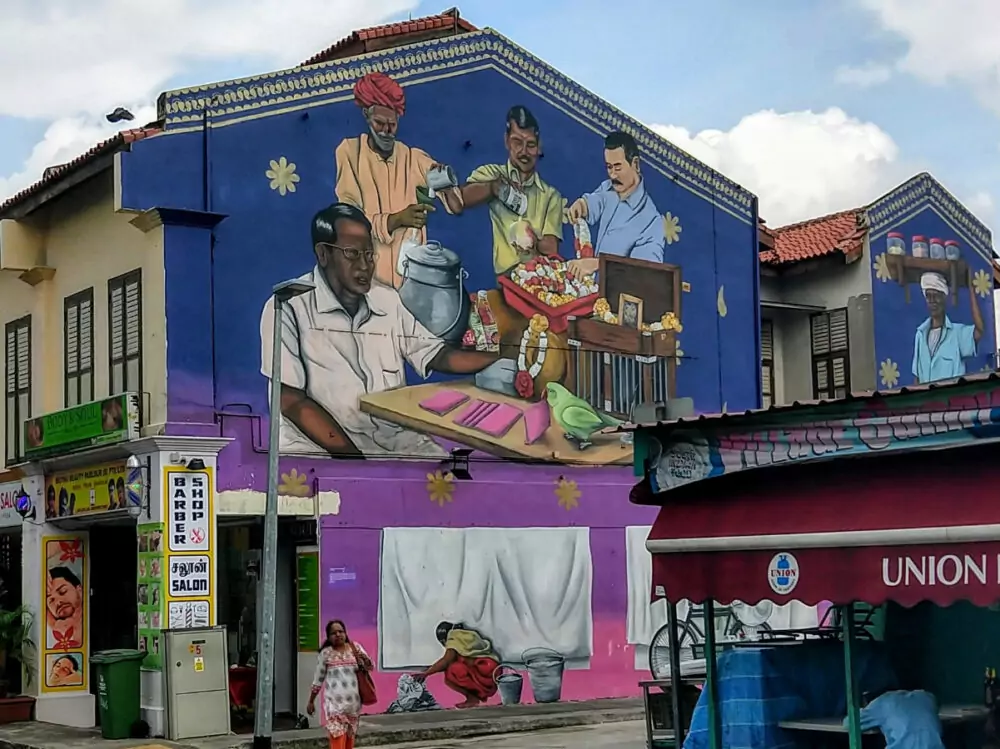 Some of the best food we had in Singapore was in little India. If you want to introduce your kids to real Indian food, come here.
You'll also see some interesting shops, buildings and street art, plus Hindu temples. This is almost like being in parts of India if you've never had the chance to go. But with a distinct Singapore twist.
The Singapore Riverfront With Kids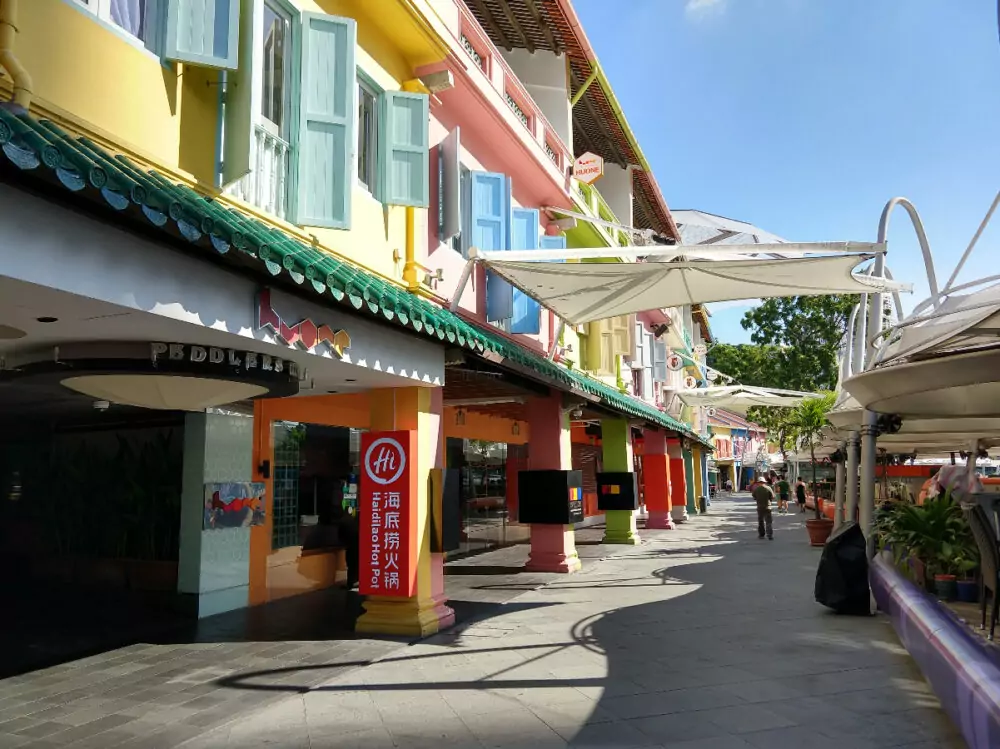 Sentosa Island With Kids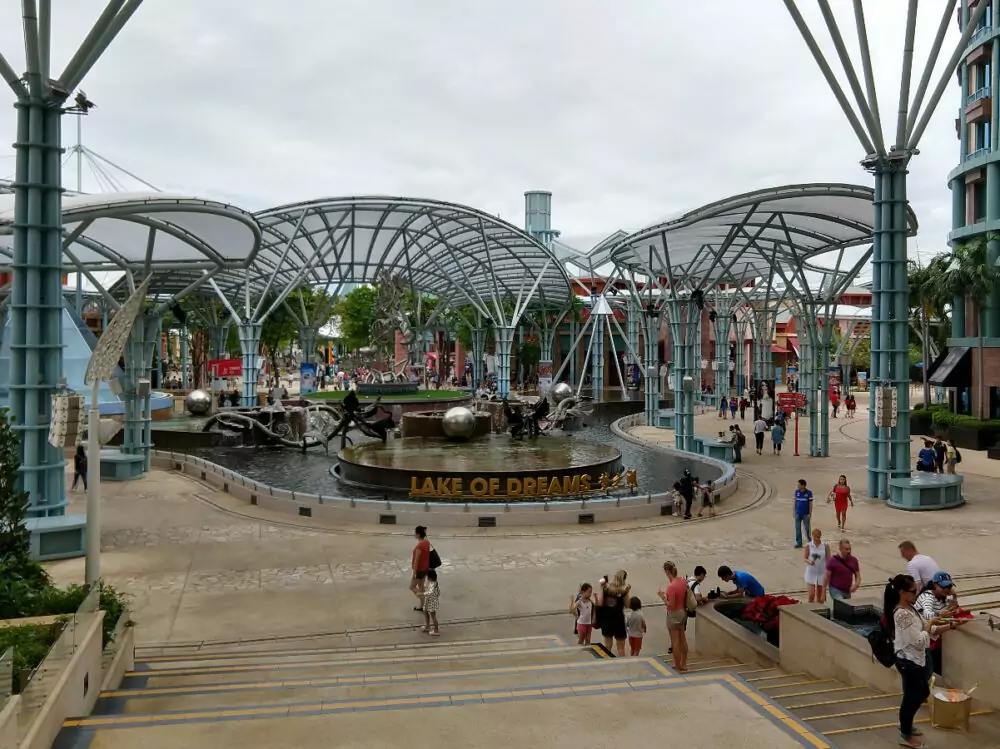 Sentosa Island is Singapore's main recreation hub, home to Universal Studios and the Singapore Aquarium.
Sentosa also has Resorts World, a complex of large hotels, shops, restaurants, The Lake of Dreams, a jetty and boat rides, plus Universal. This area is home to many family-friendly resort hotels, plus beaches. This is probably the best place for families to stay if taking a Singapore vacation.
Singapore Zoo
Singapore has several world-leading animal attractions, Singapore Zoo being one. It can be hard to decide which of these to visit if you can pick only one, but if you have time, see them all!
Should you choose Singapore Zoo, The Singapore Night Zoo, or Singapore River Safari? That's your call.
With children, consider how long and hot these big days out can be. The Night Zoo is very good, but don't take kids who will be falling asleep at that hour!
Singapore Zoo is set in lush tropical surroundings and is widely considered to be one of the best zoos in the world.
Singapore Night Safari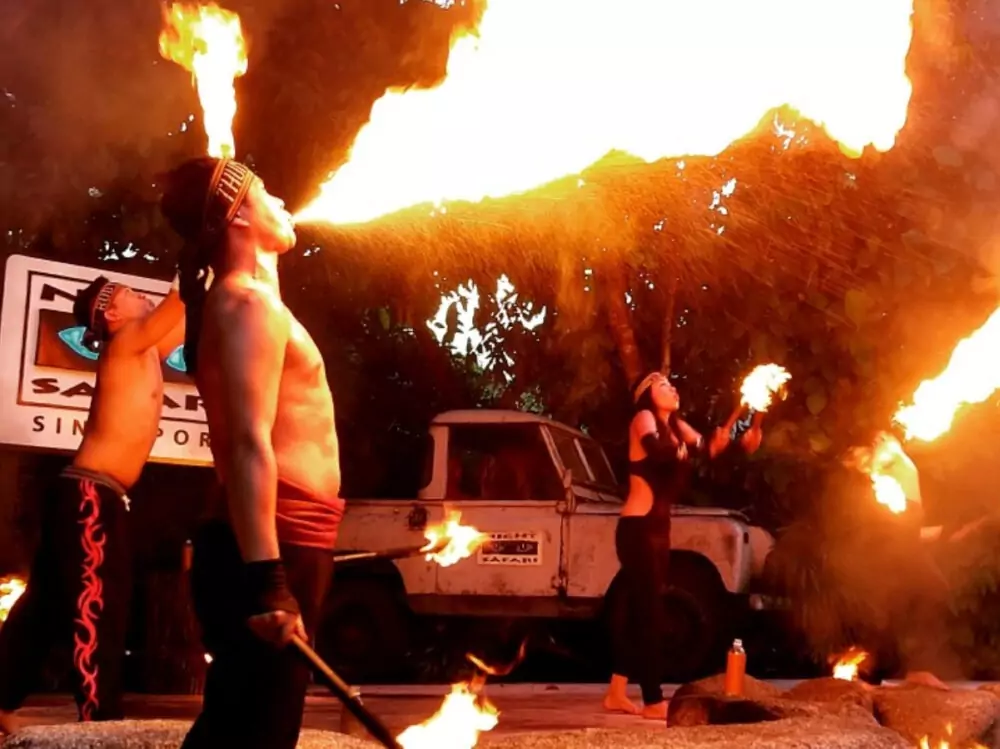 The Singapore Night Safari was even better than we thought it would be!
Your evening in the park features nocturnal animals, as well as the usual elephants, lions, and the fairly local tapir.
We particularly enjoyed seeing the nocturnal fishing cat and clouded leopard by night. Visitors tour part of the park by foot, other parts by a zoo vehicle, we also enjoyed some glow-in-the-dark face painting.
This is absolutely the best thing to do in Singapore, at night, with older kids or tweens.
However, if your children can't stay up late and may fall asleep and miss the tour, maybe wait until they are older. This tour also allows you to dodge the daytime heat, somewhat.
Getting to the Night Safari was quite difficult. We took a taxi there and back, adding to the cost. The drive time from Sentosa Island to the Night Safari was over half an hour in heavy traffic.
SEA Aquarium
The SEA Aquarium is situated on Sentosa Island and is a magnificent world-class aquarium.
It's one of the very few places in the world where you can see manta rays in huge ocean tanks. As with the Dubai aquarium, the main aquarium wall is vast.
In fact, the S.E.A Aquarium was the world's largest aquarium tank at 45,000,000 litres in volume.
We enjoyed our visit to this aquarium, but it was fairly brief, taking less than half a day. This aquarium should be an easy walk from your Sentosa hotel or from Universal Studios.
Singapore River Safari Now Called River Wonders Singapore
River Wonders claims to be Asia's only river based theme park.
River Wonders recently welcomed a baby giant panda cub. That's great news! You can see Li Li if you visit at the right time. Please check with the park for times this little wonder will be available for viewing.
Zones such as the Amazon and Yangtze River feature typical land and aquatic mammals, fish, and reptiles. Visitors can also experience dinosaurs at this park at the time of writing (they're not real!)
Haw Par Villa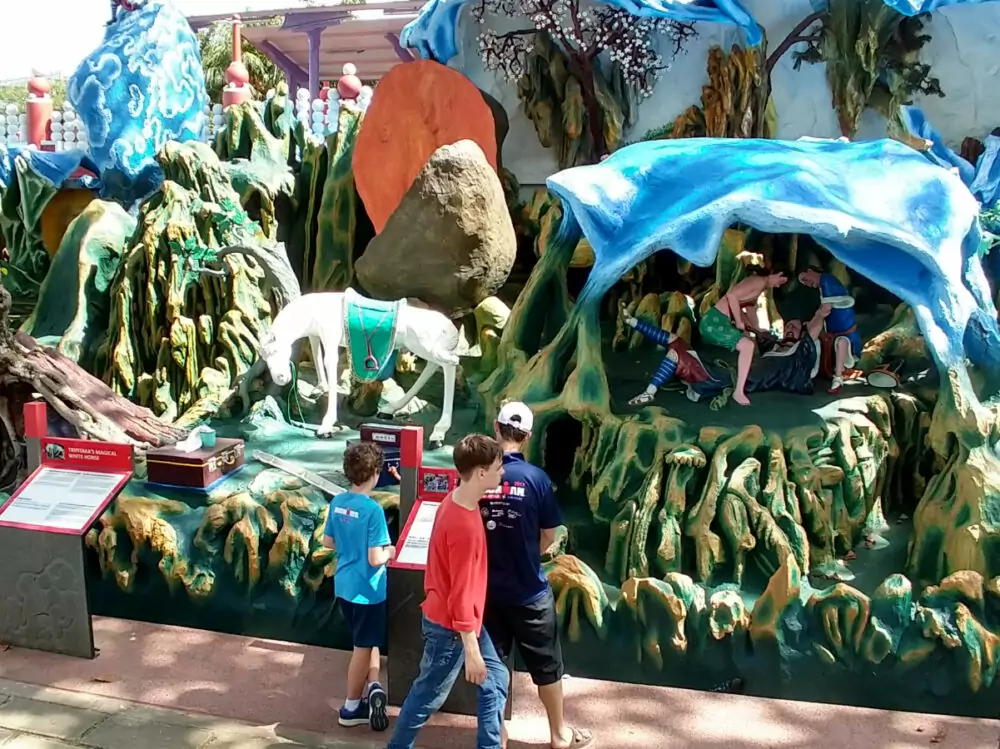 Haw Par Villa was free and one of our family's very favourite Singapore attractions.
If you were a fan of the Asian TV series "Monkey" you must go here.
This leisure park was created by the family that created Tiger Balm, it includes some fairly grizzly depictions of Hell and eternal torment, so go carefully with small or sensitive kids.
The "Hell" area is a separate display and you can easily not enter.
Universal Studios Singapore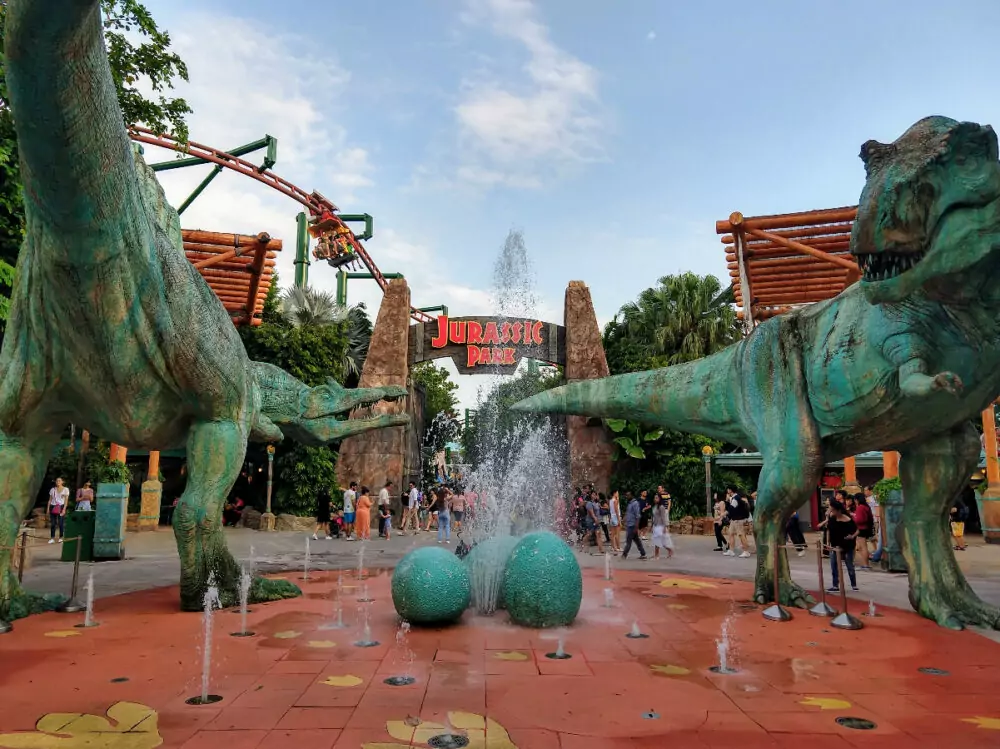 Singapore's main theme park belongs to the Universal Studios chain of Theme Parks, and it's a good one! This theme park is one of the centre-pieces of Sentosa Island, making a Sentosa hotel the perfect place to stay.
The park isn't huge, probably because space is so tight on the island, but it packs in a lot of white-knuckle rollercoasters, thrill rides, plus some gentler themed rides and attractions.
We particularly enjoyed the areas devoted to Jurassic Park and Ancient Egypt. This park is better suited to older kids and teenagers, for younger kids, Legoland Malaysia isn't too far away.
We stayed at Sentosa and were able to walk to the theme park and easily take an afternoon break in our hotel room, before returning to the park in the evening.
Legoland Malaysia
Legoland Malaysia isn't in Singapore of course, but it's just over the border. If borders open, and you are able, it's worth considering a trip to Legoland Malaysia from Singapore, particularly if you have younger kids.
We've been able to cross this border by bus in the past.
The Legoland Malaysia Park comprises a theme park with more child-friendly rides than those at Universal Singapore. The Legoland water park is right next door and you can even stay at the Lego-themed resort hotel.
We think Universal is better suited to older kids and teenagers as there are some real white-knuckle rollercoasters.
The Singapore Merlion
Everyone needs to see a giant, water-spouting, statue of a Merlion!
Merlion Park, home to the Merlion, is on the Marina Bay at the end of the Singapore River, near the Fullerton Hotel.
Singapura, lion city, and the close links with the sea are reflected in this symbol of Singapore
The Merlion fountain is on the water's edge with great views of The Bay, but there are other Merlions in Singapore. The version with laser eyes was on Sentosa, but we've read that this one is now closed.
The Museum of Ice Cream Singapore
This could be a good one for a hot wet day. Check out the Museum of Ice Cream, Singapore.
This attraction is an international chain with other branches in the US.
Jurong Bird Park
Jurong Bird Park, "Asia's Largest Bird Paradise" is home to thousands of birds from diverse species and is, again, set in beautiful surroundings.
Like the other zoo and safari attractions listed above, this park is owned and operated by the Mandai Wildlife Group.
Madame Tussauds Singapore
We haven't visited the Singapore branch of Madame Tussauds, but we have recently visited the branch in Bangkok.
Don't write this off, my teen and I absolutely loved Tussauds. I think this one is better for older children as they'll know who more of the figures are.
Sentosa Beaches
Yes, Singapore does have beaches!
Tanjong, Palawan and Siloso Beaches are to be found on the coast of Sentosa Island, Singapore's massive recreation hub.
The three beaches are really one long beach, 2km of sand, and is entirely man-made with imported sand.
Other Beaches
Singapore does have a few stretches of beach outside of Sentosa, Changi Beach is one.
Then there is also Punggol Beach, St John's and Lazarus Islands (reached by boat and bridge respectively)
East Coast Beach is another man-made beach.
Crocodile sightings have been reported.
Indoor Playgrounds for Kids in Singapore
Indoor, airconditioned, play facilities are fairly common in Singapore and are a great choice in this climate.
Check out one of these play options, Bouncing Kids Indoor Playground, The Polliwogs (Suntec City, Vivocity), Paroro Park Singapore (Marina Square, near Marina Bay Sands), Cool De Sac (Suntec City), Buds by Shangri-La (Shangri-La Hotel), Kiztopia (also Marina Square near Gardens by the Bay, and Amazonia Singapore (Great World City).
Other Things To Do in Singapore With Kids
There are so many things to do in Singapore with kids and for families that we can't write them all up in detail. But we try!
Here are a few other options for activities in Singapore for families and kids.
Hydrodash Floating Water Park at Palawan Beach
Singapore Botanic Gardens
Skyline Luge on Sentosa Island near the beaches and Resortsworld Sentosa.
Jacob Ballas Children's Garden
Singapore Science Centre
Singapore Cable Car
Singapore Waterpark
Pulau Ubin
Jurong Lake Gardens
MacRitchie Reservoir
Sungei Buloh Wetland Reserve
Sentosa 4D Adventureland
Singapore Natural History Museum
Raffles Hotel in the city's Colonial District.
Fort Siloso on the west end of Sentosa
Fort Canning
Chinatown Heritage Centre
East Coast Park
ArtScience Museum
Take a ride on a trishaw
Captain Explorer DUKW Tour
AJ Hacket Sentosa Skypark, Bungy and giant swing. To watch or walk the Skybridge
The Singapore Flyer giant observation wheel.
Mega Zip Adventure Park
The National Museum of Singapore
The Singapore Discovery Centre
3D Art at Trick Eye Museum
Segway rides at GoGreen Eco Adventure on Sentosa
Bedok Reservoir Park, Forest Adventure .
Jurassic Mile Dinosaurs
Trampolining
Visit the Buddha Tooth Relic Temple & Museum in Chinatown
Sri Mariamman Hindu Temple is also in Chinatown
Singapore Butterfly Park & Insect Kingdom
That's our take on things to do with kids or teens in Singapore on your trip or vacation. We're back in Singapore very soon to try more family-friendly Singapore attractions. Singapore is one of the hottest places to visit in Asia for families, enjoy your trip!
If you'd like to hire a car during your stay, use this car rental comparison tool to find the best deal!

We also suggest you take a look at this company to get a quote for all kinds of the more tricky adventure or extended travel insurance.

Try Stayz / VRBO for an alternative way to find rentals on homes/apartments/condos in any country!