This post may contain affiliate links.
We were lucky enough to be able to visit the brand new Legoland Water Park Malaysia near Johor Baru just a couple of weeks after it opened. We spent the previous day at Legoland Malaysia (review here) and loved it , time for round 2, a day of splashy, wet family fun in the tropical heat of southern Malaysia. A Legoland water park review, from us, a family who loves to travel and spend time in theme parks.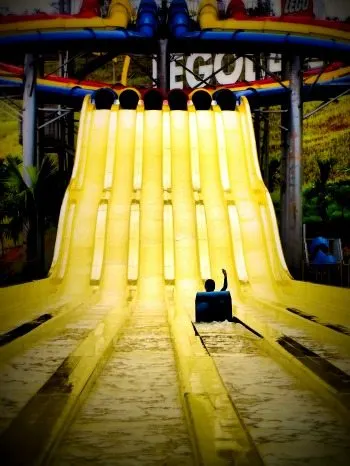 We stayed at little hotel near the parks (review here), the Lego site is a long way out of Johor Baru, we'd recommend you do the same.
You can check here for current Warm Blanket Hostel prices and availability for the absolute best value accommodation, we used this place and would use it again.
If you're looking for something more upmarket, you can find a few recommended hotels near Legoland in this post.
Could the new water park measure up to the fun we had at Legoland?
Review of Legoland Water Park Malaysia
I'm not a thrill-seeker, I'm a bit of a coward when it comes to plummeting at great speed towards my doom. I also get nervous about my kids going on big rides, I'm a worrier, but we didn't have that problem here at all.
The water slides have been thoughtfully designed for a family crowd, the big rides were plenty big enough to be exciting for the kids and me, but nothing terrifying.
We went on all of the rides, again and again. It was perfect!
The park isn't huge but it's a good size. It wasn't so big that we got lost or found ourselves miles from our locker. It was pretty much spot on for us.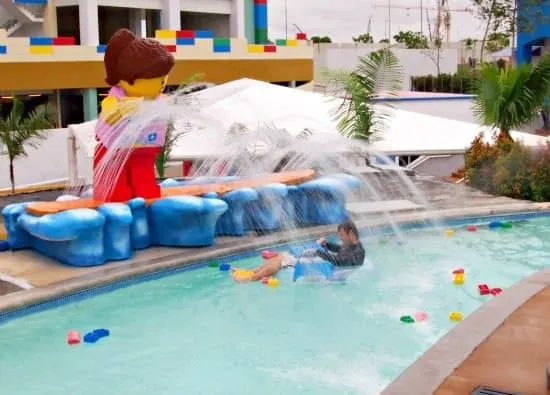 There is a good choice of rides and slides, you can wiz around on mats, boats and rubber rings as well as float genteelly in the large wave pool or on the build-a-raft river.
Legoland had life jackets to give out to non-swimmers in the wave pool when we visited.
Wait times weren't bad and there were plenty of lifeguards to keep an eye on everything.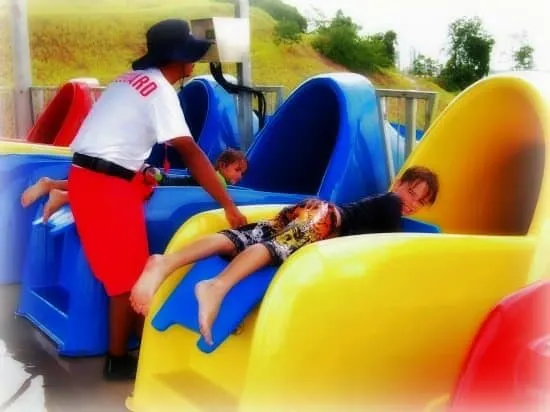 There is food in the park, gloriously junky. More of those gloopy cheesy potato wedges for me please!
Like Legoland, the water park sells Ribena, we've all re-discovered how good Ribena is thanks to Lego.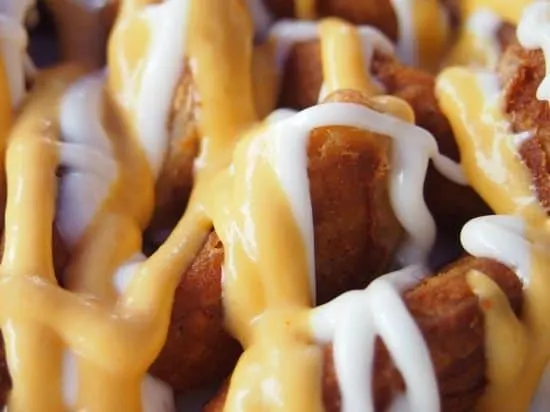 At the centre of the park is a huge children's water play area, possibly the biggest I've ever seen.
My boys (7 and 9 years old) spent hours in there.
It would be absolutely fine for smaller children under supervision.
There are small slides, water squirters and, of course, the giant Lego bucket of doom!
We loved that having gallons of cold water poured over our waiting heads every few minutes.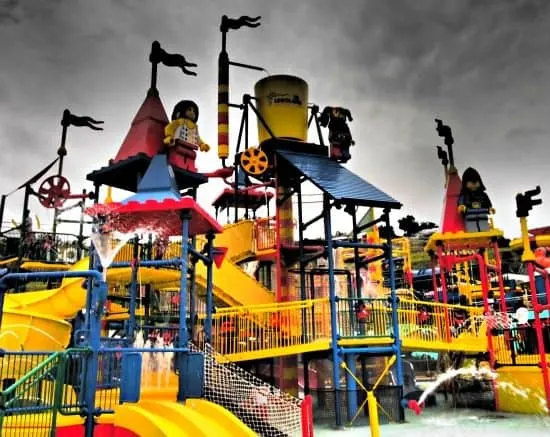 Wait for it!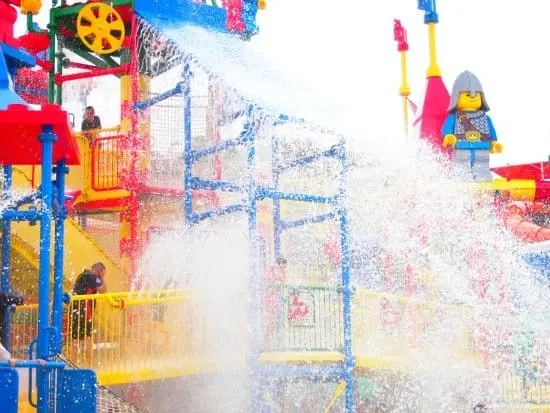 Our Tips For Visiting Legoland Water Park Malaysia
Lots of sunblock and keep reapplying. We were there on a really cloudy day and still the children went home with red faces.
They kept swiping at their eyes to get rid of water and took most of their sunblock off at the same time
.I didn't realise until it was too late. There's not much shade, but you can hire little shade cabanas for the day.
You don't have to leave shoes in your locker, you can take flip-flops into the park, it's less slippery in shoes than in bare feet.
There are racks to stash shoes near some of the rides.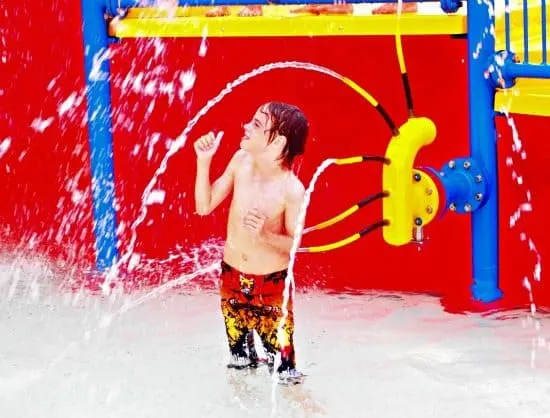 If you have a nylon/lycra rashie, wear it. Some of the lifeguards didn't like my son's cotton top, he had to take it off occasionally.
You should be fine in tight nylon.
When choosing attire for Legoland Malaysia, think about the sun and pick accepted fabrics for swimming pools, there was some confusion over this when we were there, new employees weren't adequately trained in swim attire recognition.
Think about who's finger prints you'll use to open the locker. The same person will be going to the locker each time.
I tried to unscrew my hand and give it to the husband so he could go, but it just didn't work!
Some surfaces are slippery under foot, walk carefully and keep a close eye on your children.
The Legoland Water Park Was a Good Day Out!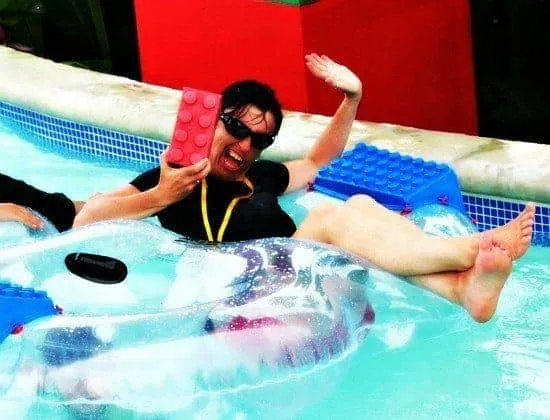 As with all the Lego parks, the theming is fantastic, we love all the little Lego touches.
It's a great water park for a family audience and that, as with Legoland next door, is exactly what they've set out to achieve.
It's not about parents watching kids have fun, the whole family has fun here. Well done Lego!
Find Latest Deals on Hotels, Guest Houses and Hostels Around Legoland Malaysia, Here!
Admission Ticket Price For Legoland Water Park Malaysia
The combo ticket price for admission to the Legoland Water Park in Malaysia covers entry to the main Legoland theme park plus the SEA LIFE aquarium, the price for foreign adults is different to the price for people from Malaysia and Singapore. Kids under 3 years old are free.
You can also buy a one day pass for just Legoland Waterpark Malaysia. This is also free for children under 3 years old, with the cost depending on your nationality. This is very common practice in Malaysia.
You need to go to Lego's own website to book these in advance but the website often doesn't work. You may have to buy your tickets on the door.
Head back to our main Malaysia travel blog, here.
If you'd like to hire a car during your stay, use this car rental comparison tool to find the best deal!

We also suggest you take a look at this company to get a quote for all kinds of the more tricky adventure or extended travel insurance.

Try Stayz / VRBO for an alternative way to find rentals on homes/apartments/condos in any country!