Last Updated 16/07/2021.
We keep coming back to Bangkok because we love it. Also because this city is a transport hub for Southeast Asia. That title has shifted towards Kuala Lumpur recently with the rise of Air Asia, but Bangkok is still where you need to be for overland connections. Bangkok is also usually cheaper than Kuala Lumpur, so we would prefer to hang out here for a few days than in Malaysia. Thailand has amazing food, of course, so it makes a great place to stay while you sort out onward travel. One of the areas we enjoy staying in is Silom. We'll take a look at Silom below, is it a good place to stay, what is there to do there and hotels guest houses and hotels in Silom.
Silom v Khao San Rd. Area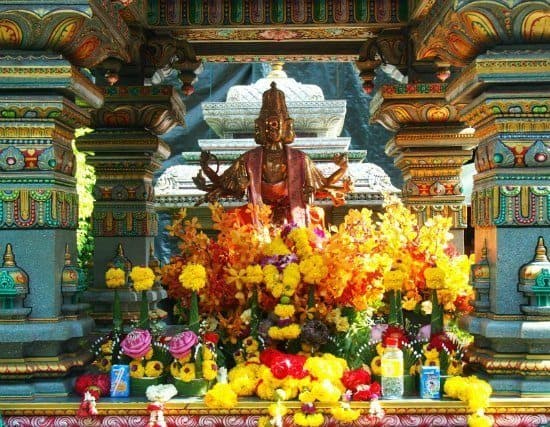 We adore the Khao San Rd. area and up 'till now we've always stayed in that part of Bangkok. It's not everybody's cup of tea, but we love the crazy backpacker vibe, the clothes stalls, the souvenirs and all-round energy of that part of town.
Circumstances lead us to try something different and Silom has won us round very quickly, we thought we'd be taking tuk tuks over to our old favourite within hours of arrival, not so. We hanging out in Silom.
Souvenir stalls and wandering street sellers are much thinner on the ground in Silom and you don't see the carts laden with bugs-on-a-stick at $1/photo or dodgy pad-thai. Instead, there is great food and plenty of it. The stalls and tiny pavement restaurants seem to never end and everything we've eaten so far has been good and cheap.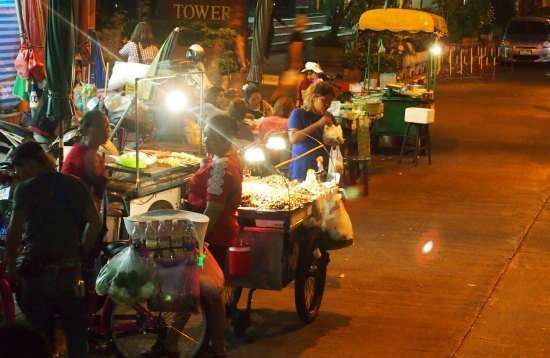 It's cleaner too, you can eat without that characteristic Khao San aroma of cat pee. In places all you can smell is flowers strung ready to make beautiful offerings in the Hindu temple at the end of Pan Rd.
In Silom your food dollar goes further and quality is better. We find that hotels, guest houses and hostels are a little more expensive over here, but standards are higher. Bangkok is more expensive than most other parts of Thailand ( excluding popular tourist beaches, of course) but it's well worth the extra few dollars.
Favourite Silom Hostel
Cheap hotels and guest houses are fewer over here, but what we have found are some really good hostels. We've stayed in a four-bed family room in Mile Map Hostel (click through to check prices and availability. It gets busy, so book in advance). This one is on Pan Rd, and there are other good hostels in the area.
We are seeing a few hostels that don't take children as we continue to search. Mile Map is a particularly good choice for families as on our last visit one child under 12 could stay free in existing bedding.
You will benefit from a shared kitchen here and the shower rooms are kept exceptionally clean. There are endless food stalls and there was a good vegetarian place, right on your doorstep.
We love the atmosphere that stunning Hindu temple brings to the area, the flower garlands on the street corner are something to see.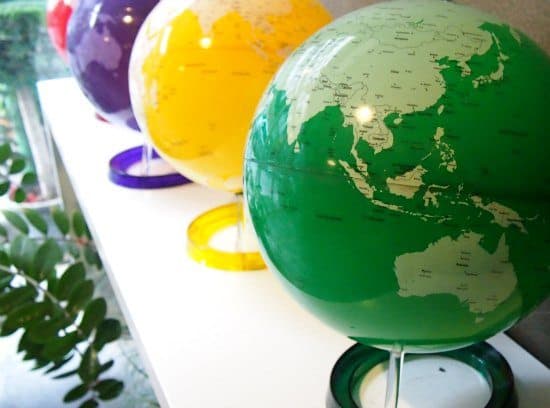 We've been using Mile Map for years now, since not long after it opened. It's starting to look worn in the communal areas and the decor isn't as fresh but we still enjoy staying there. We've seen no deterioration in the rooms or bathrooms.
Hotels in Silom
I'f you're looking for another place to stay in Bangkok, Agoda would be our top suggestion. They are, without doubt, the Asia specialist booking engine and we always find their customer service to be superb. There are some larger, fairly expensive hotels in the Silom area, Holiday Inn and all the big chains as well as boutique hotels and apartments. Lebua State Tower and The Mandarin Oriental, top Bangkok hotels, are in the area. Look at your Bangkok options here.
Getting Around Bangkok From Silom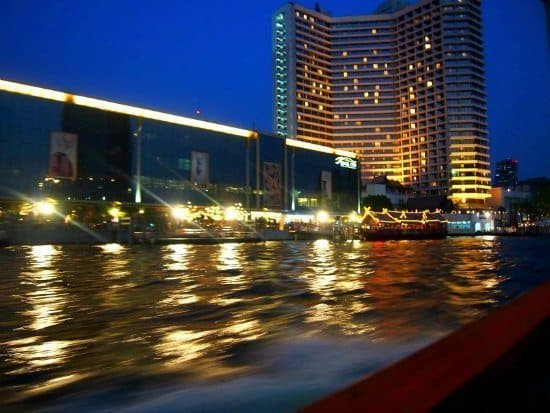 Silom is south of the Khao Sa. Road area, the Grand Palace and Wat Po are to the north The river and water taxi connections are to the west.
It would be easy to base yourself in Silom and see all of Bangkok. The monorail or BTS runs through this part of town, although it only covers a small part of the city.
Things to Do in Silom
Quite a few of Bangkok's tourist attractions are in or near Silom.
Lumphini Park
Lumpini Park is a green oasis in the middle of the city. A perfect spot to take the children to play and watch the huge monitor lizards swimming in the lakes. My husband also enjoys running here in the early mornings.
Sri Mahamariamman Temple
One of my favourite places in Bangkok and a major Hindu temple, you will find the colourful an spiritual place on the junction of Pan Rd and Silom Rd. It's open every day and tourists can just walk in. Dress appropriately please. The Navaratri Hindu Festival takes place here every year and attracts huge numbers.
Jim Thompson House
Thompson was an American architect, entrepreneur and silk merchant. The Jim Thompson House is an architectural and artistic treasure, well worth a half day visit.
Patpong – The Red Light District
We don't stay in Silom because of this attraction, we actually haven't been and haven"t seen any evidence of it. But it's nearby.
Lebua Sky Bar
The Lebua Hotel is on Silom Rd. at the junction with Charoenkrung Road . This rooftop bar is famously featured in the movie, The Hangover 2. They're open in the evenings, it's not cheap, and there is a strict dress code
Assumption Cathedral
Bangkok's main Roman Catholic Cathedral is in Silom off Charoenkrung Soi 40. It's near the Oriental Pier ( Which is next to the Mandarin Oriental Hotel).
Bangkok Snake Farm
The Bangkok Snake Farm is part of the anti-venom production facility at the hospital. This is a must-do educational attraction for kids in Bangkok and it's close at hand in Silom.
Shopping in Silom
I just wanted to mention that on our last stay in Silom we found a Marks and Spencers outlet in a local shopping mall. Other than this, which was a lifesaver when you aren't an Asian size and need jeans and underwear, we didn't find any particularly interesting shopping in Silom.
We've loved our stays in Silom, our new favourite base in Bangkok one of our favourite cities in the world. You can't beat Bangkok and we've now stayed in the Silom area many, many times and used it as a base for exploring the city. Looking for things to do in Bangkok, you want this post.
If you'd like to hire a car during your stay, use this car rental comparison tool to find the best deal!

We also suggest you take a look at this company to get a quote for all kinds of travel insurance.

Try Stayz / VRBO for an alternative way to find rentals on homes/apartments/condos in any country!