We keep coming back to Bangkok because we love it. Also because Bangkok is a transport hub of this part of the world. That title has shifted towards Kuala Lumpur recently with the rise of Air Asia, but Bangkok is still where you need to be for overland connections. It's also cheaper than Kuala Lumpur, so we would prefer to hang out here for a few days than in Malaysia. Thailand has amazing food, of course, so it makes a great place to stay while you sort out onward travel.
This post may contain affiliate links that will cost you nothing extra should you book.
Silom is Very Different to Khao San Rd. Area.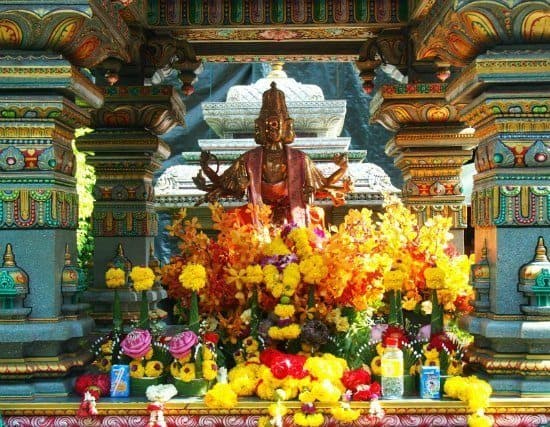 We adore the Khao San Rd. area and up 'till now we've always stayed in that part of Bangkok. It's not everybody's cup of tea, but we love the crazy backpacker vibe, the clothes stalls, the souvenirs and all-round energy of that part of town. Circumstances lead us to try something different and Silom has won us round very quickly, we thought we'd be taking tuk tuks over to our old favourite within hours of arrival, not so. We like it here.
Souvenir stalls and wanderring street sellers are much thinner on the ground in Silom and you don't see the carts laden with bugs-on-a-stick at $1/photo or dodgy pad-thai. Instead there is great food and plenty of it. The stalls and tiny pavement restaurants seem to never end and everything we've eaten so far has been good and cheap.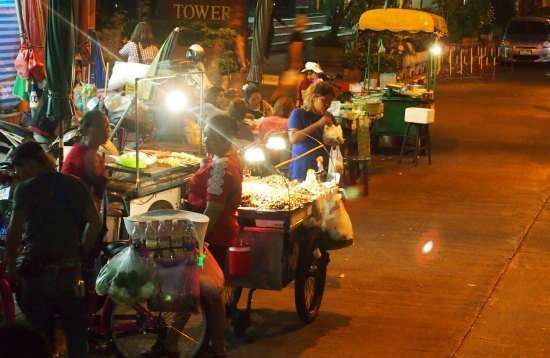 It's cleaner too, you can eat without that characteristic Khao San aroma of cat pee. In places all you can smell is flowers strung ready to make beautiful offerrings in the Hindu temple at the end of Pan Rd.
In Silom your food dollar goes further and quality is better. We find that hotels, guest houses and hostels are a little more expensive over here, but standards are higher. Bangkok is more expensive than most other parts of Thailand ( excluding popular tourist beaches, of course) but it's well worth the extra few dollars.
Where To Stay in Silom, Our Favourite, Mile Map.
Cheap hotels and guest houses are fewer over here, but what we have found are a some really good hostels. We've stayed in a four-bed room in Mile Map Hostel (click through to check prices and availability, it gets busy, so book in advance), Pan Rd, and there are other family friendly hostels in the area. We are seeing a few hostels that don't take children as we continue to search. Mile Map is a particularly good choice for families as 1 child under 12 can stay free in existing bedding.
You will benefit from a shared kitchen here and the shower rooms are kept exceptionally clean. There are endless food stalls and a great vegetarian place, right on your doorstep.
We love the atmosphere that stunning Hindu temple brings to the area, the flower garlands on the street corner are something to see.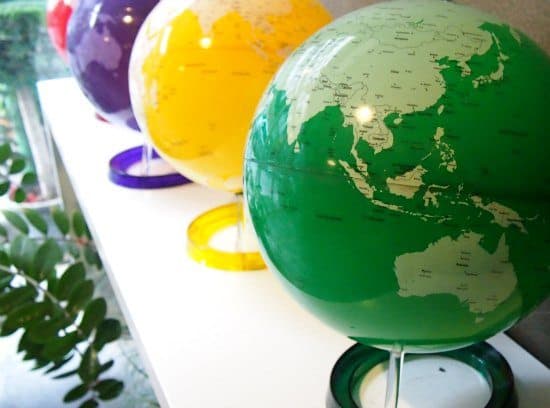 Other Recommendations for Family Accommodation in Silom
I'f you're looking for another place to stay in Bangkok, Agoda would be our top suggestion. They are, without doubt, THE Asia specialist booking engine and we always find their customer service to be superb. They also hand out reward points to use against future stays. There are some larger, fairly expensive hotels in the Silom area, Holiday Inn and all the big chains as well as boutique hotels and apartments..
We've started putting together a complete guide to hotels, hostels and guest houses in Thailand, a labour of love over the last few years. Click through to view that post.
Also try the hotels below in the Silom area:
If you'd like to spend more on a typical hotel or apartment, iSanook Residence has family suites for 4 people, with kitchenette and swimming pool at around $85 per night. They have an excellent 8.2 Agoda rating.
We are not sponsored by Mile Map in any way but son 2 made this little video, just for fun, they love making videos.

Things to Do in Silom.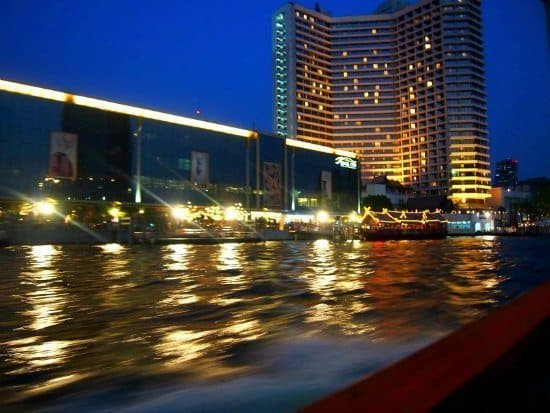 Silom is south of the Khao Sa. Road area, the Grand Palace and Wat Po are to the north The river and water taxi connections are to the west.
It would be easy to base yourself in Silom and see all of Bangkok. The monorail or BTS runs through this part of town, although it only covers a small part of the city.
Silom also has its own special attractions.
A blogging friend of mine, Manf or Renegade Travels lives in Silom and put this post together on things to do in Silom. I'd add a couple of places to his list. Dusit Zoo is on this side of Bangkok too, a tuk tuk ride from Silom. It's great for the kids.
Lumphini Park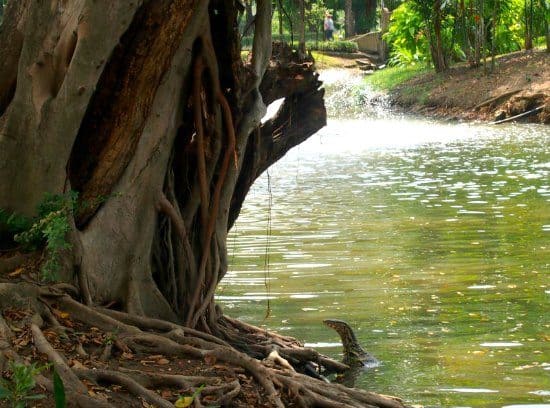 Lumpini Park is a green oasis in the middle of the city. A perfect spot to take the children to play and watch the huge monitor lizards swimming in the lakes.
Jim Thompson House
Photo credit Scheherazade on Flickr under Creative Commons license
Thompson was an American architect, entrepreneur and silk merchant. The Jim Thompson House is an architectural and artistic treasure, well worth a half day visit.
Search for special offers on Bangkok hotels here!
We've loved our stays in Silom, our new favourite base in Bangkok which is of course one of our favourite cities in the world. You can't beat Bangkok!
Don't forget your guide book!
Lonely Planet Thailand