Sometimes we all like to stay somewhere a bit special. In Bangkok you can take your pick of the cheap hostels and guest houses or stay in any one of the huge chain hotels, we've tried many Bangkok hotels before and the experience has always been good and affordable. This time, for my 50th we wanted a memorable destination, somewhere that shouted "Bangkok" loud and clear. This is a city we love and we wanted a Thai feel to our accommodation. When we spotted The Old Capital Bike Inn, our minds were made up instantly. We had to stay there. Character, style, luxury, location, food, this place seemed to have everything we were looking for, plus the essential ingredient for us, a family suite. On arrival we were thrilled, here's our full Old Capital Bike Inn review, and photos from, this special Bangkok hotel.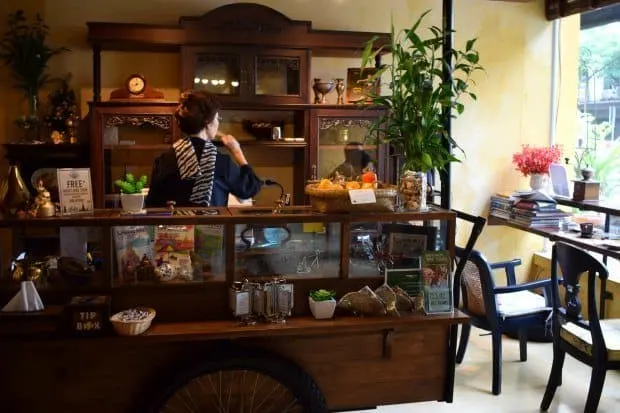 To save you time, we loved The Old Capital Bike Inn, we loved the location, room, food, everything about this boutique Bangkok hotel, you can check availability and deals using our buttons below. Or go ahead and read our full review.
The Old Capital Bike Inn Bangkok
Location
Bangkok's ancient shop houses are fast disappearing as modern functional buildings replace the city of yesterday. The Old Capital Bike Inn is housed in a street largely composed of such buildings in a really nice district of the old town.
On this road you will find modern funky cafés alongside traditional Thai street food. We tried one café, opposite (this one gives discount to Old Capital Bike Inn customers) and a street stall a hundred metres away. Both were good.
This area doesn't see too many tourists, it's nothing like the Khao San Rd (a short walk away), food is better, and local people are more friendly and less jaded. The nicest elderly people helped us buy lunch down the street and gave the kids a free desert and lots of smiles.
From here it is easy to walk to the river, via Khao San or Rambuttri Roads, and hop on a water taxi or charter a long tail boat tour. We felt totally safe in this area and thought the location excellent. This is an area we will try to return to next time, I think our usual destination in Bangkok, Silom, will be changing. As with everywhere in Bangkok, a 7-11 convenience store is just footsteps away.
UPDATE: For a cheaper place to stay in Bangkok, also with bags of character and good food, we often now use this place, Shanti Lodge, check it out, it's lovely and much simpler with smaller rooms, it's quite old-school backpacker lodging. The Old Capital Bike Inn isn't top-end modern luxury, for that, take a look at, for instance, The Sheraton Grand, but this place has character and comfort. It feels special without breaking the bank on accommodation.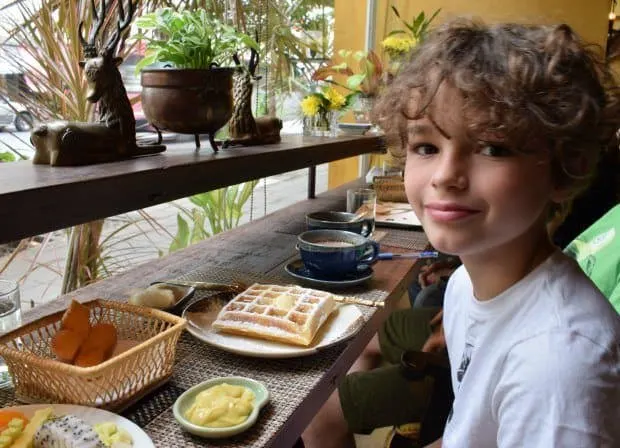 Cost
OK, this place isn't cheap. But it is special. This wasn't a sponsored stay, we picked this one out for ourselves and were happy to pay for the experience.
Expect to pay around $180 for the family suite. It's worth it. Prices vary of course, check Agoda for cost on your dates. For comparison, a 4 bed room in a good hostel will cost you around $50 in Bangkok, without breakfast. Breakfast and coffee at
The Old Capital Bike Inn were included ( as is a free bike tour of the old city) and the quality is superb. Wi-fi is of course free, and good.
Finding Special Offers and Best Deals for This and Other Bangkok Hotels
After many years of being travel professionals we have a method for finding best deals and special offers. First we check Hotels Combined while opening Agoda in another window. Hotels Combined compares multiple booking engines at once, but does not check Agoda . Hotels.com is a booking agent that we find often has great deals ( it also has a stay 10 nights, get the next free deal which we LOVE) Hotels Combined looks for Hotels.com deals for us. Agoda are Asia specialists and can often have better deals than the others, so always check them too.
If you're looking for a full refundable deal, go to Booking.com. Hotels Combined does check Booking dot com but it will pull up the lowest price deals, which are usually non refundable.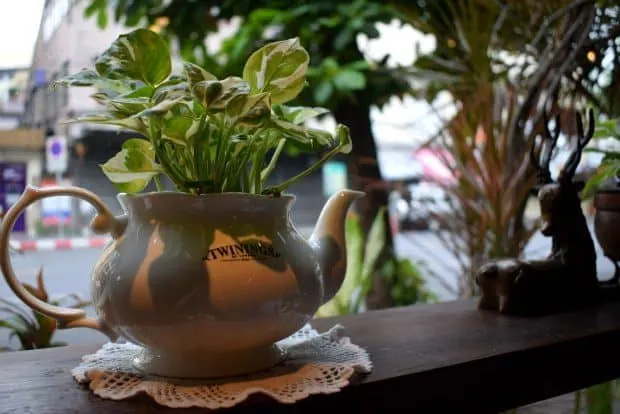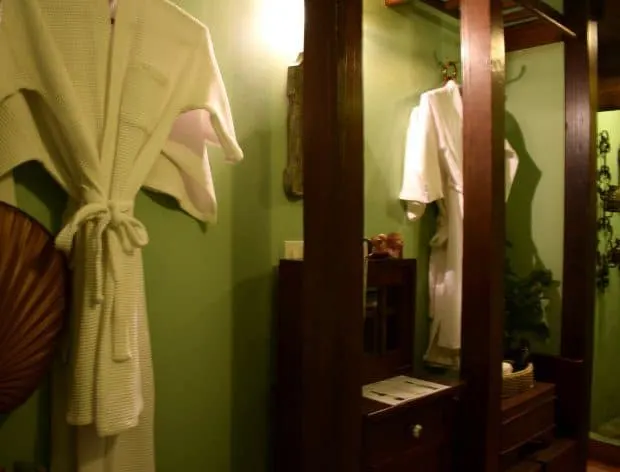 The Family Suite
This room (rooms) is fabulous, loads of space, lovely touches, comfortable and relaxing.
a master bedroom with seating area, couch, table, raised sleeping platform and TV
a separate shower and WC
another area with robes, storage, a fridge and kettle.
a stairway to a second enclosed room, spacious, with double bed.
an outside, private bath.
air-con in both bedrooms.
I'll warn you that the second bedroom is accessed via a steep staircase, it's not suitable for small children or the elderly. Maybe the children could take the master bedroom and the adults lock themselves away upstairs? We loved the arrangement, it's different and extremely well executed.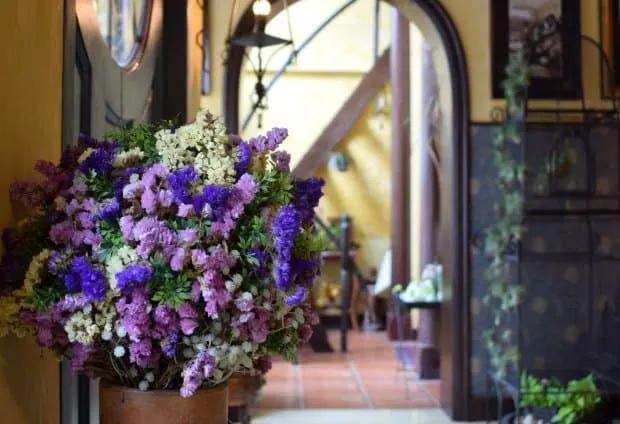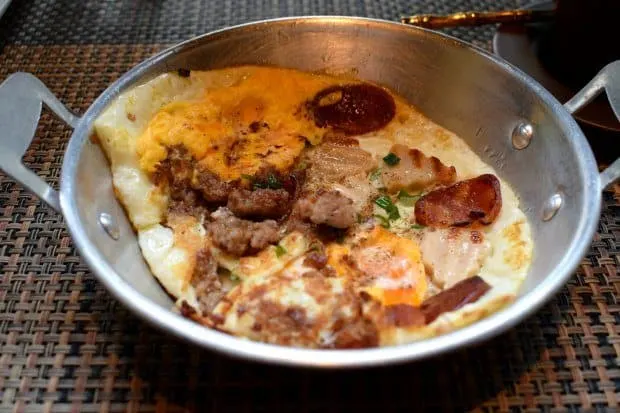 Breakfast at The Old Capital Bike Inn
Breakfast is sensational! Guests choose from a menu the night before and pick a time to eat. We enjoyed a fresh fruit plate of remarkable variety every morning along with coffee, little coconut pancakes and the freshly made donuts pictured below. That pandanus jam is an absolute masterpiece, somebody in the kitchen really knows what they are doing. My husband ( an executive chef) was impressed. These appetisers are followed by a substantial main course, we chose eggs, minced pork, Thai bacon and sausage, our son chose waffles. There are other options on the menu. The dining area is air-conditioned and absolutely charming.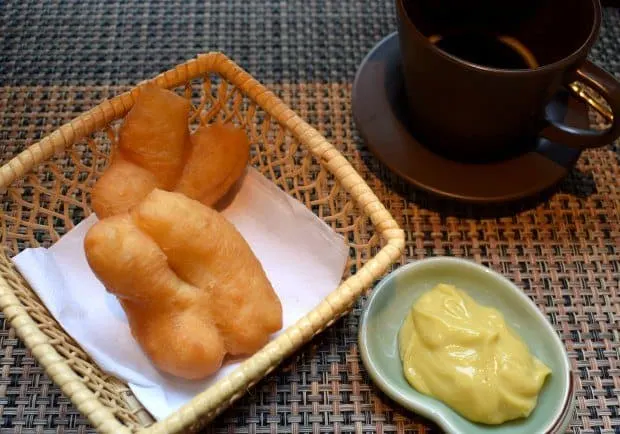 Hospitality
Lovely people, very welcoming and good at what they do. Perfect English and local knowledge, freely given, is always very welcome.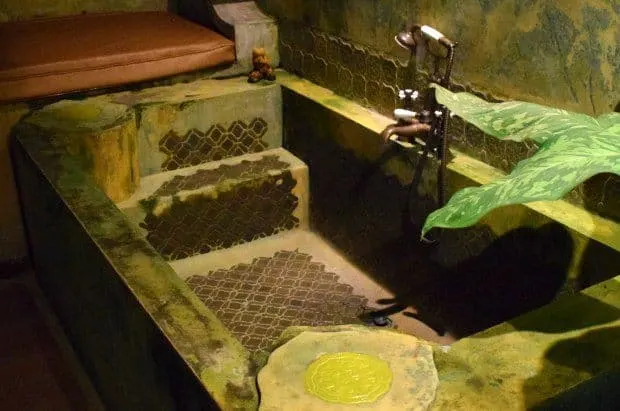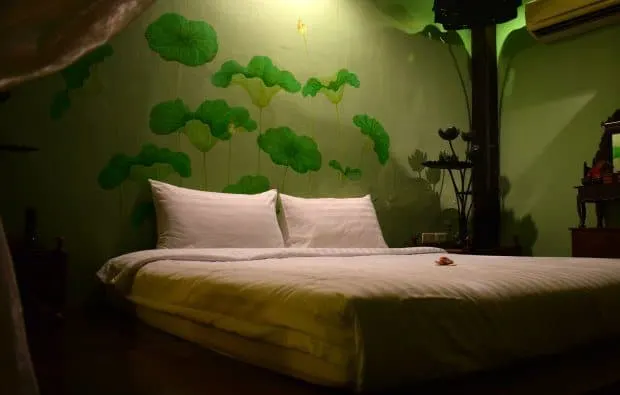 Complimentary Bike Tour of Bangkok
Guests at the Old Capital Bike Inn are invited to take a free bike tour with Jason, the owner and bike enthusiast. We took our 10 and 12 year olds out on the streets of the city after dark. We were a little nervous, but it turns out Bangkok is a surprisingly bike-friendly city and the kids did very well. It's a totally different experience, not your usual thing-to-do in Bangkok and one we really enjoyed. The bikes are beautiful, all safety precautions are taken and Jason knows where to go.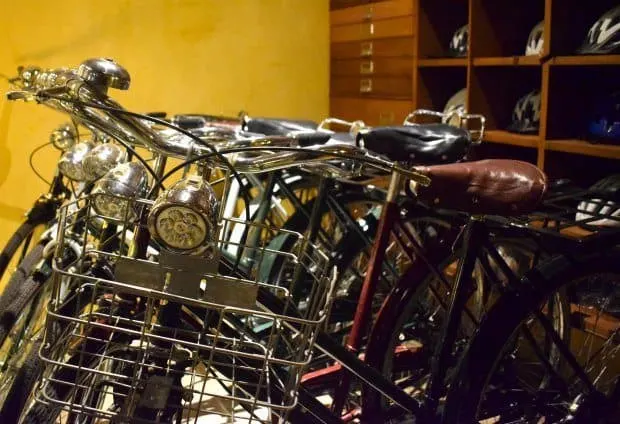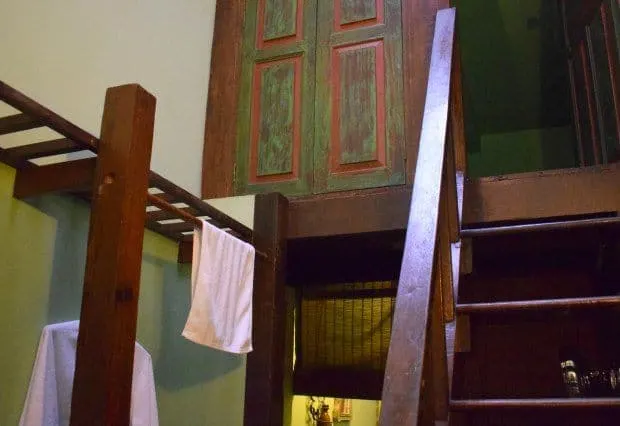 So would we recommend The Old Capital Bike Inn? Absolutely yes, without hesitation. It made our most recent trip to Bangkok Thailand one that we will always remember. Book it now!
Booking, Prices and Availability
Prices and availability on Agoda
Prices and availability on Booking.com
If you are looking for more information on travelling in Bangkok or Thailand head back to our Thailand Travel page. If the Old Capital Bike Inn isn't for you, try our Bangkok Family Accommodation page and if you need more information on Bangkok, try our things to do in Bangkok page. Thanks for visiting!
If you'd like to hire a car during your stay, use this car rental comparison tool to find the best deal!

We also suggest you take a look at this company to get a quote for all kinds of travel insurance.

Try Stayz / VRBO for an alternative way to find rentals on homes/apartments/condos in any country!