This post may contain affiliate links.
The Penang Snake Temple is one of Penang's outstanding tourist attractions and a must-see for many domestic and international visitors. It is a little way south of George Town Penang (The state of Penang's capital) and on Penang Island. The snake temple's full name is Fu-Xing-Gong but most visitors simply call it The Snake Temple.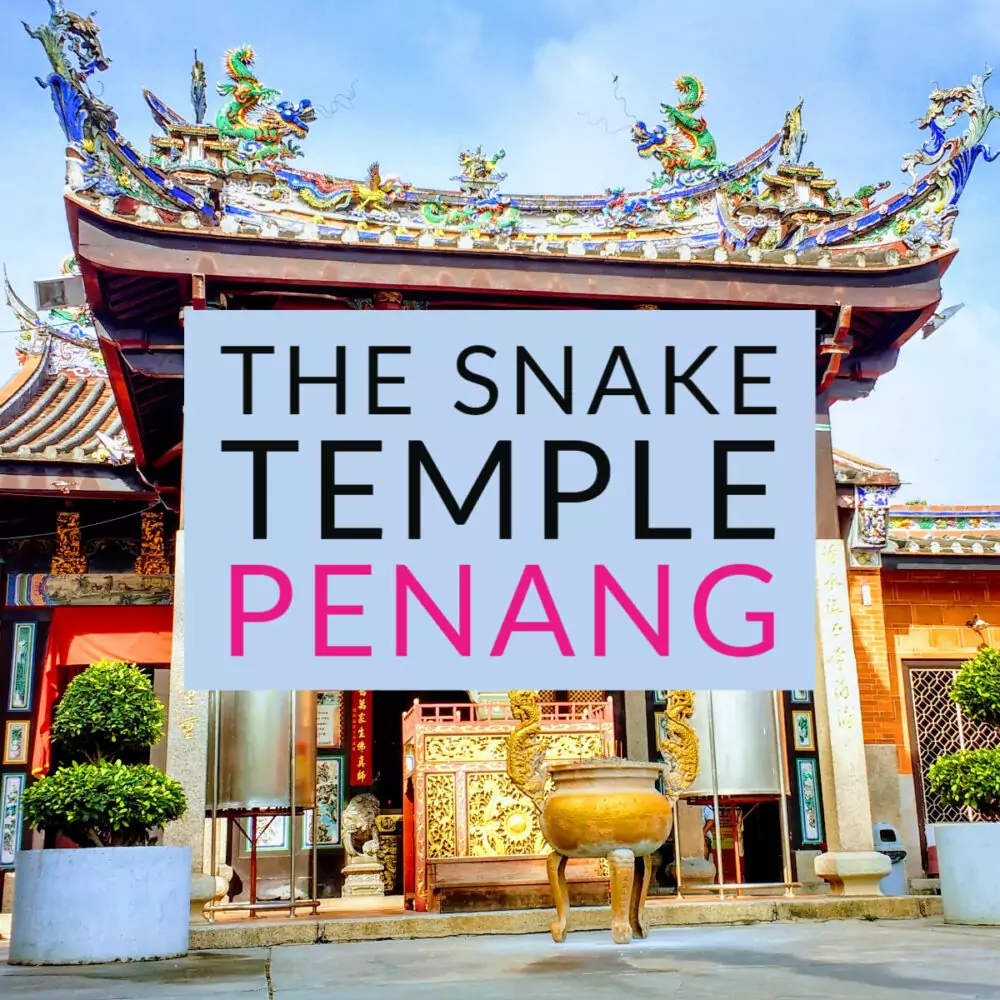 You can easily catch an Uber to visit The Snake Temple from Georgetown, or drive there if you are touring Penang in your own vehicle or hiring a car on arrival at Penang airport. (Use this tool to find a deal on a hire car.)
If you are travelling with kids on Penang, we recommend you use KiwiTaxi as they are able to provide infant and child car seats or boosters if booked in advance. Take a look at KiwiTaxi here. They can also offer tours with experienced drivers and guides, in Penang, or anywhere. They can even get you from Kuala Lumpur to Penang and will meet you at airports with boards.
Penang Snake Temple opening hours are normally 6am to 7pm daily and there is no admission fee. As the temple is a working temple it is free for tourists to visit, you must dress respectfully to enter the temple.
Next door to the temple is a small reptile zoo, for which you do have to pay, we'll cover this further down the post.
The Snake Temple Penang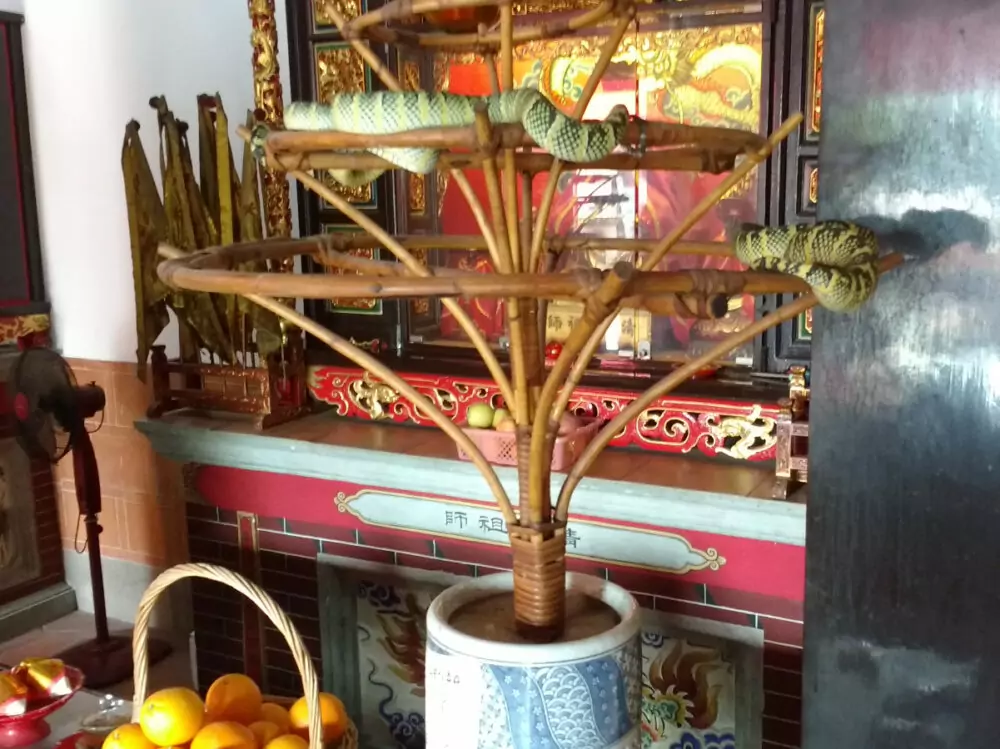 The Snake Temple is one of the best places to see in Penang, along with Kek Lok Si, Fort Cornwallis and Penang Hill.
Are there live snakes at the Snake Temple Penang?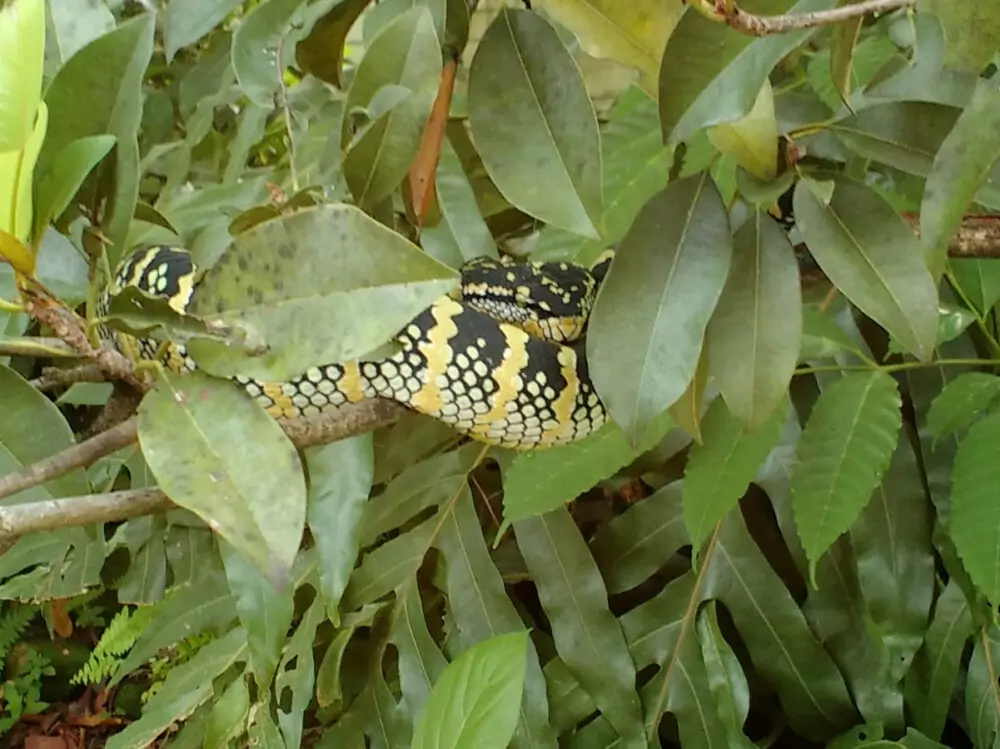 Yes there are live snakes at the snake temple on Penang Island. There were several on the altar at the front of the temple at the time of our visit, plus several in trees and bushes in the internal courtyard. These snakes may be venomous but we didn't feel in any danger at the snake temple.
These snakes are reportedly Penang pit vipers, so yes could bite. It is believed that either temple incense and religious stupor keeps them from biting, or, they've been defanged. There are many species of pit viper (named for the sensory pits on their heads) this one is native to Penang. The species of pit viper at this temple is Wagler's Pit Viper (Tropidolaemus wagleri) and they are beautifully pattered green and cream tree snake growing up to 3 feet (0.9m) in length. Their coloration is quite variable and changes as they mature.
We saw about a dozen snakes in total at the Penang snake temple Fu-Xing-Gong. If you are scared of snakes or have a phobia (Ophidiophobia), you probably shouldn't go. We're all snake lovers in our family.
Tours to Penang Snake Temple
Some tours of Penang's highlights will include a visit to the snake temple, try these, below.
Penang Snake Temple Photos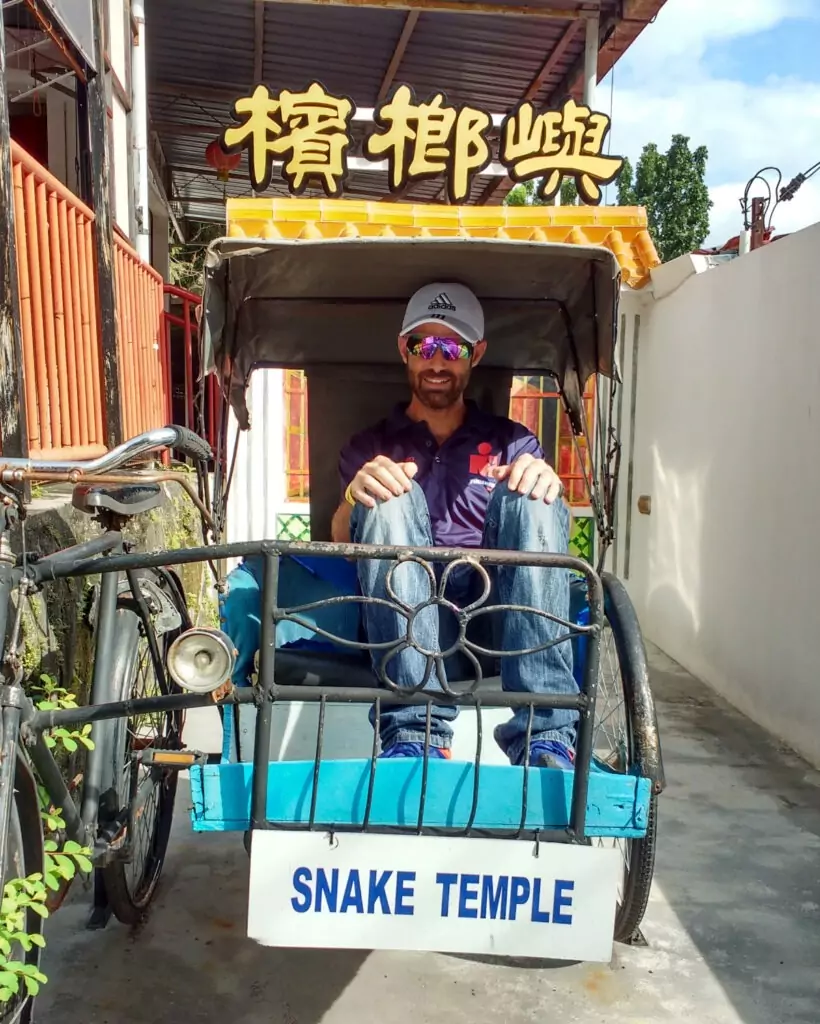 Photography is allowed at the Snake Temple in Penang, but the temple is very small so we took very few inside. The best place to take photos is not inside, but outside, at the front altar of the temple.
This mock up of a bicycle rickshaw or trishaw is outside the snake temple for an embarassing tourist photo-op.
Where is The Snake Temple?
The Penang Snake Temple is located in Bayan Lapas, a district of Penang Island in the state of Penang, Malaysia. It is about 2 km north from the Penang International Airport. The temple is south of both Georgetown and Batu Ferringhi, the two places on Penang where tourists are likely to stay. Georgetown is a historic old town, Batu Ferringhi is a beach resort town.
You can see the location of the snake temple on the map further down the page. The temple is on Jalan Tokong Ular which is a small road to one side of the main road, Jalan Sultan Azlan Shah, which makes it easier for you or your driver to park outside the temple.
Snake Temple Address
Jalan Tokong Ular
Jalan Sultan Azlan Shah,
11900 Bayan Lepas.
Penang, Malaysia.
How To Get To The Snake Temple
The best way to get to the Snake Temple is to drive or catch an Uber or Grab Car. The cheapest way to get there is likely by bus. Rapid Penang Buses 401 and 401E to Penang Airport are the best ones to get to the snake temple from Georgetown.
You'll need to ask the driver to stop at the temple. Be careful using Penang's buses, we have been robbed, there are pickpockets particularly in Georgetown Central. Invest in an anti theft bag if you can.
Butterworth on the mainland is the nearest train station for the island of Penang. From here you could catch a bus.
Is it Worth Visiting The Snake Temple?
The snake temple itself is a pretty traditional Malaysian temple, brightly coloured and ornately decorated, there are many more all over Malaysia. The presence of the snakes does make it more interesting and we thought it was worth the trip from Georgetown.
It's probably not worth visiting from Kuala Lumpur, but if you have your own car it's easy to drive to Penang Island, there are road bridges.
Hotels Near Penang Snake Temple
Our map, below, shows you all hotels and rentals close to the snake temple on Penang Island. You can zoom out to see the geography of Penang in relation to this attraction. Alternatively, open it fully to see it full-screen.
We have a full post covering family vacation hotels on Penang here.
The Snake Zoo Next To The Snake Temple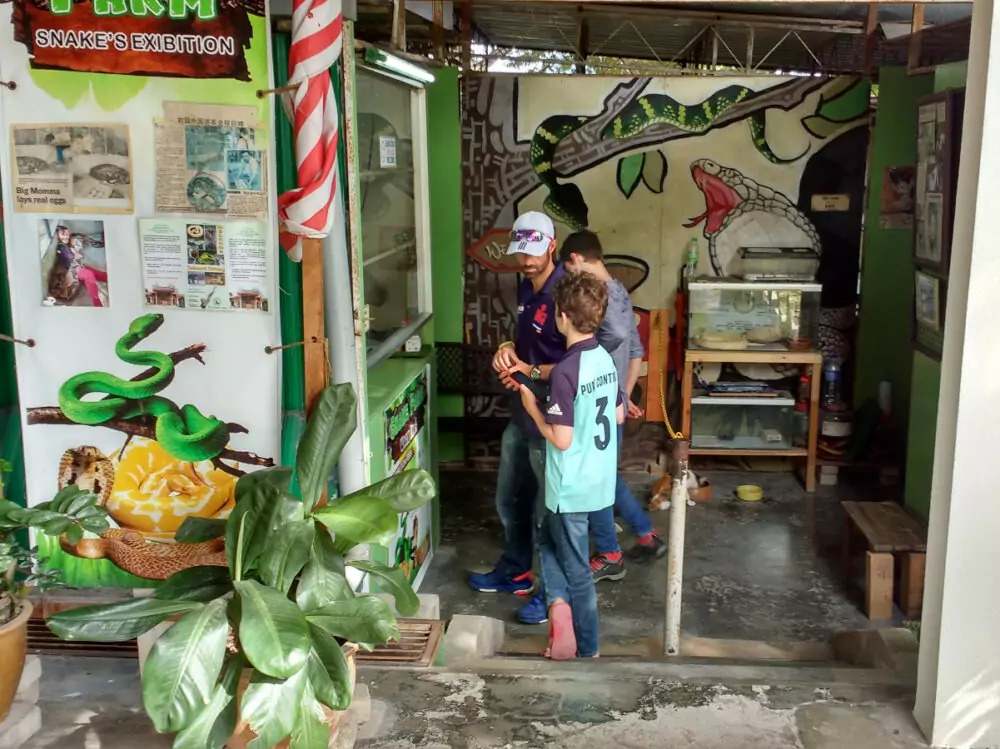 There is a small reptile and snake zoo next door to the snake temple, it's on your right as you approach the temple.
It houses a small collection of snakes and reptiles and one incredibly large python. My kids enjoyed it at the time, I didn't go inside.
My son is now a snake keeper and enthusiast and in hindsight he says these snakes were terribly badly treated and housed, so he suggests you don't visit.
We have had a lot of bad experiences of animal attractions in Malaysia generally, animals are often not kept humanely and not given much respect by those using them for profit or amusement.
We hope you enjoy your trip to the snake temple on Penang, we thought it was fun and interesting for the kids. It was a great half day trip during our recent stay in Georgetown at Islander Lodge Guesthouse. If you'd like to see all of our Penang coverage, go to our Penang index. Alternatively visit our Malaysia Travel Blog page for all things Malaysia. We also have a post on the best family friendly hotels and apartments in Penang.
If you'd like to hire a car during your stay, use this car rental comparison tool to find the best deal!

We also suggest you take a look at this company to get a quote for all kinds of the more tricky adventure or extended travel insurance.

Try Stayz / VRBO for an alternative way to find rentals on homes/apartments/condos in any country!