This post may contain affiliate links.
Fort Cornwallis is a historic fort and tourist attraction on Penang Island, part of the state of Penang, in Malaysia. The fort is on the outskirts of the state capitol George Town, and makes an interesting place to visit on the island of Penang. Your visit won't take long, and there is an admission fee of 20RM for adults 10RM for kids with tickets for Fort Cornwallis being available at the door. Foreign tourists may pay more than Malaysian visitors. You can easily walk to Fort Cornwallis from Georgetown and the fort is normally open between 9am and 6.30pm daily.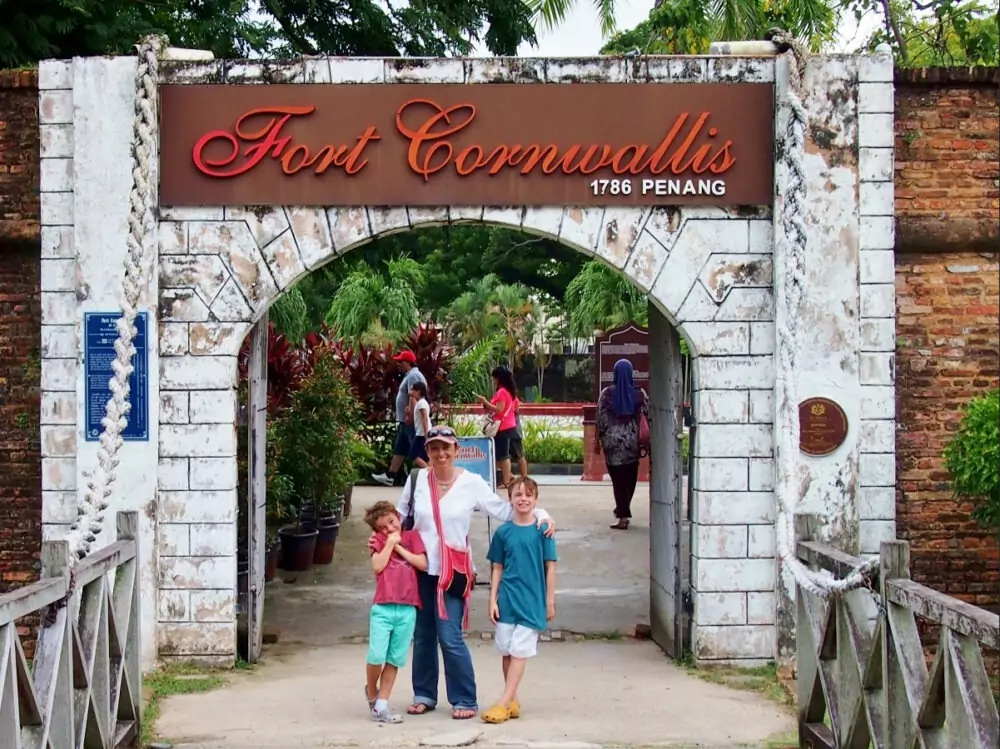 Please check opening times and prices for the time of your visit. We give information on how to visit Fort Cornwallis on a tour with guide, below.
The kids and I went to Fort Cornwallis in Georgetown, Penang yesterday, I posted a photo on my Facebook page and Suzi asked me " What's in Fort Cornwallis?" So here, just for Suzi, is a brief run-down on Penang's historic fort. We also have a full post on things to do in Penang as well as "Highlights of Malaysia for Families and with kids" if you're looking for more ideas.
Fort Cornwallis, Penang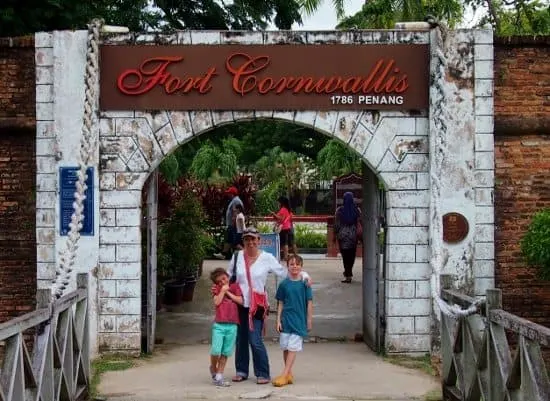 Fort Cornwallis on the Island of Penang is a popular tourist attraction and a great place to take kids. To get the most out of your time in Penang we recommend you book a tour that includes Fort Cornwallis, that way you won't miss out on learning about the history of this fort, and of Penang itself. Check out this tour for your trip! It includes Fort Cornwallis, plus the other "Seven Wonders of Penang." Book it here!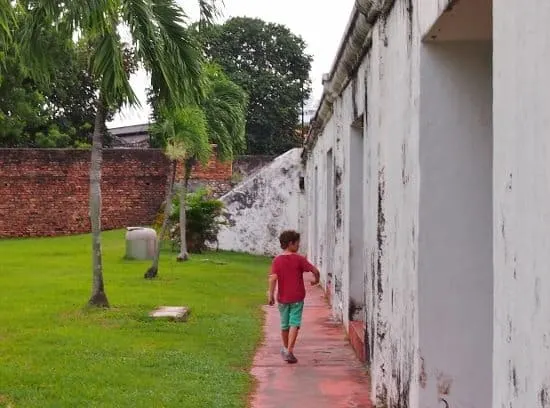 It was a very stormy day in Penang and very welcome rain eventually drove us out of Fort Cornwallis, the light wasn't great for photos. See why we were doing a rain dance in Freaking out in Malaysia.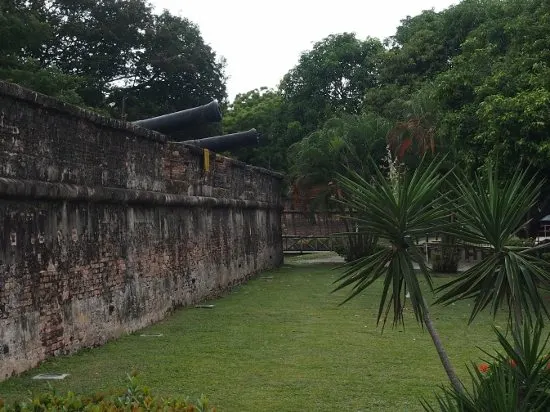 Inside Fort Cornwallis, Penang
Fort Cornwallis faces the sea in the north of Georgetown, the historic heart of Penang. It's described as being star-shaped, I didn't get that at all from the inside. To see the star shaped fort you'd need a drone view.
The fort is named after Charles Cornwallis, Governor General of India in the late 1700s.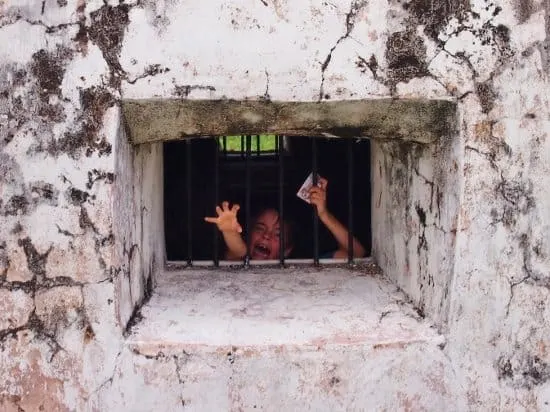 Captain Frances Light took possession of Penang Island in 1786, established a British trading post and built the fort for the military, the fort stands on the site of his landing.
The fort never saw military action, its role was mostly as an administrative base for the British East India Company.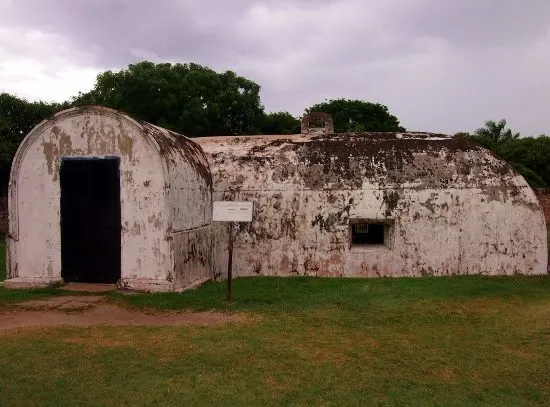 The fort today consists of the outer wall, a flag pole, the gunpowder magazine, some prison cells or barracks and the chapel.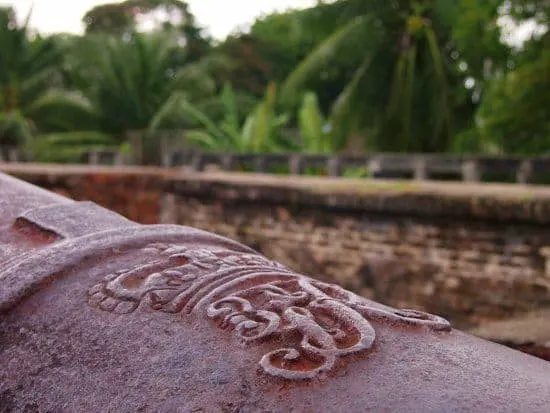 Fort Cornwallis was a big hit with my small boys, they could run around, the canons were a winner and the gunpowder storage building and chapel were good for playing in.
"The Chapel" was possibly another ammunition storage facility, the walls are extremely thick and there are no windows.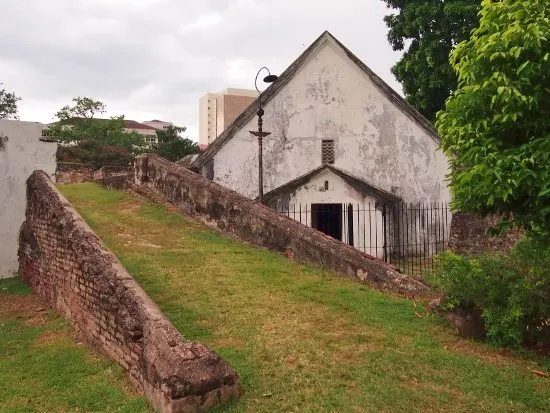 One of the Fort Cornwallis canons has a name, it is Seri Rambai and was cast in 1603, a legend tells that it rose from the sea unassisted when it sank on board a ship. Childless women place flowers on the canon to ask for fertility.
There is a big sign saying, "Please do not sit on this canon." Nobody was taking any notice of that while we were there.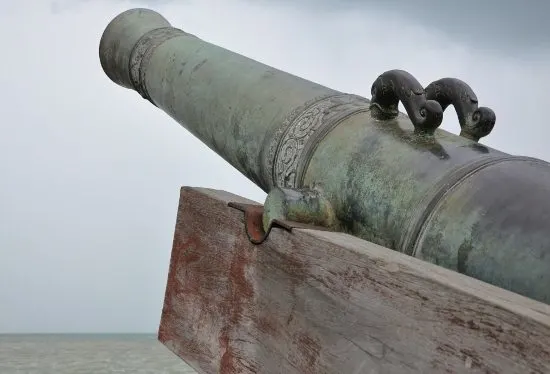 photo of Seri Rambai by Cory @ Adventure Bee
So there you go Suzi, that is what's in Fort Cornwallis, Penang. If you're coming to Georgetown take a look, it's only 2MYR to get in, under a dollar, and is a great place for the kids to have a run around and learn a bit of history. Thanks for asking the question!
Hotels Near Fort Cornwallis Penang
The following family-friendly and kid-friendly hotels are near Fort Cornwallis Penang.
VERY Hotel is an affordable and nice-looking hotel with family rooms about 500m from Fort Cornwallis in Georgetown Penang. You can see it on Agoda here, or on Booking.com here. The theming is really cute for kids!
For a more luxurious stay check out Muntri Mews, which is still quite affordable, yet has colonial style family suites. Muntri Mews is on Agoda here. and on Booking.com here.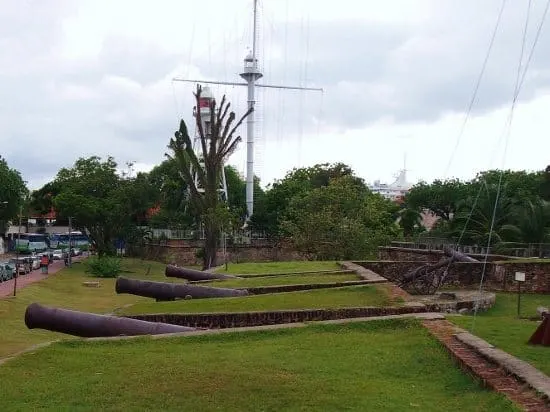 Cornwallis Hotel
There is a Cornwallis Hotel in Australia and in the UK, but we have been unable to find a Cornwallis hotel in Malaysia or on Penang Island. There are plenty of hotels near Fort Cornwallis and in George Town Penang.
Enjoy Fort Cornwallis and Penang
Back to our main Malaysia Travel Blog page or see all of our Malaysia travel information here.
If you'd like to hire a car during your stay, use this car rental comparison tool to find the best deal!

We also suggest you take a look at this company to get a quote for all kinds of the more tricky adventure or extended travel insurance.

Try Stayz / VRBO for an alternative way to find rentals on homes/apartments/condos in any country!