This post may contain affiliate links.
Can you stay in a hostel with kids? Yes, you can, many hostels today have private family rooms but a few "party" hostels do still only take guests over 18 years old. Is it cheap to stay in a hostel with kids? No its not, a hotel or guest house is often cheaper with kids. This post explains why hostels aren't a good choice with kids, usually.
We've stayed in many hostels with kids, all over the world. However, staying in a hostel with your children isn't necessarily cheaper than staying in a budget hotel or guest house. This post is about our experiences of travelling with kids and using hostel accommodation from time to time.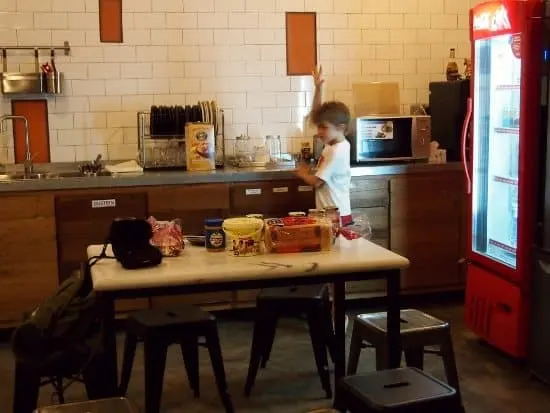 We ended up staying in a hostel in Kuala Lumpur for almost 3 weeks, with kids aged 6 and 9. It felt like home, we didn't want to leave.
This wasn't a youth hostel, it was a backpacker's hostel, not the sort of place most families with young children choose to stay in when they are travelling, but it worked out brilliantly for our family.
The hostel we chose to stay in wasn't the cheapest, but it was affordable for us as budget travellers, the facilities we got for our money made it well worth it.
We payed around $50/night for a large, comfortable private room for a family of three, over our budget, but KL is an expensive town.
Reasons Staying in a Hostel With Kids Worked for Us.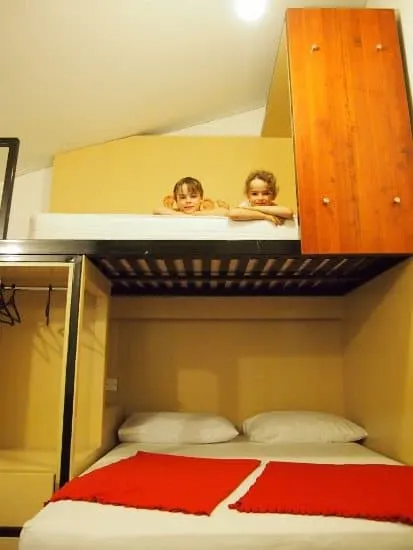 1. Hostels are social places, people hang out in communal areas when they aren't out exploring, for me, as a single Mum with two kids, it was nice to have other grown ups to chat to. The children found a few people happy to talk to them too. The staff were lovely, they made a real fuss of the kids.
2. The kids can't wander around, checking out the sites all day, it's too much for them. We found that a few hours of exploring, maybe two sessions a day, was all we wanted to do. It was lovely to come back to the hostel for some down time, we weren't confined to a hotel room, there were plenty of seating areas to use.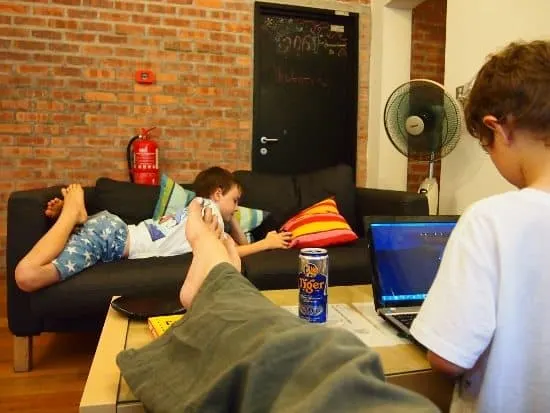 3. The movie room. If you are planning on staying in a hostel with kids, keep an eye out for facilities like movie rooms, they are a Godsend. Happy kids, I could watch with them, or get some work done as they soaked up Shrek, it made travelling with kids absolutely blissful.
4. Kitchen facilities. We didn't cook, but we could have used the facilities. We found it was cheaper and easier to eat out. If you have picky eaters on your hands staying in a hostel with kids is a great idea, you'll love having a hostel kitchen and a big fridge at your disposal.
5. Free breakfasts make mornings a lot easier. Many hostels offer toast and jam, it's basic, but it saves you a lot of time and money. The free coffee kept me going while the children had an easy fix breakfast as soon as they woke. I carry Marmite, for a bit of variation. It meant we didn't have to get showered and dressed to go out for breakfast first thing. I'm finding, now we are in Batu Ferringhi, that many places aren't open at breakfast time ( for us 7-8am), we're having to hunt around a bit, that isn't the case in Kuala Lumpur or Georgetown.
6. If like us, you are trying to get a bit of school work done now and again, I actually found it easier in the public areas with proper tables, than in our private room. Having other people around seemed to help the children focus. ( We've probably only done about an hour of written work in almost 4 weeks, all of it in the hostel).
7. The staff at the hostel we stayed in were incredibly helpful and knowledgeable. They could give us information on transportation, opening hours, where the nearest bank was, it seemed they could answer any question and did so happily. I don't know if all backpacker's hostels make staff training a priority, it's something I will explore, but so far, the hostel has been the best.
Downsides of Staying in a Hostel With Kids
1. Smokers. As with any place where young backpackers congregate, there was a fair bit of cigarette smoke. They were outside only at this hostel, but we still found it unpleasant and nobody wants their kids breathing that stuff. But we've had the same problem in a motel and a guest house. Once you're on the road, it seems to be one of the things you have to put up with, you can't control your children's environment as you can at home.
2. There was some late-night noise. We go to bed around 8pm, so people were up much later. Interestingly, the kids slept through it, it was me lying awake.
3. Communal showers are a feature of backpacker's hostels, we had no problem with them at all, I'm just mentioning it for those who may struggle.
4. Booking hostels seems harder for families, the big online sites, Hostelworld and Hostelbookers, don't have options for selecting 3 or 4 bed rooms, you have to work your way through a long list 'til you find what you want. The smaller, cheaper hostels aren't on the bigger sites such as Agoda. Some hostels don't allow children, or have particular age restrictions, another time waster when you are trying to book online. I think you'll find many will wave this restriction if you turn up in person or contact them directly.
5. Bunk beds. Be ready for them!
The backpackers' hostel in Kuala Lumpur, Back Home, really made our trip, we loved KL, in part, because we had such a great base. We stayed in the hostel dorm as a family for a while too. with no real problems, I'll post about that another time. The staff there were so great that they saved my sanity with a "special room" when I was homeless and freaking out. Big thumbs up from us for staying in hostels as a family, we think it's great.
Staying in a Hostel with Kids first appeared on World Travel Family
If you'd like to hire a car during your stay, use this car rental comparison tool to find the best deal!

We also suggest you take a look at this company to get a quote for all kinds of the more tricky adventure or extended travel insurance.

Try Stayz / VRBO for an alternative way to find rentals on homes/apartments/condos in any country!