This post may contain affiliate links.
Yes, families can stay in hostels, but not in every hostel. Plenty of hostels today have private family rooms, often with their own private bathrooms that are perfect for families of 3, 4, and more. Smaller dorm rooms can also be booked out for a family in some instances. However, a few hostels are designated "party" hostels and won't allow children under 18 to stay. Others have rules that don't allow families to stay because of safety or noise issues. It is generally at the discretion of the individual hostel as to whether or not families are allowed to stay at that hostel. Babies are sometimes allowed to stay in hostels too.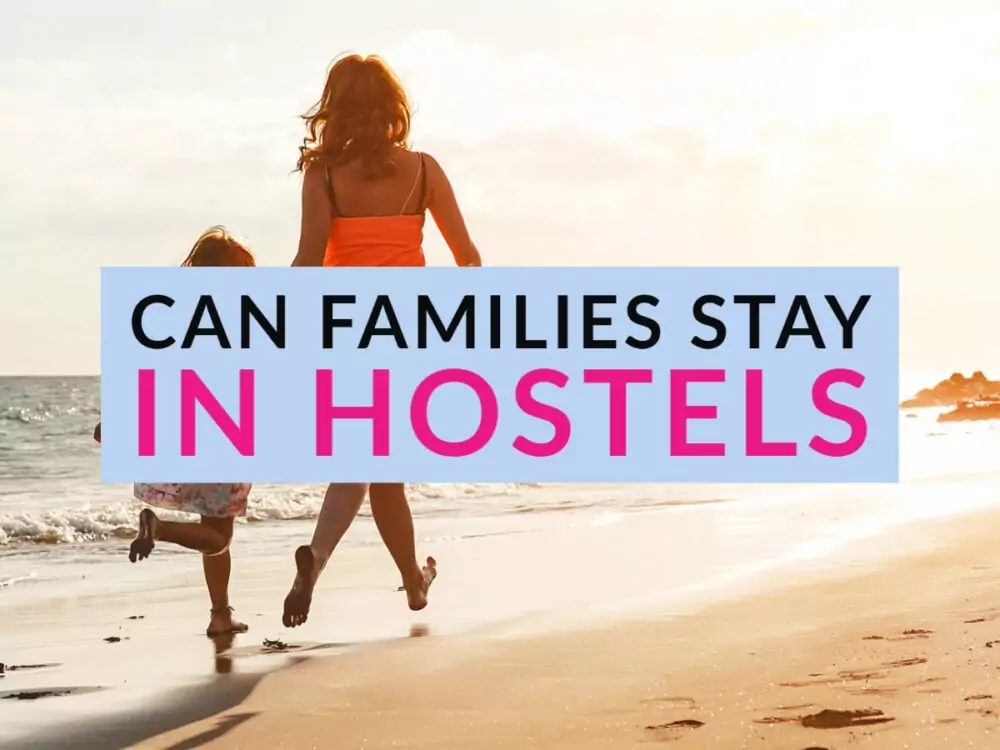 Why Do Families Stay in Hostels?
A family can stay in a hostel to save money on travel accommodation, and to be able to use the shared kitchen facilities that most hostels provide.
Family travel isn't restricted to vacations, there are a lot of families taking extended trips, gap years, and many more who travel full time.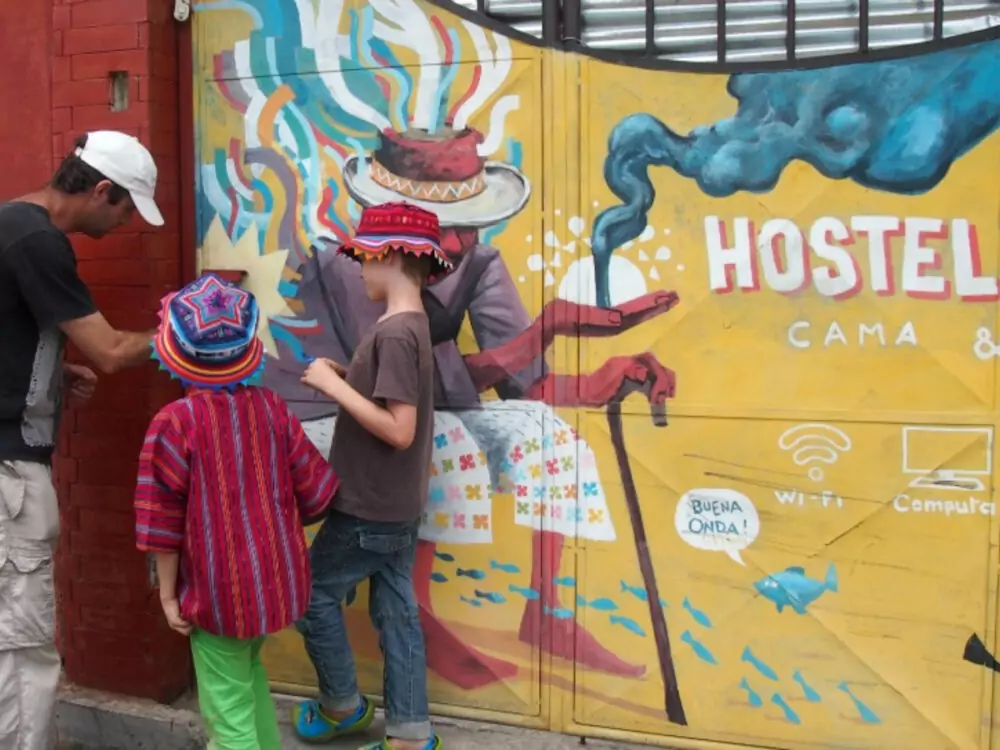 If families are travelling on a tight budget, self catering can make their stay more affordable and most hostels (although not all) will have shared kitchen facilities.
In some instances a family may choose to use a hostel because it has an excellent location or special feature that appeals to them
Staying in a hostel is not often cheaper for a family than stayinging in a simple hotel or guest house, it may also not be cheaper than booking a family apartment, which should also come with kitchen and laundry facilities.
In a hostel you're likely to have to pay to use the washing machine and dryer, if you book an apartment you can normally use the washing machine as often as is needed, with no extra charge.
Some families may enjoy the social aspect of staying in a hostel. Shared lounge spaces encourage interaction with other guest at most hostels.
Can Families Stay in Dorms in Hostels
Families with children under 18 cannot usually stay in adult dorms in hostels. This wouldn't be a good idea unless the family was booking out the entire dorm.
It's much better to stay in a hostel with family rooms instead, and we strongly suggest you choose a hostel where the family rooms have their own private bathrooms.
Countries Where Families Can Stay in Hostels
We have stayed in hostels in many countries, these include Thailand, Malaysia, Guatemala, the UK (London), the Czech Republic (Prague) and Singapore.
We have not as yet found a country that didn't have hostels that families could use, we're quite confident that families can stay in hostels in every country with a strong tourism industry.
The standard of hostels does vary around the world, we consider Thailand to have the best hostels, and, in our experience, Singapore and Malaysia to have the worst. The cost of living in Singapore is particularly high, making Singapore hotels very expensive.
We think Singapore is a good place for a luxurious vacation, not for budget travel or backpackers. We have a guide to the best family hotels in Singapore.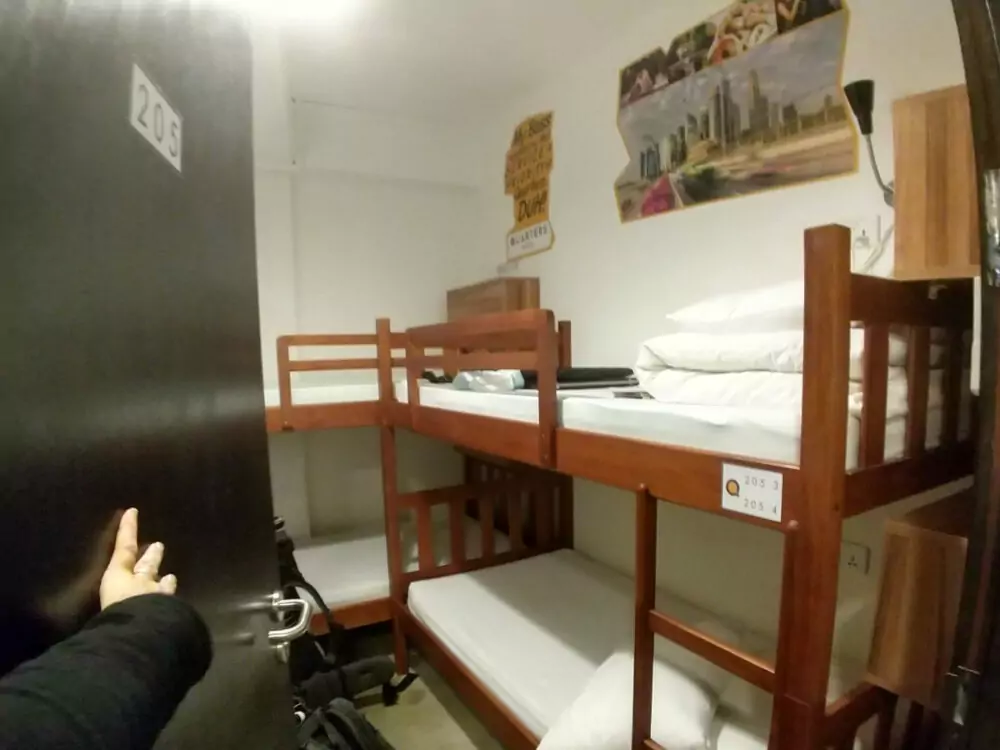 Staying in hostels in London (YHA hostels and independent hostels) was also not a good experience. We also found the YHA hostel in London to be more expensive and much less comfortable than a cheap hotel chain such as Holiday Inn Express.
This chain has small, affordable, comfortable family rooms and we use them often in western cities and for airport stays.
How Do You Know If a Hostel Will Allow Families To Stay
To book a hostel stay for a family, use a big online booking platform such as Agoda or Booking dot com.
Enter your destination, dates, and party details. The platform will prompt you to enter the ages of your children. Select the 1 room option.
The platform will them show a selection of available accommodation option, we would suggest that you use the filters to only view properties with a review score greater than 8/10.
You can then order your list of properties by price, lowest to highest.
The hostels in the list should appear towards the top of your list as they are likely to be the cheapest. The platform should only show places that do allow families to stay, however, always check the fine print.
When you select your hostel always scroll down through the hostels terms and conditions and check what facilities are available and if there are and age limits for kids. If you see no age restrictions and the hostel suits your need, you can go ahead and book.
What is a Hostel?
The Cambridge English Dictionary defines a hostel as "a place where people, especially young people, can stay cheaply for short periods when they are travelling, with shared rooms and sometimes some private rooms."
You do not need to be young to stay in a hostel, other than certain party hostels with age restrictions, this simply isn't true. Even the YHA (Youth Hostel Association) did not require us to be "young" when booking. We also didn't need to be members of the YHA to stay.
Stays at hostels also do not need to be short, you can book long term stays in hostels or even live temporarily in hostels. For a single person with no issues with sharing this can be very cheap.
It is not usually cheaper for a family to stay in a hostel.
More Information on Staying in a Hostel With a Family
We have a list of some of the best hostels for families around the world. You can find that guide for the best hostels for families in Southeast Asia here, we also have a post about budget accommodation, including hostels, in London. We also have a post about which hostels provide towels and which don't. More guides are in production. If you're looking for a good family hostel in Bangkok, we tell you about one we used recently, and liked in our Places to Visit in Bangkok guide.
If you'd like to hire a car during your stay, use this car rental comparison tool to find the best deal!

We also suggest you take a look at this company to get a quote for all kinds of the more tricky adventure or extended travel insurance.

Try Stayz / VRBO for an alternative way to find rentals on homes/apartments/condos in any country!