This post may contain affiliate links.
Family travel has many aspects that we'll explore here. We'll give you a guide to successful family travel while discussing the pros and cons and deeper aspects of travel with your family. Why is family travel important? What makes family travel different? What are the best family travel destinations, activities and hotels? Also, what about the ages of your children? How will that affect your family travel? Are you travelling with babies, toddlers, teens, tweens, maybe grandparents? Multi-generational travel is growing in popularity.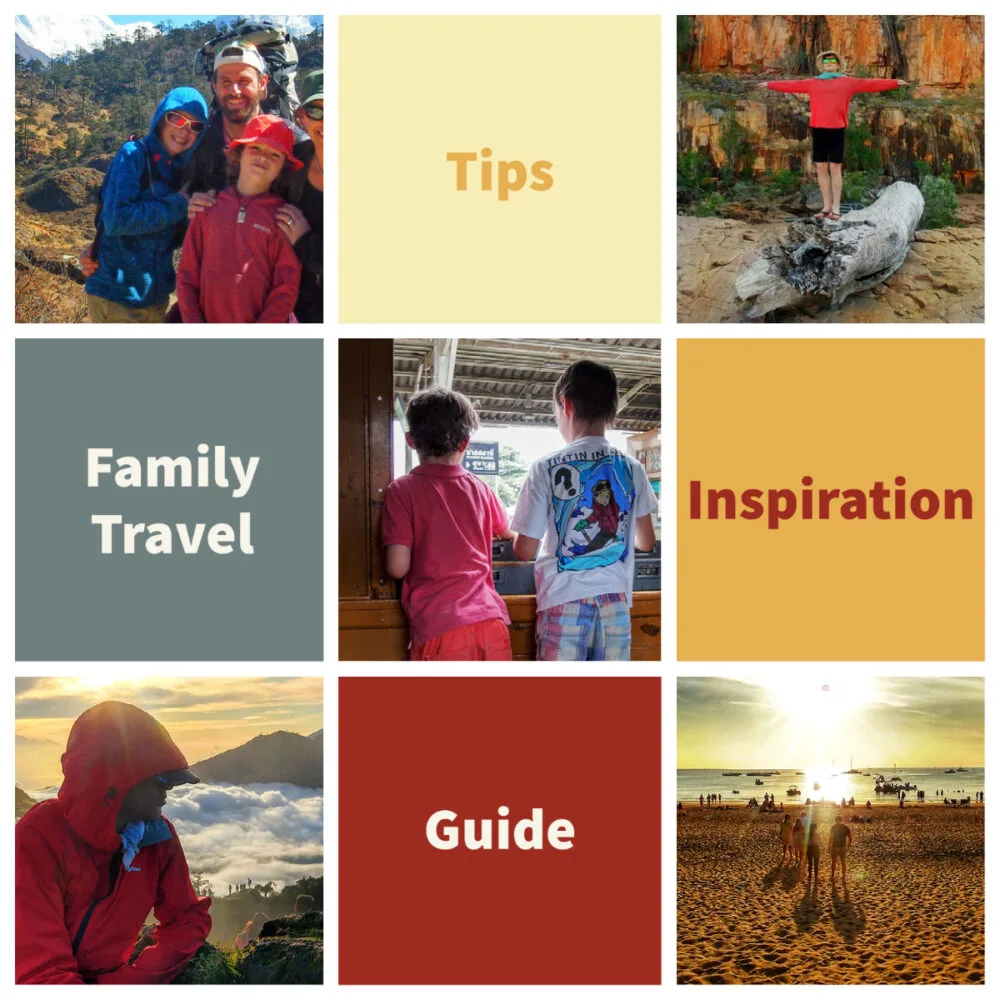 We here at World Travel Family travel blog think family travel is hugely important, so important that we made it our full-time priority for most of our kids' childhoods.
We'd like to explore that enthusiasm and share it with you, as well as giving you a few tips and ideas on family travel, vacations or holidays, for all ages.
Family Travel
Family travel, it's great for connecting generations, broadening minds, becoming more present and really getting to know ourselves and our families.
When else do we have time to really connect free of rush, pressures and things that just have to be done. It's also a lot of fun, or can be, done right.
All this, plus the excitement and learning opportunities of a new destination, plus some relaxation, if that is your need.
This post may contain affiliate links from which we may profit. It doesn't yet, but I may add some!
Family Travel Guide
Family travel planning starts the moment the idea of a trip, short or long, pops into mum or dad's head.
That idea will likely arise while you still have a small baby in arms!
Before you book your family trip think long and hard. Think about safety at your destination. Children, particularly toddlers, have a knack for getting themselves in the way of danger.
Consider availability of medical care. Think about climate, will your child enjoy extremes of temperature? How will family travel change what you as an adult can actually do while travelling?
Adjust expectations accordingly.
It's important to consider the needs of every member of the family because each one of your family is an individual with different likes and dislikes.
Will everyone find something to enjoy in your proposed destination?
Will your destination, accommodation, and travel style suit everyone's ideas of what family travel should be? Does half of the family not mind staying in a hostel, the other half want luxury?
There may be compromises needed!
Getting the children interested and involved in your family travel ideas and planning can help them enjoy the experience more. Take their thoughts and suggestions on-board, don't dismiss them.
Family Travel Styles
The majority of our family travel experience has been backpacker-style. Backpacking with kids is little different really to adult backpacker travel, you just have to make a few adjustments to suit the kids.
There are many styles of travel that are absolutely fine for family travel including the following.
Cruising is great with kids, but pick a cruise line with good family facilities.
Slow travel, staying months in one place, and exploring deeply is a family travel favourite. It saves money on getting around but you could run out of things to do. This is popular with some nomadic families. (Read what is a nomadic family here)
Camping, caravaning, and RV travel are much loved by families and lovers of the great outdoors and self-catering.
Luxury resort stays are great for families too, but pick one that is family-friendly, family rooms, kids' clubs, easy food and play all help.
Villa and apartment rentals also work for families. These often allow for larger families and again, self-catering saves you money and helps placate any fussy eaters.
Domestic travel
International travel
Exotic locations
Activities
Adventure travel
Family group tours
Staycations, Can a staycation be travel? We think so, if you explore new places very close to home. During lockdown we did this and saw some places we never would have seen otherwise. You can even book into a hotel in your home, or nearby town. See a place through the eyes of a tourist, or child, you may find it sparks fresh joy.
Preparing for Family Travel
Before you leave home make sure your whole family is ready for what's about to happen.
Some kids, especially if you have special needs children, can be extremely anxious at the process of travelling and of being somewhere other than home. Hopefully, you'll be OK!
Be certain to have everything in place to run smoothly. Check your passports have at least 6 months left on them. Be certain you have the correct visas, have back-up cash and spare credit cards.
Split cash between different members of the family and stash it in different places to dodge thieves. You may find an anti-theft travel bag useful, particularly for airport days and in cities.
You should have checked for any required travel vaccinations and be aware of health hazards.
For instance, do you need to worry about Dengue or malaria? Have you seen our post on tips for avoiding mosquitoes?
Be certain you have clothes suitable to your destination, in terms of climate and culture, and everything your children may need immediately on arrival.
That includes their favourite book, bear, blankie, and a simple medical kit. For teens make sure their phones and Kindles are charged and you have spare battery packs. These can be lifesavers on long bus journeys or flights.
Be certain to book an airline meal that suits everyone. You can request meals for vegetarians, vegans, intollerances, allergies, and religious requirements. I always order Hindu vegetarian, which gets me some funny looks!
Consider paying the extra to reserve seats all together if this is likely to be an issue.
If your journey is long and your airline, bus, train, or boat won't be providing food, consider taking familiar favourite snacks or sandwiches. With small children some wipes, plastic bags and a change of clothes helps too!
Of course with babies there is far more to think about.
Are you well equipped with nappies and bottles? Breastfeeding is easier in many ways but is it culturally appropriate where you're going? Will you be able to buy the formula or foods your baby needs at your destination?
If travelling with a baby, be certain mum gets a holiday too!
Packing For Family Travel
We find travelling lite makes for easier travel days, but not having everything you need and running out of clean clothes causes travel stress too.
It's a fine balancing act and much will depend on where you're going and what sort of dress and equipment is needed.
Do you need to rush out and buy all sorts of family travel gear? Not necessarily, but I'd strongly advise you to take a look at our post on travel essentials.
Do you think any of these items will be essentials for you too? If so, buy them. It's better to be safe than sorry.
Family Travel Safety Tips
When you're travelling as a family, always have a plan. What would you do if x happened? These plans have been our constant companions as we travelled the world as a family.
What do you do if you get lost? What do you do if the fire alarm goes off? What do you do if, heaven forbid, you fall overboard? Drill these things into your kids.
Do what I call a "Mommy risk assessment" of any accommodation. Spot the hazards before your kids find them for you.
These family travel hazards include steps, stairs, balconies, glass, dodgy electrical sockets and slippery floors. If possible, do this risk assessment before you book.
Also, be mindful of noise, you all need to get some sleep.
Tricks For Enjoying Family Travel
Allow plenty of downtime. Everyone needs to decompress, relax, nap, use their phones or maybe just take a little break from one another. Also allow plenty of treats, ice cream works well as a sweetener.
Be certain to do the things that everyone enjoys. If one child adores swimming, the other skiing, you may find you need to take two separate family trips!
Try to compromise just as you do with your partner. Keep the art gallery visits a little shorter, build in more playground time, take a bus when adults could walk further. Just moderate slightly to make sure every member of the family is having a good time.
Family Travel Further Reading
That's it for now, a short introduction to the world of family travel. I've been a travel blogger for almost 10 years now, a family traveller for almost 18 years. My kids have travelled with me from birth to older teens, to over 50 countries. It has been wonderful and we highly recommend taking your children travelling. Is there anything else we can help you with? Put it in the comments.
If you'd like to hire a car during your stay, use this car rental comparison tool to find the best deal!

We also suggest you take a look at this company to get a quote for all kinds of the more tricky adventure or extended travel insurance.

Try Stayz / VRBO for an alternative way to find rentals on homes/apartments/condos in any country!