Last Updated 28/03/2020.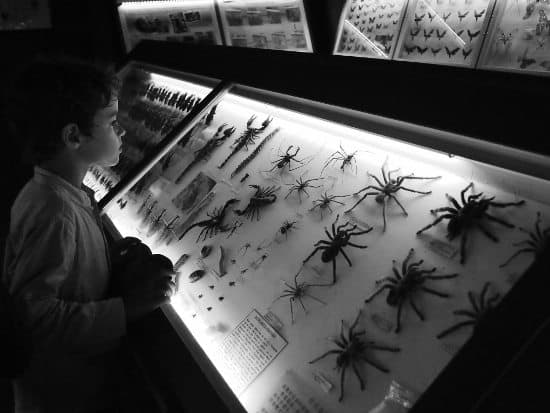 I thought this photo of huge spiders came out pretty well, so I'm making it photo of the week.
This was part of Penang Butterfly Farm, it's a nice little place, you can wander around among the glorious tropical butterflies, hold giant millipedes ( we had another drama there, Facebook page followers would know all about that already) be terrified or enthralled by the large live tarantula collection and check out the museum specimens in the photo.
We enjoyed an hour or so there, but it was expensive, 70MYR for the three of us, about $25 AUD. We have a great butterfly attraction near us in Australia, but if you've never been to anything similar, it's well worth a visit, particularly for the huge spiders! The boys loved it.
(this post is Part of Photo Friday on Delicious Baby)
It's easy to get there on the 101 bus from Batu Ferringhi, about 10 minutes and under a dollar, but, the 101 doesn't stop outside to return, you have to walk a while, down to the bus station, we waited for an hour before anybody told us. Typical of the problems that seem to follow us around at the moment, check out Freaking out in Malaysia, if you haven't already.
Our next stop Thailand, we're really excited to be going again, hope you stay with us!
Back to our main Malaysia Travel Blog page or our Things to Do in Penang page
If you'd like to hire a car during your stay, use this car rental comparison tool to find the best deal!