It's great to be in Bangkok again! I fell in love with Bangkok as a solo traveller back in 1999 and now I visit with my children, they love Bangkok too. This post is about our first few days in Bangkok in 2013, at the start of our nomadic family travel adventure.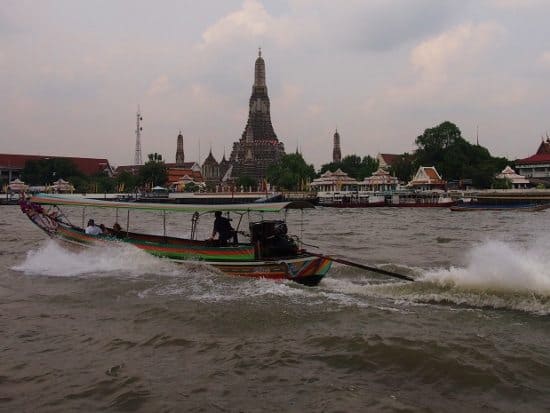 We've spent a lot of time in Bangkok over the years, but it's never stopped being exciting, I get a real buzz out of just being here. As we came into town in the taxi the kids were shouting " I know this place!" and "I remember this!", it's great that they'll love revisiting a few old haunts this time, too.
Any post on this site may contain affiliate links. We earn commission on these should you make a purchase. All recommendations are genuine and we are not paid to include products, hotels, and so on.
I wrote about things to do in Bangkok with kids after our last trip, we spent less than a week here last time, taking off for a few days in Ayutthaya and Koh Samet, all in a short family holiday. This time it's different, no deadlines, no list of sights to be ticked off, no rushing around.
We Love Not Having to Rush Bangkok.
We can stay as long as we like and come back again soon, we will be in Bangkok for at least a couple of weeks, long enough to chill and do nothing some of the time, take in a few sights at a very leisurely pace, shop for a few things and enjoy some of the best food there is.
Yes, We Had Another Hotel Drama.
Dramas are following me around the world lately.
We pre-booked ten nights in a fairly fancy hotel ( $35/night) because we saw a great special offer. When I checked in, front desk staff rudely demanded an extra $12/ night. The special we'd booked and paid for was "no possible", end of discussion.
So that started me off on another one of my famous freak outs ( see freaking out in Malaysia), I thought we'd have to check out, fight for a refund, wander the streets with heavy bags and a sick child ( Boo has tonsillitis). You know how it goes, serious Mummy stress.
After 24hrs of frantic email activity, it was sorted, the bookings wholesalers are very powerful, important people in the hospitality world. I got in touch with them via Facebook, they dealt with the hotel, I got my refund.
If anything like this ever happens to you, don't bother arguing with the hotel, go straight to whoever you booked it with, they have the power.
Drama Sorted, Time to Enjoy.
We are in a great location, just off the famous Khao San Rd, for me, the thumping heart of Bangkok. I love being here in the early mornings, if streets could have hangovers, this is what it would look like. The area comes to life as the afternoon wears on, crowds gather, shops and stalls appear from nowhere, street hawkers start their patrols selling everything from tattoo sleeves to scorpions on a stick. It's all the entertainment I need.
We are within five minutes walk of the river ferry jetty, boats take you to just about any attraction you want to visit for around a dollar.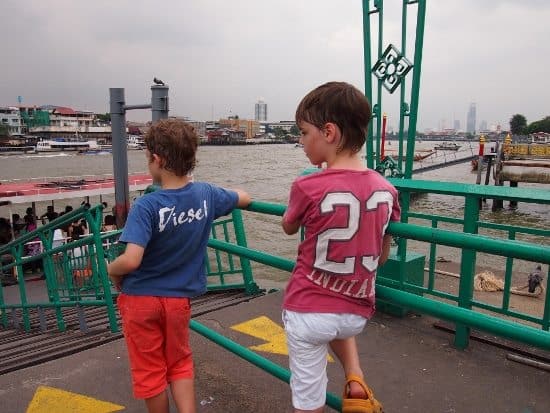 There is as much food and drink as you could ever need right on the doorstep, for all budgets. Beers from the shop are a dollar, from a fancy restaurant three dollars, you can buy dinner from a street stall from about eighty cents or spend big and buy something amazing.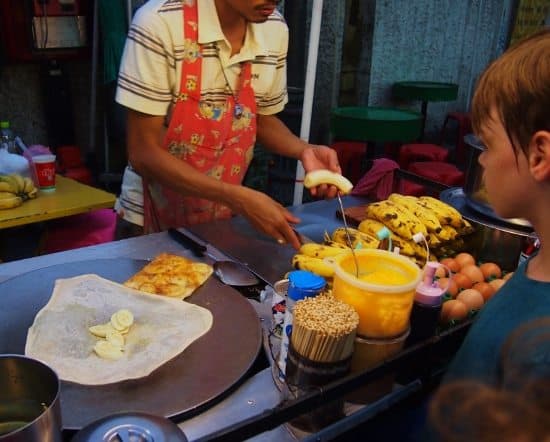 Plus we have three adorable kittens right outside.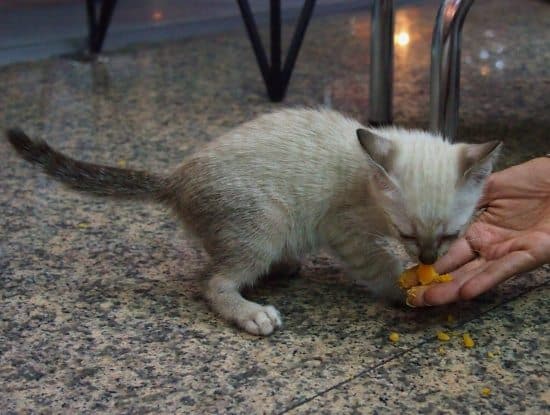 It's July, wet season, so skies are overcast and there are short thunder storms most days, but that's fine, it's cooler and we're in no rush, we can sit out the storm and not worry about lost time.
We're sorted, we're happy and guess what? Dad is joining us in just a few days. Maybe there will finally be some photos of me, people are starting to wonder what I look like. Don't expect miracles, have a look at Why I Never Appear in Photos, he's a great chef, lousy photographer.
Stick with us, lots more fun in Bangkok to come!
Update: This post is from 2013, during our first few months on the road. in 2016 we're heading to Bangkok and Thailand again. You can find all of our Thailand content on or Thai Travel page.
Alyson is the creator of World Travel Family travel blog and is a full-time traveller, blogger and travel writer. A lifetime of wanderlust and now over 7 years on the road, 50+ countries allowed the creation of this website, for you. She has a BSc and worked in pathology before entering the travel arena and creating this website. World Travel Family Travel Blog has been helping you travel more, better and further since 2012, when Alyson and James first had this life changing idea. On this site you can find endless travel information, tips and guides plus how to travel, how to fund travel and how to start your own travel blog.