This post may contain affiliate links.
You've probably heard of Sarawak on the island of Borneo, but have you heard of Kuching, its capital, which is also known as Cat City? Kuching Sarawak is one of our favourite destinations in the world, find out why in our post. The word Kuching actually means "cat" and cat-related landmarks abound. That has to be the number one thing to do in Kuching – check out the cat statues. We absolutely loved Kuching and we hope our guide to Kuching attractions is helpful to you. We also talk about Kuching history, culture and food.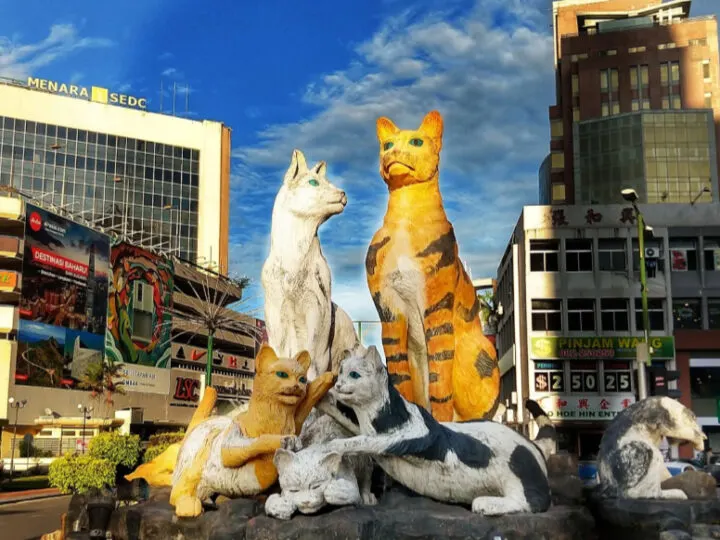 Kuching Sarawak
Here are some amazing things to do and see in Kuching along with a few day trips and tours to take from Kuching. All can be done using Kuching as a base. Our short video, below features some of the highlights of Kuching Sarawak.
See the Cat Statues of Kuching
Why is Kuching called 'Cat City'? The story goes that the first British Rajah of Sarawak, James Brooke, asked the local people what the name of this city was. At the same time, he asked the question, they thought he was pointing to a cat. So, of course, the locals thought he was asking them what it was – and so they replied 'kuching' which is 'cat' in Malay.
Kuching has several cat statues and a fair amount of cat related street art. Be sure to check them out. The cat family above is just one.
Charles Brooke Memorial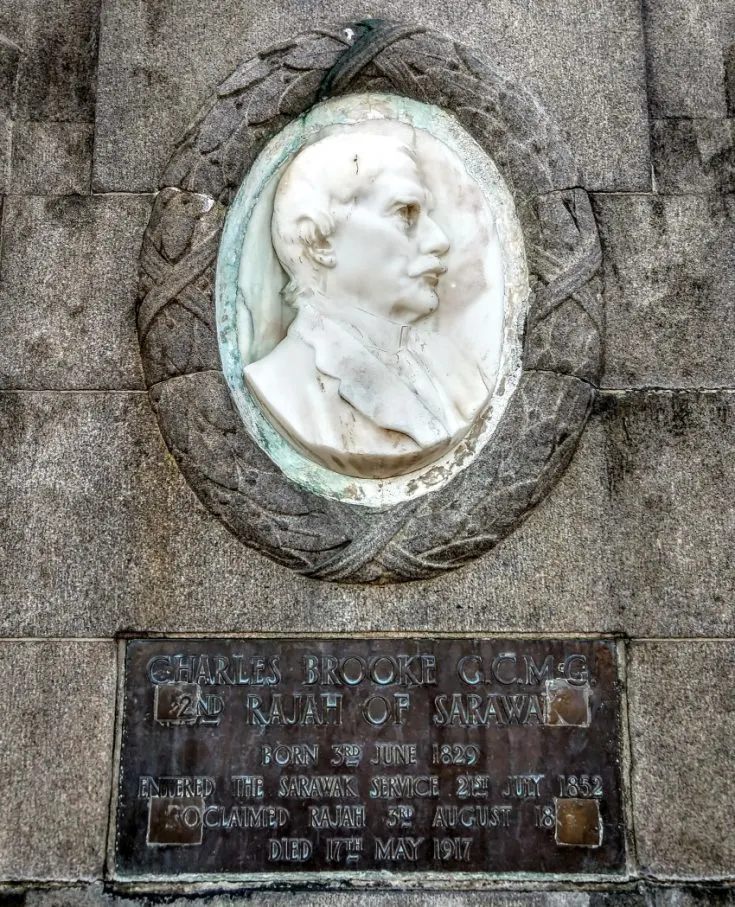 Charles Brooke, the second Rajah of Sarawak succeeded his uncle James Brooke ( mentioned above). You'll find this memorial near the riverside in old-town Kuching.
The Kuching Cat Museum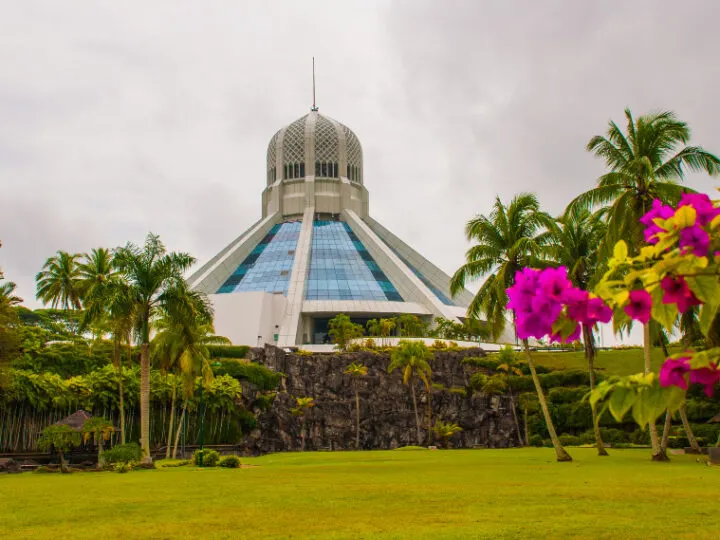 You can't visit Kuching, 'Cat City', without visiting the Cat Museum. There are over 2,000 cat objects in the museum, and it will take you about an hour to visit everything. The museum should be open every day, from 9 am-5 pm, and entry is free. However, you may be asked to pay a small fee of about $1 if you want to take photos or videos. Double-check opening times and admission price for yourself here.
You'll be amazed at how many different cat object there are! You'll even see a mummified cat, said to be more than 5,000 years old, as well as displays featuring Hello Kitty, and the Broadway show Cats.
Kuching Waterfront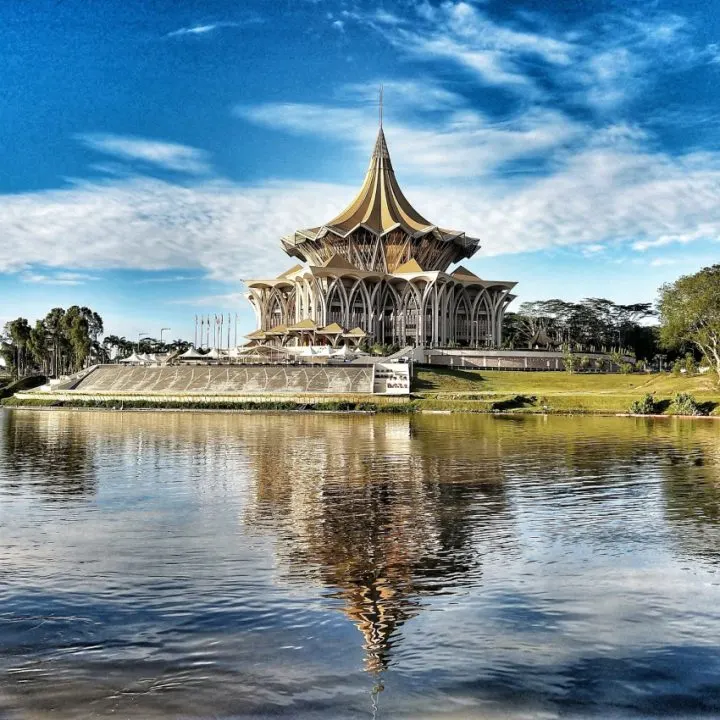 Strolling along the Kuching Waterfront is a 'must do' in Kuching. There's a lovely path, and stunning views over the main sights of the town, which are even more stunning if you choose a stroll at night.
You'll also be greeted with some small cafes, various food and drink carts, and benches for resting your weary legs. This is a good place to come for cheap street food and snacks in the early evenings. In addition, you might be lucky enough to encounter buskers or street performers to entertain you.
The best time to take a stroll along the Kuching waterfront is at sunset, when the sun is behind the mountains with the last sunlight of the day peeking out from behind. And after that, you can head to one of the many bars or restaurants you'll find in this vibrant part of town.
Kuching offers amazing sunsets over the river. If you want to fully enjoy them find a rooftop perch or consider staying at the Kuching City Cozy Waterfront Riverfront Property. I was very envious of my friend's sunset photos taken from here and this hotel has excellent reviews and family provisions.
Stay in an Iban Longhouse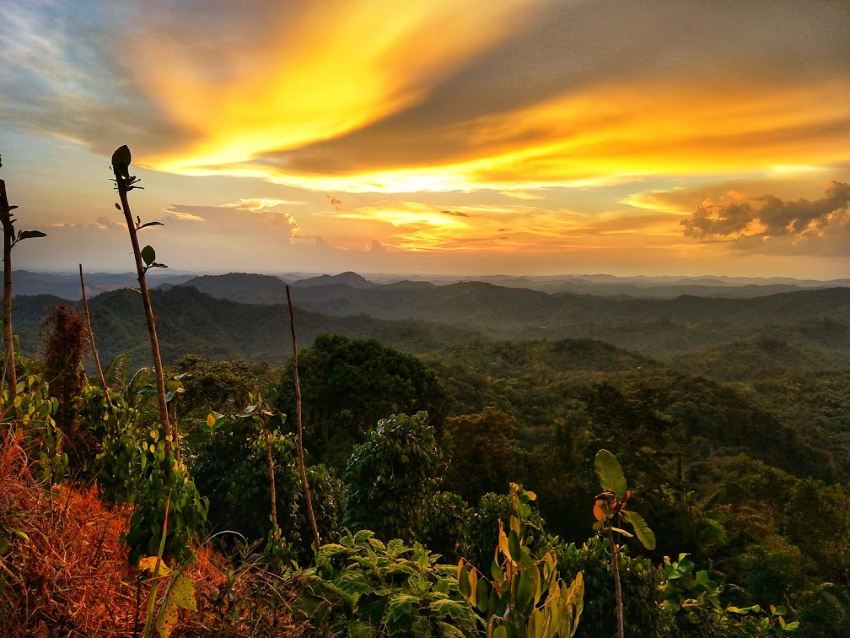 A number of indigenous groups have their home in the region, including the Iban people, making it an interesting destination for the curious adventure lover. One of the huge highlights of our trip to Kuching was our adventure in the jungle with the Iban people. We stayed with them for 3 nights observing their way of life and trying our hands at farming, hunting and fishing.
If there's one thing you should do during your time in Kuching, it's to stay in a longhouse. These amazing, multi-family houses are still in use today and you can begin your stay from Kuching. These people are the formerly feared headhunters of Borneo and to stay with them is simply incredible.
Longhouses are practical for tropical living, with cool air circulating under the raised floors, which can also provide shelter for livestock. Each family has their own private home within the longhouse and shares a communal covered living area
When you stay in a longhouse, you'll learn all about indigenous culture, hunting, farming and maybe even experience traditional dancing and a musical performance by the locals. We have a full post on our magical stay in a Sarawak Iban longhouse here. If you'd like to book the tour we took, or make further enquiries, do that here.
The Square Tower Kuching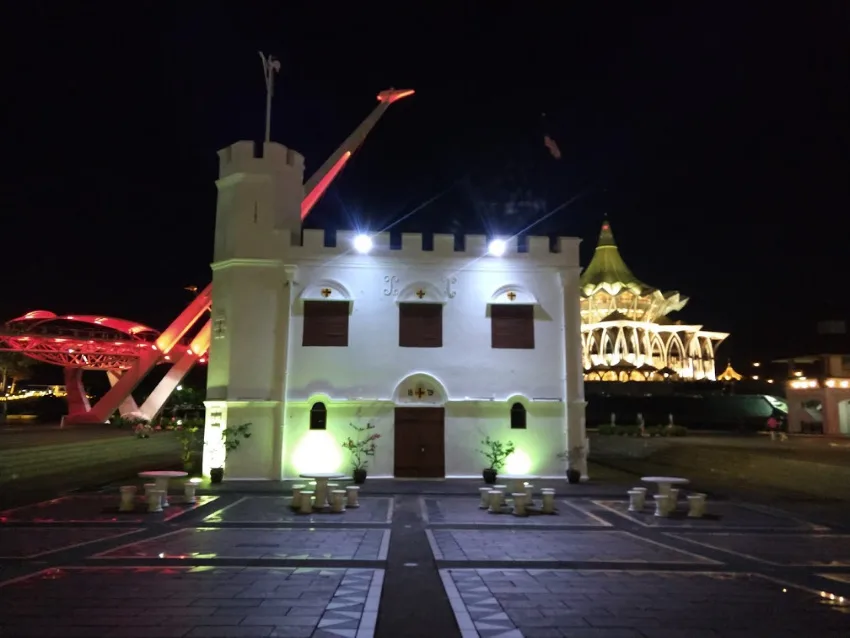 This interesting little building started life as a prison in the 1800s before becoming Kuching Fortress. Today it is another pretty addition to the Kuching waterfront. The whole area is beautiful by night with every feature lit with colour as the hues of the Golden Anniversary Bridge constantly change and delight.
Visit the Sarawak Museum
This museum is the oldest in Borneo, founded in 1891. It has one of the best collections in Southeast Asia, and therefore is well known and very popular with tourists and locals alike.
In the museum, you'll see natural history displays, traditional wood carvings, stuffed animals, tribal weapons and there's even a section on the oil industry in Sarawak.
The Sarawak Museum was located in a huge and impressive building, which dates back to the Victorian era, however at the time of writing it is closed for refurbishment. The building is expected to be open again in March 2020, when the entire project is finished, which includes new buildings along with the refurbished existing building. Entry to the mueseum is free, and it's open daily apart from some public holidays, so be sure to check before heading out.
Proboscis Monkeys of Bako National Park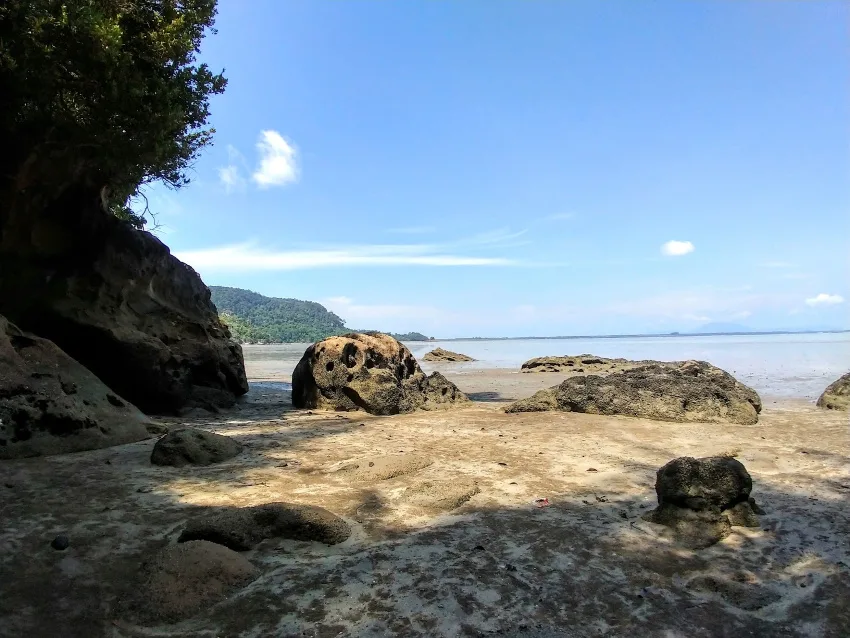 Bako National Park is the oldest national park in Sarawak, and also the smallest, covering only 3,000 hectares. Access is by car, then by small charter boat, and will take about 90 minutes to reach this natural jungle wonderland.
Here you'll find walking trails, waterfalls, and hidden beaches. And don't forget the flora and fauna, including the strange-looking, big nosed, proboscis monkeys, flying squirrels and Bornean bearded pigs. We were able to see one of the world's smallest frogs along with a pretty peaceful green pit viper on our walk in the park.
We chose to visit with a guide, he arranged our boatman and was able to find some incredible wildlife that we would never have been able to see by ourselves. It was incredibly hot and there was a lot of walking on uneven terrain but for the less sure-footed, some parts of the park are easily accessible on flat trails and boardwalks.
It's also possible to stay a night or two in Bako national park. To do this you'll need to book accommodation at simple lodges and chalets such as these. If staying overnight you can opt for a guided night walk in the jungle. They take place almost every night at around 8 pm, and cost roughly $10. You may be lucky enough to see venomous snakes, tarantulas and scorpions. This tour is very much on our wish list for our next visit to Kuching.
Giant Rafflesia Flowers at Gunung Gading National Park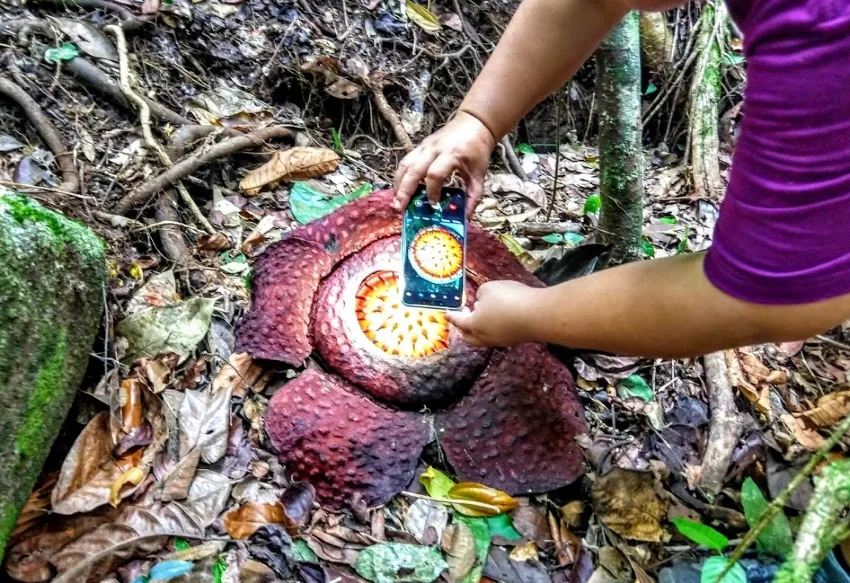 Another national park that is easily accessible as a half-day trip from Kuching city. Most people visit this Gunung Gading National Park for the flora, not the fauna. This is one of the places you'll find the rare giant rafflesia flower near Kuching.
The Rafflesia flower is the largest flower in the world, and they bloom throughout the year so you will have a good chance of seeing one in all its glory.
There are also jungle trails, waterfalls and you can even climb to the peak of Gunung Gading Mountain. We had a superb guide and she found beautiful lizards, bugs and spiders for us. to see. Again, without her, we would have missed them. She also showed us how to take decent photos of the rafflesia blooms.
It takes about 2 hours by car to get to Gunung Gading National Park from Kuching, so it's possible to visit it as a day trip. We arranged a car, driver and guide and had a superb afternoon.
See The Old Courthouse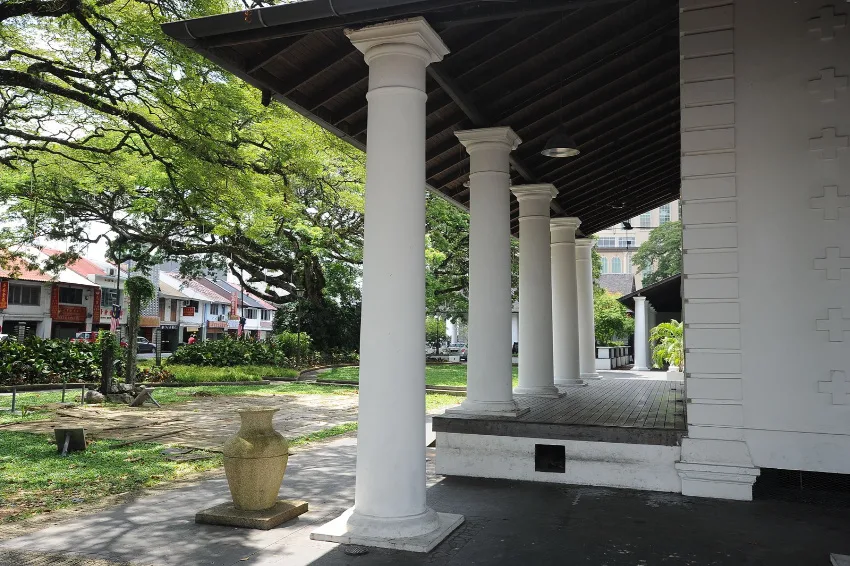 The Old Courthouse is now the Sarawak Tourism Complex, so there are two reasons to visit. Firstly, the Old Courthouse building dates back to 1871 and you'll find several other interesting buildings on the site. There's the clock tower, which was built in Baroque style in the colonial period, as well as the round tower, which dates back to 1886.
Secondly, you'll be able to get a lot of interesting and useful information on tours, cooking experiences and much more from the Tourism office.
Still want more? Here are some more things to do in Kuching!
Kuching Sarawak Cultural Village
This must-see living museum is only 35kms (22 miles) from Kuching Sarawak, and here you can learn about the diverse indigenous groups of this part of Malaysia. This attraction, not too far from Kuching Sarawak can be reached by taxi or Uber and is one of the best days out we've ever had, we loved this place, even in the rain.
Members of these indigenous groups dress in traditional costume, and perform traditional dances and create music for their guests. It was good to see traditional Iban costume, lacking in modern villages we'd stayed in. We were also treated to a lively display of blow-pipe hunting and got to taste several traditional snacks.
You can learn new skills from live demonstrations, such as bead making, weaving, and bamboo carving. Visitours tour on foot, walking between various traditional village buildings from various eras, tribes and lifestyles. The traditional architecture is diverse and wonderful. You can, of course, go inside the houses and longhouses, be ready for a lot of steps and ladders, most of the houses are on stilts.
Check Out Kuching's Street Art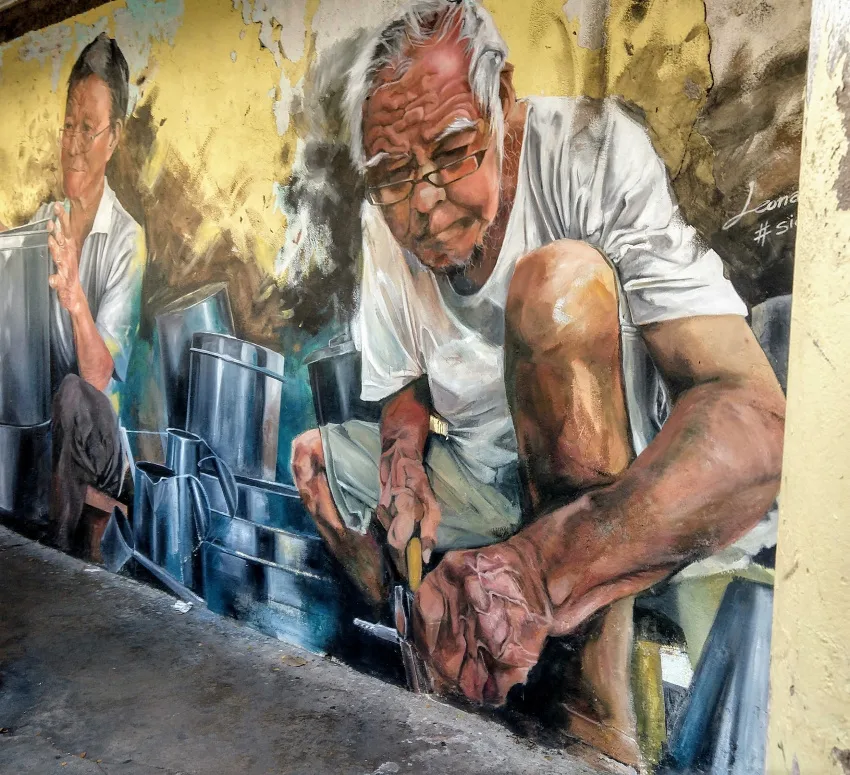 Kuching has some of the best and most evocative street art I've seen anywhere in the world. For me, it beats the street art in Penang or Ipoh Malaysia by a very long way. The depictions of craftsmen in the carpenter and silver-smith quarters were particular favourites along with the faces of Kuching at the markets and various wildlife, orangutangs and children. Kuching is small, so find yourself a street art map and just explore. You'll find them all soon enough.
Learn About Food in Kuching with a Tour or Class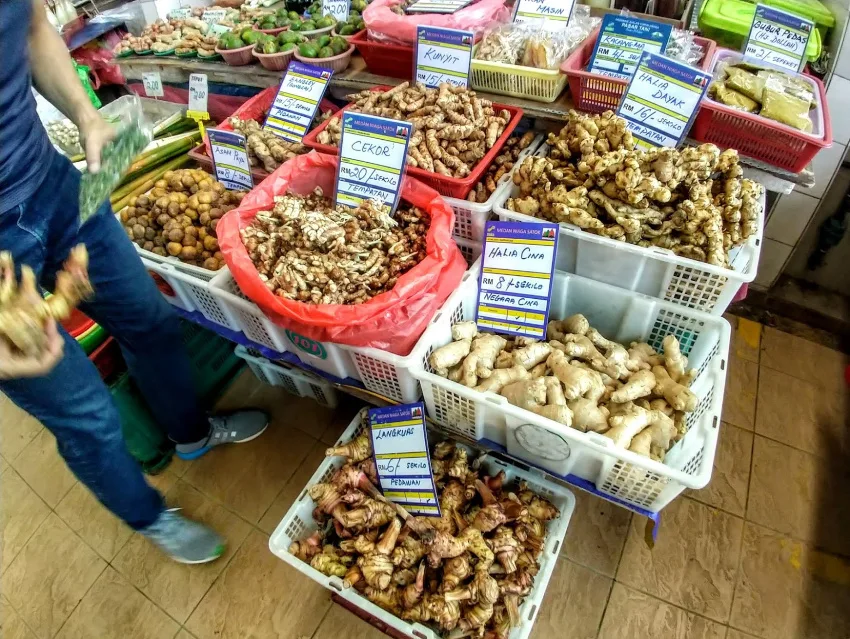 One of our favourite mornings in Kuching was spent cooking at Indah Vegan Cafe and Gallery. Before cooking, we spent some time touring the food markets and buying ingredients. There is an eye-opening array of interesting produce to discover. We've always struggled with Malaysian food as even vegetarian dishes have a tendency to contain dried shrimp – to which I am allergic – so vegan Malaysian food was a game-changer for us. Kuching is where we learned to love Malaysian food.
Speciality dishes of Kuching include kolo mee, Sarawak laksa and, of course, Kek Lapis Sarawak. You'll find this special cake all over Kuching city often at pavement stands.
The Kuching Mosque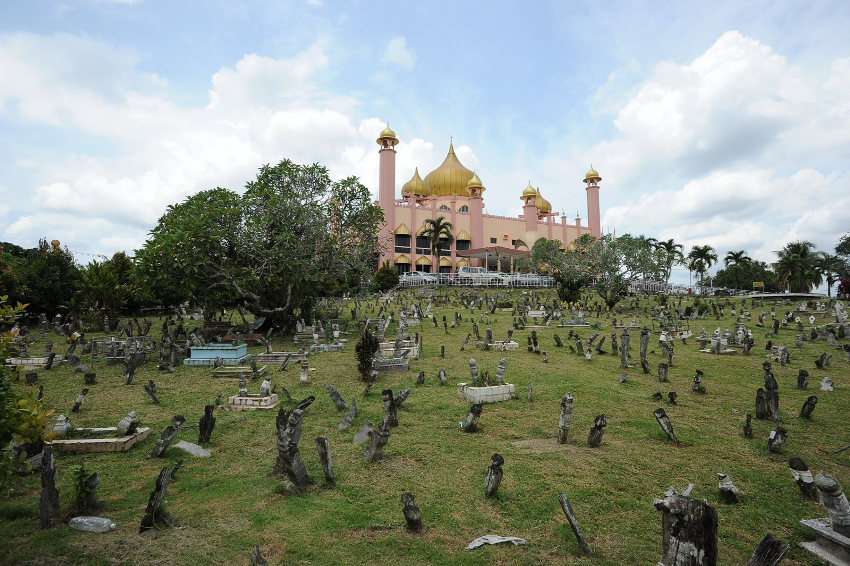 There is more than one mosque in Kuching, but the Kuching Mosque is one not to miss. Formerly known as the State Mosque of Sarawak, the current structure was built in 1968 as a replacement for the old wooden mosque, which dated back to 1852.
Stunning is one of the most common words to describe this incredible pink place of worship. And especially magnificent is seeing the golden cupolas and dome shining under the Malaysian sun.
As with all sacred places, some rules are in place if you want to visit the Kuching Mosque. You must dress 'respectfully', and remove your shoes before entering. Also, non-Muslims cannot enter during prayer times.
See Orangutans at Semenggoh Nature Reserve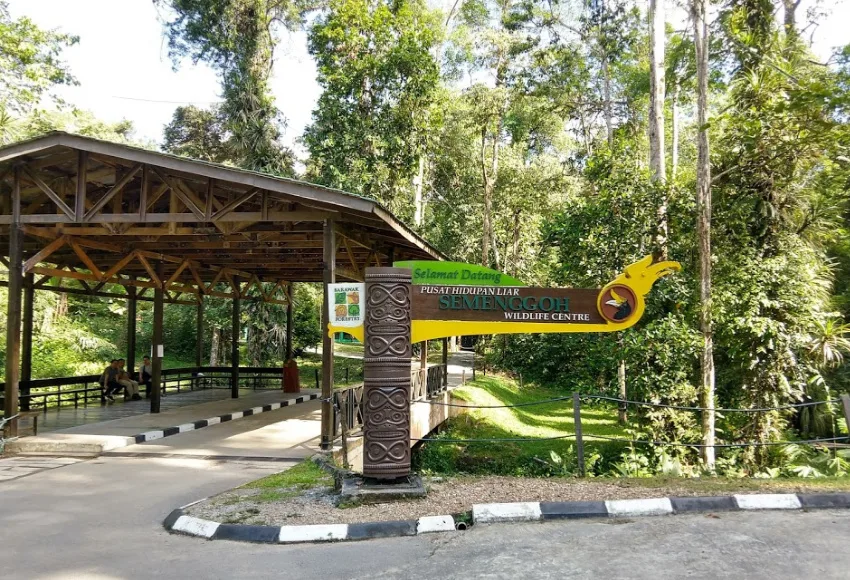 One of the most delightful things to do in Kuching is to visit the Semenggoh Nature Reserve. And the reason is that it's a sanctuary for the orangutan. It's been a rehabilitation centre for more than 30 years, and in addition to the orangutans, there are also other birds and animals to see there.
Plan your visit to coincide with feeding time, which is at about 9 am and then again at about 3 pm, and you could be lucky enough to see these beautiful mammals as they come to the feeding platforms for fruit provided by the rangers. There are no guarantees, but we saw 10 or so individuals including babies and the huge alpha male.
The Semenggoh Nature Reserve is about a 40 minute trip from Kuching, so it can easily be done as part of a day trip. We took a Grab car. Outside the nature park mobile coverage was bad, walk up to the road to call your return vehicle, we shared with another visitor. There are buses but it's not an easy route and the bus doesn't stop outside.
The Open Air Market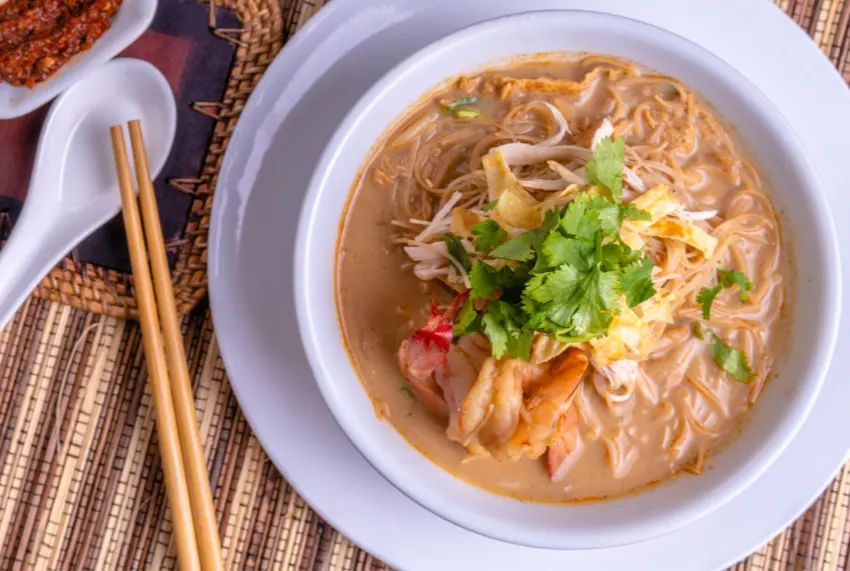 The Kuching Open Air Market is actually in a covered area, and comprises many different food stalls, most of which sell only one type of food.
This is the place to go in Kuching for trying traditional Chinese and Malaysian food and drink. For instance, Sarawak laksa (a spicy, coconut, noodle soup), Mee Sapi (traditional beef noodles), or Sio Bee (a kind of pork dumpling).
Prices are cheap, starting from around $1, and the market is open every evening from about 5pm to 11.30pm.
A River Cruise or Kayaking on the Sarawak River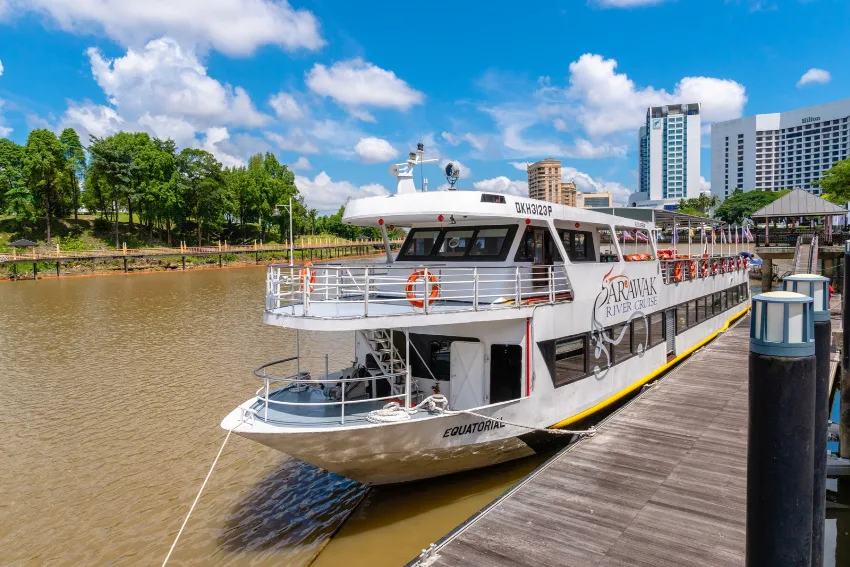 There are plenty of options for cruising on the Sarawak river The more adventurous and active tourist/traveller can explore the area by kayak.
You'll see much more than your land-bound friends. You can take the kayak along the river where you'll see the city from a different perspective. Or, for an even bigger thrill, you can even go to the open sea and try your luck finding a pod of dolphins. Watch out for crocodiles!
There are several kayak companies in Kuching, and prices are at around $45 per person, for a six hour guided kayak trip. For the less physically exuberant regular boat tours are also available from waterfront jetties.
Tua Pek Kong Chinese Temple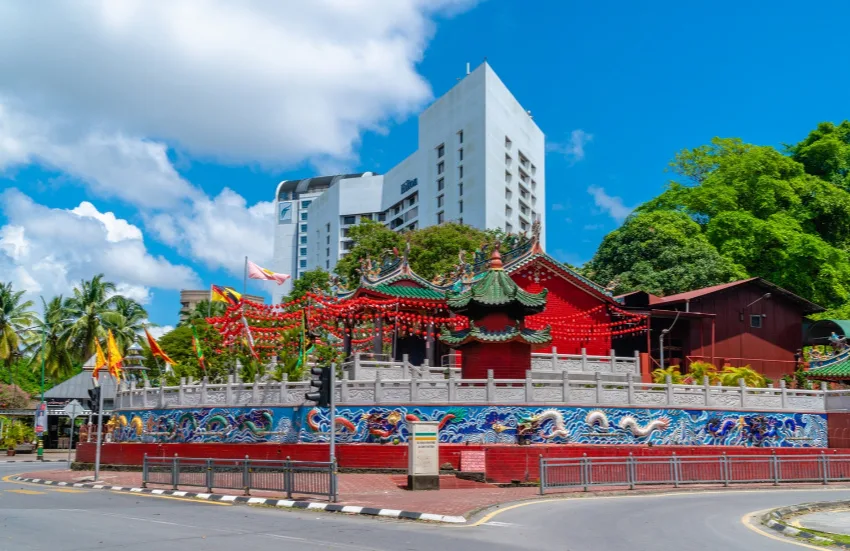 Not forgetting the Chinese population of Kuching, pay a visit to the Tua Pek Kong Chinese Temple.
This temple is a brightly coloured, Chinese style, traditional temple with records dating back to 1843. It was one of the few buildings to survive the Great Fire of Kuching in 1884, and is said to possess strong, positive powers of Feng Shui.
The temple sits on high ground overlooking the Sarawak River, and is still used by the locals for prayers. This beautiful, ornately decorated temple is really small and you can visit it in less than 10 minutes.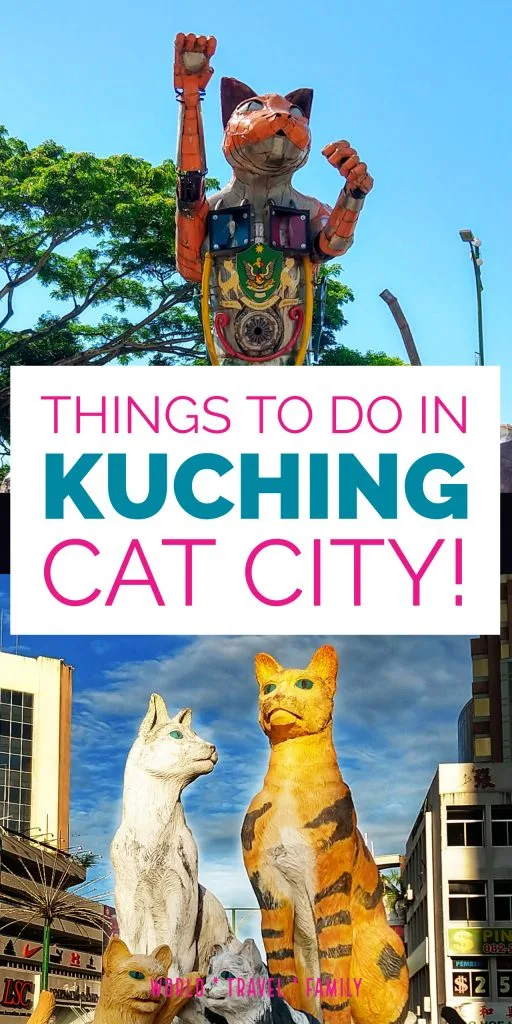 Kuching Sarawak and More Malaysia
If you need more information on Malaysia, Borneo and Kuching, our posts below could be useful to you. Over the years we've spent months in Malaysia and I have to say, Kuching and Kuala Lumpur are our two favourite places in this country. Our post on Thaipusam, a Hindu festival in KL, is one to see. On the island of Borneo, we enjoyed the Kuching area a lot more than the east of Sarawak and Sabah. We also enjoyed Ipoh on the mainland and we think you should visit Malacca. We have a lot more information on travel in Malaysia in our further posts, below.
Photo Credit : Photos marked ** were used with permission of Sarawak Tourism website under Creative Commons license. I have my own photos, but theirs are better!
There are many more amazing places to visit and things to do in Kuching Sarawak, but for now this list will help you to start imagining and planning your time in Kuching. We think we've covered the best things to do in Kuching here, but we're us and you're you. We have posts in production on Kuching accommodation and food to help you more. What do you think is the best thing to do in Kuching?
If you'd like to hire a car during your stay, use this car rental comparison tool to find the best deal!

We also suggest you take a look at this company to get a quote for all kinds of the more tricky adventure or extended travel insurance.

Try Stayz / VRBO for an alternative way to find rentals on homes/apartments/condos in any country!