This post may contain affiliate links.
Ipoh Malaysia is a popular destination in Malaysia, with history, street art, food and more, it is popular to visit Ipoh as a day trip or one day tour from Kuala Lumpur, or Ipoh makes a great place for a weekend away or short break suitable for foodies, family or with kids.
This post covers Ipoh Malaysia, things to see and do in Ipoh and where to stay.
Book a one day tour of Ipoh from KL here. or choose a family hotel in Ipoh such as this one.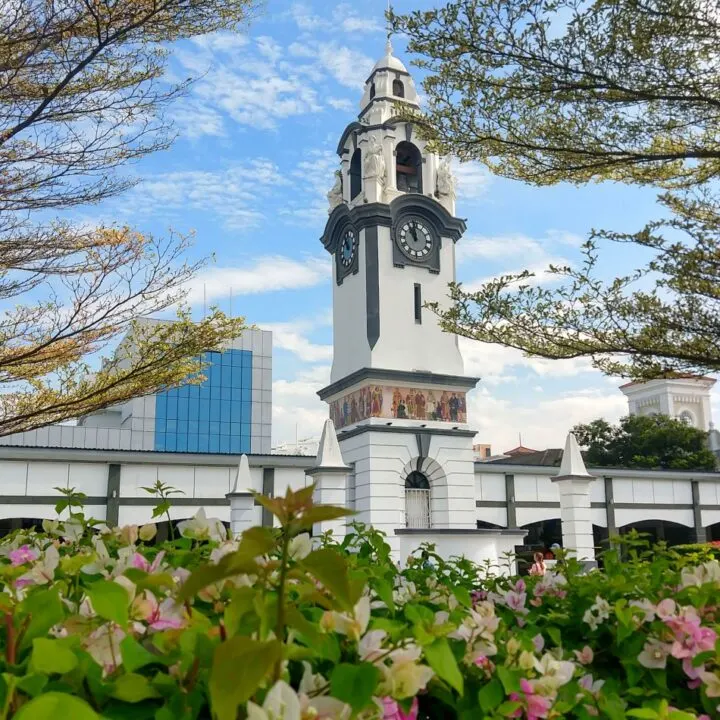 Read more about Ipoh and things to see and do in and near Ipoh in our post. If you're travelling with kids, be sure to visit the Lost World of Tambun theme park, Ipoh.
Is it Worth Visiting Ipoh?
Yes, Ipoh is very much worth visiting, We liked Ipoh a lo, moreso than many other places in Malaysia.
Ipoh Travel Blog
In our many visits to Malaysia we'd previously only passed through Ipoh on the bus from Kuala Lumpur to Penang, but Ipoh Malaysia, in the state of Perak, keeps cropping up in the travel blog world as a destination worth checking out.
It is our job, as travel bloggers to go places and share them with you.
This trip to Malaysia took us to some old favourite places and a lot of new destinations.
We took a road trip around peninsular Malaysia using a hire car, before hopping over to Borneo by air for Sabah and Sarawak. This is the sad trip where we had such a bad time in Sabah.
Much of this trip was pretty ordinary, we went to the Cameron Highlands and the east coast of Malaysia places not so many western tourists go.
We weren't huge fans, preferring places such as Melaka, Kuala Lumpur and Kuching, but we really did enjoy Ipoh.
Ipoh was good, Ipoh was fun, and there are some cool and interesting places to explore here, plus a rather spectacular water park.
About Ipoh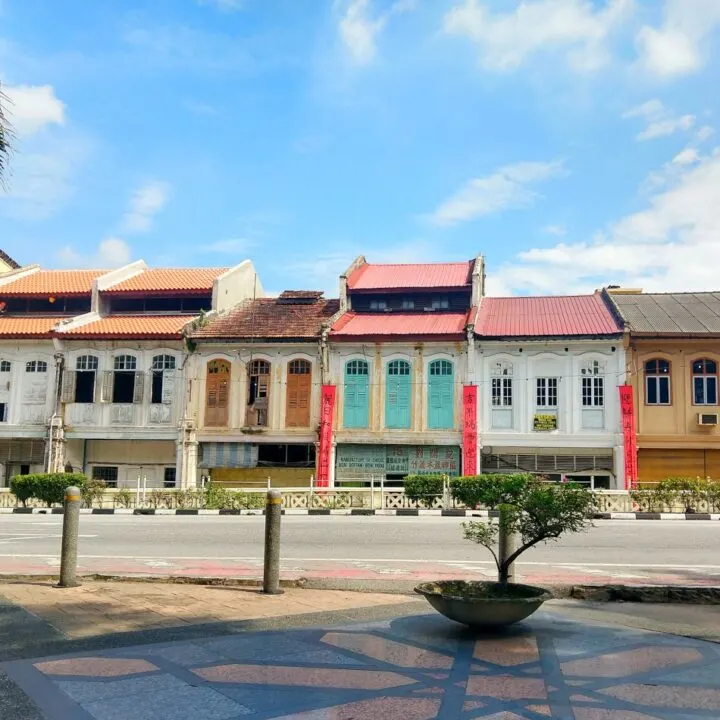 Ipoh is the capital of the state of Perak in the north of Peninsular Malaysia.
The name Ipoh is taken from the botanical name of a tree, Pokoh Ipoh (Pohon Epu), a plant used in poisoning the tips of darts and spears.
The original settlement here grew on the banks of the Kinta River, in an area rich in tin. You'll find references to tin mining in local museums and even in the Lost World water park.
Ipoh is one of the largest cities in Malaysia by population and tourism is an important business here. Food tourism, particularly, Ipoh is a famous culinary destination.
Ipoh is about 205 Km north of Kuala Lumpur and 150 Km south of Georgetown, Penang. It's a good place to break your journey between the two destinations.
You can use our interactive map, below, to get a feel for Ipoh's location.
Things to Do in Ipoh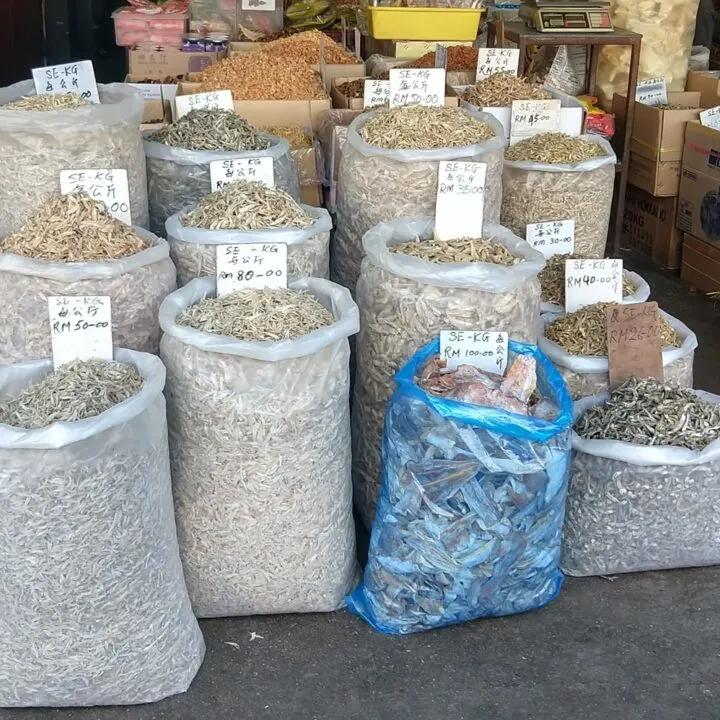 We were only in Ipoh for a few days and probably didn't see or do everything, but what we saw, we enjoyed.
A few highlights of Ipoh below. We'll give you a list of the best things to do in Ipoh, with more detail further down the page. The number one thing to do in Ipoh with family or kids has to be The Lost World of Tambun, but there is plenty to keep the adults happy too!
Kok Lok Tong Cave Temple
Sam Poh Tong Cave Temple
Concubine Lane
Palong Tin Mining Gallery Museum
Ipoh World
Perak Tong Cave
Ulu Geroh Rafflesia Trail
Gaharu Tea Valley
Go shopping at Memory Lane
Kinta River Front Walk
Mural Art's Lane
Tambun Cave (Gua Tambun)
D.R. Sennivasagam Park
Enlightened Heart Tibetan Temple
Kwan Yin Tong Temple
Ipoh Railway Station
Ling Sen Tong Temple
Gunung Lang Recreational Park
Funtasy House Trick Art
Ipoh Heritage Trail
The Geological Museum
Gua Tempurung Caves
Ipoh With Kids
We visited Ipoh with kids from about 9 years old to 15 years old, 4 kids, 2 families.
All of the kids ebjoyed Ipoh. There was the theme park, of course, pleasant walks around town, amazing temples to see, and good food.
There was nothing in Ipoh that we wouldn't consider family friendy, so our "things to do in Ipoh" applies equallu to families and kids.
Ipoh's Birch Memorial Clock Tower
This clock tower kept us fascinated for a very long time!
James Wheeler Woodford Birch was Perak's first British Resident back in 1874.
The area's rich tin supply, of course, drew colonists to the area. Birch wasn't popular and his lack of consideration for local tradition lead to an uprising.
Birch was murdered in 1875 either by followers of Dato Maharaja Lela or by the local chieftain himself.
This lead to British troops arriving (The Perak War) on the scene and taking full control of Perak.
This full control lined a lot of British pockets with profits made from tin.
The tower is a memorial to Birch, opened in 1909, but should he be remembered favourably? Or is Dato Maharaja Lela the hero here?
The four white figures towards the top of the clocktower represent the four virtues of British government, loyalty, justice, patience, and fortitude.
Beneath this, each of the four sides of the tower has a frieze depicting historical notables, forty-four in total.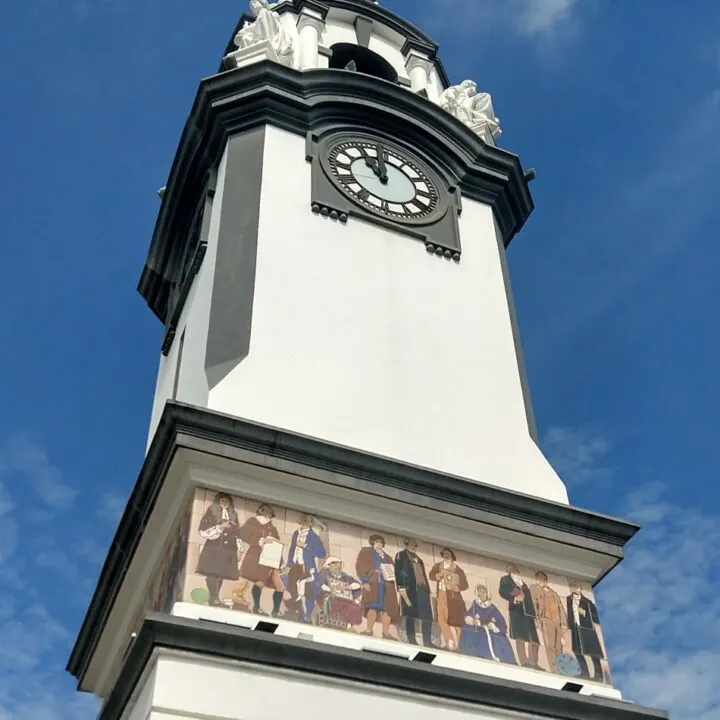 It's fun to identify characters such as Dickens, Darwin, and Beethoven.
If you're doing that thing "worldschooling" this is a great spot to cover some history.
On the side facing the State Mosque you will see an invisible character, a blank space. Again, as with the murder, I've read conflicting stories as to who this notable is.
On the day, we presumed it was the last Prophet of Islam, Mohammed, and most reports confirm this, saying this figure was painted over in the 1990s due to objections from the Muslim community to a depiction of the Prophet.
Elsewhere I've read that this figure was a representation of a Christian figure, and so was removed as it was facing the State Mosque.
This latter explanation makes no sense as there are other Christian icons on the same panel.
The travel blog that states this is popularly known for publishing information gathered from the internet and not from real experience in the destination.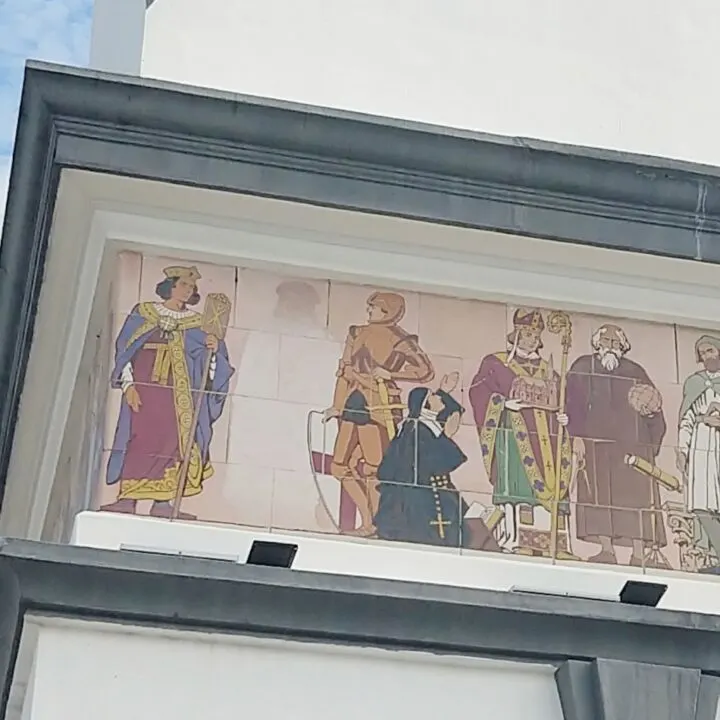 If you can, be here when the bells ring, it's well worth hearing.
The memorial used to have a bust of J.W.W. Birch, it's believed to have been stolen, or maybe just removed.
No reference to Birch remains on the tower today.
Unsurprisingly, the memorial tower was commissioned by Birch's son, E.W. Birch, the 7th British Resident of Perak.
The four panels represent different aspects of human history and civilisation.
Panel 1-North. Depicts figures from the stone age, a hunter, a fisherman and a woman spinning. The iron age is then represented by a man and a woman followed by a Nubian with gold and ivory, a Chaldean Astrologer, a woman making pottery, an Egyptian, An Assyrian, and aPersian.
Panel 2- West. Represents the Eastern Mediterranean. Far East, Greece and Rome. It shows Moses, David, a Phoenician, a woman from the Agean civilization, Confucius, Buddha, Lao Tzu, a woman in Greek Art, Alexander the Great, Plato, and Augustus.
Panel 3. South. The Byzantine Empire: Constantine the Great. Islam Mohammed. The Age of Chivalry: A Crusader. The Age of Faith, Saint Clare of Assisi. Gothic Art, Saint Thomas Aquinas. The Renaissance: Galileo Galilei, Michelangelo, Vittoria Colonna, Columbus. The Reformation: Martin Luther. The Elizabethan Age, William Shakespeare.
Panel 4-East. Modern Science, Art and Social Services. Isaac Newton, William Harvey, James Watt, an unnamed embroiderer, Beethoven, Robert Stephenson, Louis Daguerre, Florence Nightingale, Charles Darwin, Thomas Alva Edison, and Joseph Lister
Ipoh' Theme Park, the The Lost World Of Tambun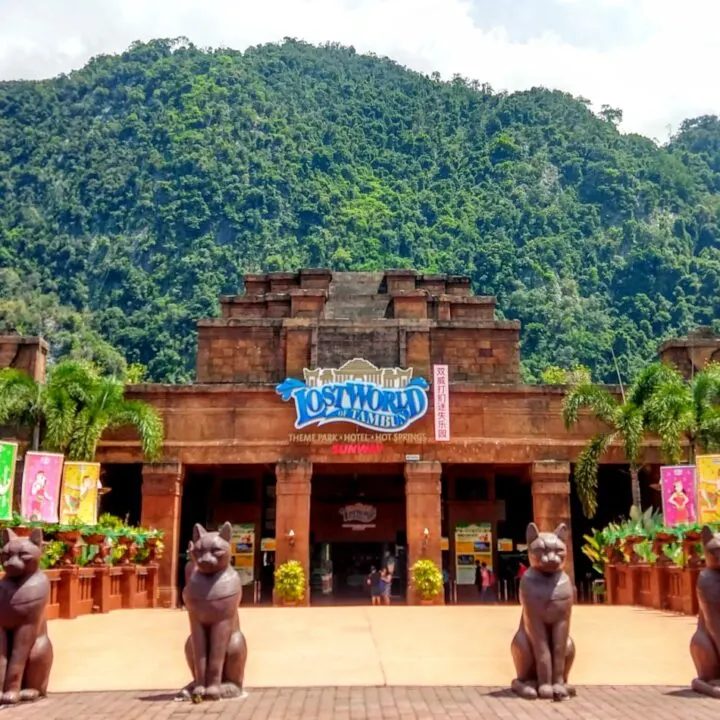 The Lost World of Tambun, a Sunway property, is a destination in itself.
You could easily come to Ipoh and have a full weekend in the park, both day and night, there's plenty to keep you busy and having fun.
This isn't just a water park, it's a fun park with dry fun rides, an animal park, and activities such as rock climbing and zip lining.
We had a full day in the park and were hugely disappointed that we couldn't stay for the evening light show.
This place really is spectacular and our party of three adults and four kids had an absolute blast.
There are water slides and play areas to suit all ages in several distinct areas of the park.
In our estimation, this park is better than Sunway Lagoon in KL. We visited that one in the same week. The Ipoh park was our favourite.
The Lost World of Tambun is about 15 Km outside central Ipoh in a stunning valley reminiscent of Jurassic Park.
I'm sure you won't be disappointed if you choose to come here. Book your Lost World tickets here.
Ipoh's Cave Temples
Ipoh is famous for its cave temples, and justifiably so. You'll see some of them from the road, dramatically placed at the foot of a towering rock face and on the banks of a winding river.
Kok Lok Tong Cave Temple
Sam Poh Tong Cave Temple
Perak Tong Cave Temple
Ling Seng Tong Temple
Guanyin Cave
Dong Hua Cave Temple
Mosques in Ipoh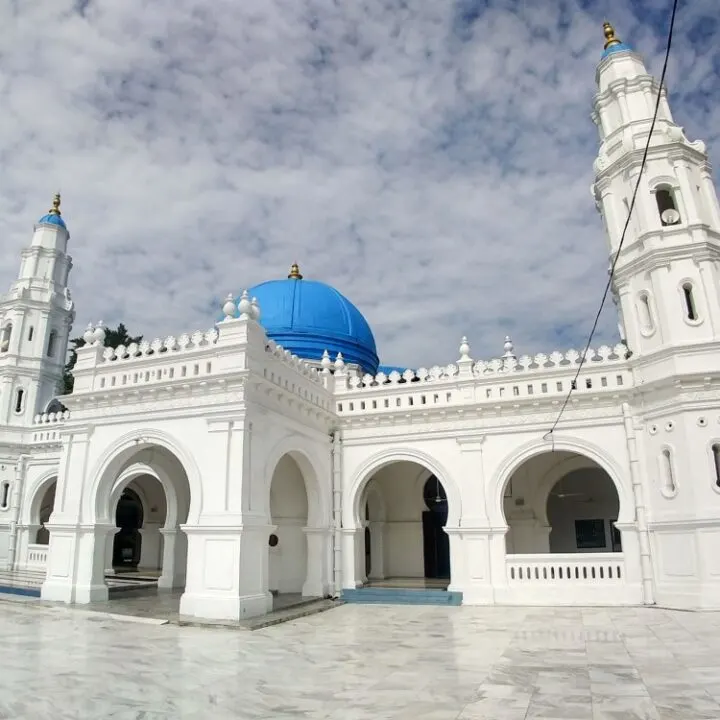 There are many mosques in Ipoh, but a couple we saw are below. The smaller Masjid Panglima Kinta, in the photo above, we thought was particularly beautiful. It's very close to the Kinta River and Mural Lane.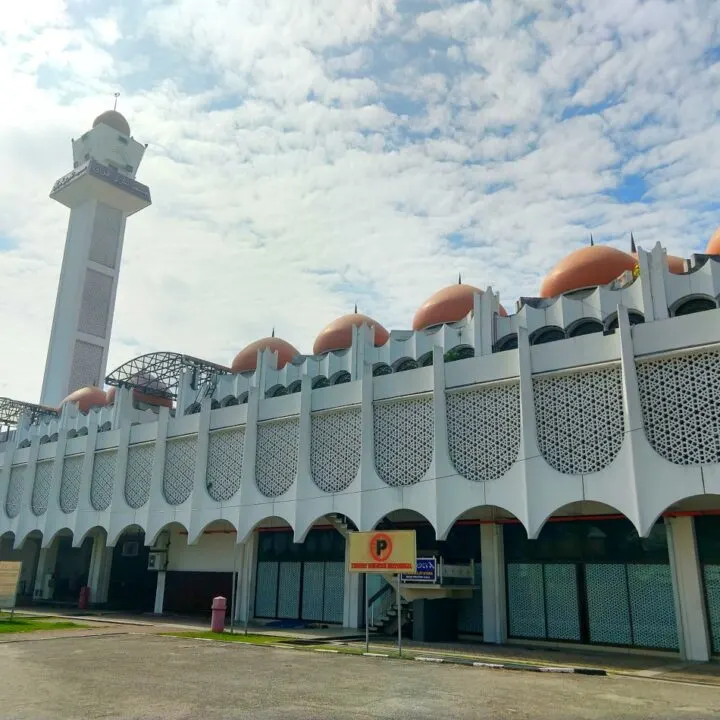 Masjid Negeri Perak stands near the Birch Memorial Clocktower, Town Hall, Station, and Concubine Lane.
Kinta River Front Walk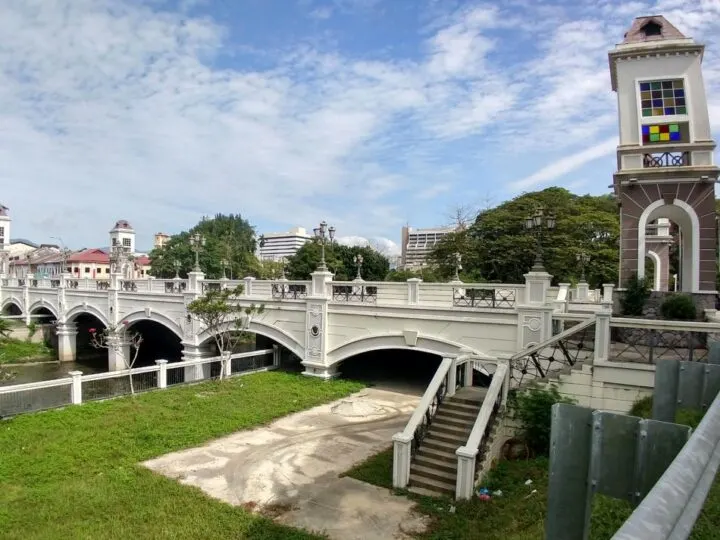 The Kinta River is a major river in the state of Perak and flows through Ipoh, the state capital.the. The 217.6 kilometer Kinta River is the main source of water for the people of Ipoh. The Kinta river is a pleasant place for walking, cycling, fishing and I've been told the locals swim here. The Kinta River Front Walk is a designated tourist attraction and at night the trees are illuminated. Kinta Riverfront Hotel and Suites would be a great place to stay to take in the views and enjoy water-side dining.
Ipoh's Mural Art's Lane
Very close to the Kinta river and Masjid Kinta, you will find this lane filled with street art. There is many more street art masterpieces to discover in Ipoh, particularly in the old town, below.
Old Ipoh Town Street Art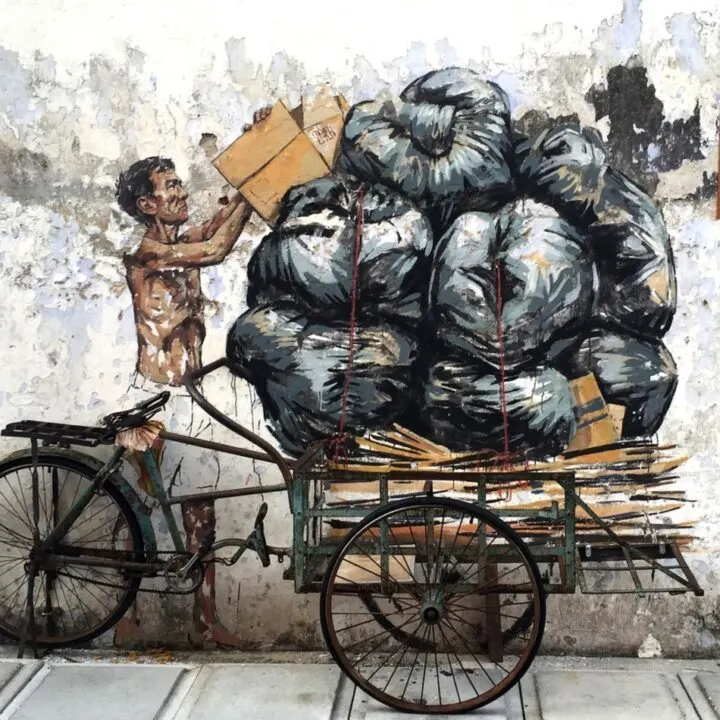 Ipoh old town is typical of many older towns in Malaysia. Like the more famous Georgetown, Penang or Kuching Sarawak, you will find Ipoh's ancient Chinese -style shop houses beautified with street art.
D.R. Sennivasagam Park
DR Seenivasagam Lakeside Park was originally named Coronation Park after the crowning of the British Queen. In the 1960s this park was renamed DR Lakeside Park in honour of D. R. Seenivasagam, a politician and Member of Parliament in Malaysia. This park is the green lung of Ipoh, its a large quiet park featuring lakes and Japanese-styled gardens allowing locals and tourists to escape temporarily from the traffic and busy streets of the city.
Temples in Ipoh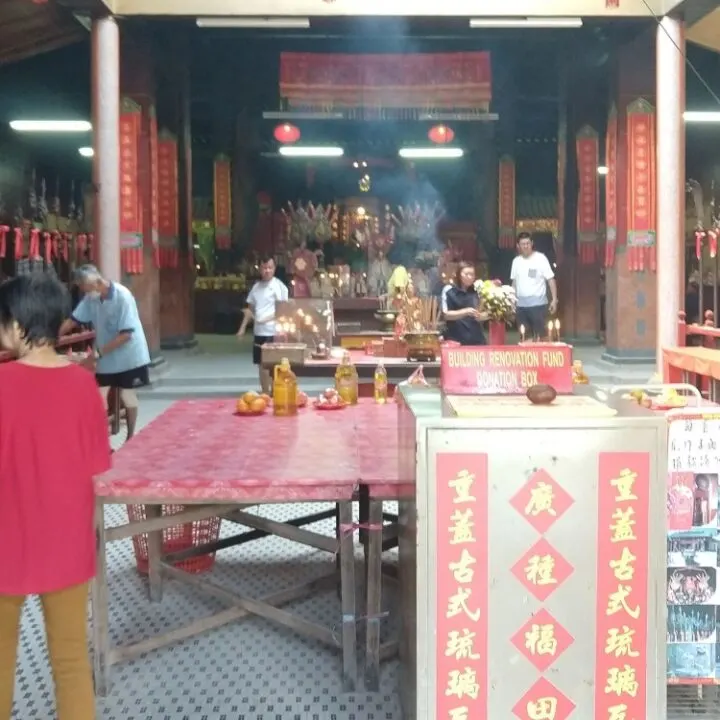 Throughout Ipoh, you will find temples, shrines, and churches from most and all faiths. Ipoh has many temples, not least its famous cave temples, along with the beautiful mosques listed above. It's always worth checking out places of worship, ancient, and modern, this would be one of my favourite things to do in Ipoh, or anywhere in the world with a rich cultural heritage.
Enlightened Heart Tibetan Temple
A little piece of Tibet in Malaysia. Also called Jingan Jing She, this Tibetan Buddhist temple was built in 1976 and stands on 12 acres of land. It houses the largest Buddhist statue in Ipoh and a 13 story pagoda. Over 200 statues are to be found here, you'll notice they are different from the Buddhist and Taoist temples found elsewhere, they are similar to some of the artworks and statues we saw in Tibet.
Playgrounds for Kids in Ipoh
If you are visiting Ipoh with kids there are plenty of places for them to run and play. We spotted this playground while we were exploring. It's on the river side near Masjid Panglima Kinta. My teens are past the playground stage now but The Lost World of Tambun would most certainly be a great place to visit with small kids, tweens or teens.
What to Eat in Ipoh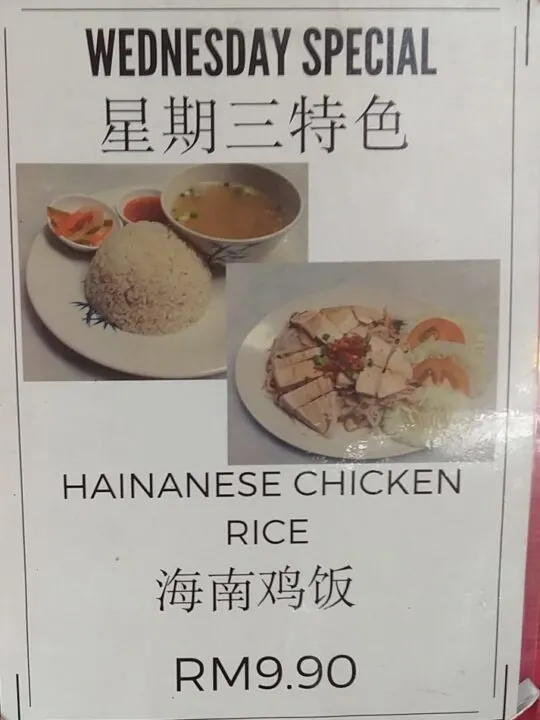 Ipoh is a famous food destination in Malaysia and Lonely Planet has listed Ipoh as one of the best Asian food destinations in the world. Some of the foods people come here to try include dim sum, Ipoh white coffee, nasi kandar, chicken rice, curry mee, egg tarts, and hakka mee. We visited some of the famous traditional food destinations and kopitiam but there was also vegan food and plenty of western food and pizza on offer.
Ipoh White Coffee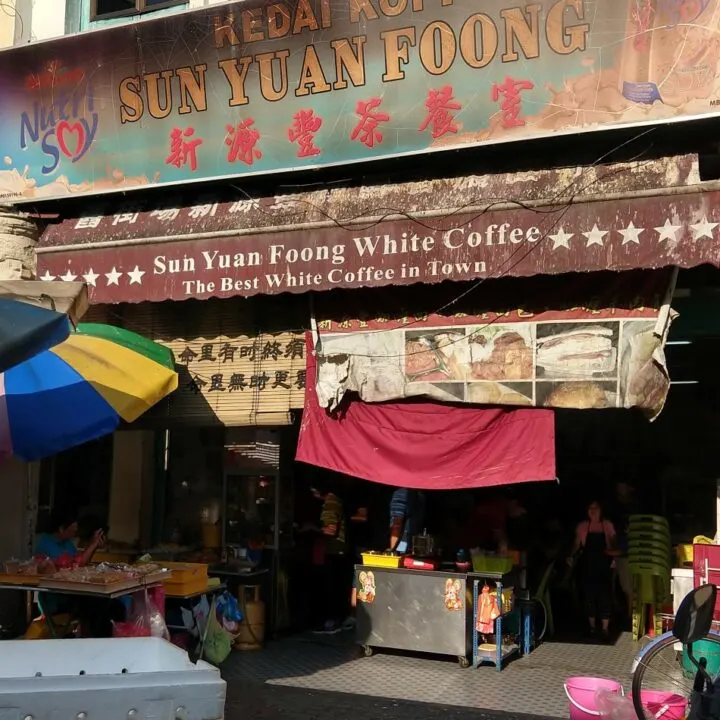 Ipoh is where Ipoh White Coffee was invented. Coffee beans are roasted with palm oil margarine to reduce bittererness. It's not going to win any health or environmental awards, but it's a famous Malaysian speciality and the coffee is mild and light in taste. Old Town White Coffee is the most famous coffee house, but you'll find numerous white coffee outlets around Ipoh.
Sin Eng Heong
Sin Eng Heong is the place to go for kaya puffs in Ipoh. These bite-sized snacks consist of flaky pastry filled with kaya, coconut jam, sometimes flavoured with pandan They're not my cup of tea, but others travelling with us really enjoyed them and we made a pilgrimage to the famous Ipoh bakery. Also in Ipoh find and eat pineapple tarts and egg tarts.
Indian Food in Ipoh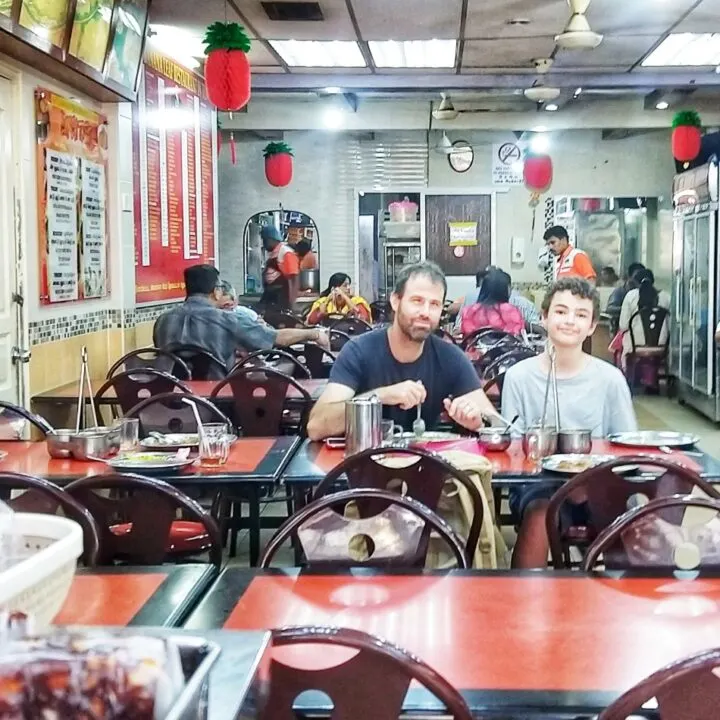 This is where we have to confess that we really don't enjoy Malaysian food, nor the Chinese dishes popular in India. We're mostly vegetarian or vegan if we possibly can be, and one of the beauties of the local cultural blend is that Indian, particularly South Indian food is available in Malaysia. Every big Malaysian city we've visited having an Indian district. Ipoh is no exception and has its own Little India, so you can get your fill of dosa (thosai) idly and vada for breakfast, or any other time.
Where to Stay in Ipoh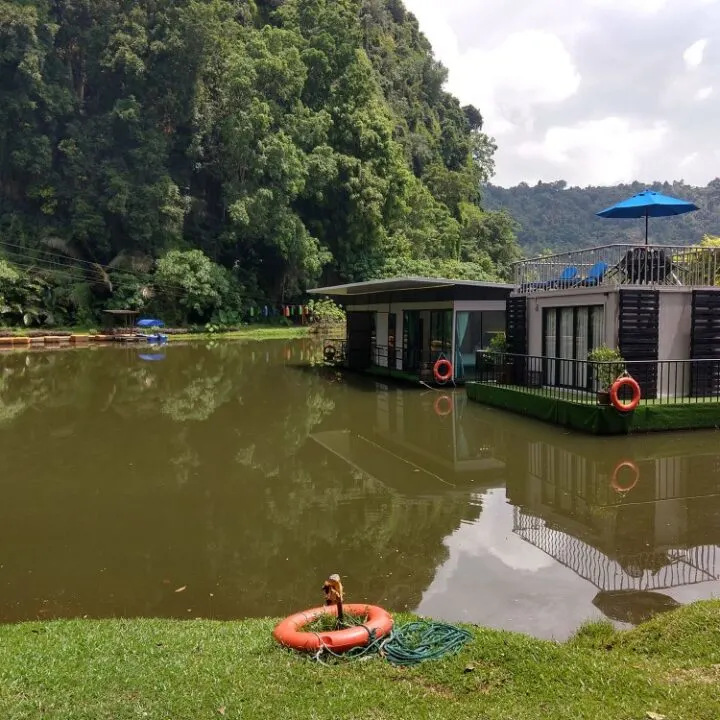 I would suggest staying in or near Ipoh old town and the river if you aim to fully explore Ipoh on foot. This part of town isn't too far from the train station. Another great place to stay would be actually inside The Lost World of Tambun, that would make for a really fun weekend! There are also scenic country resorts and hot spring spas in the beautiful countryside surrounding Ipoh
We can suggest the following hotels, hostels and guest houses.
We stayed a long way out of town in a private home rental through Airbnb, we don't recommend this, book a hotel somewhere more central to make the most of your time in Ipoh. Trying to park in the Old Town was really difficult and it would have been much better to be able to walk and explore local restaurants on foot.
Interactive Map of Hotels, Home Stays and Rental Properties in Ipoh
Our map allows you to compare locations, prices, and types of properties side by side. It should help you find the best place to stay in Ipoh, for you. If you zoom out, you can actually use it for the whole of Malaysia and the world. It's a great way to find a place to stay in Ipoh and beyond. Location is everything, of course, a map is the best way to find what you need.
Places to See Near Ipoh
There are two, somewhat quirky places near Ipoh that you should know about. Both would make good day-trips from Ipoh or can be visited from Kuala Lumpur.
Kellie's Castle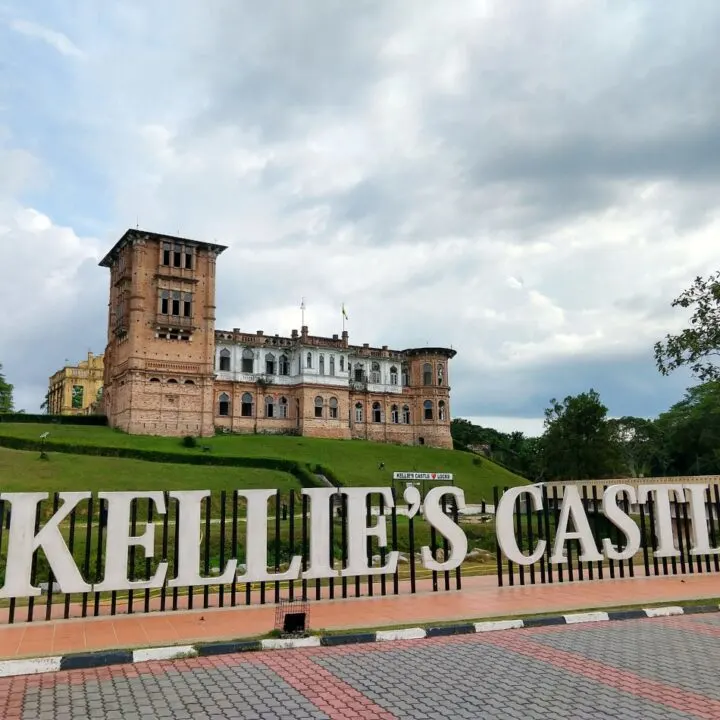 Kellie's Castle was built by a Scot, William Kellie Smith. Kellie's Castle was his home in the colonies, a piece of his native land brought to the tropics. The castle was built on what was Kellie's rubber estate and the building is reminiscent of stately homes in the UK. Locals legends claim that the castle is haunted and that it sits upon a labyrinth of underground tunnels.
We didn't go inside the castle, we stopped to take a look from the road. There are shops, food outlets and easy parking at Kellie's castle.
Gua Tempurung Caves
Gua Tempurung is approximately 25 Km south of Ipoh, near Gopeng. The main chamber is 4.5Km long, making Tempurung Caves some of the longest in Malaysia. We visited, the rest of the family went inside, I sat this one out, I'm not a cave-lover. They reported that it was a good experience, they were accompanied by a guide and were issued hard-hats and head lights. We explored, taking a short tour on foot. Other, far more daring tours are available including "wet tours", true caving in Tempurung's underground river.
Book a Food-Lovers Tour of Ipoh from KL
No time for a weekend or short stay in Ipoh? We have you covered. You can book a tour of Ipoh, including many foodie highlights, beginning and ending in Kuala Lumpur. Check it out here.
What are the best places to visit in Malaysia?
Kuala Lumpur and Kuching are our two top recommendations for Malaysia, the two are very different, one a huge modern city and transport hub for Southeast Asia, the other is much smaller but hugely character-full with fascinating cultural elements. Once you've explored those two Malaysian destinations you'll probably want to check out Penang and Malacca (Melaka). You can visit Malacca from Kuala Lumpur as a day trip or short break. If you're looking for beaches Langkawi is the usual top pick. There are many stand-alone places to visit in Malaysia, including mosques, caves, theme parks, and islands, but if you're visiting Malaysia for the first time these are probably the places you should choose. We have dozens of posts about Malaysia on this website, take a look at our related posts below
Ipoh Travel Blog Wrap Up
Is Ipoh worth visiting? Yes, for sure, it's a great place. Should Ipoh be top of your list of places to visit in Malaysia? No, probably not, but if, like us, you want to fully explore Malaysia, leaving no stone unturned, then yes, go to Ipoh. Unless, of course you are a Malaysian food fan, in which case I'm sure you've been already. Ipoh offers a lot of the things you'll find in other cities in Malaysia, but on a smaller scale. Ipoh is easily walkable and interesting to explore, we liked Ipoh and we will return.
If you'd like to hire a car during your stay, use this car rental comparison tool to find the best deal!

We also suggest you take a look at this company to get a quote for all kinds of the more tricky adventure or extended travel insurance.

Try Stayz / VRBO for an alternative way to find rentals on homes/apartments/condos in any country!