This post may contain affiliate links.
Which is better, cheaper, safer, cleaner, or just easier, Airbnb or hotel in Australia? Airbnb has exploded around the world in recent years with millions hosting and booking through the Airbnb platform. But which is better ? AirBnb vs Hotel. We also have a useful comparison map. Should you book that Airbnb? Or keep on looking for a hotel?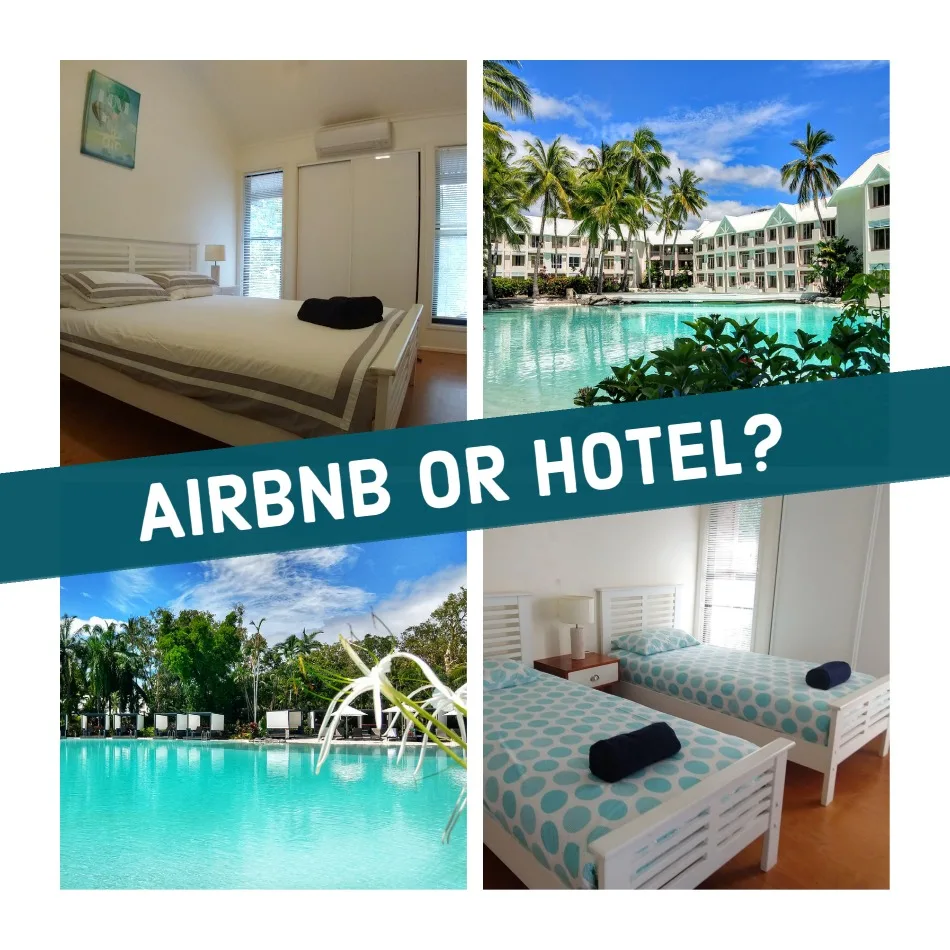 First a little about us. We travelled full-time for over six years to 50+ countries. At some stages we lived in Airbnb properties, at others we found hotels, hostels, and guest-houses to be best. We are an Australian family and I've been an Airbnb landlady in Queensland Australia. We have plenty of experience in using all-kinds of travel and holiday accommodation. On with the discussion!
Airbnb or Hotel?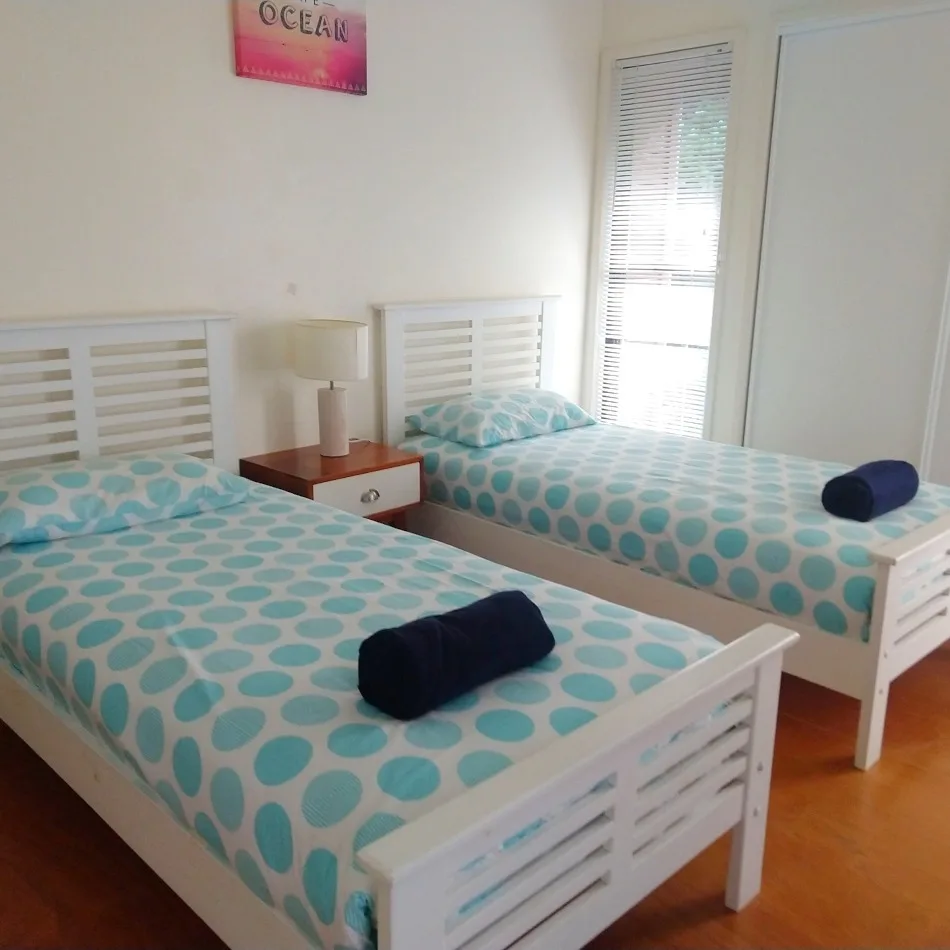 It's not such a clear division as you might think. There's no such thing really as "an Airbnb" because the platform allows listings from all manner of properties. You will find hotels on Airbnb along with rooms in private homes, apartments, homes, caravans, and beach houses. Likewise, the big booking platforms these days have much more than just hotels.
There is much overlap between the property listings and some properties will be available to book on Airbnb and the big booking engines. Sometimes you'll find that a property will be cheaper on Airbnb, sometimes not, there are no guarantees that Airbnb is always cheaper and it pays to do your homework.
Does Airbnb Work in Australia?
Much depends on the country. In some countries Airbnb just isn't great, in others, it's a winner. In some destinations it's very much potluck, but in our experience, we'd say, yes. Airbnb is a good choice in Australia. We've been able to find a better range of properties than through the hotel booking sites, purely because there seem to be a lot of properties on the platform and fewer hotels. This doesn't mean it's cheap, nor that it's our favourite way to book accommodation in Australia. However, you should most certainly take a look at the Airbnb website before making your final choice..
Airbnb does not necessarily include breakfast
Yes, sometimes you will be staying in somebody's home, with the host.
Airbnb is legal in Australia (at time of writing) but rules are tightening.
There have been horror stories about hidden cameras and wild parties in Airbnbs, but also there have been millions of quietly happy users.
You get bad hotels and you get bad Airbnbs. We recently stayed in both types of accommodation on the Gold Coast and both were bad, shabby, dirty, and outdated. The property above at Mission Beach was great. You just can't make sweeping generalisations. Of course, Australia has some wonderful hotels, just as it has wonderful Airbnbs.
Interactive Airbnb vs Hotel Map
Here's a cool map we made for you. Zoom in tight to your destination and Airbnb and hotel properties will display side-by-side, with prices. This is great tool! You can click through to book or at least get a feel for the numbers of properties in your chosen location. You can see straight away if Airbnb or hotel booking tends to be cheaper in your area.
Advantages and Disadvantages of Airbnb
An Airbnb stay is often conducted without any face-to-face contact. Combination codes and keyless check-ins make many Airbnb stays completely socially distanced.
Other Airbnb stays will be in people's homes. If you enjoy connecting with the locals like this, these stays should suit you, and be cheap.
Many Airbnbs charge a cleaning fee. This should only be applied once per stay, be it one night or an extended stay. Some of these cleaning costs are expensive, always check them
Some Airbnb kitchens will be well equipped, others will be lacking in basics, look for a list of included items and facilities.
Sometimes people rent out their own homes, complete with all of their possessions, through Airbnb while they go away. We've stayed in a house and a unit like this. It's a little odd to be in somebody else's home and if it's cluttered it's not so great, but this is certainly a very useful thing to be able to do for home-owners.
You can often negotiate a reduction with the person letting the Airbnb property, other times weekly and monthly reductions will be displayed on the site.
Having to be approved by the Airbnb host is tiresome. It wastes time when you could be pressing the "buy" button on a hotel booking site. This process can drag on for days. If you can, book through a "superhost" who doesn't need the back-forth of this process.
Some Airbnb properties have some strange rules and requirements for guests. Check the rules and check the reviews on the Airbnb website. It's common in an Airbnb to be required to empty bins, for instance.
If you're looking for a longer stay in your own private self-contained space, I'd check Airbnb first every time.
There are a lot of quirky and unusual places to stay on Airbnb, from tree houses to glamping tents, to yurts.
Always check if an Airbnb has good wifi, read reviews, we've stayed in some where it's been incredibly bad or even totally absent.
Airbnb is cheaper than a hotel if you compare like space with like space. Usually. However, to say Airbnb is always cheaper is absolutely untrue.
Advantages and Disadvantages of Hotels
A hotel will, more often than not, involve other guests, front desk staff, cleaners and kitchen crew. You're unlikely to be in your own space.
Large hotels offer facilities most Airbnbs don't. Huge pools, spas, gyms, fine dining, and included breakfast. There are hotels on Airbnb and some are quite large.
Hotels usually offer room cleaning, I've never seen an Airbnb(unless it was actually a hotel) that included cleaning during your stay.
To compare hotels side-by-side, is much easier on one of the big, reliable booking sites, like Booking.com.
Hotel comparison sites exist, such as Hotels Combined (which is Australian). Using these sites you can check multiple booking platforms at once to find your best deal.
In our experience, Agoda and Booking dot com have been superb for customer service, cancellations, and refunds.
So as you can see there really isn't a well-defined border between Airbnb and a hotel booking platform. Many types of property will be listed on each. Airbnb is just another way to book and tends to offer more stays in private properties, although Booking.com, for instance, does list these too. The big thing to look out for with Airbnb is the cleaning fees and the time delays in being approved to stay. Other than that, we really see no major advantage or disadvantage to either.
If you'd like to hire a car during your stay, use this car rental comparison tool to find the best deal!

We also suggest you take a look at this company to get a quote for all kinds of the more tricky adventure or extended travel insurance.

Try Stayz / VRBO for an alternative way to find rentals on homes/apartments/condos in any country!