This post may contain affiliate links.
To explore the vast spaces that Australia has to offer, you'd be hard pressed finding a better way to explore the sun burnt country than by getting yourself behind the wheel of a four-wheel-drive, just for ease, convenience, and the ability to pack up and move to wherever the fish are calling you! You can choose to camp, you can choose to stay in cabins or campervans. But no matter what you do, you should seek out the hidden spots, secluded fishing holes and gorgeous lakes that will ultimately yield the best fishing experiences for you.
This is a handy list of some of the best spots that Australia has to offer, so that you know where the fish will be, no matter where you are. Make sure you pack plenty of life jackets, and plenty of lifejackets for the kids if you're planning on taking the little ones along on your camping and fishing trip.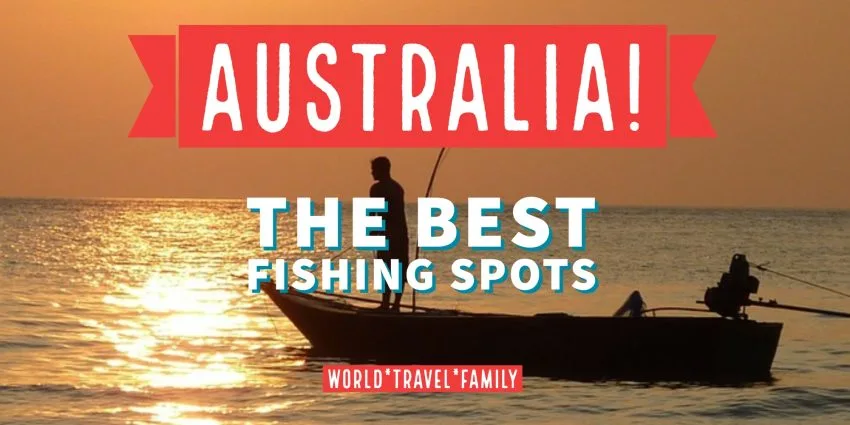 [cmtoc_table_of_contents]
Best Fishing Spots in Australia
Queensland's Top Fishing Spots
Sweers Island, QLD
This is a private island that is located off the northern coast of central Queensland, and it's an absolute must-see if you're going to be up that end. If you do happen to find yourself at Sweers Island, you're going to be throwing your line in for sweet lip, but you might also find yourself with a Spanish mackerel, coral trout or even a northern blue fin tuna if you're lucky!
Cairns, QLD
If big game such as marlin are you're thing then Cairns has you covered. Numerous operators leave from here or Port Douglas (a further 65km North) and head out towards the Great Barrier Reef and beyond. Marlin here can routinely get over the 1000 pound mark making them a challenge to even the most experienced fisherman. If that sounds too much like hard work there is an abundance of smaller fish to catch such as Wahoo, Mahi Mahi, Spanish Mackerel, Barracuda and Trevally.
Noosa, QLD
Best for land based fishermen Noosa and Noosa river provide ample opportunity to bag some great estuary fish. Noosa headlands offer some great opportunities for reef fish seeking protection, especially if a storm is brewing or has struck. Be careful going out onto rocks if the weather and ocean has turned. It is very dangerous and fisherman have been washed off before.
Noosa river stretches over 35 km inland where it eventually turns into fresh water. There are numerous lakes and places you can fish. River Bass and River Bream are two of the most popular species caught here with the aforementioned being Bass being found in the fresh water parts of Noosa River.
Western Australia's Top Fishing Spots
Exmouth, WA
At Exmouth you'll find an amazing abundance of fish, with a fishing town is just metres from the continental shelf and just a stone's throw from the Ningaloo reef. There are plenty of options for camping and hotel accommodation in Exmouth and you'll easily find a spot to keep your boat in off the beach as well.
While you're there you may even see some whale sharks if you're really lucky.
Bunbury, WA
A fishing spot that has something for everyone. There is an artificial reef 5 km off shore or plenty of harbour and estuary fishing to be done back at Bunbury harbour.
You can expect to catch Mulloway, Samson Fish, Pink and Queen Snapper off shore and Tailor and Mullaway around the harbour wall. Some of the inlets are best fished from small vessels or kayaks which allows you to really get into those hard to reach places.
Just north of Bunbury is Leschenault Inlet where in the warmer summer months you can get plenty of blue swimmer crabs.
Busselton Jetty, WA
While not a traditional fishing destination Busselton is worth a mention just because of its impressive jetty. The second longest wooden jetty in the world it juts out into the ocean for well over a mile, 1841 metres to be exact. Fishing off the jetty is an experience but can often be ruined by bait bashers. Southern Blue Fin Tuna have been caught here before so anything is possible.
If the fish aren't biting on the jetty there are plenty of other options from the beaches to the estuaries that surround the area. It is quite seasonal so you'll have to adjust depending on the time of year that you're going.
New South Wales's Top Fishing Spots
South West Rocks, NSW
A cute little fishing village just 450 km north of Sydney where you'll find plenty of great spots to cast your line in. While spots closer to Sydney can get quite crowded, you'll find that South West Rocks is often great for tourists! Bring the kids along and plenty of the inflatable PFDs if you're planning on taking a boat out.
Jindabyne, NSW
Lake Jindabyne is a great spot for some bait fishing in the warmer months. The Snowy Mountains area has four species of fish that you're able to hook here, including three types of trout: Brown, Rainbow and Brook. You can even find Atlantic Salmon here. Keep in mind that the river is closed for fishing between June and October to allow the trout to spawn.
Sydney Harbour, NSW
While Sydney has enough fishing spots to keep anyone busy for many years to come if you could find a place that gave you views of the Harbour Bridge and Opera house then you'd be set.
Blues Point Reserve is just that place. It is land based and you'll need a good cast to get out into the deep water but if you're lucky you could catch some Kingfish or Jewfish while taking in one of the most photogenic harbours in the world.
Northern Territory's Top Fishing Spots
Kakadu National Park, NT
If you're a keen barramundi angler, you're going to find yourself in absolute heaven here in the Northern Territory. If you're heading out, be sure to find a registered fishing company that can provide you with rods, reels and lifejacket devices, as well as other safety gear. You can also go alone, but keep in mind that the Northern Territory is also home to some of the biggest saltwater crocodiles you're likely to find. So a registered tour operator will not only lead you to the best spots, but keep you safe while you're fishing.
Darwin, NT
Darwin harbour is huge and teeming with 'Barra'. Barramundi is an estuary fish which can vary in size from small dinner plate to enough to feed a large family. Catching barra is pretty much the national sport in Darwin.
Commercial netting has been banned in Darwin for over 20 years which makes the waterways just ripe for fishing. Just don't fall in as the resident salties (salt water crocodiles) are just as numerous. In fact when you're reeling in your catch be careful a crafty croc doesn't grab hold of it first.
Katherine, NT
While inland by a very long way the fishing in Katherine isn't what you'd expect. In fact you have rivers and estuaries in all directions allowing for great fishing trips what ever the time of year.
As you'd expect barra is the fish of choice in the waterways around Katherine and you'd have to be pretty down on your luck to not bag a barra at one of the many waterways.
As always be croc wise as salt water crocodiles inhabit this area so follow warning signs and local guidance. It isn't just being said to scare the tourists.
South Australia's Top Fishing Spot
Port Lincoln, SA
At Port Lincoln you're going to find a huge range of spots to throw a line in and get yourself amongst the fish you can find there. It doesn't matter if you're a beginner or an advanced angler, the fishing you can find here will satisfy all of your fishing cravings. From the many jetties in the area, you'll be able to reel in fish like tuna, whiting and even squid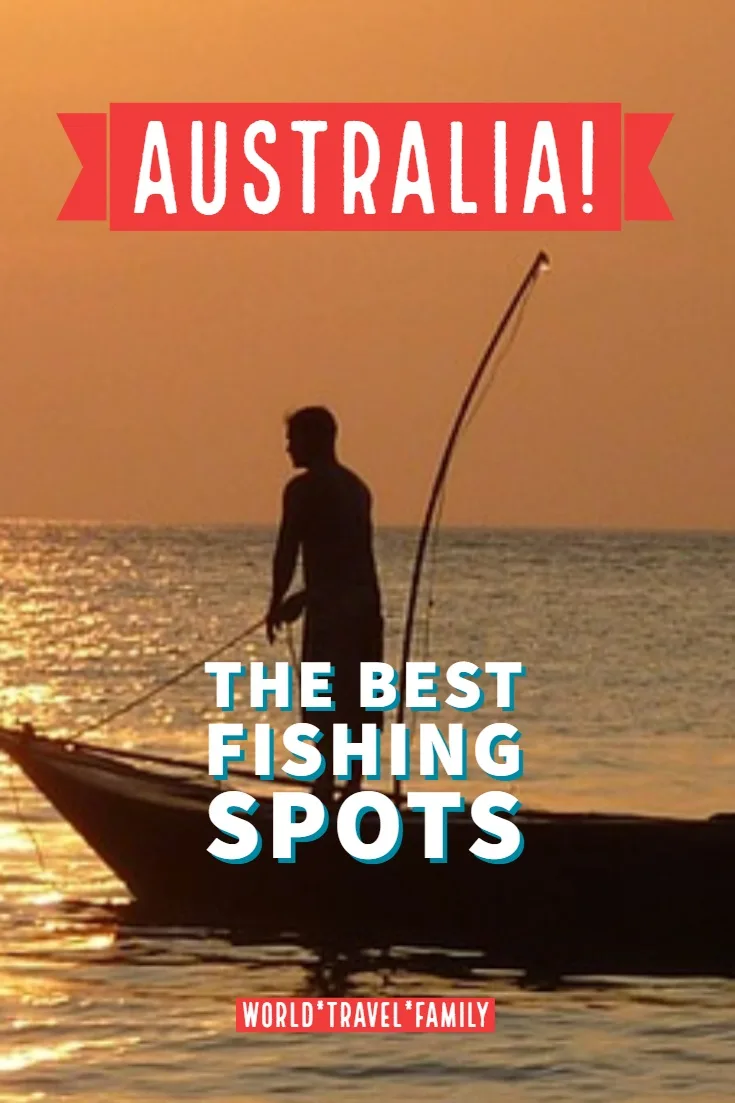 The possibilities in Australia are almost endless, but there are particular fishing spots in Australia that are worth the search. Keep these places in mind the next time you're out for a fishing trip in, or to, Australia. Want more information on travel in Australia? Head back to our Australia travel blog and guide.
If you'd like to hire a car during your stay, use this car rental comparison tool to find the best deal!

We also suggest you take a look at this company to get a quote for all kinds of the more tricky adventure or extended travel insurance.

Try Stayz / VRBO for an alternative way to find rentals on homes/apartments/condos in any country!