This post may contain affiliate links.
Are you thinking of visiting Port Douglas Australia? Good choice! Port Douglas is a beautiful part of the world and a top holiday destination. The town and region are rich in natural beauty, amazing wildlife and good hotels. There are dozens of diverse things to do in Port Douglas and surrounding area and we'll try to point you in the right direction from our Port Douglas travel blog section. We are professional international travel bloggers and Port Douglas just happens to be our home turf, sometimes. You'll find 50+ countries and over 900 posts on this website. Continue for our insider look at Port Douglas Australia.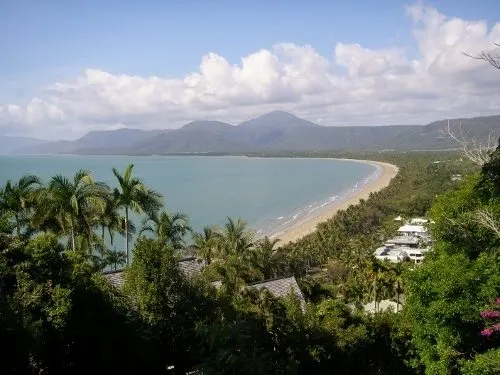 We lived in Port Douglas Australia for almost 7 years with young children, returning after visiting as young backpackers touring Australia.
My husband worked in hospitality in the town which gave us a behind-the-scenes peek into the kitchens, hotels and tourist draws. Later we returned with teens.
We can give you all the best insider information and tips here in the Port Douglas blog section.
Port Douglas Australia
Port Douglas Australia is a small town, popular with tourists, in Far North Queensland. It lies on Australia's northeastern coast and has a long sandy beach lapped by the Coral Sea. Port Douglas Marina is a beautiful spot, home to a fleet of boats and yachts for fishing, snorkelling on The Great Barrier Reef, crocodile spotting and trips to The Low Isles.
Port Douglas is packed with hotels, from luxury 5 star resorts, to backpacker accommodation and campsites. There are many bars and restaurants, some with marina views. There are enough shops for necessities and souvenirs, but Cairns, about an hour south, has far more stores and a shopping mall.
From Port Douglas it is easy to access the Great Barrier Reef, The Daintree Rainforest and Cape Tribulation, Mossman Gorge, and the Atherton Tablelands.
Why do people love Port Douglas Australia so much? Port Douglas is rich in natural beauty, amazing wildlife, and world-heritage listed conservation zones. It is laid back and tropical, has a small-town feel, but at the same time is luxurious and exclusive.
It is a gateway to amazing adventure activities, from scuba diving to hot-air ballooning. It's no wonder so many people want to visit Port Douglas or relocate here.
Natural Beauty
Be it Port Douglas's Four Mile Beach, the Great Barrier Reef tours, Cape Tribulation's pristine beaches or the Daintree Rainforest, everybody must accept that this is a beautiful part of the world.
The drive from Port Douglas to Cairns is one of the most stunning I've seen and I highly recommend a dawn walk on the beach to see the sunrise over the Coral Sea.
If relaxing or walking in beautiful surroundings isn't enough, there is plenty to do in this part of the world for everyone.
The Port Douglas Sunday Markets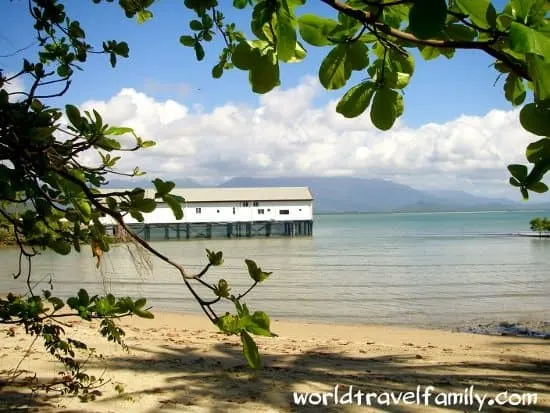 Everybody in town heads to the markets on Sunday. Locals shop for fruit and veg and stop to chat with friends. Tourists browse the craft stalls, listed to travelling musicians and enjoy the stunning setting. Children play, climb trees and get their faces painted. You cannot miss Port Douglas Sunday Markets.
Boat Trips To The Reef
A day on the reef is an amazing experience for everyone, all ages, all abilities.
It's the biggest reef in the world, it's on everyone's bucket list and there is a fleet of boats based in Port just waiting to take you there. If you're a snorkeller or a scuba diver, maybe even if you hate the water, you'll find the boat for you. You can check out Great Barrier Reef tours available from Port Douglas here.
Read more in our post on Snorkelling on The Great Barrier Reef.
Wildlife Encounters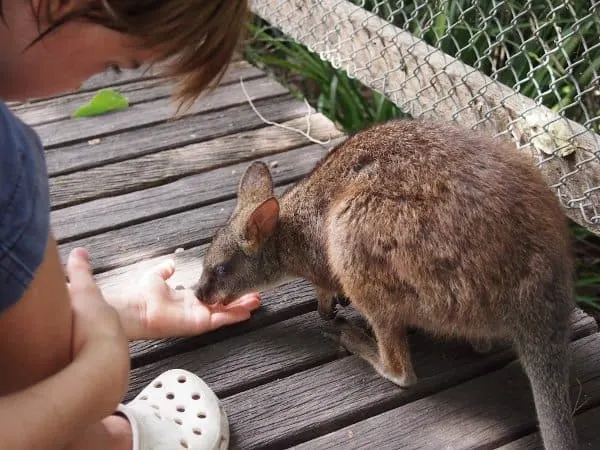 The Wildlife Habitat in Port Douglas is where you can hand-feed a kangaroo, stoke a koala or keep your distance from some impressive reptiles.
If crocodiles are your thing and the Habitat isn't enough, try a river cruise on the Lady Douglas or head south for Hartley's Crocodile Adventures. Maybe even head out to spot a croc of your own, there are plenty about if you know where to look.
The Wildlife Habitat in Port Douglas have recently launched a new attraction, you can get in the water with a saltwater croc now, if that's the sort of thing you like to do.
Keep a look out for other local residents like giant green tree frogs, rainbow lorikeets, kookaburras, cockatoos, maybe even a wild cassowary if you head into the rainforests.
On your trip out to the Great Barrier Reef you have a chance of seeing dolphins and humpback what's in season. You're very likely to see sea turtles, sharks, and stunning reef fish.
You may be able to spot a sea turtle at Four Mile Beach too, particularly from the Flagstaff Hill walking track.
Swimming at Port Douglas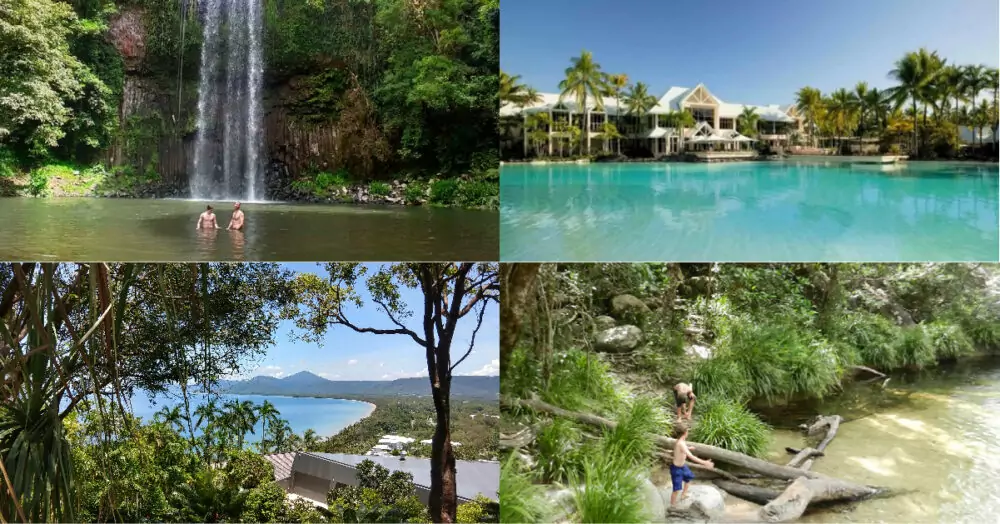 Swimming is possible in Port Douglas Australia year-round thanks to our tropical climate. Just be aware of seasonal jellyfish and crocodiles.
Four Mile Beach is popular with swimmers and has a stinger net and lifeguards or lifesavers between set hours. Most hotels and houses in Port Douglas have their own swimming pools.
In the Port Douglas area, there are many natural freshwater swimming spots and waterfalls which bathers enjoy, particularly in summer. These may be chilly in winter!
Port Douglas Carnivale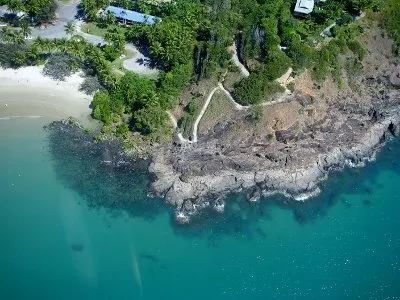 In May, Port Douglas hosts Carnivale. Multiple events strung out over the Carnivale period will please foodies, lovers of the arts, families and anybody looking for a good time.
Attractions in the Port Douglas Area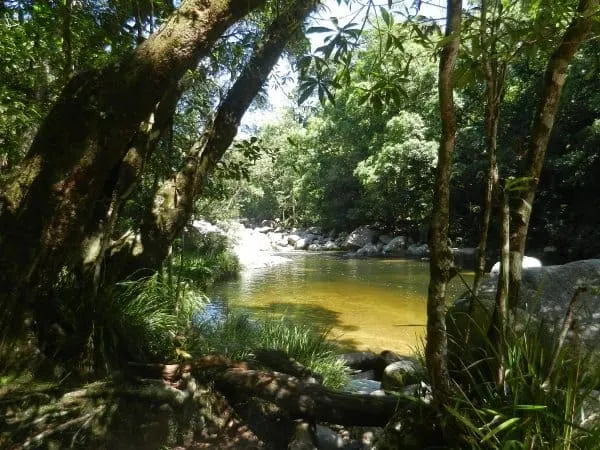 Port makes a great base for exploring this part of Queensland. Mossman Gorge is just up the road, you can take an Aboriginal guided walk or just swim in icy waters in a tropical rainforest setting.
Adventurers can drive up through Cape Tribulation to Cooktown or take the high road up onto the Atherton Tablelands for a change of climate.
The Tablelands hold attractions as diverse as wild platypus, cheese, chocolate and wine producers along with stunning lakes for outdoor recreation. Cairns, with its free swimming lagoon, airport and large shops, is around an hour away by car.
Food and Drink, Dining or Self Catering in Port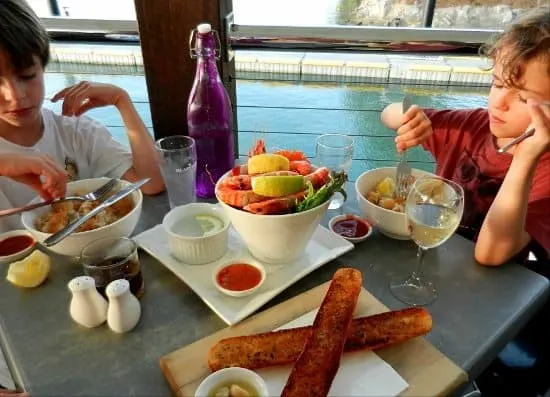 Have a cold one in The Courthouse, watch the cane toad races (these are now elsewhere) at the Iron Bar or go for more up-market dining at restaurants like Salsa, Sassi, or Nautilus.
For some extra special entertainment while you enjoy a drink or early evening meal, head to On The Inlet to see George The Groper being fed. ( Update: Unfortunately Marina development has forced this to be discontinued, current 2022).
If you choose to self cater or camp in Port Douglas we have a large Coles supermarket on Macrossan St and an IGA near the Wildlife Habitat.
You can also buy fruit and veg at the Sunday Market in Port or the Saturday market in Mossman. The best place to buy prawns is fresh off the boat or we have a couple of fishmongers.
There is fish and chips, pizzas and the whole range of take away, fast and eat-in foods.
Great Hotels and Resorts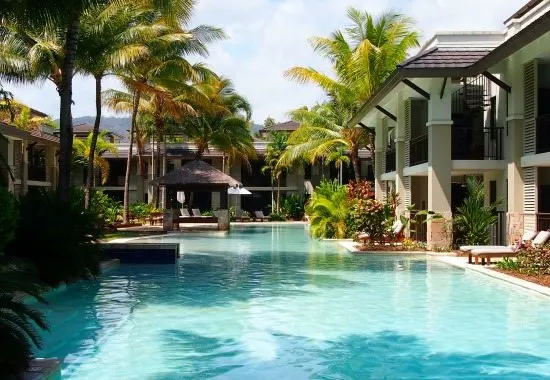 Port Douglas has hotels, hostels and resorts to suit your pocket and your family. Stunning resorts like Sea Temple or The Sheraton have pools to die for, while there is plenty of cheaper accommodation in places like Dougies or Parrot Fish Lodge. We even have camping right in town.
You can pinpoint the best hotel for you in Port Douglas using the interactive map below.
I'm producing a review guide to hotels in Port Douglas .
Weather in Port Douglas
Weather in Port Douglas is tropical. As such, Port has 2 basic seasons, "the wet" and "the dry", with "the build up" coming before "the wet".
Recently 3 seasons or times of year have been publicised by local tourism boards, "Tropical Beach Season", "Gondwana Greentime" and " Warm Autumn Rain". These are poetic descriptions but what do they mean?
Tropical Beach Season is described as winter and spring in the southern hemisphere tropics. That's April to November roughly.
Gondwana Greentime. Summer, December to February.
Warm Autumn Rain. March. Monsoon time.
Using the old fashioned definitions
The wet. Summer. November to April
The dry. Winter. May to October.
The build up. The period preceding the wet.
Stinger season may affect your decision making
Stinger season, roughly December to April or May ( summer, the wet season or Gondwana Greentime, roughly)
Best Time of Year to Visit Port Douglas
Our favourite times in Port were always the shoulders of the wet season. When the skies are blue, the seas clear, the stingers absent and the temperatures not too intense. We'd say the best time of year to visit Port Douglas would be around April-May and Around October-November.
Of course, you can visit at any time of year and have a great holiday. I would probably avoid cyclone season though ( November, more likely, Christmas to about April) because if a tropical storm comes through you could see days of rain and cancelled reef trips.
General, normal, wet season rain isn't too bad. A tropical downpour in the late afternoon is dramatic and refreshing and you'll hear the frogs start to sing. A full-blown tropical storm can be disruptive. We have a post on best times to visit.
Marine Stingers and Crocodiles in Port Douglas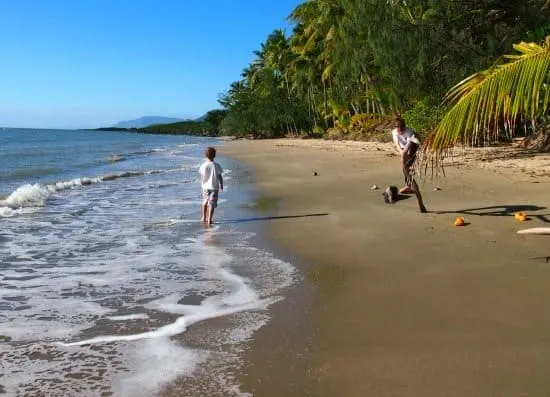 Before I moved to Port Douglas I spent a lot of time Googling the risks of marine stingers ( jellyfish) and crocodiles in the Port Douglas and Cairns region.
I know I'm not alone, I get thousands of hits on this page Stinger Season Port Douglas and Cairns. Not quite as many to this page Living With Crocodiles in Far North Queensland.
We have interesting wildlife but it's nothing to worry about so long as you play by the rules. Have a look at the two posts above to put your mind to rest. Instead enjoy being safely up-close and personal with these fascinating creatures. It's a chance many people don't get.
Want to find more images and information from Port Douglas and Far North Queensland? Try our Port Douglas Pinterest board or pin the image below to your own holiday boards.
Follow World Travel Family Travel Blog's board Port Douglas on Pinterest.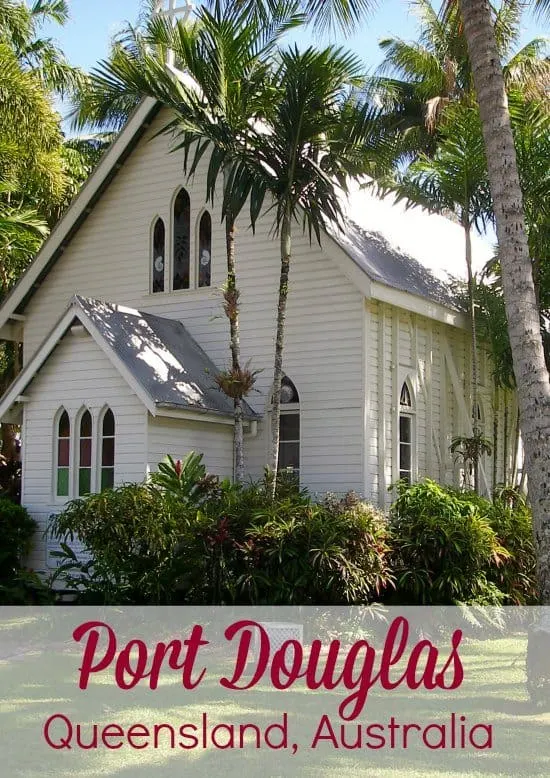 So are you visiting Port Douglas? This is a beautiful part of the world, you'll take away treasured memories and learn something of the incredible wildlife and climate of Far North Queensland. If you'd like to know more feel free to use the comment section below or visit our other posts on the region. Anything new or interesting, we'll add to the Port Douglas blog.
If you'd like to hire a car during your stay, use this car rental comparison tool to find the best deal!

We also suggest you take a look at this company to get a quote for all kinds of the more tricky adventure or extended travel insurance.

Try Stayz / VRBO for an alternative way to find rentals on homes/apartments/condos in any country!