This post may contain affiliate links.
The Monster of Concrete is a nickname given to a large concrete monument in Vientiane, Laos. It is correctly known as the Patuxay or Victory Gate of Vientiane and stands on one of the main traffic intersections in the city. It is a popular tourist attraction in Laos and visitors can climb up within the structure. Shops and found outlets can be found inside the concrete monster. Is the Victory Gate worth visiting? Yes, read why in our post. The concrete monster is quite a cool place to visit in Vientiane.
At the NorthEastern end of the LaneXang Ave. arises a huge structure resembling the Arc de Triomphe. It is the Patuxay or Victory Gate of Vientiane. Built in 1962 (B.E. 2505), but never complete due to the country's turbulent history. From a closer distance it appears even less impressive, like a monster of concrete.

Nowadays this place is used as leisure ground for the people of Vientiane and the seventh floor on top of the building serves as excellent viewpoint over the city.
That's what it says on the sign. Even the Laos government admit it's not pretty.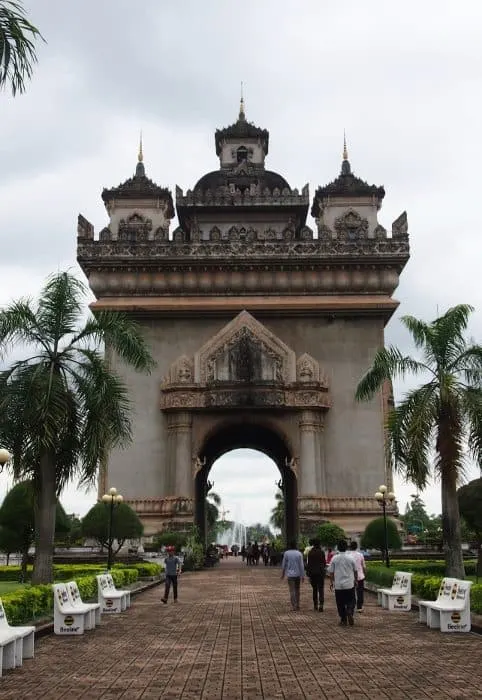 The last time we were in Vientiane on a whistle-stop RTW, we ticked off the sites, we drove past the Victory Gate in a tuk-tuk. We had "done" it and we weren't massively impressed or keen to get a closer look.
When we arrived in Vientiane a couple of days ago we wanted to run away, this grim-looking city was such a huge shock after laid back Vang Vieng and beautiful Luang Prabang.
This time we actually got out of the tuk tuk at the Victory Gate for the kids to have a run around, there is a bit of a public park there and a dodgy fountain. The kids love a fountain.
We discovered something cool, you can climb up the inside of the Victory monument. Climbing high things is my worst nightmare after mare's milk tea (see Travel Horror Stories), but to small wannabe daredevils it's
" The best thing ever, Mum!"
The Laos Victory Gate (AKA Concrete Monster or Vertical Runway)
My number 1 thing to do in Vientiane is the Cope centre. If you haven't read that post, click the link, you need to go there. Number 2 is walking on the banks of the Mekong at sunset, number 3 is a surprise entry by the Victory Gate. I love it when you don't expect much and something turns out to be so cool, don't you?
We're travelling without a guidebook, making it up as we go along, we had no idea you could climb the concrete monster. Would you believe it's a giant hollow, half-finished, gift shop?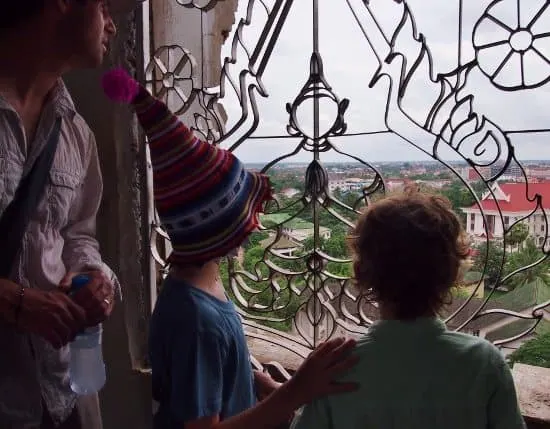 There are dozens of market stalls inside, on each level, selling the usual souvenirs. There were hardly any Western tourists around, most visitors were Lao.
Groups of orange-robed monks haggled over T-shirts and families posed for photos beneath the concrete monster. Lao has totally stolen our hearts and the Lao people are the main reason for that.
The ascent wasn't as precarious as I'd imagined, you'd find it pretty hard to fall off the thing and the view from the top was spectacular.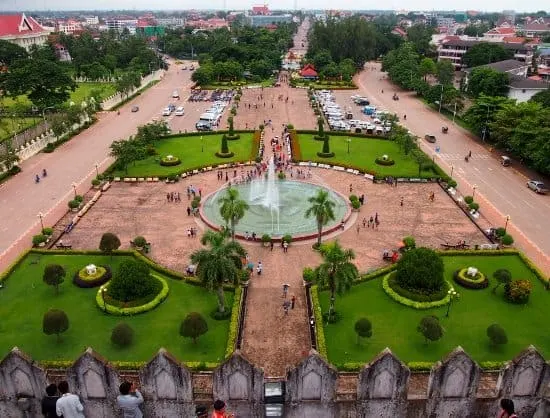 They call it the Vertical Runway because it was built with concrete intended for the new airport, so the story goes.
Add the Victory Gate to your list of things to do in Vientiane, particularly with children. If Laos isn't on your list, add that, too, it's amazing.
Walking around the city yesterday we passed endless beautiful temples and a couple of museums, we have plenty more to do while we wait here for our Thai visas to be ready. This travel thing isn't all glamour, there is a fair bit of hanging around and paperwork to do.
Yet again, Laos has surprised us, we love that. See our complete list of posts on travel in Laos here.
If you'd like to hire a car during your stay, use this car rental comparison tool to find the best deal!

We also suggest you take a look at this company to get a quote for all kinds of the more tricky adventure or extended travel insurance.

Try Stayz / VRBO for an alternative way to find rentals on homes/apartments/condos in any country!