This post may contain affiliate links.
If you're travelling in Laos, a visit to Pak Ou Caves, Luang Prabang would be a great trip to add to your must-do list.
The caves are around 25Km outside Luang Prabang and are fascinating for their history as a significant Buddhist site housing thousands of Buddha images and icons. A visit to Pak Ou Caves is also a lovely way to see a little more of Laos village life and the beautiful Mekong river.
Getting to Pak Ou Caves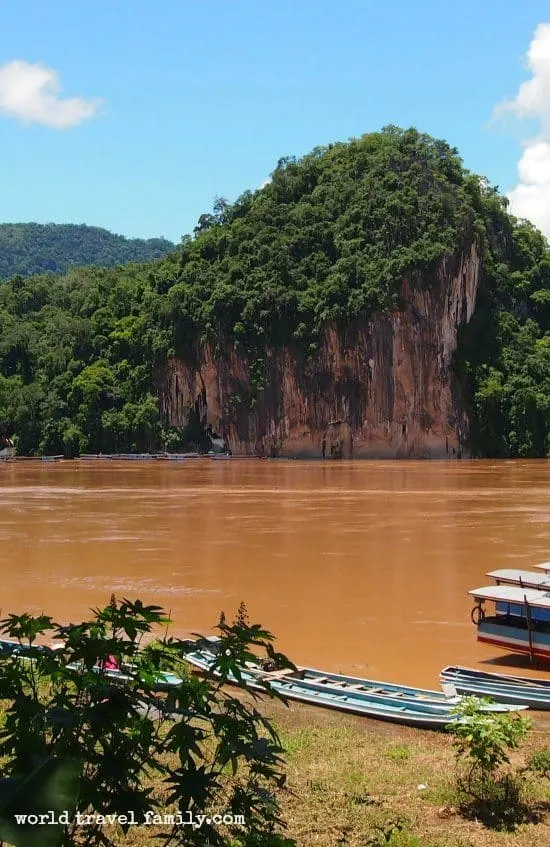 If you don't have your own transport, in the form of a hired motor scooter, you will need to book some sort of tour. It's possible to reach Pak Ou by boat from Luang Prabang, or you can negotiate a price with a tuk tuk or songthaw driver to take you there and back. There are also travel agents along the main streets of Luang Prabang who will arrange visits for you, but you'll probably pay more.
Once you arrive on the bank of the river, you will make the crossing in long, narrow boats for a small extra charge.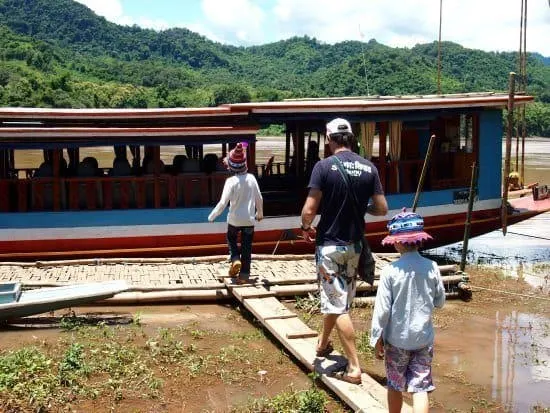 No, not the big boat.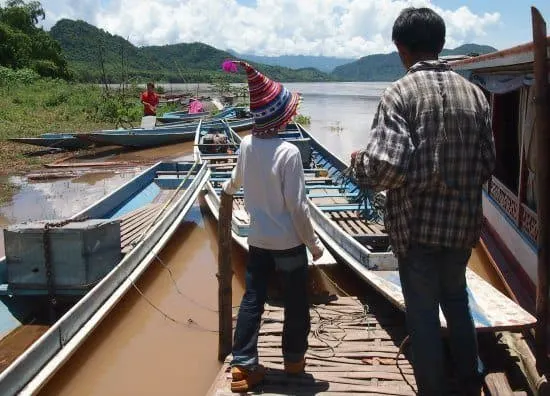 This one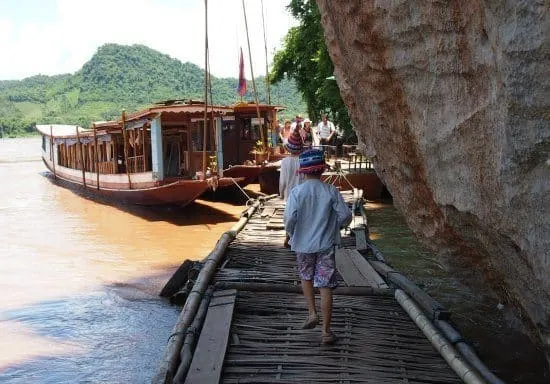 Pak Ou Caves
Pak Ou caves also called Buddha Caves, are a highly respected religious site in Laos, dating back thousands of years. There are two caves, the lower caves, Tham Thieng and the upper, Tham Theung. Today the caves house over 4000 Buddha Icons.
There are steep steps, if you have mobility issues this isn't the place for you. Both caves were fine for our children.
The upper caves are long, dark and the floor is uneven. Bring your own torch or loan one at the door.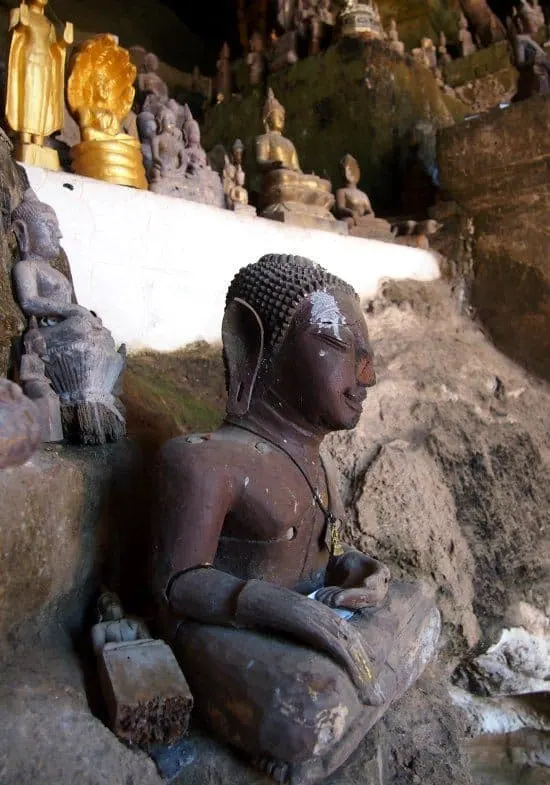 The lower caves are well-lit and shallow, the thousands of Buddha images, mostly wooden, occupy every possible shelf or crevice in the rock, forming an incredible and diverse gathering. Many of the wooden Buddhas are showing their age , which somehow adds to their mysterious appeal.
The upper caves are dark as night and you will need the torch provided to find your way, keep your footing and reveal hidden treasures.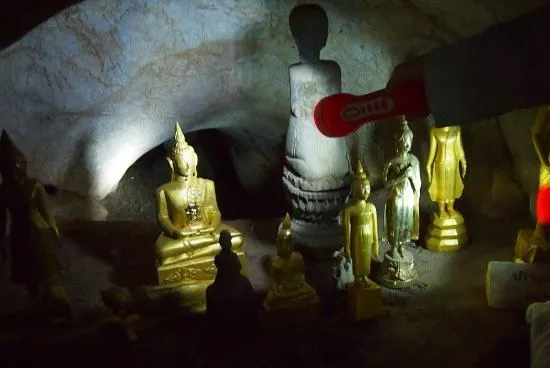 Mysterious ancient writing in the picture below, near the ornate doors to the upper cave.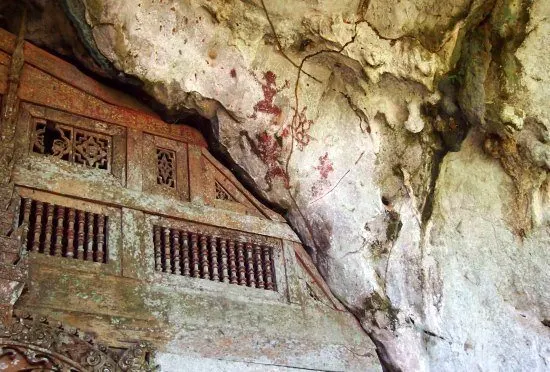 Seeing a Little of Village Life Near Luang Prabang
Your driver may want you to stop at the tourist elephant or whiskey villages nearby. There are a number of elephant riding camps in the area and we passed tourist elephant convoys on the road.
We chose not to visit, but access to the caves is via a small village and we had opportunity to observe local craftsmen and women weaving and making Laos violins.
Yes, we bought a Laos violin for Boo.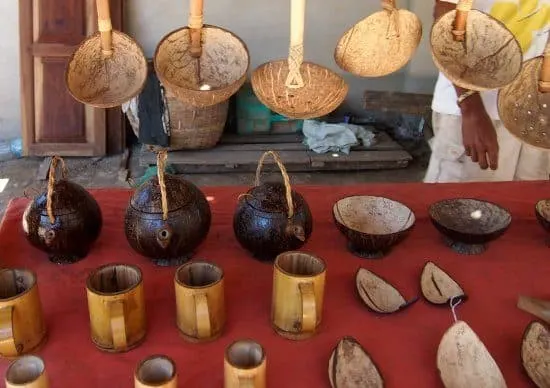 Hotels Near Pak Ou
There are a few hotels in the area and we'll mention them below. Agoda dominates Asia as the best booking engine in the region. Booking.com works for Asia, if it's your favourite, go ahead, but Agoda often has more choice and better deals. Booking dot com is usually better for refundable deals.
The bulk of visitors to Pak Ou and Pak Ou Caves will make the journey from their hotel in Luang Prabang. Use the same online booking engines above to search.

The lovely Nam Ou Riverside Resort (above) is just 5 km from Pak Ou and has excellent reviews. Its price is very moderate by Western standards ( <$100) and offers wi-fi and breakfast.
Overall, visiting Pak Ou caves is a great way to spend a day, the caves themselves are fascinating and being out in the countryside, rather than bustling Luang Prabang town, is a refreshing change. The first time we visited we did it by motor scooter, the second time, with kids, we took a driver and vehicle, arranged independently. Both were great. We still have one of those coconut shell ladles at home, bought way back in 2001. Laos keeps calling us back to revisit, it's very special.
If you'd like to hire a car during your stay, use this car rental comparison tool to find the best deal!

We also suggest you take a look at this company to get a quote for all kinds of the more tricky adventure or extended travel insurance.

Try Stayz / VRBO for an alternative way to find rentals on homes/apartments/condos in any country!