This post may contain affiliate links.
If you're heading to Luang Prabang, Laos, you're in for a very special treat.
We have already posted about browsing the amazing markets, things to do and excursions from Luang Prabang and adventures with food in this UNESCO listed town, but lets have a look at some of the amazing sights you can discover when you head out to explore on foot.
Walking is a great way to explore Luang Prabang as the town is small and compact, you'll find new delights every few paces, just get lost and enjoy the experience.
This unique town will be one of your highlights of Laos travel
If you're looking for more Laos travel posts, we have plenty already published about Luang Prabang, Vang Vieng and Vientianne, more are still to come. Just use our search box at the top of the page.
Places To Explore in Luang Prabang, Laos:
Shops and Galleries, Browse and Enjoy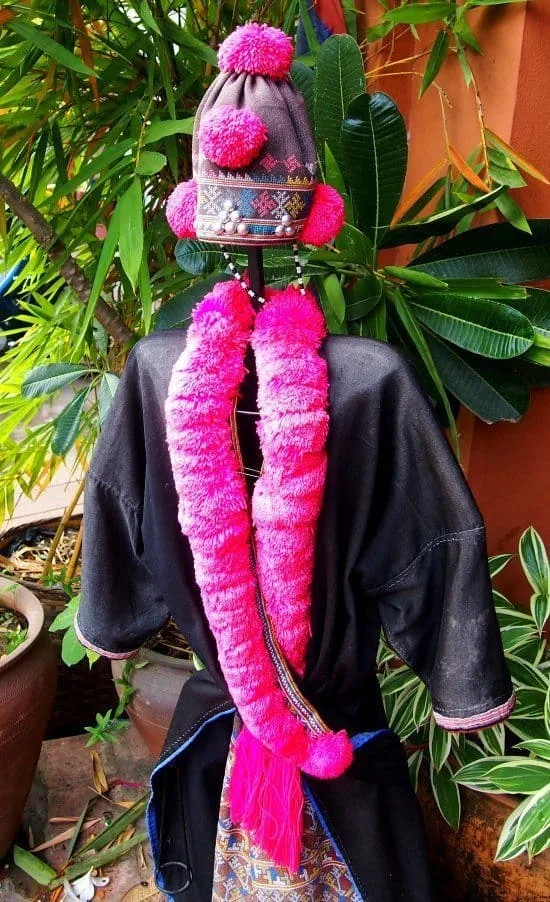 Boutique shops and galleries sell contemporary pieces while the old Laos is seen in some gift shops and market stalls.
You'll discover shops dedicated to traditional vintage Laos costumes and fabrics, like the one above, stunning pieces representing the many local tribes.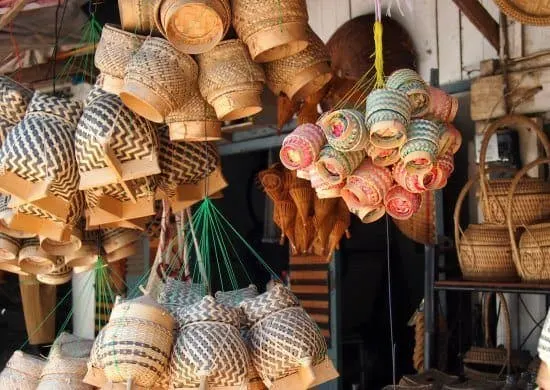 Silver holds a special place in Lao culture, it can keep away evil spirits, bad luck and ill-health. Young children traditionally wear small items close to their bodies so the silversmiths' technique is well-developed in Laos and Luang Prabang has long been a centre for this craft.

Traditional woven rice steamers for cooking sticky rice, the delicious Laos speciality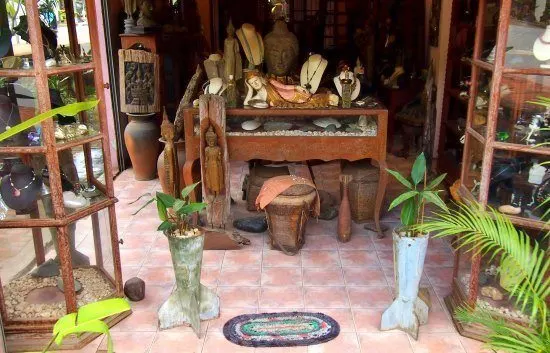 You'll find relics of the war everywhere in the form of recycled and up-cycled bomb casings.
The Old Bridge in Luang Prabang, Test Your Nerve
The old bridge, now used only by motorbikes, was built over a century ago under French rule.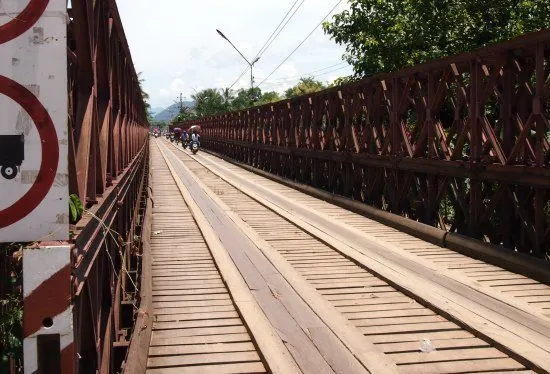 Test your nerve by crossing the Nam Khan River on the footpaths which run either side of the main motor bridge, one way foot traffic only.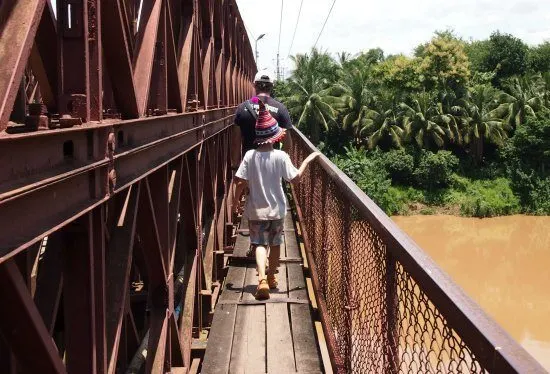 Luang Prabang Temples and Monasteries, Explore and Discover
With over 30 temples and monasteries, you will never stop exploring new sites. Check out the largest, most famous religious locations, but try to find the smaller ones too, their beauty is incredible.
Always dress and behave respectfully when visiting religious sites.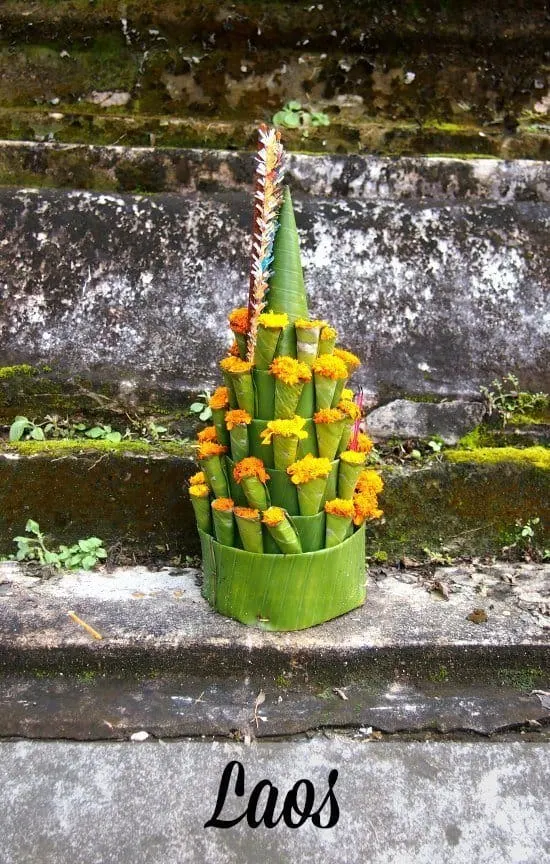 Pin any image on this page with these direct pinning buttons, just hover and pin.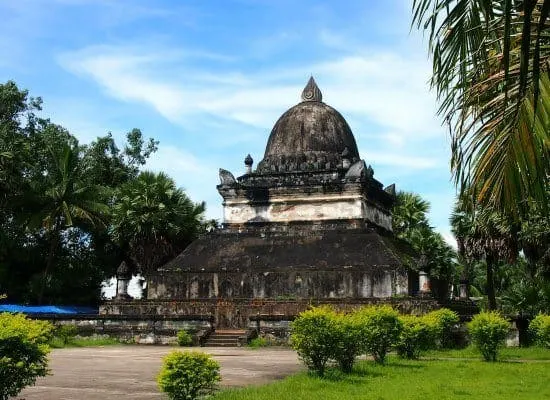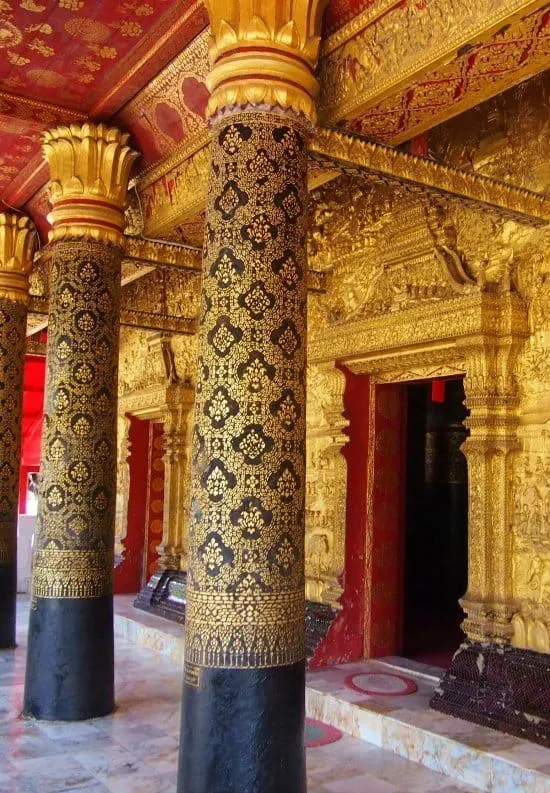 Wat Mai or New Monastery, above, is one of the biggest and arguably, most beautiful, sites in Luang Prabang. It is on the main road near the night market and Royal Palace.
Bars and Cafesin Luang Prabang, Just Enjoy
After a morning of exploring, find a spot to sit a while. There are no shortage of places to enjoy a coffee, a bite to eat, or even a refreshing ( and remarkably cheap) Beer Laos.
We have to recommend this place, Utopia, for its beautiful riverside terrace and ultra cool decor.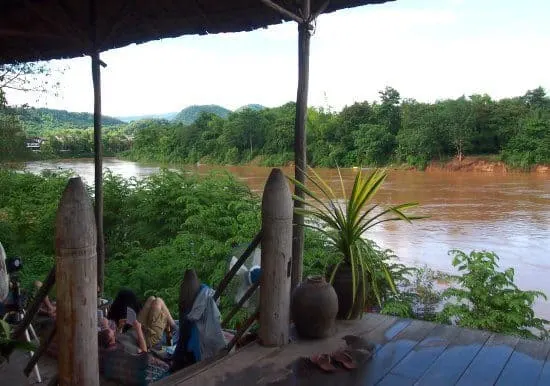 But if the backpacker scene isn't for you, try the chic cafes and bakeries on the main street.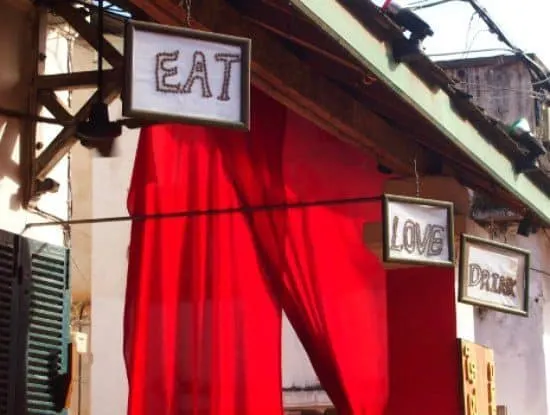 Luang Prabang is a gem of a travel destination, as is all of Laos. It's a country I'm drawn back to again and again.
If you'd like to hire a car during your stay, use this car rental comparison tool to find the best deal!

We also suggest you take a look at this company to get a quote for all kinds of the more tricky adventure or extended travel insurance.

Try Stayz / VRBO for an alternative way to find rentals on homes/apartments/condos in any country!