This post may contain affiliate links.
We've been in Vang Vieng, Laos for 5 nights now and we're loving it. It's raining, a lot, but it hasn't spoiled our experience of this little town. There has been flooding, the Nam Song river was over its banks yesterday morning, I had to wade through the river to buy my morning coffee, all part of the adventure! This post is about life in Vang Vieng, hanging out, food, restaurants and the whole Vang Vieng vibe.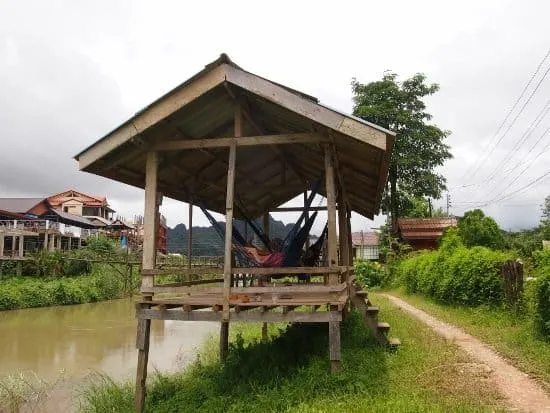 Vang Vieng
The weather seems to add to the charm of Vang Vieng, it's a lazy, sleepy place to be.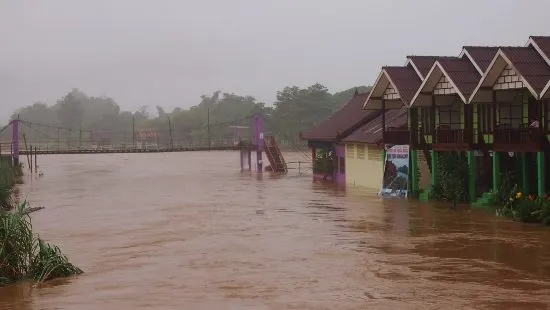 I'm struggling to write this post, I've got all these random thoughts about food, accommodation, the Nam Song river and the lovely Laos people, but it's all jumbled up in my very relaxed head.
So here are some random, jumbled up thoughts on Vang Vieng and Laos.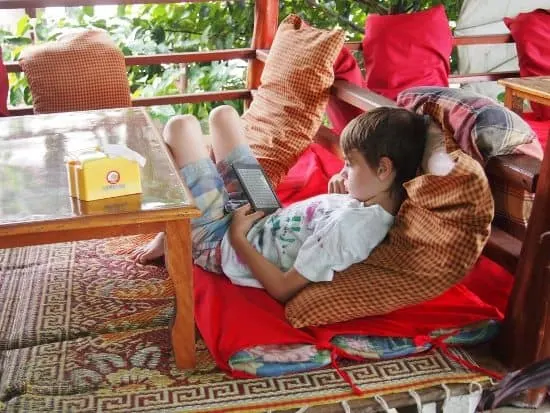 People say Laos is similar to Thailand, I don't think it is, the rural scenery as we drove from Vientiane to Vang Vieng reminded me more of Bali.
Vang Vieng town looks and feels a bit like Kathmandu to us. The people are different, more reserved, the food is different, bigger portions and far more European food, the way this town operates is different, far less hustle.
We like Vang Vieng a lot.
We seem to do a lot of nothing, we perfected the art in Kanchanaburi, Thailand and then had a hectic 27 hour travel day to get to Vang Vieng , so I think we deserve a few more lazy days to recover.
Where to Eat in Vang Vieng
There are many, many simple restaurants in Vang Vieng serving western and Asian dishes. You'll also find a lot of street food stalls selling roti, baguettes, and hot and cold drinks. To find authentic Laos food, you'll have to hunt a little harder, but when we visited we did find a few restaurants specialising in traditional Laos dishes.
A restaurant has become our temporary living room, you'll find us here most days, chilling. These places are set up for that kind of thing with comfortable seating, free Wi-Fi and power points, free pool tables, big screen TVs and glorious river views.
Most restaurants in Vang Vieng have raised seating platforms with cushions for leisurely reclining. It's very easy to lose track of time, particularly once you start on the Beer Laos at $1 for a pint bottle.
The bars are clean, slick and well-run, not seedy, like some were in Kanchanaburi. I'm happy to hang out in them with my children, we even do a bit of school work in them. Vang Vieng with kids is very relaxing, quiet, and calm at this time of year.
You can get food from all around the world, from just about any culture in Vang Vieng, it's of a decent standard, too. Every restaurant seems to have the same menu and the same prices, nothing is spectacularly authentic but it's all pretty good.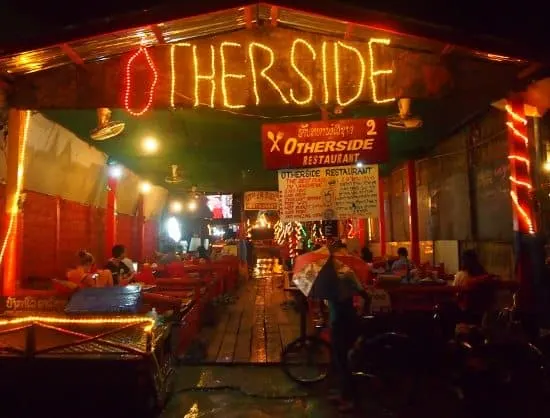 If you're looking for authentic food and a real Laos experience, you won't find it in these places, they're for us, the tourists.
I Googled Laos food in Vang Vieng, and one place came up, a restaurant on the crossroads called Nokeo, we went last night, it's a lovely little place, the owners were delightful and the Laos food was good, but it was a bit on the expensive side, 25,000 Kip (almost $4) for The Chef's Laos style beef and for my tofu and vegetables, sticky rice was an extra 5,000 Kip. It's the only place, so far, where we've been served sticky rice in a traditional steamer. Laos is famous for its sticky rice.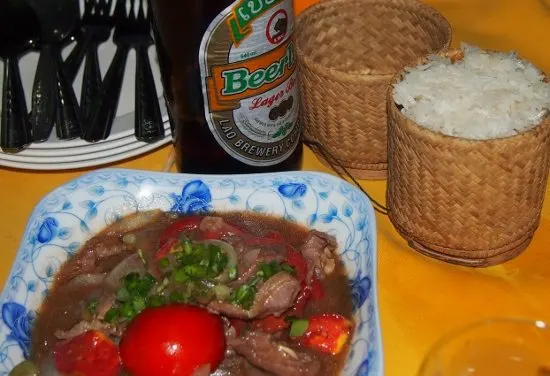 Ladies with street carts sell sweet and savoury baguettes and pancakes (actually roti) from 10 000 Kip ( just over a dollar). They're always open, even in the rain.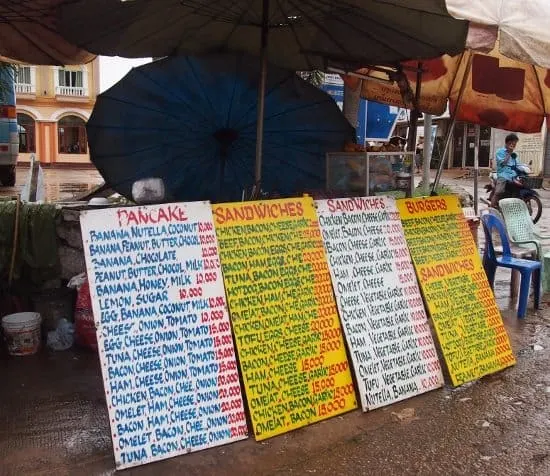 It's really quiet in Vang Vieng in the wet season, most of the bars and restaurants are empty, the one we like, with the pool tables, always has a few people eating, drinking and hanging out. I guess in high season this place is busier.
We've probably killed more time hanging around in restaurants than we would if it was dry, but river activities are fairly unaffected, our kayaking adventure went ahead on the day the river was highest, a few people were tubing that day, although we were told it was dangerous.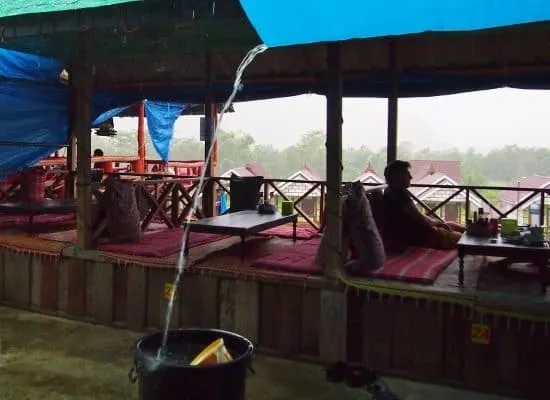 Vang Vieng, Tubing and Kayaking
I mentioned tubing before in my post about getting to Vang Vieng from Laos, the drunken party scene is a thing of the past, I think, after the government crackdown. We noticed a couple of riverside bars were still open and serving the tubers as we kayaked past.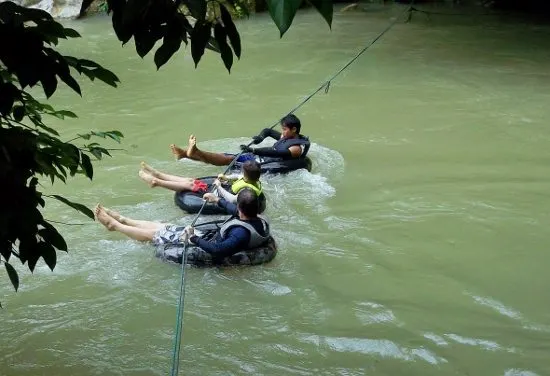 The caving part of our kayaking day was semi cancelled, the water was too high to get into the water cave, although D and The Chef did have a quick look with our guide. It was a fantastic day, I'll post about it soon.
Accommodation here is great, really clean, great facilities. Every guest house seems the same, charging the same prices, I think the locals have got it organised that way. We're very happy to pay $15/ night for a twin room (for a family of 4) with all the trimmings.
Try these two family-friendly hotels in and near Vang Vieng, one cheap, on more expensive.
Sansan Resort boasts a family-friendly experience with family rooms that overlook the nearby mountains as well as an outside pool for the kids.
For a more budget-friendly experience check out the family rooms advertised by Alisona Guesthouse, a more centrally located accommodation.
There are plenty of signs around town advertising rooms and houses for rent, maybe we'll check them out and stay a while. Maybe, if it stops raining, we'll hire bikes and explore the countryside a bit more, I need to take photos of water buffalo, mountains and rice fields, it's so pretty! If you want to read more on kayaking in Vang Vieng, you need our post. We went twice and eventually spent over a month just in Vang Vieng.
If you'd like to hire a car during your stay, use this car rental comparison tool to find the best deal!

We also suggest you take a look at this company to get a quote for all kinds of the more tricky adventure or extended travel insurance.

Try Stayz / VRBO for an alternative way to find rentals on homes/apartments/condos in any country!