This post may contain affiliate links.
Your options for getting from Bangkok to Phuket include train, bus, air, taxi and minibus. There is an airport on Phuket, you cat fly. Read on for more information on getting to Phuket from Bangkok. information on how to book train or bus tickets plus day tours, hotels in Phuket and things to do in this Southern part of Thailand.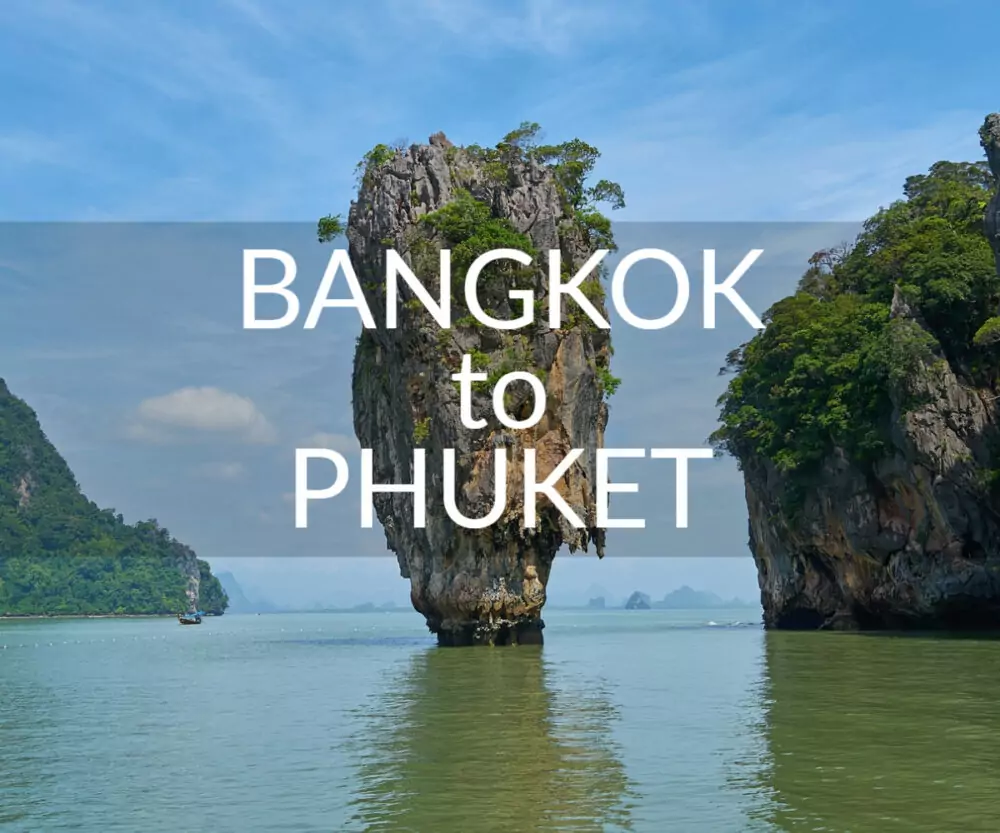 If you'd like to book a day trip or tour to Phuket from Bangkok, that isn't really possible. Phuket is a long way from Bangkok Thailand.
Phuket's most popular attractions, Phuket's beaches and nearby islands, make for a great trip from Bangkok!
Find out here, the best way to book transport to Phuket from Bangkok, online and in advance.
---
Bangkok to Phuket
There are multiple ways to get from Bangkok to Phuket Thailand by road and rail. Phuket is not an isolated island, it is connected to the mainland by road, so you don't need to take a boat or ferry if you take a direct route from Bangkok.
Phuket, is a city, a province and an island in southern Thailand. The island of Phuket lies in the Andaman Sea, off the west coast of peninsular Thailand, although Phuket is an island, it is connected to mainland Thailand by road. Phuket city, located in the southeastern portion of the island, is a major port and commercial centre. Phuket Old Town is a historic part of Phuket City.
How to Get to Phuket From Bangkok
You have a few choices, this was the information we had, a few days ago. Things change, you need to check. There is the train, a regular bus service, flights, tours and transfers, scheduled buses run as well as the options of driving or taking a metered taxi.
---
Booking Tickets to Phuket from Bangkok
These are the best ways of booking travel tickets to Phuket in Thailand:
We highly recommend booking your tickets through 12 Go, it's simple, no fuss, minimal expense and reliable. They also handle bus ticket bookings and better rates than many agents will give you. We use them, we recommend them.
This site can be used to book all transport in Thailand and will open on the Bangkok to Phuket page.
If you want to book flights to Phuket from Bangkok, visit Skyscanner and use our tips to find the cheapest days and months to travel.
---
The Bangkok to Phuket Train
There is no direct train from Bangkok to Phuket. Instead, you will need to take a sleeper train to Surat Thani, some 109 miles (175 km) away. From Surat Thani there are a number of ways to travel to Phuket including bus and minivan. The Surat Thani to Phuket journey will add another 4 hours but only cost you about $10.
Taking the train to Phuket really isn't the best way to travel.
The train to Phuket (Surat Thani) goes from Bang Sue Junction Bangkok, or from Hua Lamphong train Station. Taking the train from Bang Sue is a lot cheaper usually because these are 2nd class AC seat trains, not sleeper bunk trains.
We had to pay full price on the train for both of the children (6 and 9 years old) . The train costs between $7 and $40 from Bangkok to Surat Thani.
---
Bangkok to Phuket by Air
Flying to Phuket is the fastest way to get there, and flights are very affordable. Flights take about 1 hour 25 minutes and depart BKK Suvarnabhumi Airport, Bangkok.
Phuket airport is in the north west of Phuket Island, not far from the road bridge. (Sarasin Bridge)
On arrival at Phuket Airport it is a good idea to rent a car and have it waiting for you. Traffic can be heavy on Phuket, but having your own vehicle allows you to explore Phuket at your leisure. Use this car hire comparison tool to find the best deals on vehicles. Alternatively, book an airport transfer to your Phuket hotel.
Bangkok to Phuket by Taxi
It is possible to book a taxi from Bangkok to Phuket and this journey should only take around 9 hours, however, a taxi to Phuket will likely cost at least $200. (A plane ticket will be around $50 each, but a cheap flight could only be $30)
---
Minibuses to Phuket
There are a million travel agencies in the Khao San Rd area that will put you on a backpacker's minibus, minivan or van to Phuket. Thai vans will take you everywhere from Cambodia to Burma.
As always with minibuses in Thailand, shop around and compare prices, don't take the first offer if you are using agencies on the street. Be aware that these drivers go very fast where they can. You may be able to find a van or minibus to book here.
---
The Train Journey – Bangkok to Surat Thani for Phuket
The Bangkok to Surat Thani train takes about 12 hours on average and sleeper trains are available on this route. The sleeper trains tend to be a lot more expensive (but still very affordable) than 2nd class AC chair trains. This train is usually slightly cheaper than a flight to Phuket, but then you have to get from Surat Thani to Phuket, which will likely cost you $10 or so for a bus or minivan and take about another 4 hours. Look at transport options between Surat Thani and Phuket here. Surat Thani is also where you get off the train to travel to Ko Samui, Ko Phangan and Ko Tao.
---
How far is Phuket from Bangkok?
Phuket is 428 miles, 690 kilometers as the crow flies, from Bangkok. The road distance from Bangkok to Phuket is some 847 km.
---
How Long Does The Train Take From Bangkok to Surat Thani for Phuket?
This seems to vary. Some trains are faster than others. Check the timetables, between 10 and 13 hours is typical. Travelling by road could be slightly quicker if traffic is good.
---
Arrival in Phuket
How to Find the Best Deals on Hotels, Guest Houses, Hostels, or Resorts in Phuket
We recommend checking the two booking platforms below to find the best price on your dates.
Agoda are Asia specialists and they often have a bigger selection. To get a refundable deal, a long time in advance (some people reserve 3 or 4 hotels and confirm closer to the date) Booking.com usually works best.
Accommodation in Phuket includes guest houses, hostels, resorts and hotels from cheap to luxury. We found prices to be high in Phuket. More expensive than Bangkok. Scroll further down for a few recommendations.
---
Accommodation in Phuket
Phuket's accommodation is more geared to the vacation crowd than backpackers, but there are some good hostels and guest houses in Phuket Old Town, we found this to be the most interesting part of Phuket.
---
Hotels in Phuket
A selection of Phuket hotels and resorts, with good reviews and recommendations. We checked the Trip Advisor ratings at the time of publication, these may have changed.
---
Things To Do In and Around Phuket
You will find many natural attractions and things to see and do in the Phuket area, including many boat trips to nearby islands.
The following things to do and see are in or near Phuket Thailand.
Phuket is known for popular beaches and water activities,
Visit Phi Phi Island and Maya Bay from Phuket (The Beach)
Visit James Bond Island, in Phang Nga Bay
See Phuket's Big Buddha, a huge white Buddah,
See Wat Chalong,
Visit Coral Island,
The Lagoon Phuket Triathlon,
White Water Rafting,
Elephant Attractions,
Monkey Cave,
Zip Lining
Phuket Old Town,
River Rafting,
Thai Cooking Classes.
Night Markets
Our favourite thing to do in Phuket, just relax!
---
Bangkok to Phuket – Conclusion
Flying is the quickest way to get to Phuket from Bangkok, but if you have time and want to see a little more of Thailand, the sleeper train/bus combo comes in at around the same price. Surat Thani is a nice place, we've stayed there for a few days. Surat Thani is also a convenient crossroads for many destinations including neighboring Malaysia. Surat Thani has an airport so you could fly in or ou of Surat Thani and not need to take the sleeper train twice.
We love Bangkok and Thailand, Phuket is a very popular holiday destination, but not as rich in things to do as other parts of Thailand. It is also more expensive generally. To really experience Thailand we'd recommend the north and the less touristed places.
It's well worth the trip from Bangkok to spend a few days checking out Phuket or chilling at your resort or on the beach. Although Phuket is popular, it wouldn't make it onto our must-see list of places in Thailand, but it's an interesting experience to visit. If you'd like more information on travel in Thailand, don't miss our main Thailand Travel Blog page, plenty of information there for singles, couples or families taking any sort of trip in Thailand.
If you'd like to hire a car during your stay, use this car rental comparison tool to find the best deal!

We also suggest you take a look at this company to get a quote for all kinds of the more tricky adventure or extended travel insurance.

Try Stayz / VRBO for an alternative way to find rentals on homes/apartments/condos in any country!