This post may contain affiliate links.
You have plenty of options for getting from Bangkok to Koh Samui in the far southwest of Thailand. Modern Thailand is an incredibly easy country to travel around, thanks to its long-established tourism industry, you'll certainly be able to find a way of getting to Koh Samui from Bangkok that suits you. Once you reach Koh Samui the neighbouring islands of Koh Phangan and Koh Tao are just a short ferry ride away. Options for travel from Bangkok to Ko Samui include air travel, sleeper bus or train, road, train, boats and ferries. As Ko Samui is an island, you'll likely have to take a ferry if you don't choose to fly to Ko Samui Airport. The easiest way to arrange your transport, air, road, rail or water, is to use this website.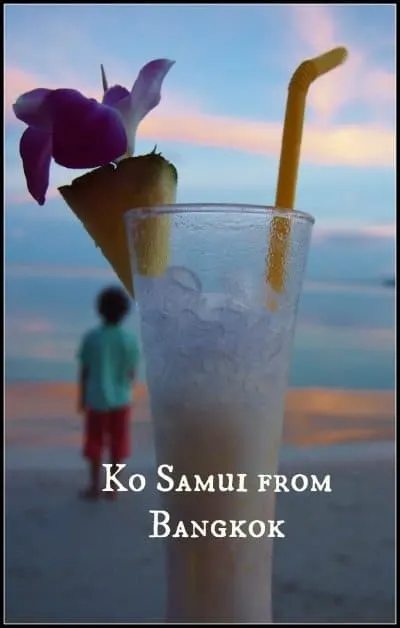 Bangkok to Koh Samui
This post is currently being updated with information for 2022. We're sorry these up to date prices are not on our site today. The prices given on this page were correct at the time of writing.
Bangkok to Koh Samui by Plane
You can fly from Bangkok to Koh Samui, there is an airport on Ko Samui. If you were on a two week holiday and weren't on a budget this would be the quickest way to go. To book your flight to Ko Samui from Bangkok use Skyscanner and follow the booking tips in our Skyscanner post to find the cheapest days or months to fly.
Flights from Bangkok to Ko Samui cost in the region of $80 US (correct for 2022). This is about double the cost of a bus and ferry combo. Flights to Ko Samui depart from Suvarnabhumi Airport Bangkok.
Bus and Ferry Combined Ticket From Bangkok To Koh Samui
Visit any travel agent or larger guest house on the Kao San Rd and have a look at the bus/ferry combos they have to offer. On the day we looked, prices were between 800 Baht and 1400 Baht depending on the time of departure and which ferry you choose. Some of the buses drive straight onto the ferry, some don't. The advantage of bus over train is that you don't have to get off at Surat Thani and make your way to the ferry port at Donsak, it's about an hour away. The buses take you straight to the ferry. The journey time is around 12 hours.
There is a fast, modern catamaran ferry and older, slower versions. It is important to check where the ferry lands on Ko Samui. Taxis on the island are expensive and drivers are very difficult to deal with, they really don't want to use their meters.
Sleeper Train or Day Train to Koh Samui From Bangkok
We chose the sleeper train. Trains in Thailand are great. We took a taxi from Kao San Rd (55 Baht) mid afternoon to Hua Lamphong station and bought a train ticket on arrival. There were plenty of tickets left although these tickets may be in short supply at peak times.
Buying tickets at Hua Lamphong (Bangkok) train station is incredibly easy, there are people whose job it is to help you find the right ticket desk or platform.
There are a few trains to Surat Thani to choose from, we took the earlier one, the 5.05pm departure. The later train is popular because it arrives at a more civilised hour in the morning, the train takes about 12 hours.
We bought a train/bus/ferry combo ticket (1021 Baht each) at the station. We had no idea we could do this before we got there. This option cost a lot less than it would have from one of the travel offices on Kao San Rd.
We decided to try Ko Samui first before hopping on to Ko Phangan and Ko Tau, but you can get to either of these islands direct, if you want to.
Sleeper trains in Thailand are Great, Usually.
We love Thai sleeper trains, they're fun, comfortable, service is great, we sleep well. I already wrote about the sleeper train from Bangkok to Laos, the trains are the same, the service was even better on the Surat Thani trip.
That's unless you get the carriage with the broken suspension. Is that what sleeper train carriages have, suspension? We were rocked from side to side mercilessly all night. It reminded me of how my chef husband shakes sausages in a pan. The kids slept, we didn't.
This is the first time we've had any problems with Thai sleeper trains, bad luck I guess.
We arrived at Surat Thani at 5am.
The Surat Thani to Koh Samui Ferry Ticket Scam.
As you get off the train, bleary-eyed, at Surat Thani, you meet a group of semi-official-looking ladies wanting to see your tickets.
Their role, as far as I could make out, is to usher you to whichever café is paying them so that you spend money on breakfast. We went along with the whole thing, we needed coffee and some food for the kids.
There is a row of cafes right opposite the Surat Thani station, it made little difference to us which one we went to.
In our dazed and confused state we were relieved of our ferry tickets. The café lady, after winning our confidence by fussing over the kids and warning us about thefts on the buses, took our tickets away and replaced them with a single piece of paper.
"Better for you, earlier ferry."
OK, thanks.
What we didn't realise was that we would now be on the clanky, smelly, old car ferry, not the catamaran we'd paid for. That was no big deal. The problem was, the car ferry lands on the wrong side of the island, nowhere near Chaweng. Transport on Ko Samui is expensive. We ended up getting a Songtaw for 500 Baht to Chaweng, too much, but less than half the fare the cheapest taxi driver wanted.
Arriving On Koh Samui From Bangkok
Chaweng Beach Ko Samui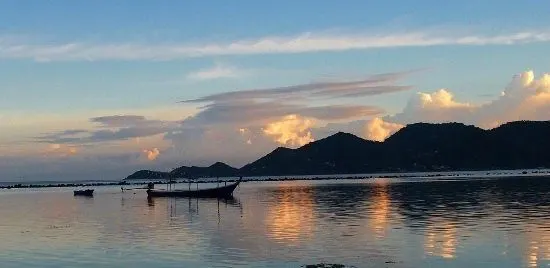 It's a beautiful beach, so pretty. Swimming here is a dream, the water is warm and the sand is white. The children can snorkel out a long way safe in shallow waters.
Chaweng is a big international tourist draw and the beach is lined with wall-to-wall hotels. We've never really been anywhere like this before and we're not sure if we like it. We've found a room for 800 Baht, you'll have to pay a lot more to stay on the beach.
We'll give it a few days, I'd rather be somewhere less developed and smaller but the children are loving being able to swim for the first time in three months. Watch out for sharp coral fragments, we all have cut feet.
There are plenty of food choices. You can dine on the beach, enjoy happy hour cocktails at 90 Baht and take your pick from the selection of seafood on ice. We can't afford to do that, we've found a highly recommended budget café, The Green Bird, the food is great and starts at 30 Baht. All the usual fast food joints are here.
Maybe tonight we'll go to the beach at 9pm and check out a fire show, they were brilliant on Koh Samet, we took some great photos. Ko Samui is nothing like Ko Samet.
Use This Website To Book All Transport Within Thailand, and Bangkok to Koh Samui
So we're settled for a few days, but not for long. We'll check out some other parts of Ko Samui and move on to the smaller islands before the weather breaks towards the end of October. Getting to Ko Samui from Bangkok wasn't our easiest travel day, but it wasn't so bad. This is all new to us, we've never been here before and we've never been to a big tourist town like this. The jury is out for now. We moved to Ko Phangyang after a few days on Koh Samui and found Ko Phangan to be a nicer island. Read about Ko Phangan, where we stayed for 6 weeks, here.
If you'd like to hire a car during your stay, use this car rental comparison tool to find the best deal!

We also suggest you take a look at this company to get a quote for all kinds of the more tricky adventure or extended travel insurance.

Try Stayz / VRBO for an alternative way to find rentals on homes/apartments/condos in any country!