This post may contain affiliate links.
I keep quoting this figure of $41/day as our budget, that's actually a lie, our budget for Laos is working out at a lot more than that, everything considered. We're cheating rather too much on cake, beer and coffee, but Laos is indisputably cheap, cheaper than Thailand, and low accommodation costs are a big part of that. So a blog post on Laos budget, costs and prices is in order. Of course you can spend as much as you like, a backpacker budget looks very different to a luxury holiday budget, but here are some examples and experiences of budgeting in and for Laos. It's one of our favourite countries and one of the cheapest, last time we stayed 6 weeks and we'll be back to see more.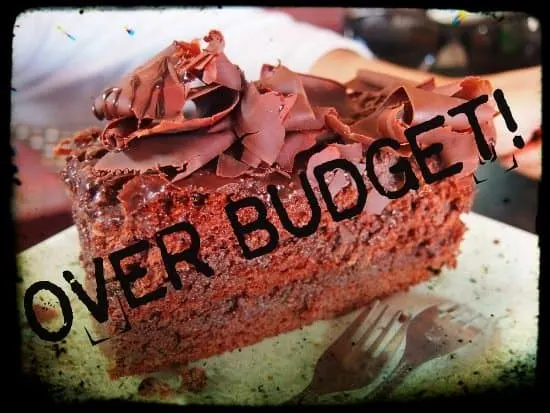 We're cheating and we suck at budgeting!
Laos Budget. What you can buy on a $40 daily budget.
We spend around $40 every day for a family of four, that covers all food, drinks and accommodation, it would be hard to spend more. It isn't enough to cover all the extras, day trips, visa extensions, bus journeys, and so on.
Accommodation is easy on the budget in Laos and the standard is great. Guest houses at our price point are pretty new and incredibly clean. Little Boo vomited all over the bed recently. Stripping the bed in the middle of the night revealed new, unstained everything, that was great to see.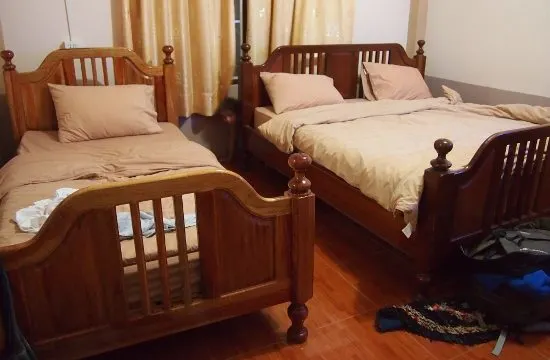 We paid 90,000 kip (about $12 AU) for this room with air-con, en suite, fan, TV, and free wi-fi, the guest house is right on the river and was perfect for us in Vang Vieng. In Luang Prabang and Vientiane, we paid more.
Food costs in Laos
Food is more expensive than in Thailand or Vietnam. In Thailand you can get a meal for a dollar, likewise Vietnam, you won't get anything for a dollar in Laos. The starting point is 10,000 Kip, but the portions are much bigger (7,000 Kip = $1Au). For 10, 000 you can buy a cheese roti, a beer or a bowl of noodle soup, if you shop around. Vietnam and Thailand are cheaper for food and beer but portions are small. Hungry boys preferred Laos portions and we happily split a meal between my younger son and I.
Luang Prabang is a lot more expensive than Vang Vieng, but prices still start at 10,000.
You're more likely to spend 15 to 35,000 on a main course. We're finding that the portions are so big we can split them, so something like two Laos style green curry chicken soup, which comes with rice and is full of vegetables and chicken, feeds all four of us for 50,000 Kip ( $7 AU).
We've been splurging on breakfast, it's our favourite meal of the day, something substantial like this Shakshuka is 20,000Kip (under $3 AU). Two eggs, tomatoes, onions, garlic and fresh green chili served with a baguette, butter and jam. It's huge, if I put one of those away I don't need lunch, so we save by only having two meals a day. Everything seems to come with a baguette in Vang Vieng, in Luang Prabang they charge you extra.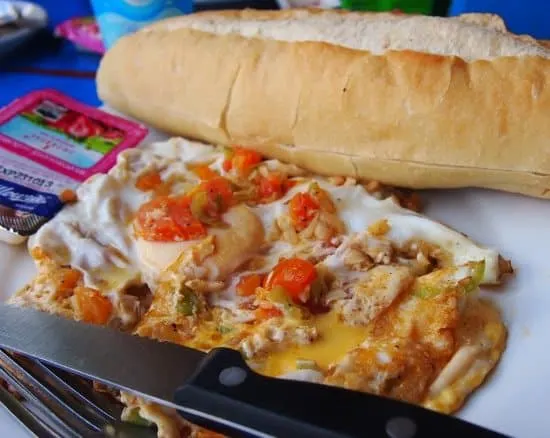 An Asian dish will cost you around the same, I had tofu with ginger cashews and vegetables for breakfast this morning, delicious and the same price.
The kids are happy with fried eggs, pancakes or muesli with fruit salad and yoghurt ($2-3)
A coffee or a fruit shake is a dollar or under (5-7,000), a large beer is 10,000, a glass of wine starts at 20,000Kip.
Finding the Best Deals and Prices on Accommodation, Hotels, Hostels, Resorts and Guest Houses
A backpacker budget can buy you great accommodation in Laos, with some of the lowest prices in Asia. Likewise, at the luxury end, prices are good.
Agoda are the Asian specialists operators for hotels, guest houses, hostels and resorts and often have a wider selection and the best deals.
If you're after a refundable reservation, far in advance, try Booking.com. We can vouch for customer service for both Booking and Agoda.
Extra Costs in Laos. What our budget for Laos doesn't cover
Transportation is Expensive
Transport is disproportionately expensive here.
The bus from Luang Prabang to Vang Vieng was 420,000 Kip ($60 AU ). The children payed full price.
The bus from Vang Vieng to Luang Prabang was 285,000Kip ($40 AU). We got away with booking three seats instead of four.
Visa Costs and Visa Extensions
The 30 day visa for Laos was $30 US each for the Australian passports and $35 US for the British passport.
To extend our visas for 2 weeks we payed $2/day each.
Daytrips and Tours Costs in Laos
Daytrips were horribly expensive from Luang Prabang and negotiating with overly pushy tuk tuk drivers wasn't easy, we seemed to haemorrhage money. $20 to get to the Buddha cave, extra to get the ferry, another admission to get into the cave, it added up really quickly.
Vang Vieng isn't so bad, tubing and kayaking cost a bit ( $15 each and $50/4 of us respectively), but mostly we've been walking and cycling, no expensive day trips here and the drivers are far more laid back.
These are big expenses, an under spend of a few buck on our daily budget isn't going to cover them even though we spend days and days happily doing "nothing". We're not really being honest with ourselves or with you.
The thing is, we're not very good at budgeting. If we're under, or think we're under, we buy an extra beer or three or splurge on cake, we're not keeping a running total or accurate records.
Insurance Costs for Laos
We never factor insurance costs into our daily budget because we buy our insurance in long blocks and it's a pre-travel cost. You should take out good insurance for Laos, hospitals aren't so great and you could be in a very isolated area with a long journey to medical care, possibly in Thailand. This is the insurance company we use and recommend.
For You, For Pinterest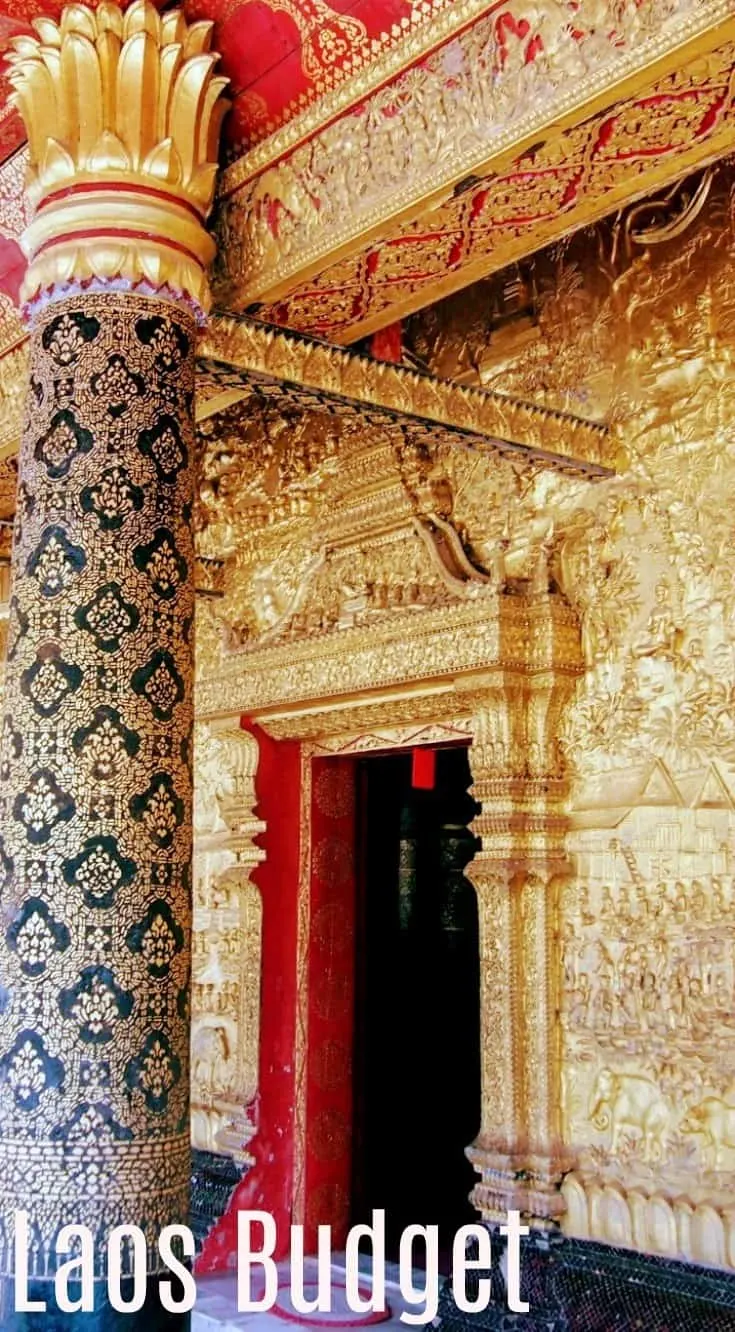 Sorry if we're misleading anybody. Our Laos budget is incredibly low, but it's meant as a daily living cost budget, something to aim for and we have extra cash tucked away if we need it. Please don't come to this part of the world as a family with a $40 budget for Laos and expect it to be easy, you'd struggle. It's cheap, but not THAT cheap. We've been on the road a very long time now 9 over 4 years) and we generally find that a daily budget of $100 is a great level in Asia, year 1 was our big experiment in ultra-budget travel and we tend not to travel that way anymore. We're still backpackers at heart, but backpackers with more cash and bigger kids.
If you'd like to hire a car during your stay, use this car rental comparison tool to find the best deal!

We also suggest you take a look at this company to get a quote for all kinds of the more tricky adventure or extended travel insurance.

Try Stayz / VRBO for an alternative way to find rentals on homes/apartments/condos in any country!