This post may contain affiliate links.
London, the beating heart of England. A city drenched in history, home to royalty and some of the most incredible landmarks on the planet. Enjoy London's magnificent parks, fine dining, museums and theatre scene while giving your family a vacation to remember. London is a fabulous place to vacation with your children. When it comes to finding plenty to do in London that everyone in your family can all enjoy, the opportunities seem endless. However, finding a place to stay where you all feel welcome, safe, and well-cared-for can present a bit of a challenge.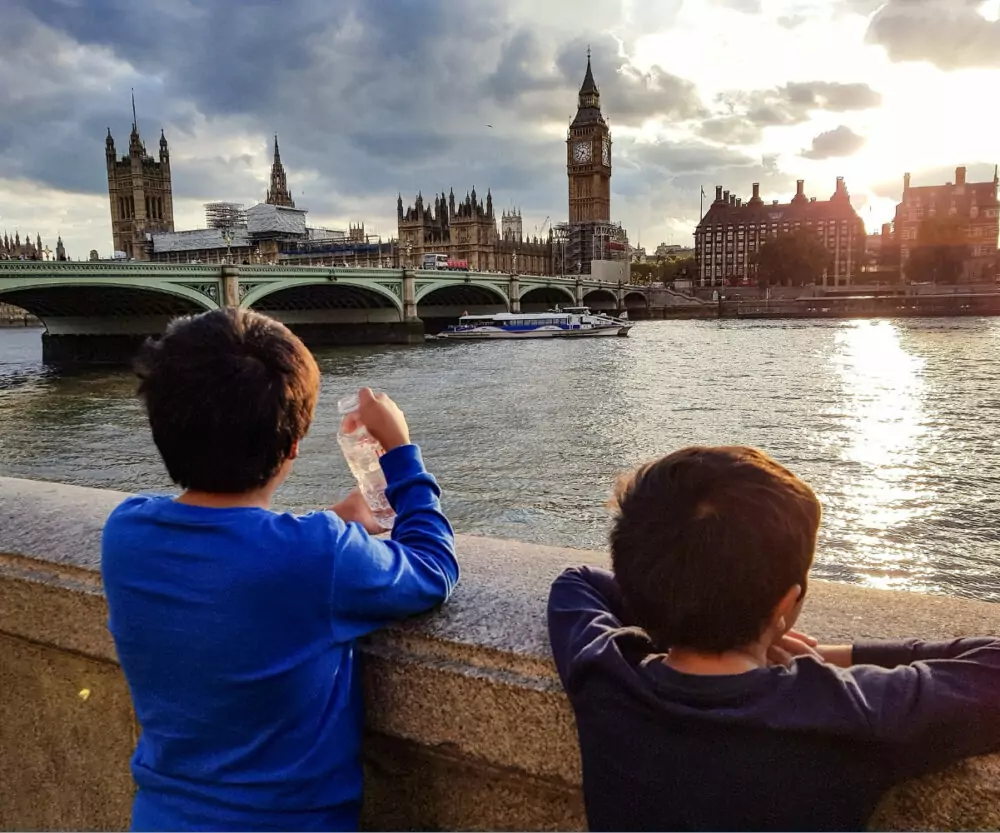 Thankfully, it's a challenge that is getting easier to overcome all the time, as the London hospitality industry continues to further embrace the traveling family. Excellent hotels that make room for children do exist in London, and here are six of the best. May we also suggest you look into vacation homes in London too? This site, Plum Guide, lists some of the very best apartments and homes London has to offer, each one quality tested. But check out the kid-friendly hotels below too!
Information on this page is personal opinion. Please check all information at the time of booking as hotels can and do change their terms, rates and facilities.
---
Brown's in Mayfair
There are a few hotels in London that specialise in kids and families. Check out Brown's in Mayfair. Here you can find interconnecting suites with adorable kid-friendly features. These kid-friendly features are for all ages and include a (24 hour baby sitting on request parents want to go out blah blah) (For smaller children there are utilities available when requested, such as bottle waters, high chairs, baby bathtubs, cribs and more to make sure even the toddlers have a good time.) Older kids also get a multitude of available services, such as milk and cookies at turn down, games consoles, movies, Wi-Fi, a library pass for the kid's library For those who want to read, which allows for books to be checked out and more. For shared activities, there are also packages such as "Mummy And Me Time" which is a spa treatment to be shared between a parent and their child. The hotel itself is also situated very close to Hamleys, which is the largest toy store in the world.
Location:
Family Rooms and Suites: Yes
---
---
The Taj at Buckingham Gate
High budget guests may also like The Taj at Buckingham Gate. The kids@Taj program offers special treats for kids up to 12 years old. On arrival, young hotel guests receive a special Kids@Taj goodie bag and passport. This passport will be stamped at every Taj hotel they visit around the world. The concierge will even post your kids' drawings (creative materials are provided) to friends and family back home. There is a special kids dining menu and allergies and intollerances are well catered for. Younger kids even get cookies and hot chocolate at bedtime, if required. The concierge is expert in assisting families with visits to London's most child-friendly attractions.
You can even collect a family picnic from the hotel to enjoy in typical English style, in the nearby Royal Parks.
Quilon, one of the hotel's fine dining restaurants, holds a Michelin star. Afternoon teas and less formal dining options are also available at this, one of the UK's most elegant classical hotels.
Location: St James's Court London, a short walk from Buckingham Palace, Green Park and St James's Park and in Zone 1, Central London.
Family Rooms and Suites: Yes
---
---
St James's Hotel and Club
St James's Hotel and Club, is located in lovely Mayfair, and offers somewhat less expensive and provides 5-star family luxury in Central London. Interconnecting family rooms and suites can stretch to accommodate even the largest family groups in flexible room arrangements to suit your needs. Discounts are possible for kids; rooms.
Both babysitting and supervised in-room childcare are available at this hotel, allowing parents to relax and unwind in the spa or restaurants.
Hyde Park, Green Park and Buckingham Palace are a short walk from the hotel.
Location:
Family Rooms and Suites: Yes
---
---
The Royal Garden Hotel Hyde Park
The Royal Garden Hotel Hyde Park is located in lovely Kensington, Central London, meaning it is footsteps away from London's "Big 3" Museums, these are must-visits with kids! The Royal Garden is adjacent to Hyde Park and Kensington Palace, where you will find the incredible Princess Diana Memorial Playground. This 5 star is potentially the lowest cost option so far and is not as luxurious as the two hotels above. Suites can extend to 3 bedrooms to suit larger families. The Penthouse suite even boasts it's own kitchen.
Travel cots or free extra beds for younger children are available at time of booking.
Location:
Family Rooms and Suites: Yes
---
---
Legoland Resort Hotel
The Legoland theme park and Legoland Resort Hotel are in lovely Windsor, a short distance from the busy City of London, but the perfect base from which to see Windsor Castle!
Like all of the Legoland Resorts around the world, kids are the principal guests and Lego theming prevales.
With Christmas coming, this would make a fantastic treat for your kids to experience the twinkling lights and festive fairs in London at Christmas, and also attend the special Lego Christmas event (November 2022 to January 2023)
---
So, go ahead and take the kids to London. At any one of these fine hotels, you'll get the rest and downtime you need, and your children will feel wanted and important.
If you'd like to hire a car during your stay, use this car rental comparison tool to find the best deal!

We also suggest you take a look at this company to get a quote for all kinds of the more tricky adventure or extended travel insurance.

Try Stayz / VRBO for an alternative way to find rentals on homes/apartments/condos in any country!