Hi! Just a quick one about the amazing food on offer at Greenwich Market on the east side of London. We visited Greenwich a few times last year and had a great time, but this summer we're basing ourselves here for a few days to get to know this area inside out. We're so lucky to be able to experience so many areas of London fully, it's a great perk of the job. We're staying in a fabulously funky multicultural area ( with lots of cool coffee shops!) just a short walk from central Greenwich. I've already written a full post on Greenwich, listing most of the amazing things to do here ( there are loads, many free) so click through for that if you're interested. London's street food and market scene is one of the best in the world. This morning Chef had a rare day off so we headed out as a family to eat everything in sight before burning some of it off climbing and rolling down Greenwich Hill. Greenwich market food is amazing, as is most London Street food. We flew by the National Maritime Museum too, there's always time for a little extra education!
I took a few photos of the food available at Greenwich Market, it's hugely impressive to see such variety and the quality is superb. British street food at it's very best, I've rarely seen such a huge selection. (More than our old favourite Borough Market I think)
So far, the boys, Chef and I have sampled Chinese dumplings, Italian pizza, Ethiopian dahl soup, Indian veg curries, Brazilian churros, vegan cup cakes, Mexican burritos, Portuguese chorizo stew and custard tarts ( the kids favourite!), washed down with fresh juices. It is all AMAZING! Expect to pay about 5 pounds+ per main dish. Yes it's a lot, but it's worth paying for this sort of quality.
Any post on this site may contain affiliate links. We earn commission on these should you make a purchase. All recommendations are genuine and we are not paid to include products, hotels, and so on.
If you're in London to eat, you will find food fairs and markets almost everywhere, it's a foodie city. At Christmas London gets even better, you'll be tripping over festive food fairs wherever you go. Click through, London is just INCREDIBLE at Christmas.
We love markets, from Luang Prabang in Laos, to Chi Chi n Guatemala to Anjuna in Goa. Greenwich most certainly ranks up there with the best of them. We fell in love with fine art paintings ( of Daleks!), hand crafted silver jewelry and leather goods, this market has everything!
I like this fantastic mix of culinary cultures and eclectic ethnicities just the way it is. To me this IS Britain, the place I love. Most stalls are held by "foreigners" producing their country's signature dish, only one or two stalls sell traditionally "British" food. It's all good and as we're all about promoting global understanding, education and kindness, well, I've kind of got to mention that.
Food Available at Greenwich Market, Photos
On with the photos. Are you ready to drool?
Don't forget to save to Pinterest!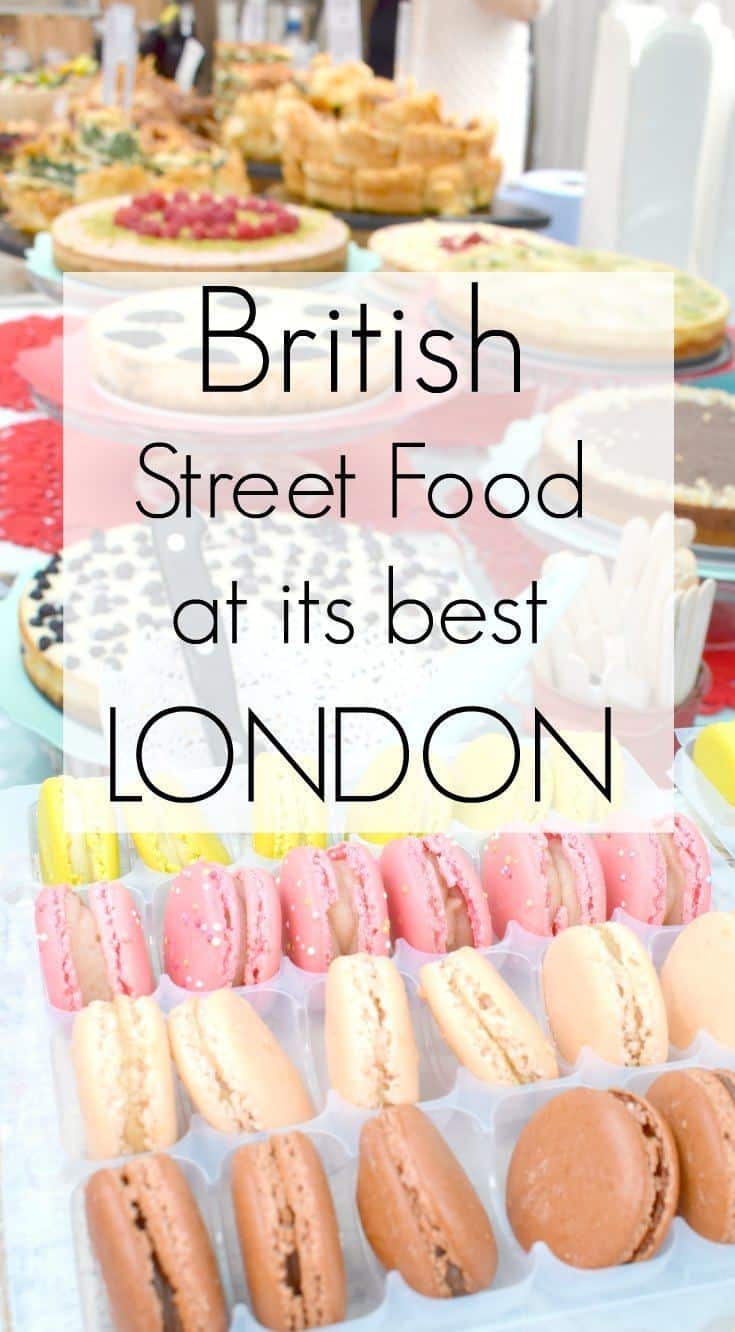 So over to you. Where's your favourite place to find street food or market food, anywhere in the world? The best thing about London is, you can just about get anything and Grenwich Market food represents the cuisines f so many cultures. Thailand is a lot cheaper, but you won't see dishes from around the world as you do in London or Greenwich.
Alyson is the creator of World Travel Family travel blog and is a full-time traveller, blogger and travel writer. A lifetime of wanderlust and now over 7 years on the road, 50+ countries allowed the creation of this website, for you. She has a BSc and worked in pathology before entering the travel arena and creating this website. World Travel Family Travel Blog has been helping you travel more, better and further since 2012, when Alyson and James first had this life changing idea. On this site you can find endless travel information, tips and guides plus how to travel, how to fund travel and how to start your own travel blog.