This post may contain affiliate links.
Fort Cochin in Kerala is also known as Kochin, Kochi or Cochi, I've seen it written every-which-way during our time here. It is a historic jewel of southern India. People visit for Fort Kochi itself, a region in the city of Kochi and also known as Old Kochi. It is famous for history, spice, kathakali dancing, and those iconic Chinese fishing nets. It's one of the nicest places in the whole of India, we think. This Fort Kochi travel blog was written to reflect our time in Kochi, but we also include points of interest and things to do in Kochi.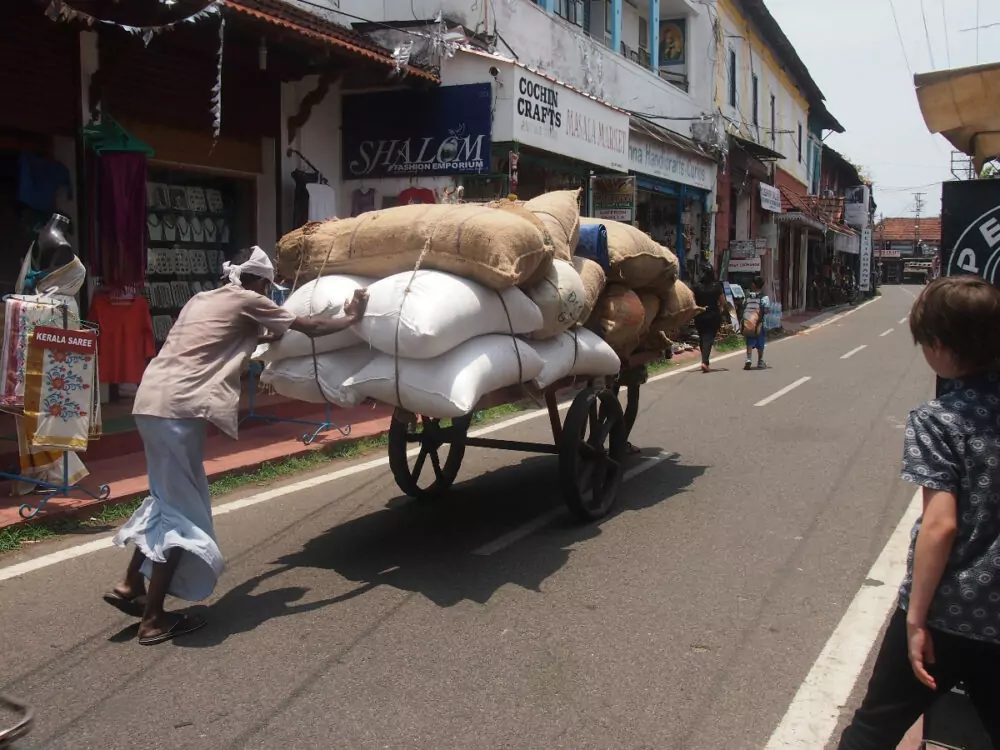 Fort Kochi Travel Blog
This is post 6 of our random, hectic, unplanned India travel blog. If you haven't been following so far, blogging time is very short, my usual highly polished posts have been abandoned in favor of diary-style updates.
Save this to Pinterest!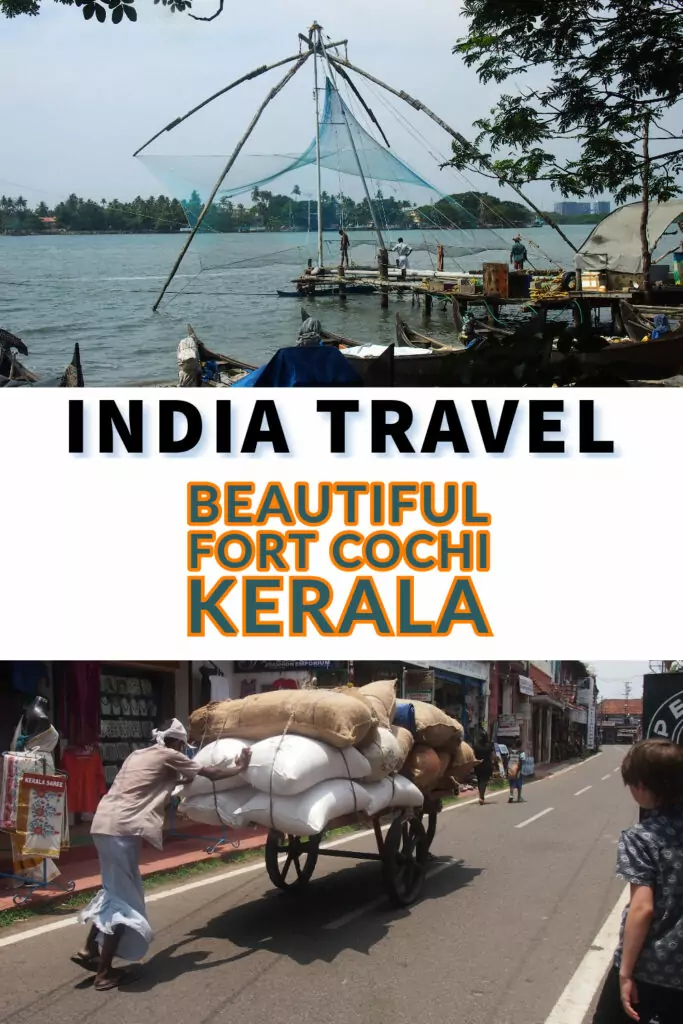 In part 5 I was having tantrums and swearing I'd never set foot in India again, Cochi (Kochi) soothed my tattered nerves and made us all very happy.
Part 7 will be Kovalam Beach, Kerala, another few days of total loveliness on Kerala's amazing beaches before we fly out of India to Kathmandu.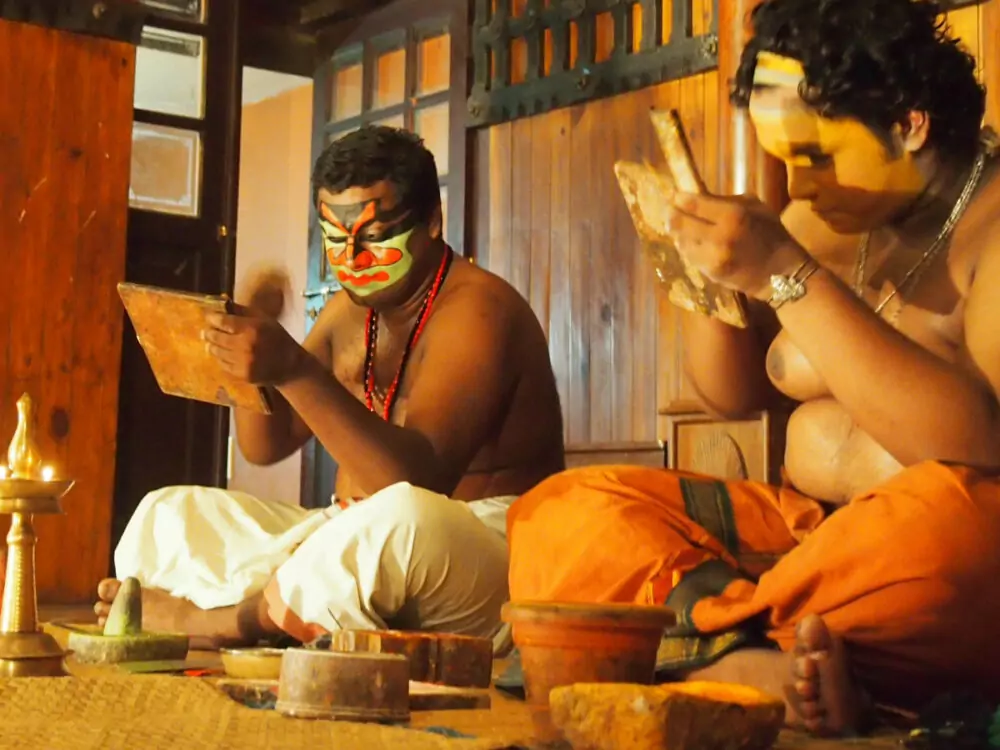 We've had some fantastic experiences in India and at this point I don't want to leave, but Nepal is a fabulous country, we have plenty more adventures to look forward to in coming months. You can see our Nepal travel blog here.
If you need our full India Travel Blog with guides and tips for travel in India, you'll need this link.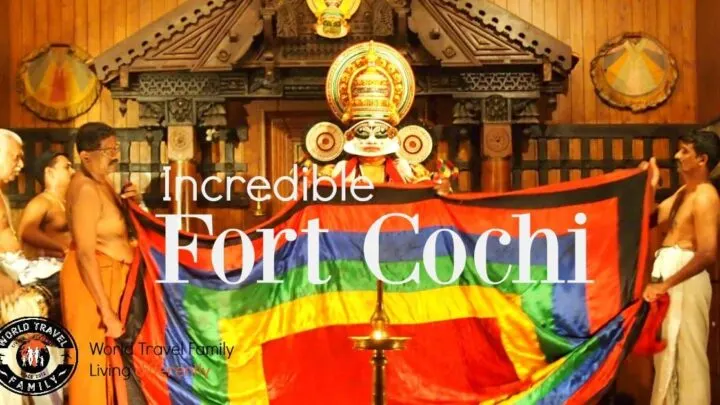 Luxury Accommodation in Fort Kochi, Cheap Price, No Worries
The boys and I fell in love with the first guest house we looked at in Fort Kochi.
It held a prime location, right on Vasco Da Gama square ( which has a great playground for the kids), just steps away from the iconic Chinese fishing nets and was in a beautiful, old, colonial-style building.
We looked at other guest houses and homestays, they were all of a great standard and beautifully furnished, but Fort Bridge View won our custom for its air-con, deluxe bathroom with rain shower, TV, delicious rooms and included breakfast.
This was the first time we've not had a bucket and scoop bathroom in India.
How much did this slice of luxury set us back? Just 2300 Rps, 23 pounds. Expensive by Indian standards, we normally pay around 800Rps, but this was a special treat and the price was on a par with those of say, Bangkok or Malaysia.
Of course, when breakfast is included, you can deduct at least 5,000Rps from the hotel price as what we would have spent anyway.
The hotel and food worked out brilliantly, we loved our stay at Fort Bridge View Guest House and Restaurant, ( click through and you'll see our room, top right).
If you're looking for accommodation in Cochi / Kochin, check Agoda, it's or most trusted, preferred booking engine for Asia and don't forget the reward points, we just cashed ours in for a bargain stay in Chennai.
History, Art, Culture and Enjoyment in Fort Cochin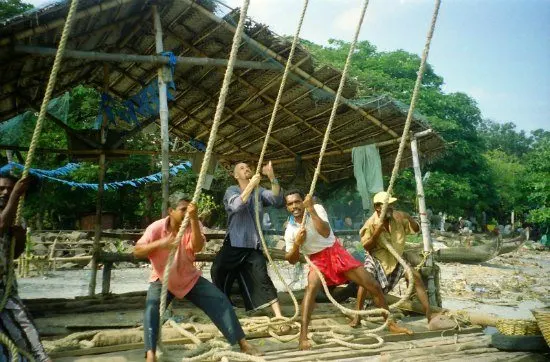 We had a really packed 2 days on Kochi, there is so much to do on the island ( it's not an island, but feels like one) and on Ernakulum, the mainland ( it's not the mainland).
Obviously we had to look at the Chinese fishing nets, stroll under the beyond-huge rain trees and just soak up the historic and architectural appeal of this historic spice trade town, but there are quite a few must-dos to get through in Kochi too.
Kathakali Dancing in Fort Kochi
A traditional Keralan Kathakali performance should be high on anyone's list.
The green faced anti hero with his red stained eyes looked a bit freaky to my younger child, so D ( age 10) and I went to the performance alone.
Chef and I had seen a show 15 years ago, he was happy to opt out.
The Old Synagog and Jew Town Kochi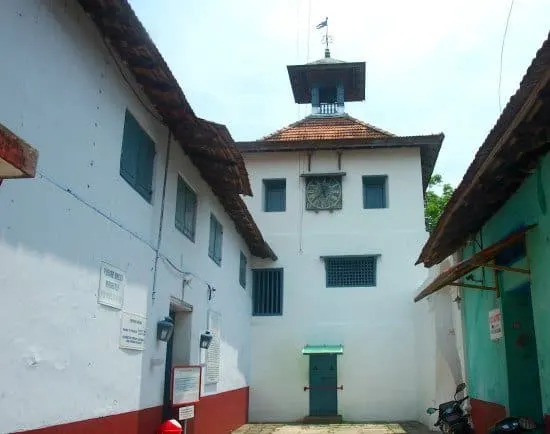 Jew Town and the old synagogue are a 30p rickshaw ride away from Vasco Da Gama square.
This part of town is very up-market, plenty of well-heeled package tourists visit and prices and standards are high. We enjoyed a luxurious nimbu pani in a fancy little cafe and browsed shops and warehouses full of antiques and artifacts.
The spice trade is still alive and strong, the spice warehouses or go-downs are packed with exotic smelling hessian sacks in some parts of town.
Spice Warehouses – Go-Downs of Kochi
The Indian Coffee House
James and I had to make a pilgrimage to the Indian Coffee House in Ernakulum, just paces from the ferry port.
We stayed in a guest house a few doors up in 2001 and ate our breakfast here every morning.
Delicious dosa, idly and vada served by splendidly liveried waiters.
The kids enjoyed the experience and it gave me a chance to point out Nehru and Indira Ghandi hanging on the wall along with the megastar Mahatma of the same name and a 4th portrait, the revered founder of the Coffee House chain.
The Largest Shiva Temple in Kerala
A short walk up the road is the largest Shiva temple in Kerala. It actually was't that large, but a neat place to visit.
The Ferry
The ferry itself is a must-do too, I have never taken one of these boats and not seen dolphins. It also gave me a chance to queue jump, the ladies only line was much shorter than the men's.
At 16p for 4 tickets, how can you not go?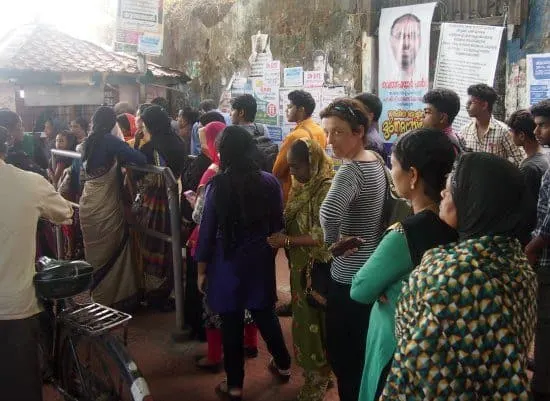 The boys made a new friend on the boat, a young music shop owner, they chatted about harmonicas and D has been teaching himself to play from You Tube ever since.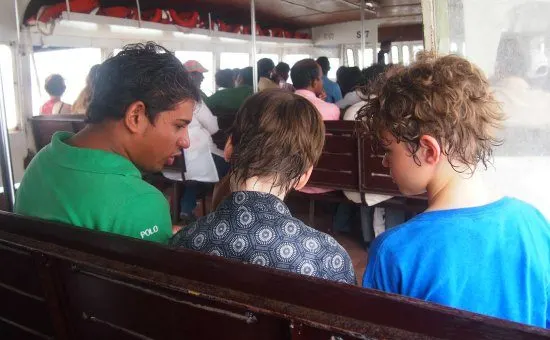 The Grave of Vasco da Gama and St Francis's Church
Vasco da Gama is a constant companion of ours on our travels. Along with St Francis Xavier ( whose mummified body we saw just a few days ago in Goa), our journey has crossed their historic paths many times.
In Kochi the two meet, the original grave of Vasco is in St Francis's church under the punkas, originally pulled by punka wallahs for the Catholic congregation.
Kochi Street Art
As we rode around Kochi in tuk tuks we spotted some amazing street art, I need to Google and find out more about it, but it was so good I stopped to take pictures.
Great Worldschooling!
So even the cynical can see how much school-type learning we did here.
The spice trade, exploration, history, religion and how it spread around the world ( both the Jews and the Catholics).
There is a large Muslim population in Kochi, too, so if my kids didn't know a lot about that faith already, they could have brushed up.
All that and art, dance and culture, the Indian epic Mahabharata, so much crammed into 2 short days. All these jigsaw pieces fit beautifully together with what we have learned in other ports on the spice route and back home in London. We liked Fort Kochi a lot.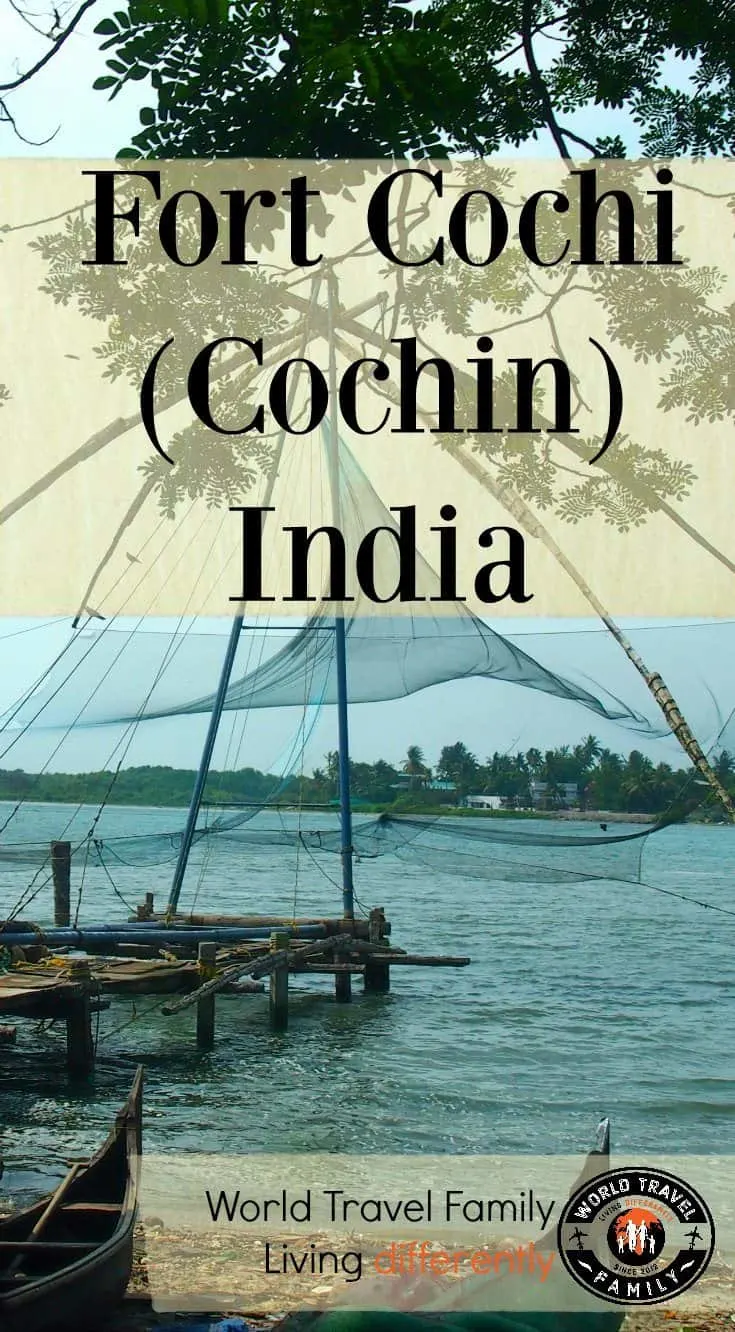 For you to save to Pinterest, thanks!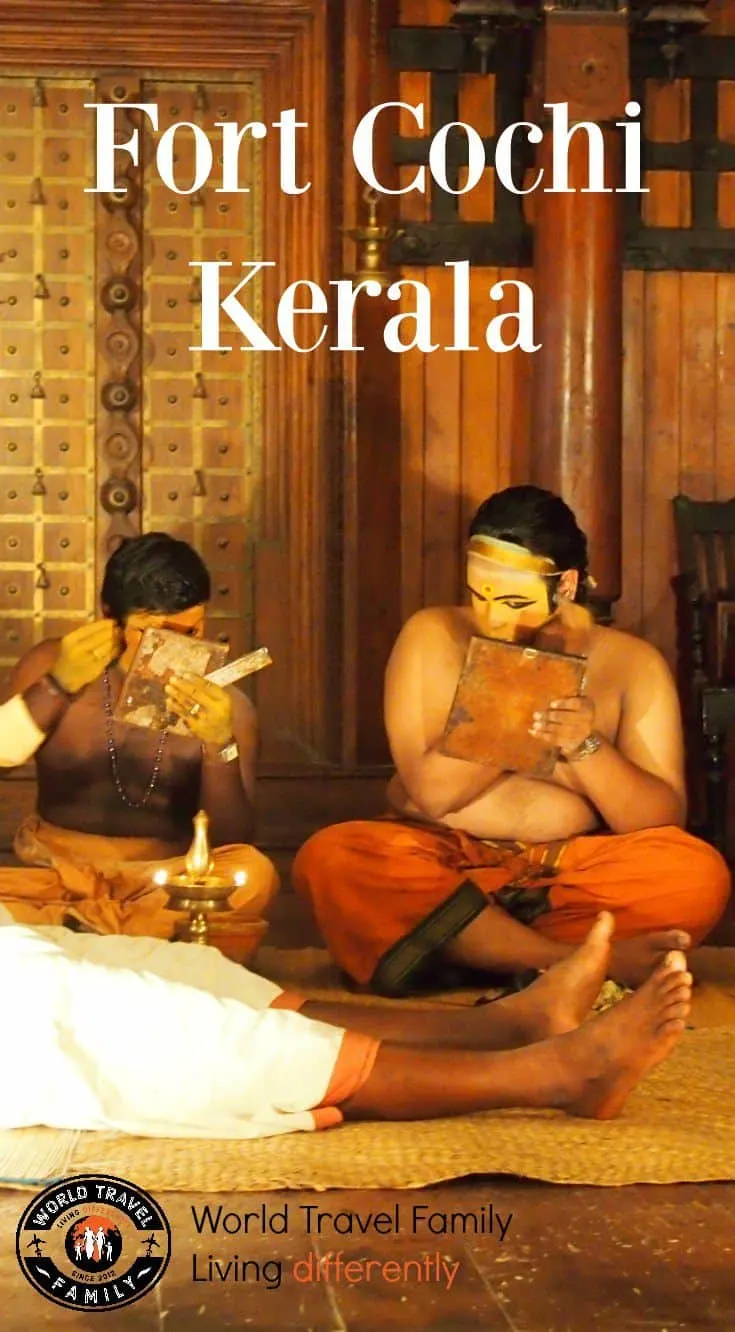 As always, I'm in a rush, most of these places will get detailed posts later. You cannot run a professional travel blog and travel full time, don't believe the hype!
We liked Fort Kochi a lot. Thanks for reading, hit like or share to make me happy, leave a comment to show me you care. You can find more posts on destinations in India below, or head back to our main India Travel Guide at the link above.
If you'd like to hire a car during your stay, use this car rental comparison tool to find the best deal!

We also suggest you take a look at this company to get a quote for all kinds of the more tricky adventure or extended travel insurance.

Try Stayz / VRBO for an alternative way to find rentals on homes/apartments/condos in any country!