Yes, you can snorkel off the beach in Port Douglas at any time of year. In summer "stinger season" there is a netted swimming enclosure on Four Mile Beach. Snorkelling at Port Douglas beach is something I've done many times. But read the rest of this post to find out about potential dangers and limitations. Obviously, you snorkel at your own risk.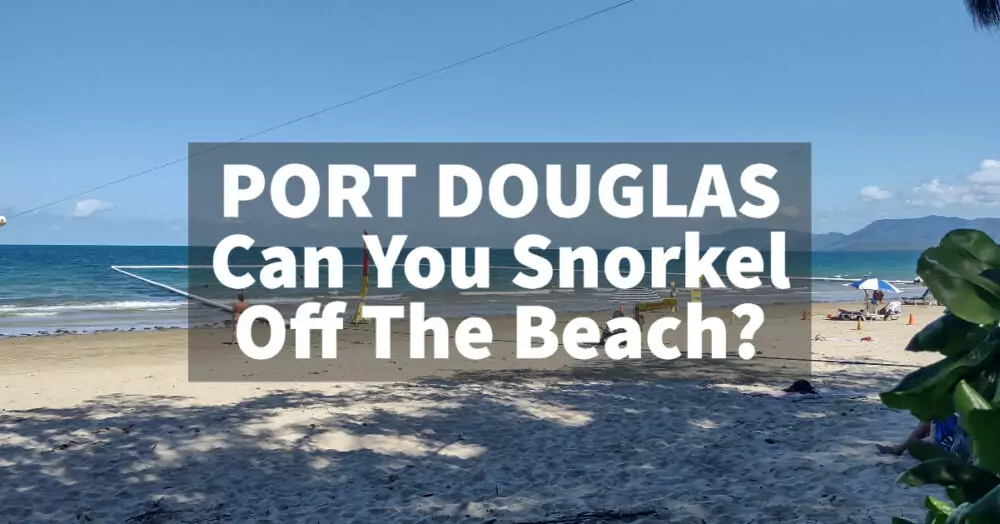 Most visitors to Port Douglas come to snorkel on the Great Barrier Reef. For this, you need to take a boat trip, either to the Outer Reef or to Low Isles.
Both Low Isles and the outer reef are great for snorkelling and the two are quite different. Ideally, do both.
You should have a really good experience at either of these sites although the inner and outer reefs are different.
Book a Low Isles boat trip here, and an outer reef cruise and snorkel here.
You can also snorkel in fresh water jungle streams from Port Douglas, book this excursion here.
Snorkelling Off The Beach in Port Douglas
There's not much to see off Port Douglas beach but yes, it can be interesting to snorkel there. Be sure to book a trip to the reef, but yes, for fun, you can snorkel off Port Douglas Beach at any time of year, so long as you don't put yourself in any danger.
Is There Anything To See Snorkelling off Port Douglas Beach?
You will see a lot of sand. You will also see some fish, most likely. But there is no beautiful coral reef off Port Douglas Beach.
At very low tides you can see some coral on the beach near the Mowbray River, but that's not anywhere I'd want to swim! I like to stay as far away as possible from crocodiles.
In stinger season we have snorkelled inside the stinger net. This is quite a fun thing to do and we've seen some really huge fish in there, and trapped in the folds of the net, including a huge guitar fish or shovel-nosed shark. The other swimmers in the net were totally unaware he was there!
You must always stay some distance away from the net, as if there is a jellyfish trapped in it, that's where they will be.
Can You Snorkel in Jellyfish Season?
In Far North Queensland we have "Stinger Season". This stretches from about November to March and it is the time when there is a possibility of deadly jellyfish in the water. At this time you can swim or snorkel in the stinger net at Four Mile Beach Port Douglas.
During this period there is a "Stinger Net" on Port Douglas beach and swimmers, and snorkelers are required to swim in this net for greater safety. The net excludes larger jellyfish but smaller ones can still pass through. The net is not 100% safe for swimming or snorkelling, but many visitors and locals do swim here with no issues.
Boat trips to the Great Barrier Reef, and snorkelling, continue throughout stinger season. During this time of year (summer) snorkelers wear stinger suits to protect them from these potentially deadly creatures. Most reef boats provide these.
Snorkelling and Crocodiles
Port Douglas is home to quite a few saltwater crocodiles. Very rarely, these are spotted swimming along the beach or even on the beach. If you're planning to snorkel off Port Douglas beach, keep this in mind.
If the lifeguards have spotted a croc, there should be a "recent crocodile sighting" sign at the beach or body of water where it was seen.
For this reason, I wouldn't even consider snorkelling in the inlet nor around the headland or towards the Mowbray River. Although, incredibly, I did once see people snorkelling around the Sugar Wharf. Stick to the beach near the lifeguards and don't take risks.
If you want to get in the water with a saltwater crocodile, you can book this activity at Port Douglas Wildlife Habitat. Spots are very limited, so book here in advance. (Links open in a new tab for your convenience.)
Time of Year and Visibility Off Port Douglas Beach
Visibility really varies with weather conditions. On some days the water at Port Douglas Beach can be crystal clear, but storms, rain, and strong winds will stir it up into a sandy murk.
That said, a good day is possible at any time of year, even in the worst of the wet season in January and February.
You may also enjoy snorkelling in some of our freshwater swimming holes and waterfalls nearby. You can book a river drift snorkelling safari here on Viator or here on GetYourGuide.
Safety should be your first concern, every time. No water activity is ever completely safe and follow the lifeguards' instructions or any local warning signs, particularly in wet season where we may experience floods.
The tropics bring a whole new set of dangers that you may not be used to.
I last visited the reef for snorkelling in early February and March and enjoyed perfect snorkelling conditions. But do check the weather forecast. I hope this post was helpful. I wrote it because I found wrong information on Google and wanted to get correct information out there. Enjoy your stay in our home town!
If you'd like to hire a car during your stay, use this car rental comparison tool to find the best deal!

We also suggest you take a look at this company to get a quote for all kinds of travel insurance.

Try Stayz / VRBO for an alternative way to find rentals on homes/apartments/condos in any country!