This post may contain affiliate links.
Chitwan Nepal can be reached by bus (public or tourist class) from Kathmandu or other departure points in Nepal. A short domestic flight can take you to Bharatpur Airport in Chitwan district, 22 Km, 14 miles from Chitwan National Park. The easiest way to visit Chitwan is to book a multi day tour from Kathmandu or Pokhara. This post covers Chitwan, Safari experiences in Chitwan National Park and review of jeep, boat, canoe safari tours in Chitwan Nation Park, staying in the town of Sauraha Chitwan. We explain where to stay for visiting Chitwan National Park, hotels and tours. A Travel blog and guide to visiting Chitwan Nepal, and lovely Sauraha.
Chitwan is only about 60Km from Kathmandu as the crow flies, but the roads are bad and mountainous making the journey long. The drive will take a minimum of 4.5 hours, probably more. Most public buses stop for a rest and food break on the way. You need at least one full day in Chitwan, with a dawn safari being your best option.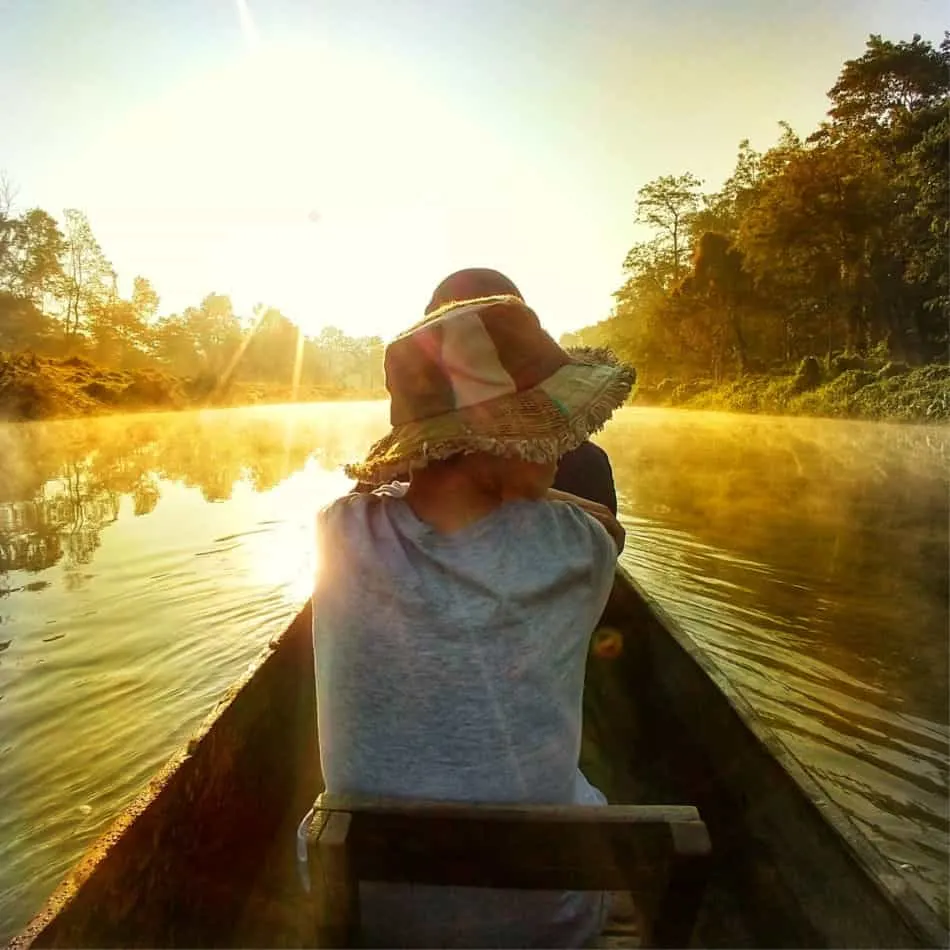 We liked Sauraha a lot and we're glad we came, it's the perfect place to stay for visiting Chitwan National Park .Nepal is doing some superb conservation work and animal numbers are increasing impressively. We just want to warn you that you're quite likely to not see any large wildlife on your jeep safari or other expensive day in the park, but the local tame rhino in Sauraha, he should be around. Let us tell you about our 3-day visit to Chitwan Nepal our Chitwan Safari and Sauraha. Find out why Sauraha is a place I never wanted to leave.
Don't want to make your own way to Chitwan? Book a 3 day tour, from Kathmandu, right here!
How To Visit Chitwan
We did plenty of research before we hopped on the bus to Chitwan from Kathmandu. Just about everything I read told us that rhino sightings were almost guaranteed within the park but that tiger sightings were incredibly rare.
Both animals are present in good numbers, over 600 rhino, over 100 tigers, plus there are bears, wild elephant and more. I saw mongoose mentioned as guaranteed sightings, we like mongoose. So we figured we should go.
The #1 tour to book in Nepal? This scenic Everest flight from Kathmandu.
Indian rhino are incredible animals and to see them in the wild would be amazing, even if we lucked out on the tigers. But it turned out that all we saw on the day was, well, nothing much.
Visiting Chitwan Nepal
There are a small number of hotels and safari lodges in Chitwan National Park itself, but most are outside the park. We opted to stay in the town of Sauraha, which is accross a small river from the Chitwan National Park. From Sauraha we took safari tours into the park. There was wildlife to see in Sauraha itself, it's quite possible to see rhino walking up the street here, and many crocodiles bask on the banks. The elephants used by game wardens and the army for poacher patroll will be around town too, we saw them often.
Chitwan Safari Video
We made a short video, more images and video clips from Sauraha and the Chitwan safari. Give it a watch!
Chitwan National Park is UNESCO listed and was Nepal's first national park. This protected area has incredibly rich wildlife and is on the borders of India and Nepal in the lowland Terai region. After Kathmandu it is hot, but in October it was still chilly by night. Malaria is a vague possibility here, we took no malaria prophylaxis. The spectacular white peaks of the Himalayas are visible from Chitwan on clear days.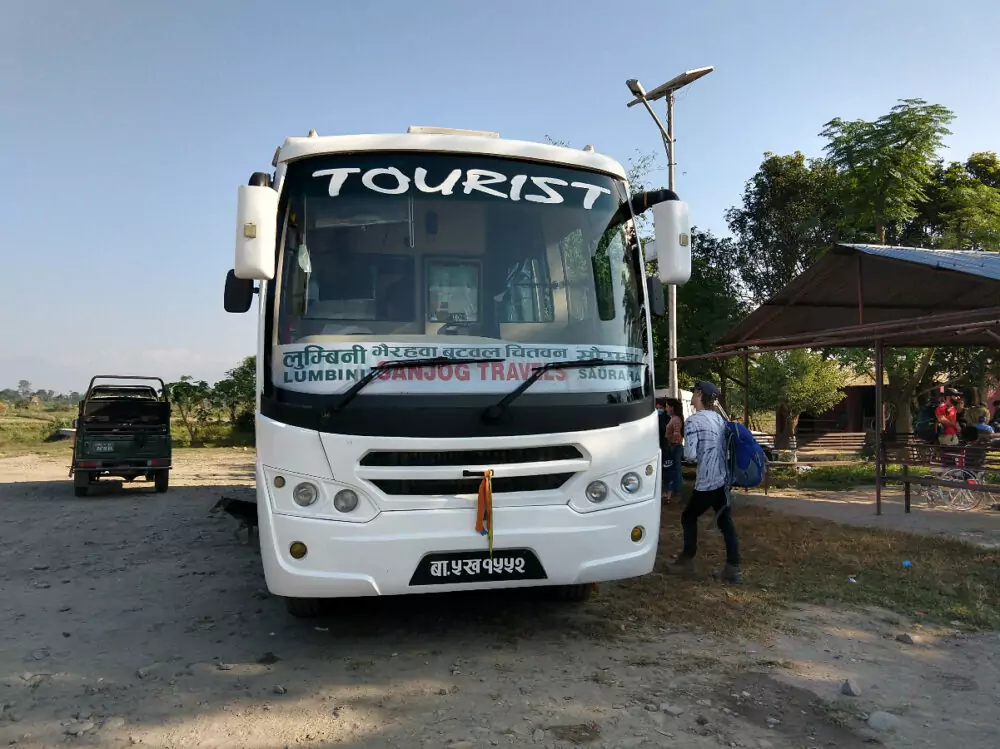 The Rhino in Sauraha, Chitwan National Park
When we started looking online at hotels and guest houses in Sauraha, the jumping off point for Chitwan National Park safari tours, we kept seeing images of rhino strolling down the main street of this sleepy little town. We had it in our heads that rhino must be everywhere, crazy numbers of rhino and all wanting to come and say hello to the tourists. We were a bit dumb and had big expectations, our bad.
It turns out that Sauraha is home to a tame rhino, a baby washed away in flooding that was badly injured and raised by hand. He (or maybe she) does, indeed, wander up the main street and into hotels sometimes, but mostly you'll find him hanging about near the river. He's a big baby but I don't think quite fully grown. A local shared this story with us when we arrived, I doubt most of the tourists know this.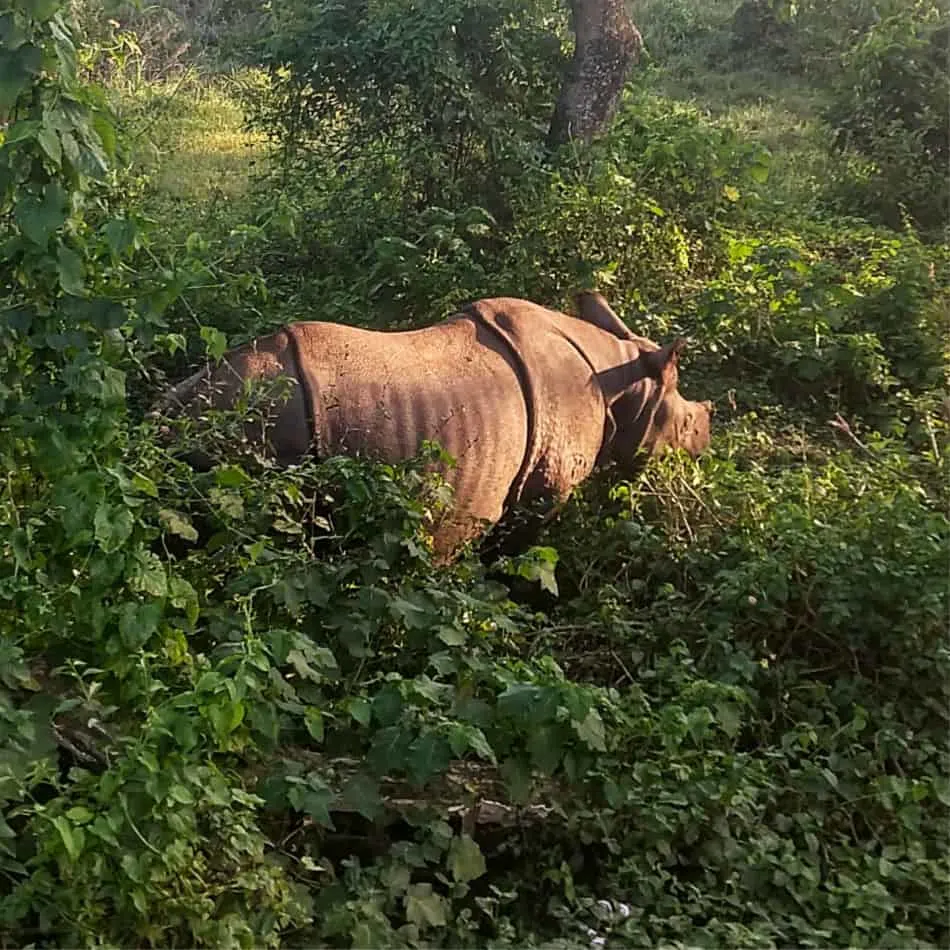 He has a nice patch of the forest there on the river bank and looks perfectly happy. He's free to go wherever he chooses, I'm pretty sure he could cross the river and vanish into the park if we wanted to, but for the 3 days we were in Sauraha he was usually easy to find. Just walk to the river bank where the tours depart and take a left. If you see a crowd with cameras, he'll be there.
So that was great, we saw a rhino on our first evening in Sauraha, before crossing into the National Park.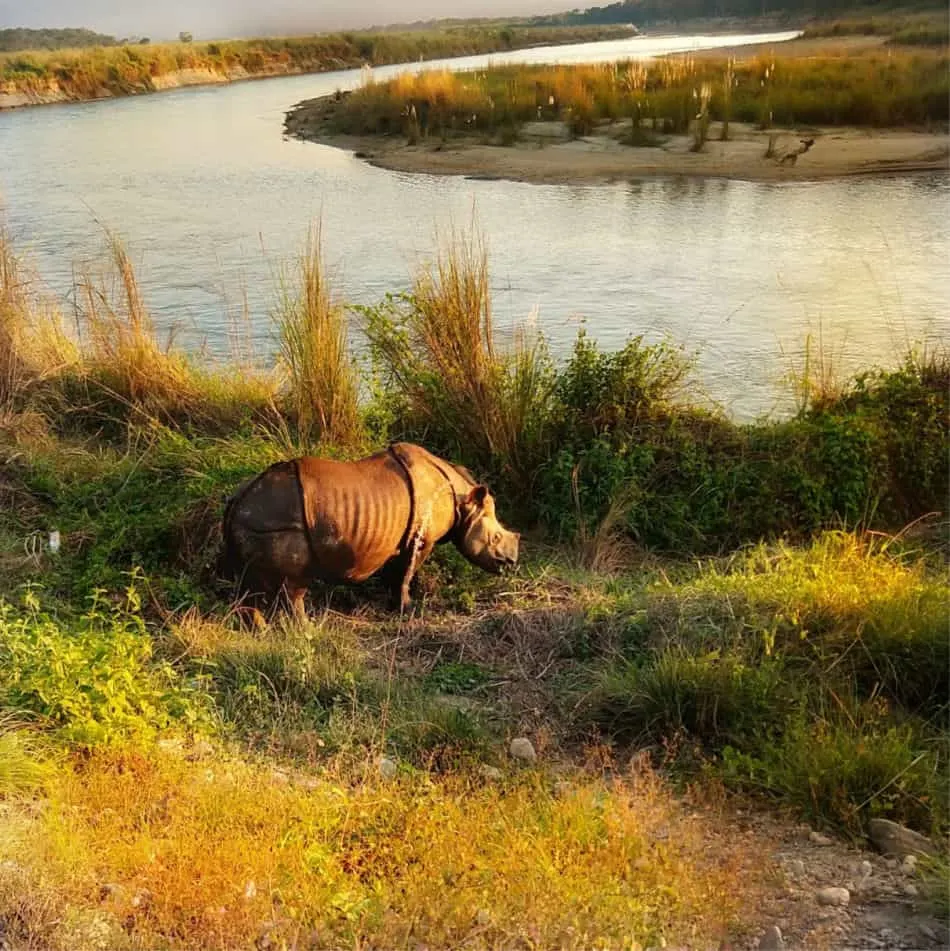 Because tickets are expensive, 20,000 Rs each, $20, you'll probably want to keep your park visits to one day only. What disappointed us greatly, was that our tours and boat rides the next day showed us nothing more than this tame rhino. In fact, we didn't even see him on the tour, although our guide put a fair bit of effort into stalking him through the forest.
Sauraha Tours of Chitwan National Park, Jeep Safari, Walk and Canoe Ride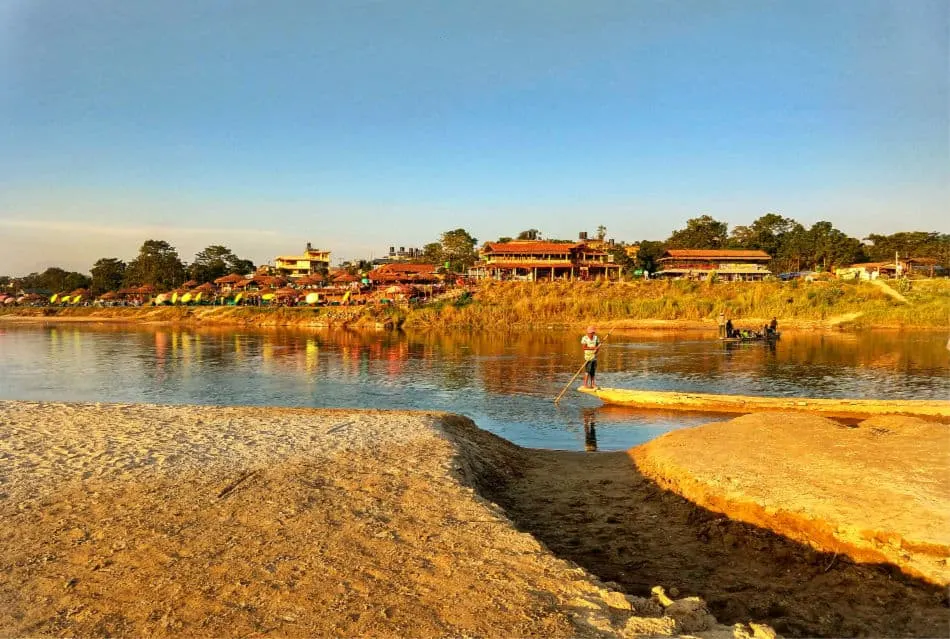 Don't get me wrong, we had a good day and made some great memories. I loved the early morning peace of the canoe ride and walking in the forest with our guide was fun. The afternoon spent bouncing about in a jeep, well, it was OK. Just read on.
Chitwan Nation Park Safari Costs
We booked all three parts of the Chitwan National Park as one at a kiosk near the river departure point. All up, our day cost us $200 for 2 adults, 2 kids. There was no child reduction other than for tiny children. We probably paid too much but this was the second place we tried and it was about $30 cheaper than the first place. We were in a rush, so we booked. Putting more time and effort into booking would be a very good idea.
We asked about a full day private jeep safari, it would have been slightly more than the canoe, walk, shared jeep combo we booked, not much more, maybe $230. We thought it would be too boring for the kids as sitting quietly waiting for animals to appear at water holes was a big part of the tour.
The Morning Canoe Ride and Forest Walk in Chitwan National Park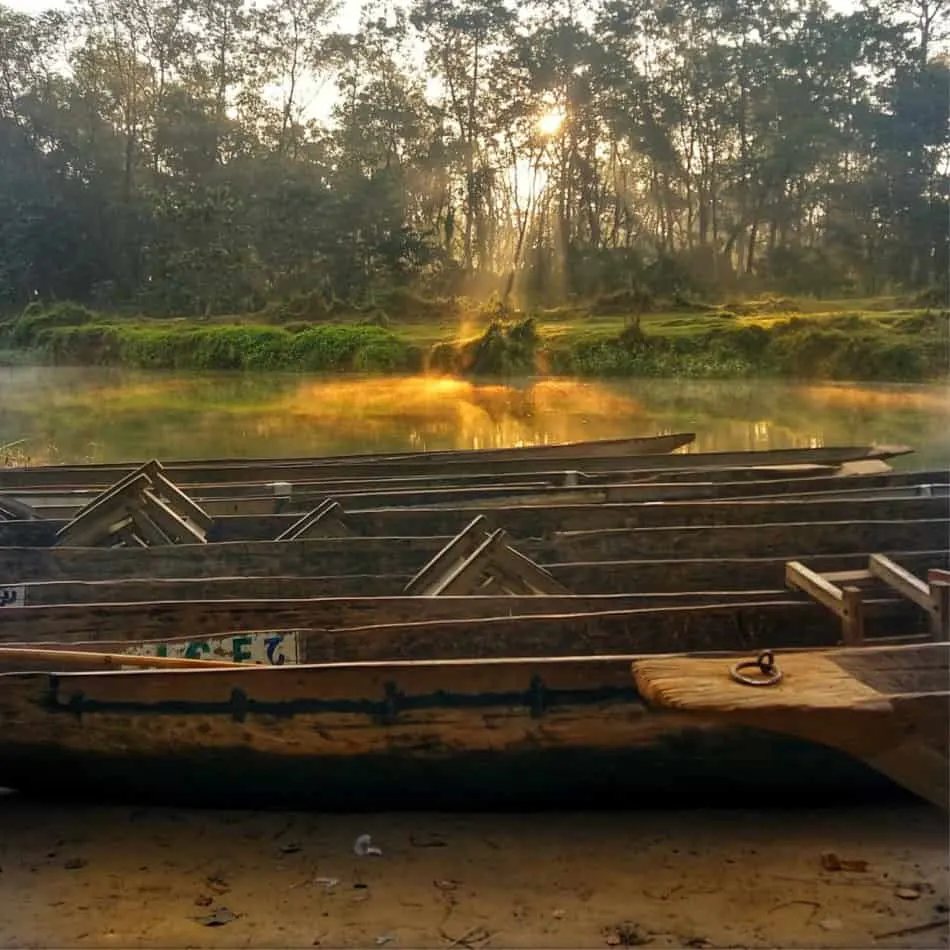 We started at 7am as the morning mists rose from the river. From the river's edge in Sauraha our guide drove us a short distance to find our wooden canoes waiting on a deserted river beach. We part drifted, part punted, lazily downstream for about half an hour spotting wildlife as we went. Nobody else was around, it was totally peaceful out there. We saw vivid blue kingfishers, an eagle, huge storks and a couple of crocs before beaching and setting off into the forest.
On foot we explored abandoned hotel buildings swamped by jungle growth. These are now home to monkeys and deer. Later we tried and failed, to track rhino through the forest. There is plenty of rhino poo around, so maybe there are more rhinos that come to this area, but our guide was certainly trying to find the tame rhino almost exactly where we had seen him the night before.
Our walk took us along the river banks past elephant stables used by rangers and guards in the park. This poacher payroll is one reason the park is so successful.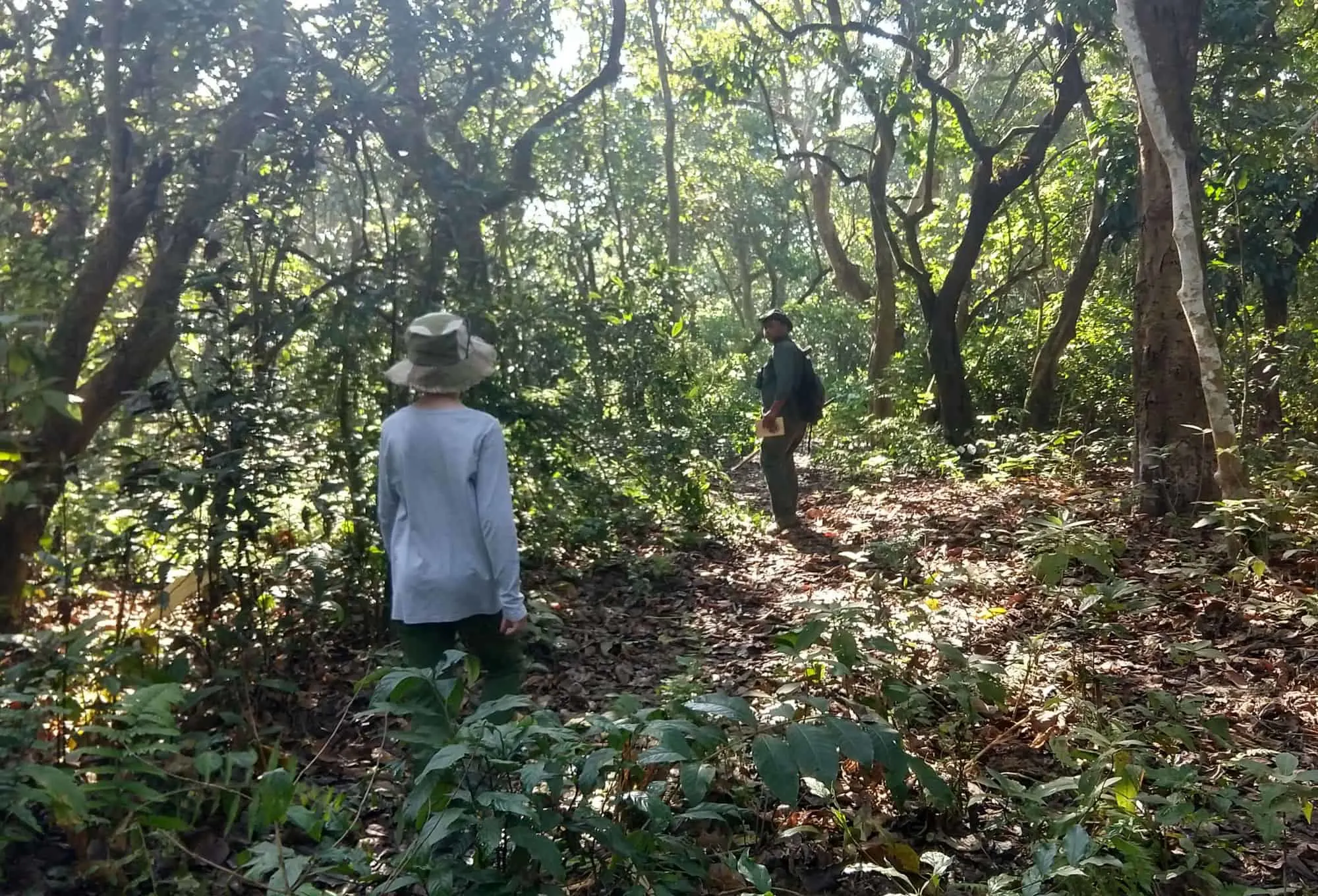 We were very happy with our guide and the walk was fun but we were very disappointed that we weren't taken into the National Park. All of the area we visited can be explored on foot by anyone from Sauraha. It's the area on your left as you walk to the riverfront, just continue past the military checkpoint there. After sunset this area is closed but during the day you can enter freely. The National Park is on the other side of the river.
We finished our walk back at Sauraha around 10.30 am, not 11.30 am as we had been told. We had plenty of time for lunch before our afternoon jeep safari.
The Afternoon Jeep Safari in the Chitwan National Park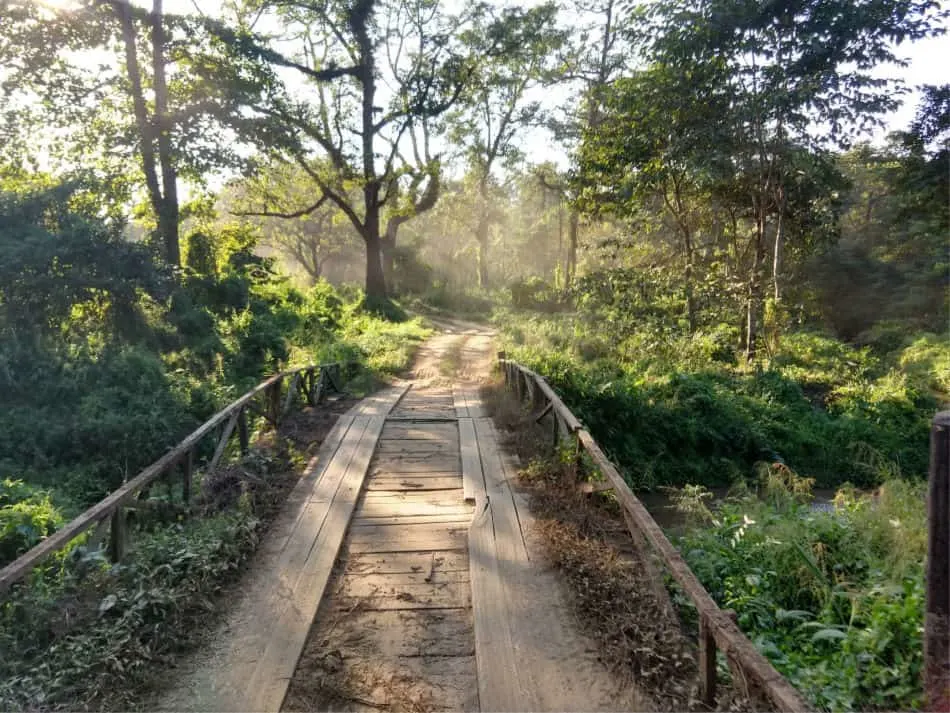 Our guide said to be there for 12.30 pm and that the first jeep had the best chance of seeing wildlife.
We did as we were told, we were at the kiosk for 12.30 pm where they kept us waiting, and waiting. I may have had words with them. Eventually, they hurried up and got us down to the riverside around 1.15 pm.
Your jeep tour starts with a river crossing by canoe. This one is fibreglass not the one-piece hollowed log we used in the morning, but similar. With 12 people on board it sits very low in the water as you pass the crocs basking in the sun.
The jeeps are in the park, just a minute's walk from the bank. They take 10 seated passengers in the usual safari vehicle style. The road is rough. Our tour consisted of a drive to the crocodile breeding farm and the ride back.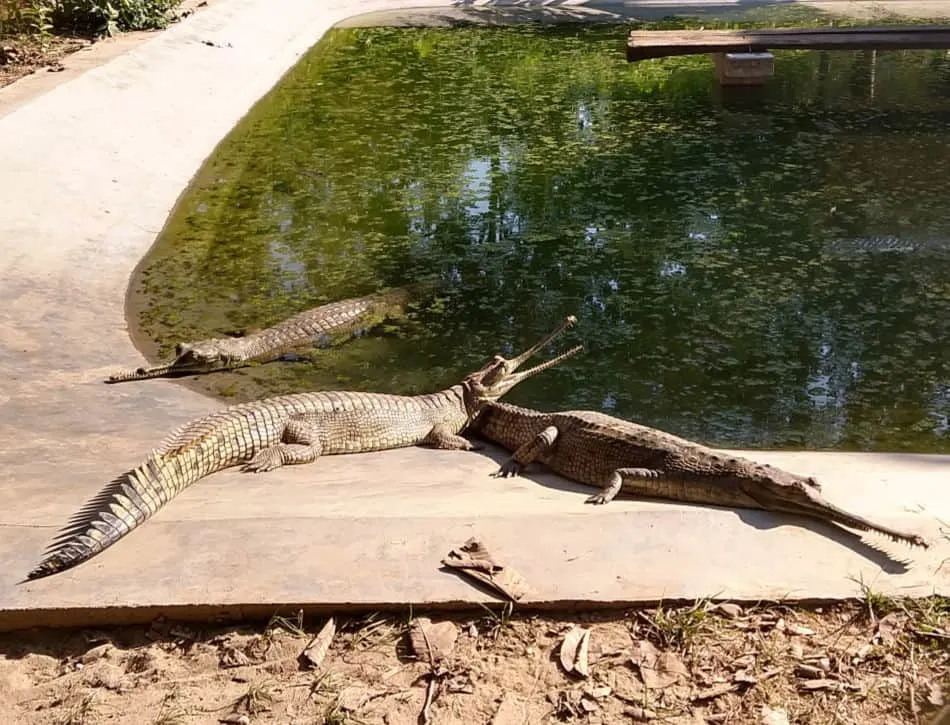 Mostly we were in the shade but in the sun it was hot and you should bring big hats and long sleeves to keep the sun off.
Our guide did pretty much nothing. We saw one group of monkeys (at least they were langur not grubby brown macaques), a hornbill and a pig. That was that. We were travelling too fast to take photos of anything, even trees and grass.
We got back to Sauraha at about 4.30pm, so we had maybe 3 hours of riding around the park on dirt tracks at fairly high-speed. It was pretty pointless. If you want to see animals this isn't the tour for you, certainly not in October when the grass is as high as an elephant's eye, higher.
My tween slept through most of it, my teen managed to remain awake and joked about rhinos hiding and laughing at us. You could take small children but it's not very comfortable and not very exciting. You'd need to hold on to them.
Stay in Sauraha to Visit Chitwan National Park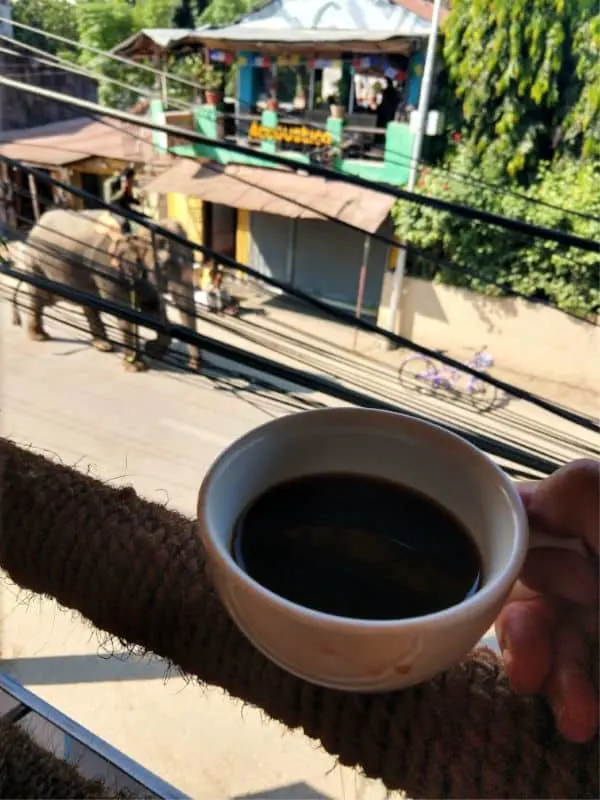 If, like us, you have time to just enjoy Nepal rather than frantically sight-seeing, Sauraha is a great place to be. We like this town a lot and chose to spend a couple of extra days there just to do not much. It would also be a good digital nomad base in Nepal, we had great wi-fi here.
You don't see many tourists, locals are exceptionally nice and friendly, prices are low and the town is chilled out, laid back and calm. Cow carts and elephants stroll the streets along with nasty little horses and carriages for local and Indian tourists. They looked very mean to the tiny horses and didn't please us greatly.
Food is good, hotels are good and of course, you can walk along the river or ride bikes into the buffer zone of the park.
My teenager said he had a feeling of déjà vu here, he felt as if he'd been here before and he instantly liked it. To me, it felt a little like Goa, the quiet, country areas. We really liked it a lot, so much so we stayed a week.
We were lucky to find a hotel with excellent wi-fi ( Rhino Lodge and Hotel, here, opens in new tab) along with comfortable mosquito-netted beds and a pretty flower and butterfly-filled garden. From the gardens, we could walk down to the river bank and I remained hopeful of spotting a rhino or wild elephant on the other side. The first hotel we tried was a disaster, but Rhino Lodge was lovely.
Breakfast wasn't included for $22 /night/room, but we have a wonderful restaurant with good coffee right opposite, Royal Lounge and Bar. We recommend their paneer curries and dal fry. It's a nice spot to watch the world go by and in Sauraha that includes many, many elephants.
They are used in tourism, by the government and by the military. There are thousands of soldiers stationed in the park to stop poaching and their efforts have seen tiger numbers here double.
You Will See Plenty of Crocodiles in Sauraha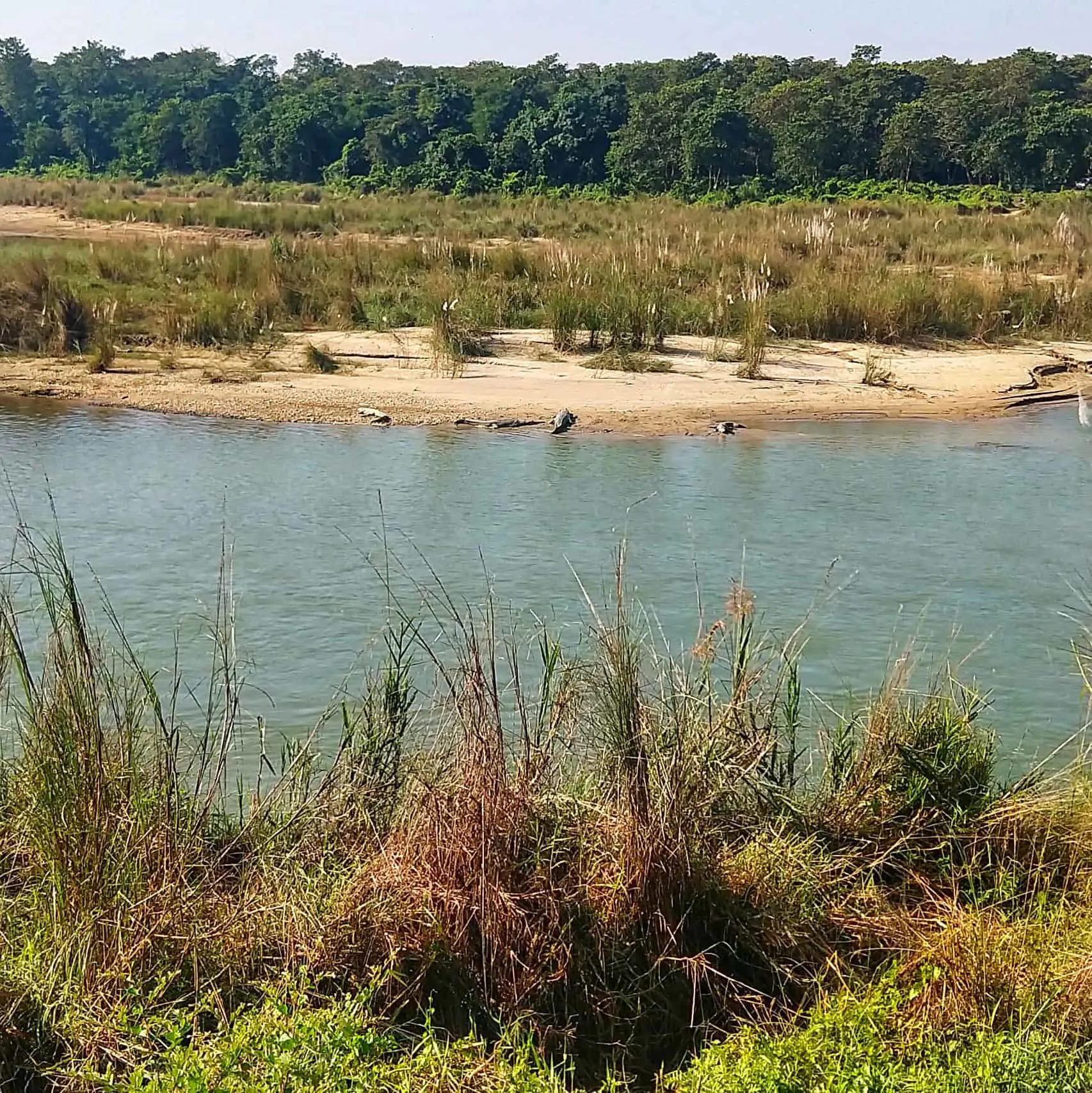 Large crocodiles litter the river banks, both long-nosed gharial and the more aligator-like marsh muggers. Gharial are pretty harmless but the muggers aren't.
On our canoe ride in the morning, we saw a couple at close quarters but there seem to be more right in the town. Just walk to the river and look on the opposite bank.
During the Chitwan National Park safari, we visited a crocodile breeding centre. Nobody told us about this when we booked. I think the tour operator sensed that I hadn't been very happy with the morning tour so he actually gave us the 400 rs to get us into this attraction. Other people on our safari jeep paid out of their own pockets.
We really have no interest in crocodiles and didn't want to go, but tough, the operators have other plans. Our safari seemed to just consist of the drive to and from this place with almost zero effort put into looking for wild animals.
If you like crocodiles, they have loads, from hatchlings to breeding males. This effort has increased gharial numbers in the region greatly.
One of the most interesting parts of our whole afternoon in the park were the communal toilets at the breeding centre, below. I haven't seen anything like this in years.
Other Wildlife in Chitwan National Park
We saw birds, monkeys, deer and a couple of pigs, but racing through the park in a jeep doesn't give you much opportunity to see them nor to take photos.
We had a much better view of these same animals during our morning walk in the park's buffer zone. If you're a birder, absolutely go on foot.
Deer are plentiful, we'd already seen some from the main road, birds are fabulous, there were two types of monkeys. But what can I say? You can see these animals in plenty of places without paying $200.
Getting to Chitwan from Kathmandu and Arrival in Sauraha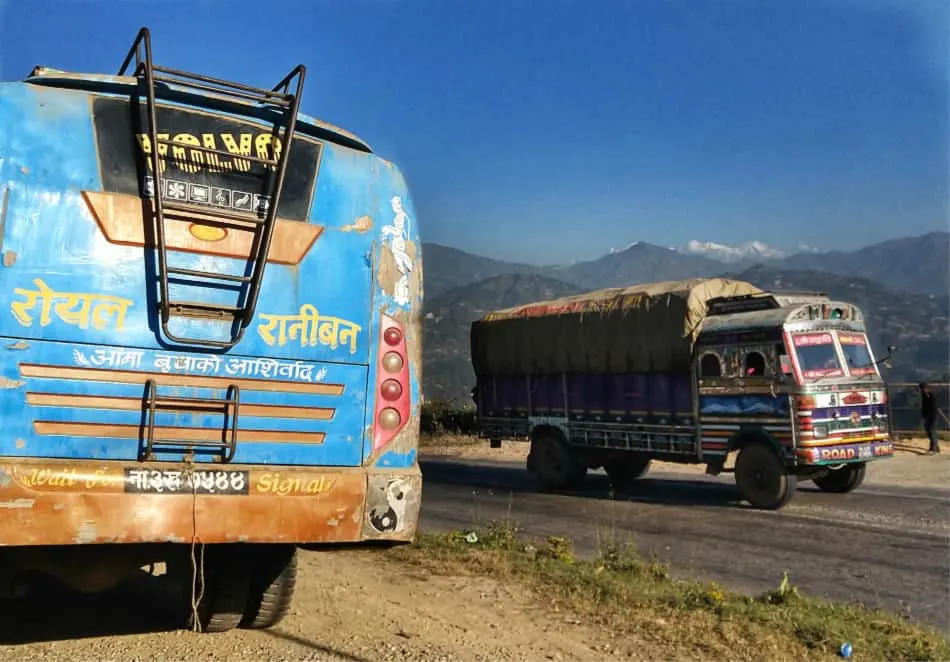 It's super easy to get to Chitwan from Kathmandu and the bus we took was very comfortable. At some point in the past it offered free wi-fi and electric power points, but it was past its prime.
Tickets were $6.50 each (October 2018), but watch out for agents, they'll charge you more. A fleet of buses departs at 7am, in the same way, and at the same place, as the Pokhara buses. Our friend Ram at Stupa Guest House Kathmandu ( opens in new tab) got us tickets without any hassle.
The bus will stop for toilet and lunch breaks. We had decent coffee and a very good, cheap, dal baht lunch on the way. Buses arrive at Sauraha bus stop at 1pm.
Booking a Hotel in Sauraha For Your Chitwan Safari
It's a very good idea to book a hotel in advance. You'll need a pick up from the bus stop and there were no taxis there, only the hotels' own vehicles. We didn't book, other websites advised us that it was unnecessary, not mentioning the lack of transport from the bus stop nor the fact that Sauraha can be fully booked. We struggled to find accommodation.
At the bus station in Sauraha, you should be able to get a lift in a vehicle going to a hotel. They'll tell you that you don't have to stay, no problem, but it's hard to walk away. The hotel that we saw after hitching a ride was dire. It's just much easier to book and have a pick up.
We strongly recommend Rhino Lodge and Hotel (opens in new tab) after seeing multiple other hotels. They're all pretty cheap, we paid a little more, $22, for a nicer place on the main street and on the river.
The Wild Rhino From Chitwan
On our 6th night at Rhino Lodge and Hotel a wild rhino came to our hotel garden at about 7.30pm. Staff alerted all guests to come see him eating the grass near the paddock. I have photos and video to add soon. So they do come!
It was wonderful to see.
Learn more about Indian one horned rhino here.
Is it Worth Visiting Chitwan and Sauraha? Our Review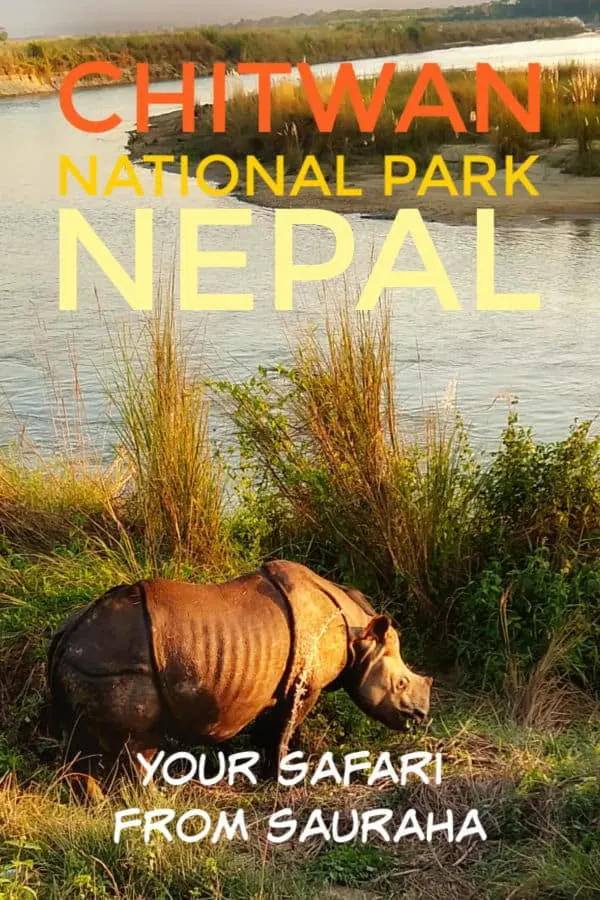 Yes, Chitwan is great, it's worth visiting. The park itself must be very good to visit at the right time of year, but in October and November we saw no wildlife other than the rhino in Sauraha. This town in Nepal is most certainly worth visiting, we liked it more than the park itself. Just be better prepared than we were and do more research on tour types, tour providers and safari prices. A full-day tour is always going to give you a better chance of seeing animals. If you're serious, come at the right time of year. When borders open we'll visit Chitwan again and be certain to do so at the best time of year to see tigers.
We were in Chitwan in October for peak Everest trekking season and the grass at that time was as high as a two-story building. You'd need to be very lucky or have an exceptionally dedicated guide to see anything. Trekking season and the best time for spotting tigers don't coincide, unfortunately.
Our jeep guide honestly didn't care. He drove us to the croc breeding place and back and that was it. I'm sure you could do better if you tried.
Our guide for the morning tour did care, he was very knowledgeable and found plenty of birds and deer, but that's not what we wanted to see. Although we felt some disappointment we all laughed it off and had a good time anyway. Sauraha is just so nice that it's impossible to be down. We'll just go and have another delicious Nepali meal a good coffee and a couple of beers and enjoy our time in Chitwan, differently. Want to head back to our main guide to Nepal? We have dozens of posts from this fabulous country.
If you'd like to hire a car during your stay, use this car rental comparison tool to find the best deal!

We also suggest you take a look at this company to get a quote for all kinds of the more tricky adventure or extended travel insurance.

Try Stayz / VRBO for an alternative way to find rentals on homes/apartments/condos in any country!