This post may contain affiliate links.
On our return trek from Tengboche Monastery, we took a different route to Namche Bazaar to take in some important locations and stunning Himalayan viewpoints. A major highlight for us was being granted admission to the ancient Khumjung monastery and being allowed to see a fascinating sacred relic kept under lock and key. The yeti skull or scalp in Khumjung Nepal. Khumjung Village itself is also well worth a look as is the famous Hillary School.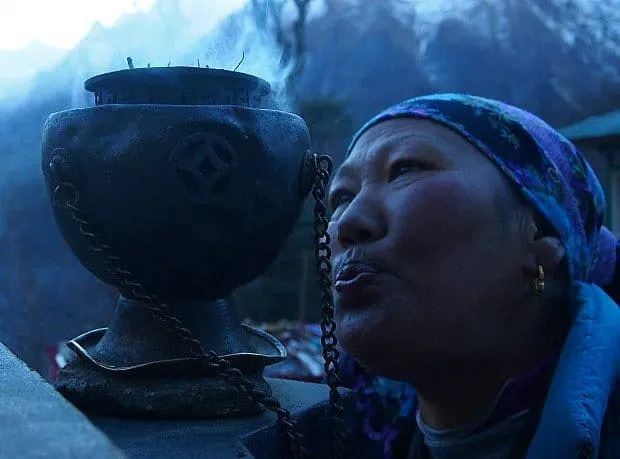 After our first brief glimpse of Everest through rushing snow clouds at Tengboche, we turned back towards Namche but via a different route.
The kids were small then and we'd only headed to the Himalayas for a walk that time, we hadn't planned on going all the way to Base Camp.
This route took us into Khumjung Village, a million miles from the busy EBC trekking route.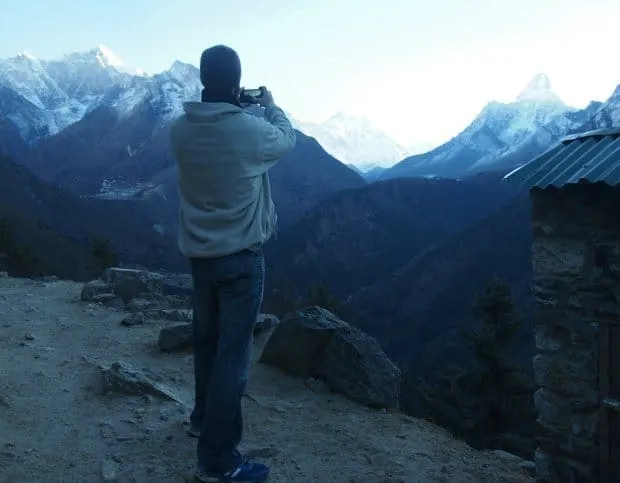 The morning after my son and I took the day trek to Tengboche the clouds had finally vanished and the sky was blue and clear.
Chef and I wandered back along the trail after breakfast to take in the early morning view of Everest, Nuptse and Ama Dablam.
The images below don't give those incredible mountains justice.
The view was breath taking and continued to be perfect all day. I should never have worried about not seeing my mountain.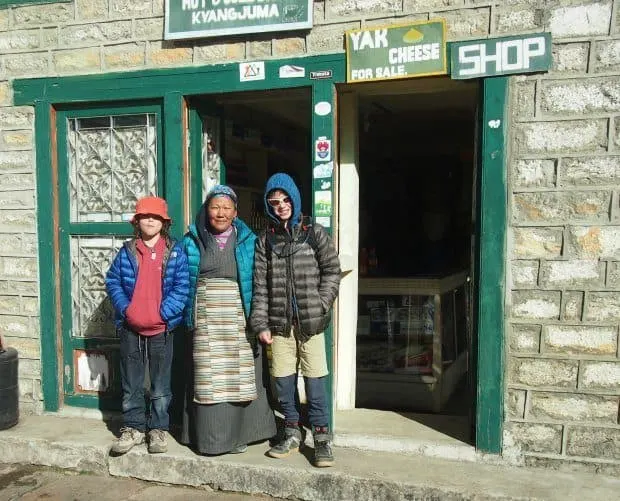 The village of Khumjung was up a bit. Everything in the Himalayas is up a bit, down a bit, we needed to get up to 3,790m altitude at Khumjung before a little more up to 3,900 and the final steep descent through Syangboche to Namche Bazaar at 3,440m.
We started our trek that morning at Kyangjuma (altitude 3,600m) around the same time as the local children were heading to school.
Scampering Nepal kids surrounding us as we plodded up the hill.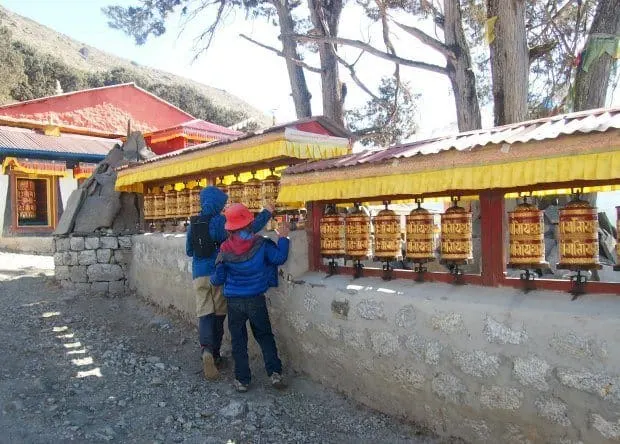 This loop from Namche to Khumjung Village and back could easily be completed in one day, but because Boo wasn't feeling too good our Sherpa guide had only let us walk two hours the day before on a fairly flat, easy trail.
It got him a little closer to Everest so that D and I could visit Tengboche as a day trek the next day.
Khumjung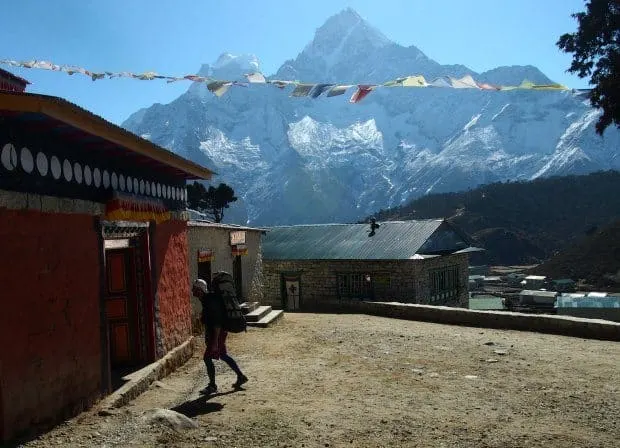 Kumjung is considered the Sherpa capital of the Solukhumbu region and is a fairly large town by mountain standards.
We picked our way between potato fields on paths only used by yaks to visit the beautiful monastery.
Some believe yetis are real, some don't, whatever, there was no way we were going to miss out on a chance to see this relic.
Come on, we've got kids, this is a big wow!
Where is Khumjung?
Khumjung Nepal is a small town or village in the Khumbu region of Sagarmatha National Park, on the trekking route to Mount Everest and Everest Base Camp.
Sagarmatha National Park is a World Heritage Site and there is an admission fee or permit which trekkers need to buy on the trail. The village of Khumjung is at an elevation of 3,790 m (12,430 ft).
Khumjung is in the country of Nepal in the northern hemisphere, it is 27 degrees north of the equator and 86 degrees east.
Most trekkers on the classic EBC route don't pass through Khumjung as it's a side trek or acclimatisation hike, but it's well worth seeing for the Khumjung Monastery (featuring a yeti scalp) and the famous Khumjung Hillary School.
How to Reach Khumjung?
The only way to get to Khumjung is on foot, there are no roads or vehicles that will take you to Khumjung. Most people reach Khumjung by walking from Lukla airport after a flight from Kathmandu. This walk should take about 3 days. There is a closer airport at Syangboche and a helicopter landing pad at the Everest View Hotel and at Namche Bazaar, but most visitors will fly to Lukla.
It's also possible to walk to Lukla from Phaplu, not all trekkers begin their Everest trek at Lukla. We have taken this ascent from Phaplu and it adds about 5 days to the classic Everest Base Camp trek.
Khumjung Monastery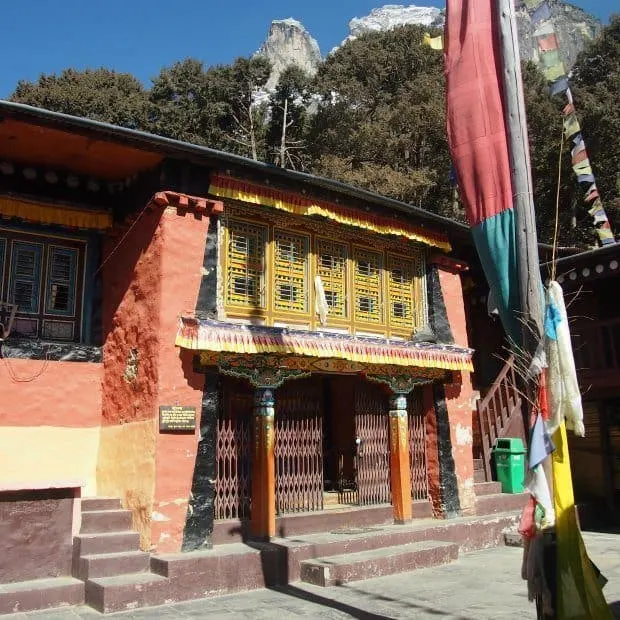 We arrived at the monastery, spinning prayer wheels as we passed the mani wall to find the doors locked.
Nema vanished to find the monk with the key, leaving us watching women harvesting potatoes in the field below, just about the only thing the Sherpa people can grow up here.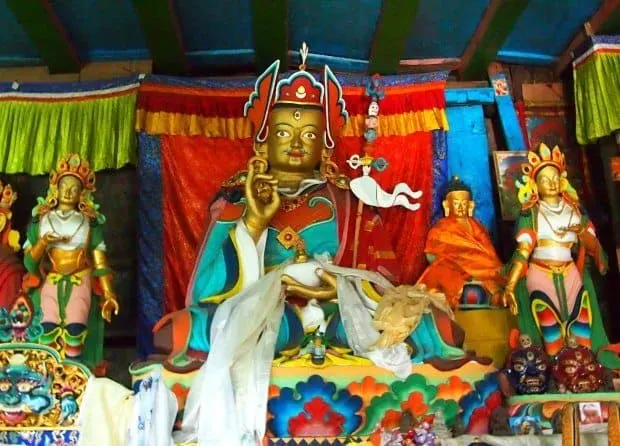 The Hillary School at Khumjung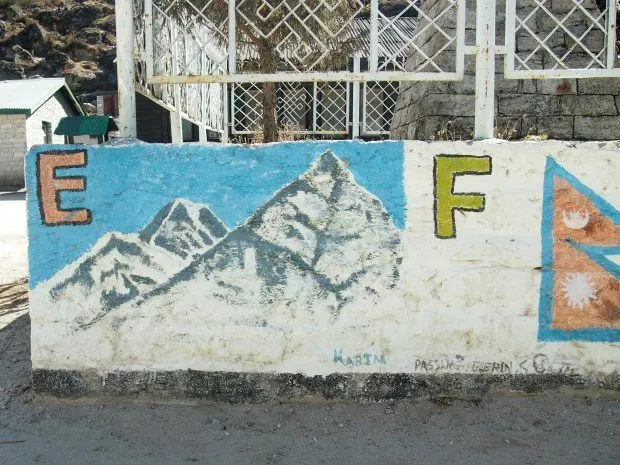 From the Khumjung monastery we continued towards Namche through the Hillary School and past the airstrip at Syangboche. This is the landing patch that was mostly used by Everest expeditions, but these days supplies are being brought up by land with devastating destruction of trails and forests below Lukla.
More on that in a later post.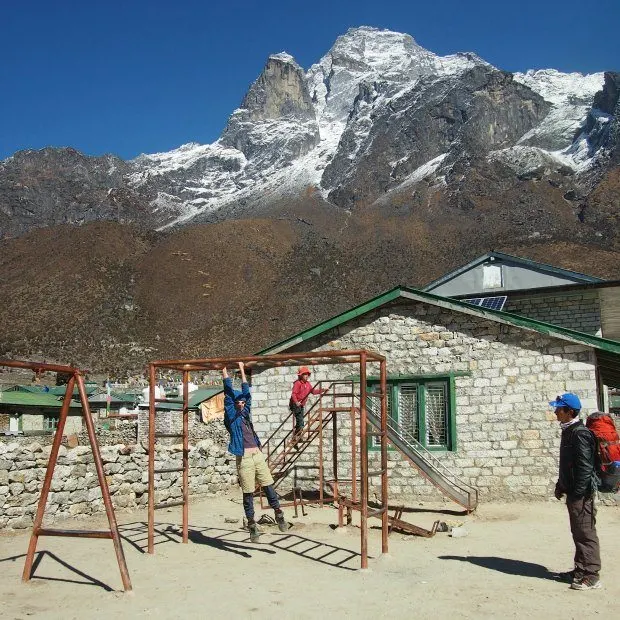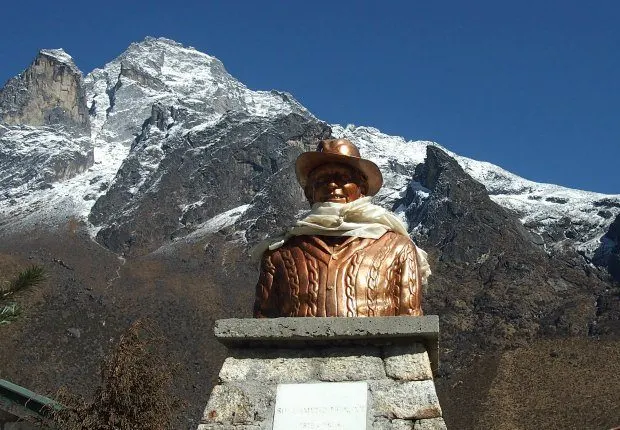 Up here is the Everest View Hotel , the highest hotel in the world at an altitude of 3962m.
We can promise you the views are worth coming for. If you were to walk direct from Namche to The Everest View it would probably take you 1-2 hours of steep up-hill with many stone steps.
This is the classic acclimatisation hike from Namche.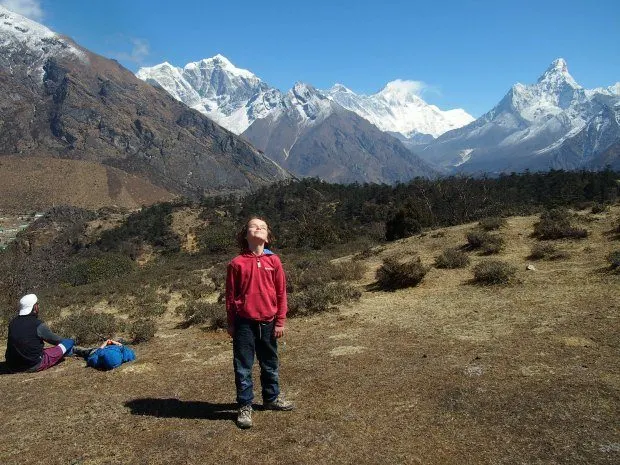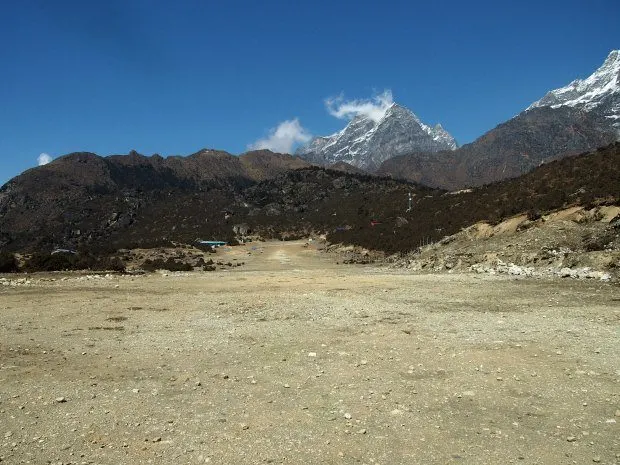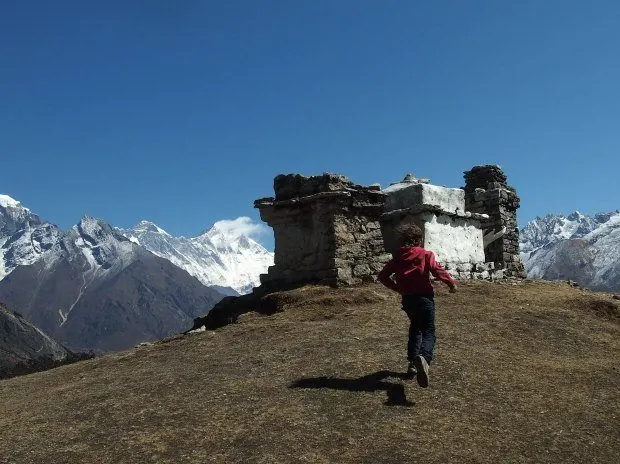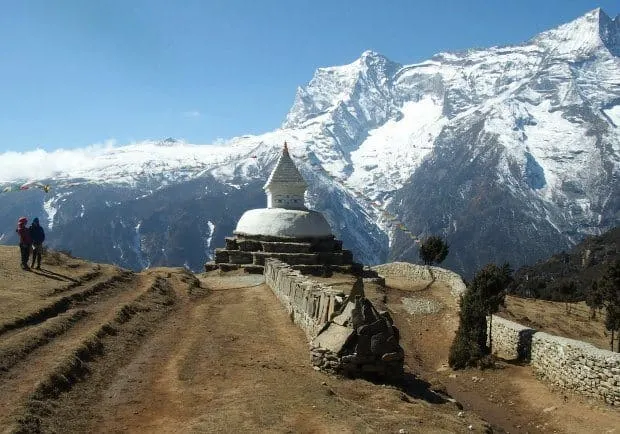 The descent to Namche is incredibly steep and largely consists of high stone steps. It's a little treacherous and very hard work to climb if you're heading in the opposite direction.
The Yeti Skull or Scalp at Khumjung Monastery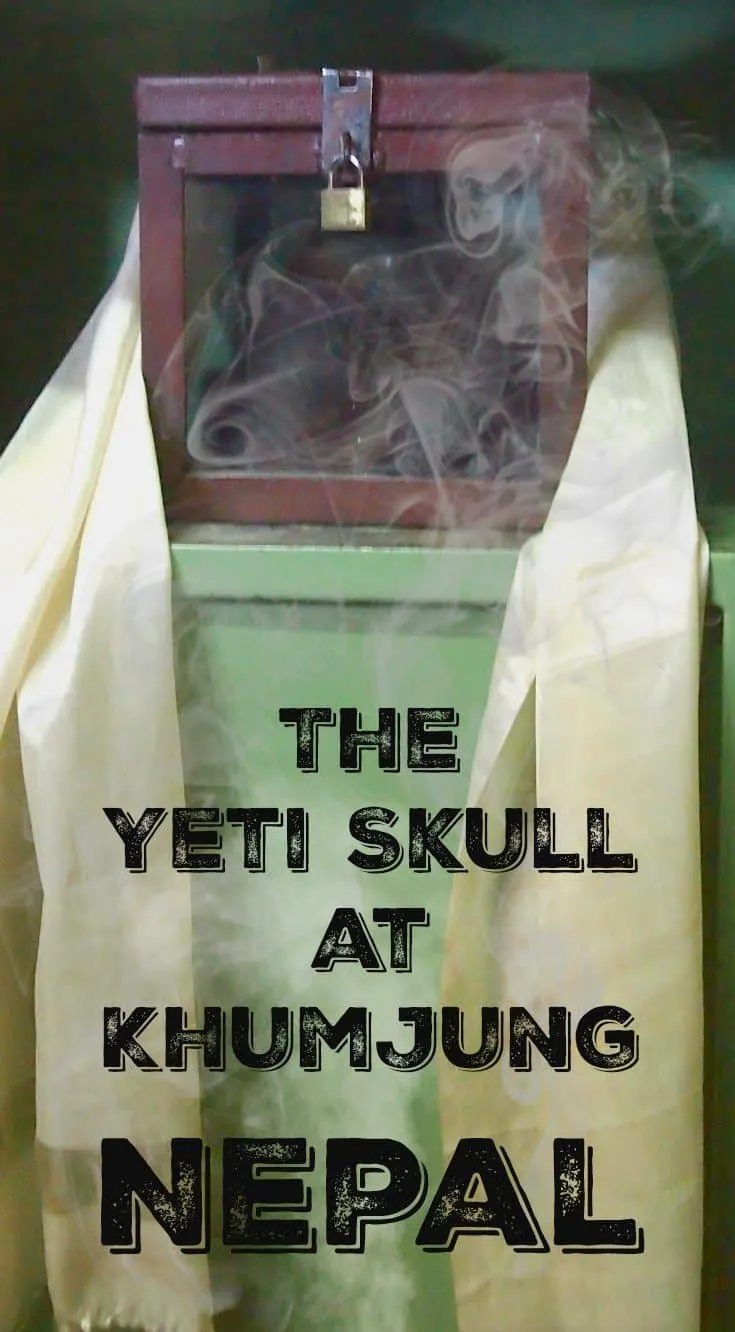 The yeti skull was under lock and key at Khumjung Monastery.
The monastery itself was also locked. On this trek, we had a Sherpa guide with us and he was able to find the monk with the key.
We were very pleased and privileged to be able to see this relic in Khumjung Nepal.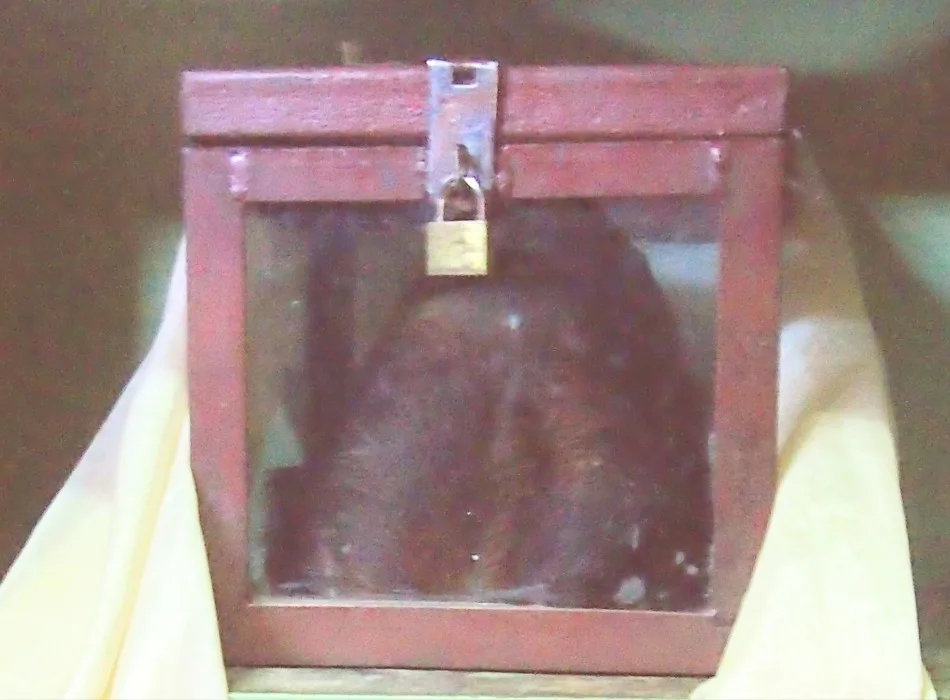 The yeti skull was conical and covered in orange-brown hairy hide of some sort. It was not a full yeti head, just an upper skull portion.
It was in a glass case (photo of the skull in the case above) and we could see it clearly at close range.
The hair could have been from an ape, bear, or even a cow, or maybe it was really from a yeti. I'm not going to spoil it for you, you need to go see it yourself.
Every picture on this page was taken on one fabulous day.
It's hard to believe, just a few hours of walking and we saw so much.
Next we had to get back to Lukla from Namche Bazaar. That walk is possible in one tough day and involves crossing that terrifying bridge again.
From Lukla trekkers can fly back to Kathmandu or walk out, extending their trek by at least 3 days.
We chose the latter option this time and, maybe, regretted our choice. That descent to Phaplu will be in our next post before we share the scariest bus ride in the world, Phaplu to Kathmandu. (read the post!)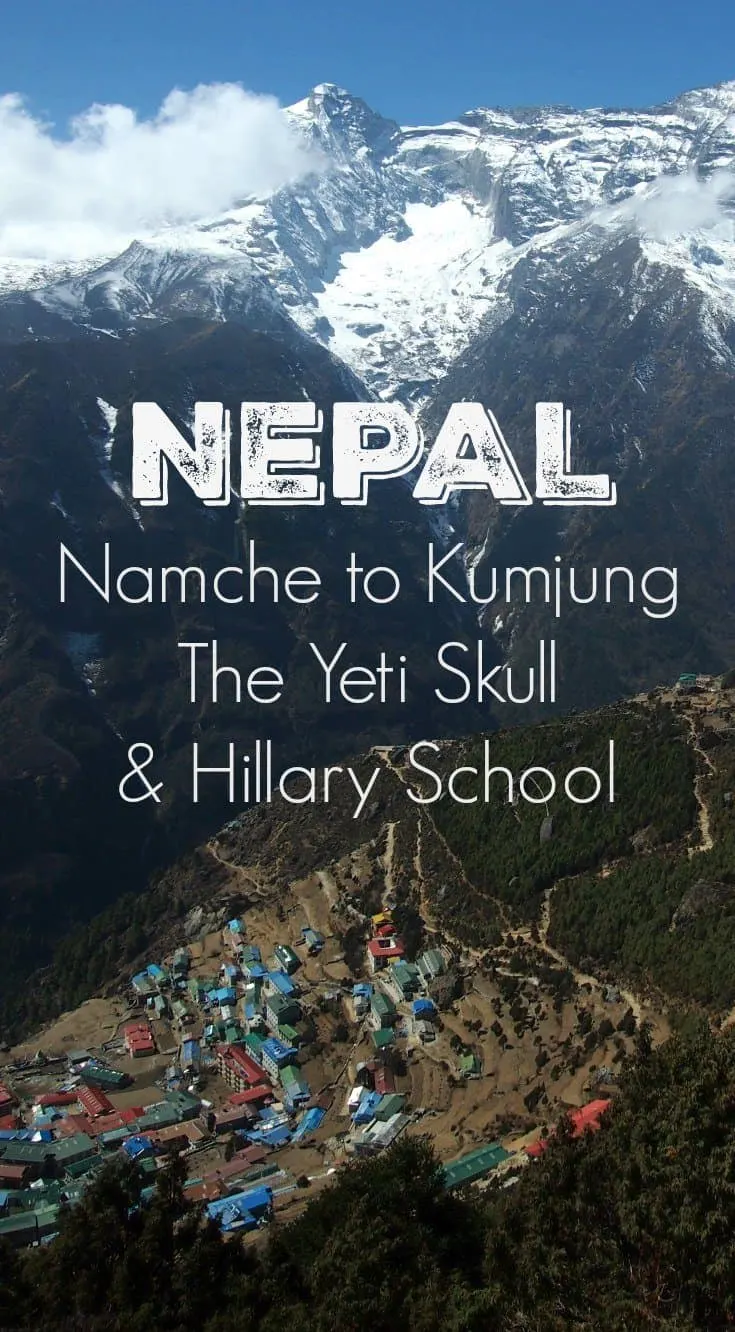 If you've skipped other posts about our first trek in the Everest region, you may want to go and read about the white knuckle flight from Kathmandu to Lukla and part one of the trek, to Phakding, Namche Bazaar and Tengboche Monastery.
If you looking for a Nepal travel guide it's here or our first post on the Everest Base Camp Trek, it's difficulties, we have that too.
Resources
Khumjung Village itself is well worth a look, you can even make Khumjung an overnight stop on your trek. It's a little off the main EBC trek route and not nearly as populated with trekkers and the commercialism they bring.
Further along the trail, near Pangboche, another monastery holds a yeti hand and skull or scalp, this one can also be visited as a side trek. If you just want to quickly visit Khumjung you can do this as part of your acclimatisation walk to the Everest View Hotel. Most trekking groups and guides will take you to the Everest View Hotel and it gets incredibly crowded in peak season.
Not so many extend their walk to visit Khumjung and neighbouring Khunde. Nepal's location, culture, and history offers visitors so much, please try to visit Nepal. They need our tourist dollar.
If you'd like to hire a car during your stay, use this car rental comparison tool to find the best deal!

We also suggest you take a look at this company to get a quote for all kinds of the more tricky adventure or extended travel insurance.

Try Stayz / VRBO for an alternative way to find rentals on homes/apartments/condos in any country!