This post may contain affiliate links.
Antarctica with kids. Can you take kids to Antarctica? Is a family trip to Antarctica a good idea? We talk to travellers who have been to Antarctica to find out if visiting Antarctica with children is a good idea. Antarctic cruises are gaining popularity with travellers, should you go?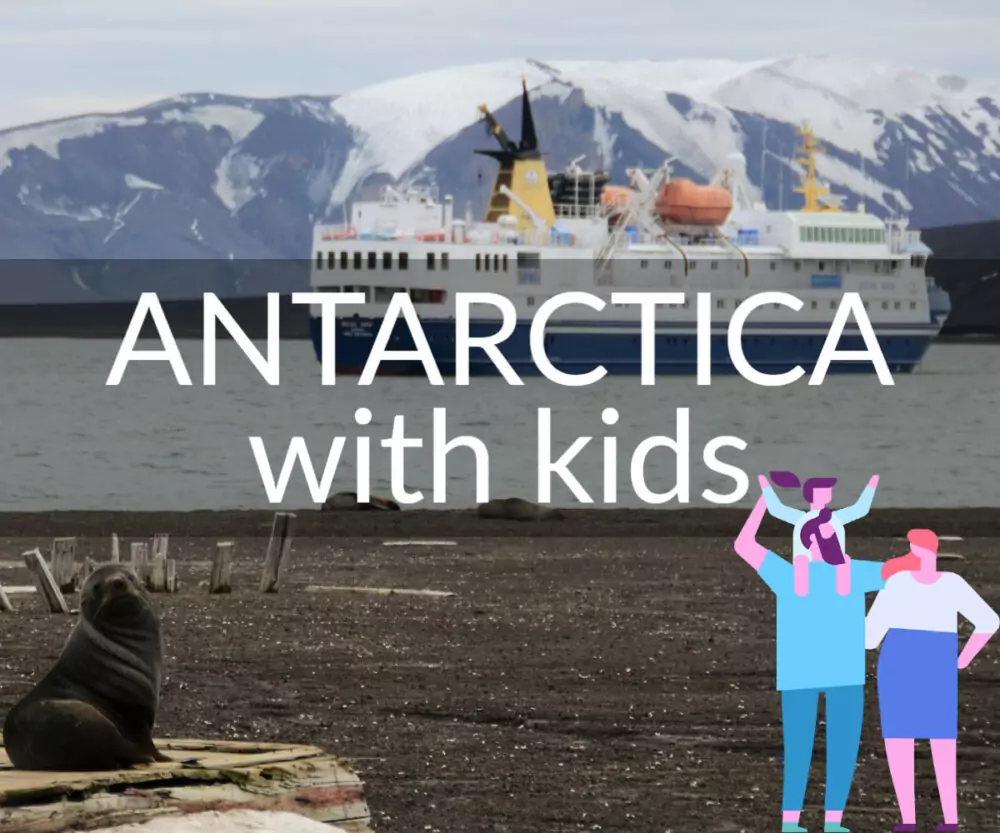 No, we haven't been to Antarctica, but as the only continent we're yet to visit, it's on the list. There was a gaping Antarctica-shaped hole on our travel blog, so we asked our blogger friends to clue us up on taking kids to Antarctica. I'd so love to go, how about you? It sounds pretty warm compared to Romania and there is so much to learn about the world's fifth-largest continent, check out these penguins! Over to Agness and Cez
Antarctica with Kids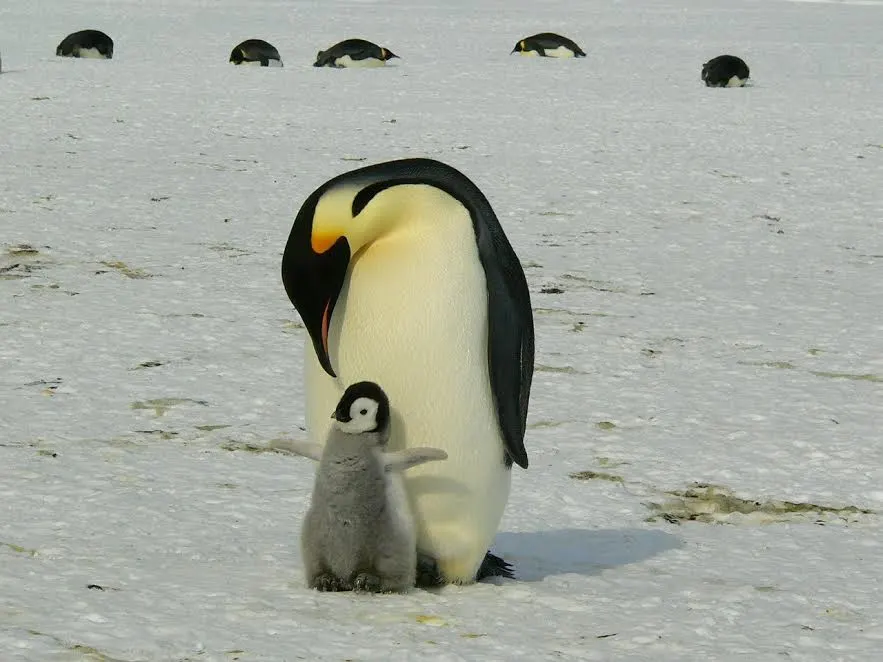 When you think of the Family Trip of a Lifetime, where do you usually envisage going?
Disneyworld pops into mind instantly, followed by an all-inclusive beach resort somewhere in the Caribbean. Perhaps a whirlwind tour around Europe, or a long-haul flight to the far reaches of Australia (unless you're from there). These are all amazing destinations that the kids will love, but have you ever considered a unique place to go?
How about Antarctica? Of course, safety and the well-being of the children are your biggest prerogatives so we hope this post sheds light on just how awesome a time you will have as a family, visiting the Antarctic continent together, all out of harm's way. Say this to your kids: "We're going to the penguins' home – Antarctica!" We wish we could see the reactions on their faces!
Here are a few helpful answers to those niggling questions when considering an Antarctica trip for your family.
Visiting Antarctica with Kids? Would They Like It?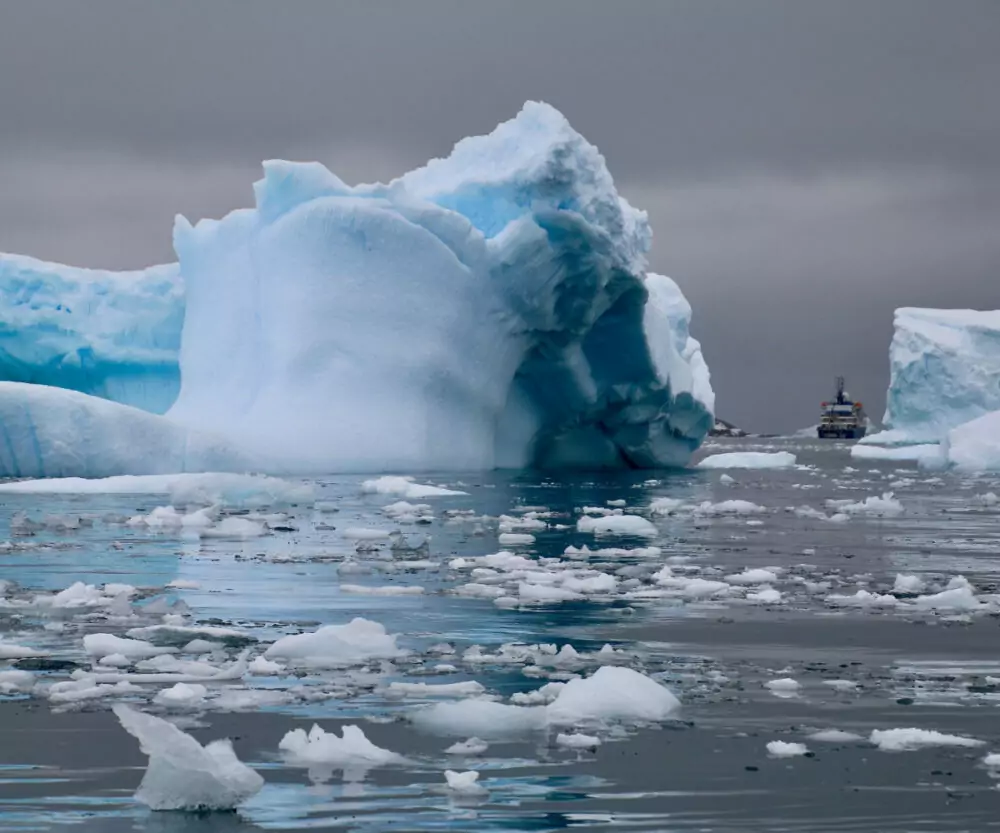 Do your children love animals? Do they want to see thousands of them in one place? If yes is the answer, then it's time to pack! The local wildlife will be everywhere, enjoying the warmth of the sun.
A seal casually sunbathing on an ice-block, a penguin couple leaning against each other to maintain maximum body heat. In fact, it is very likely that a whole army of penguins will march by, clumsily slipping on the ice along their way. Some incredible moments for your kids and for you to remember forever.
Of course, there is no guaranteeing how much wildlife will be on show, and there are strict regulations that protect both them and your family, so a safe distance will always be maintained. It will be extremely exciting, however, to see them in their natural habitat!
On the horizon you will see the most stunning backdrop of towering icy cliffs, incredible glaciers and odd ice formations that protrude out of the sea in all shapes and sizes. If your children are lucky enough to have their own cameras, whatever model and quality, the photos they will take will blow the minds of their friends at school. There's nothing more breathtaking than witnessing a tumbling glacier thump into the ocean in full view of your cruise.
Will Kids Get bored in Antarctica?
Absolutely not! Not only are there chances nearly every day to jump onto land and explore amongst the ice and snow, there is plenty of activities to keep your children engaged during the trip.
Over the last few years, tour companies have greatly improved the trips to benefit the younger ones as well as the older ones! There are fully-stocked libraries fit with children's toys and games, organised Kid's Clubs that put together daily itineraries to keep your children occupied during the longer days of sailing.
The evening entertainment may even be enough to interest the kids, with plenty of singing and dancing shows throughout your stay on-board, including karaoke!
Your children will never go hungry as there is an abundance of food and drink throughout the day, all freshly prepared by professional, onsite chefs (at least on most bigger cruises). Some bigger ships have swimming pools and Jacuzzis, and even Santa makes an appearance during the Christmas period (because he has flying reindeer, of course)!
As many parents have discovered before, this trip is very suitable for kids, you just need to make sure they are ready for a holiday like this!
Best Time of Year for Antarctica with Kids?
You should consider the Southern Hemisphere's summer months (December to March), perfect for the Christmas holidays away from school and work.
The main reason for this is, of course, the weather. The blue skies sometimes stretch throughout the day to as long as twenty hours of sunlight. Plenty of chance to see the landscapes and wildlife that will undoubtedly surround you.
The climate is much more predictable and the oceans are generally calmer. Excess ice plains have melted away and provided space for ships to move smoothly across the sea. At the very least, you're all guaranteed a white Christmas!
Will Kids Be Safe Visiting Antarctica?
Quite simply, there is nothing more important than your family's safety. There are onsite doctors at hand should something happen. Children must be with an adult at all times while on-board, and of course on-land.
Antarctica is not physically challenging, but of course, there will be some minus temperatures towards the end of the day, so wrap them up warm! In the Southern Hemisphere's summer months, temperatures usually range from lows of -4 to highs of approximately 8 degrees Celsius.
We must warn you that when the ship is travelling through Drake's Passage, they will announce it for a reason. Be vigilant because varying levels of seasickness are common. Be prepared for this scenario and pack some motion sickness drugs. Your children may be immune to motion sickness usually, even if they are, this is something to bear in mind.
It also must be highlighted that when on land, a safe distance must be maintained with the penguins at all times, to ensure that they don't bite you. Their smell surprisingly doesn't match their cuteness, just for the record (they smell really bad)!
There is lots to consider on a trip like this, but if you read thus far, you already see that benefits far outweigh the inconvenience of being offline for the length of the trip. After all, it would give you plenty of time to really focus on the beauty of the world around you, and your relationships with your loved ones.
Need more information? Check out our travel essentials.
---
About Agnez and Cez
We are Agness and Cez, best friends and travel buddies that have stuck together through both the wondrous and difficult sides of travelling. Uniqueness is what we seek in each trip, giving us the opportunity to live the dreams, and sharing the tips and stories with you on eTramping.com, so that you can also learn how it can be done.
If you'd like to hire a car during your stay, use this car rental comparison tool to find the best deal!

We also suggest you take a look at this company to get a quote for all kinds of the more tricky adventure or extended travel insurance.

Try Stayz / VRBO for an alternative way to find rentals on homes/apartments/condos in any country!