This post may contain affiliate links.
This post is about the planning stage of travel. How we do it and how you could do it. How to put together a big trip, be it a month, three months, a year or an RTW (Round the World Trip).
Some tricks and tips to put together a trip and arrange flights, accommodation, tours and more.
An around the world trip is a little different in that you have to weigh up the pros and cons of booking around the world airline ticket or taking individual flights, we'll talk about that further down the blog.
But first, let's look at how we planned to travel in India, Sri Lanka, Nepal and more, from Europe via Dubai, while keeping everything as cheap and practical as possible.
How To Plan a Big Trip
Round the World Ticket or Individual Flights?
You need to make one big important choice for your trip. Will you buy an RTW (Round the World) airline ticket or combination ticket, or take individual flights. These can either be booked on the fly, or booked in advance.
My advice would be to get a price on an RTW or multi-destination ticket, then use a tool such as Skyscanner to see if individual tickets would be cheaper.
An RTW ticket may be more convenient for you if you want a fixed schedule, but if you want to retain flexibility, go with single flights. We've done it both ways and we prefer keeping our freedom. Remember that booking ongoing flights as you travel can be very time consuming, even stressful and relies on you having good internet.
We still prefer to do it this way because sometimes we want to stay longer, sometimes shoot through fast, an opportunity could come up, a door may close. Who knows what will happen out there.
Booking Accomodation for Your Trip, How and Where ?
You need to become well acquainted with the online hotel, hostel or guesthouse booking sites. The 3 big ones we use are Agoda, Booking dot com and Hotels Combined.
You will probably find a favourite and stick with it. You'll become so used to their interface that you can find a bargain in exactly the right spot, with exactly the facilities you need, in 10 minutes.
Any of these 3 is fine but Agoda are our go-to site for Asia as they are local specialists. They also hand out credits to use against future stays. We had a whole free week of hotels recently because of our Agoda credit accumulation.
We long term travellers are the marketers' worst nightmare, we actually use all those credits that most consumers let expire.
Hotels.com also have a good rewards system, after 10 nights, your 11 th night is free with this platform, but you don't need to go direct to the Hotels.com website, access it via Hotels Combined. Hotels Combined is an online comparison site, so it will search multiple booking platforms for you to find the best deals, Hotels.com is one of the sites it searches, you will still get your Hotels.com credits.
Hotels Combined does not check Agoda, ( at the time of publishing this was correct, this may change in future) you need to check that one separately. Booking. com is another popular one but we often find them more expensive for Asia, while they are good for Europe or Australia. In the US you can't go past Priceline.
All of these booking engines list all types of accommodation, you don't need to go to specialist hostel booking sites to book a hostel.
Airbnb is another popular one. We find that Airbnb can be touch and go, we only recommend them for more expensive countries and, interestingly, Egypt. Watch out for cleaning fees and ridiculous rules and regulations with Airbnb and know that there are plenty of apartments and self catering options on Booking.com.
Checking all of these platforms each time undoubtedly wastes your precious time. We would suggest picking 1 or 2 favourites and sticking with them.
Booking Accomodation in Advance, or as You Travel?
If you're arriving late at night, book somewhere. If you're arriving in peak season, festivals or holidays, book somewhere. If, like us, you need a few days of breathing space on arrival, book somewhere. If you're travelling in Europe, probably book somewhere. If you have small kids or hard to meet needs, book somewhere.
Otherwise it is very possible to wing it and find a place to stay on arrival, particularly for lower cost hostels, hotels and guest houses.
In all honesty, it's rarely cheaper than booking online these days, so maybe just save yourself the hassle and book. Priceline works best last minute, you can use that one from your phone minutes before you want to check-in.
Travel Insurance For a Big Trip
If you can't afford travel insurance, you can't afford to travel. It's not there to protect your phone or camera ( although sure, if you can't afford to replace them easily, insure them), it's there to get you home or to the right doctor in case of serious injury or illness. You need travel insurance. The one we use is below, it's actually specifically designed for long term travellers and adventure lovers.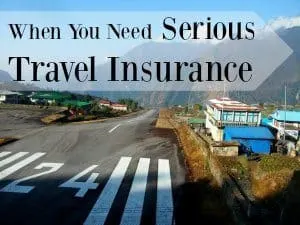 Real Life Example of Planning aTrip to Asia from Europe, Our Process
"We leave in 16 days on a pretty big trip and we finally got around to completing planning last night. We've been busy. Christmas, living in a remote village with few modern conveniences and the ski season have eaten up our time.
So where to start with planning a big trip to multiple desinations? Booking flights, deciding where to go and when booking accommodation, maybe car hire, packing decisions.
Does it all look a bit daunting to you? It's really not so bad, let me give you some tips and walk you through the process of planning travel, we'll have you casually planning and packing your bags in no time.
We've done this so many times, we planned our first RTW (Round The World) as a couple many years ago, now we do it all the time as a family, it's no big deal now."
We hope you have big travel plans for the coming year and we hope our website can help you get on the road. As always, don't be afraid to ask questions in the comments, I'm here to help.
Planning your big trip is a fun part of the adventure. You can spend months on planning and in the past we have, pouring over Lonely Planets and websites.
But as we're old hands now, after 3 years of travelling around the world full-time, we just get on with it.
I thought I'd share our trip planning process to show you what goes into getting a family of 4 on the road, this time we're not fully travelling around the world, our trip is just 3 months in Asia and Europe, but whatever length, it's pretty easy, I use the information here to illustrate the process. The same steps obviously apply for singles or couple travellers, families are just more expensive!
Planning a Big Trip, Our Way.
1.Decide when to go, roughly, then look for a great deal.
Mid January and Asia in mind we headed to Skyscanner to discover where and when would be cheapest.
If you need some help with using Sky Scanner to find incredible bargains, click through, I've written it all up for you.
We entered our preferred airport, Cluj Napoca, as the departure point and typed "everywhere" as the destination. For the date, we selected the whole month of January and checked "one way". We looked at February too, but January came up trumps. It worked out best to get to a big air traffic hub, it often does, so we found a bargain flight to Dubai on 16th of Jan and booked it. We were about 3 months before departure and that is usually the best time.
Our flight was just under £50 each. The same flight was selling for £300 in the same month. It really pays to look at a day to day comparison site.
Once your departure flight is booked and paid for, it's done, you're going, no turning back now.
2. Decide which country or countries will be the main focus of your trip.
This trip is all about Nepal. For us that was non-negotiable, everything has to work around that.
Think about which places you absolutely HAVE to see, then structure your plans to accommodate them. Don't skip places because they're inconvenient or a bit expensive, you'll kick yourself forever if you don't go.
3. Think about the weather.
Weather conditions mostly don't matter, but just do a few quick searches. Arriving in India on the day the monsoon breaks isn't a great idea and going to Chiang Mai when air-pollution is at its peak isn't ideal either, but mostly, meh.
4. Plan more or just go.
You could just go. One way ticket in your hand, and make it up as you go along.
We left Australia in 2013 with just a one way ticket to Malaysia and it worked out fine.
The downside of unstructured travel is spending more travel time online planning your next move and less time enjoying your destination. The plus side is, total freedom and an ability to take bargains as they crop up.
We wanted to get as much booked beforehand as possible this time, to be off the computers.
We have never had any problems with not having an onward ticket before departure. If we were to run into difficulties, we'd buy a refundable ticket on the spot and cancel it later. Check regulations, for some countries onward tickets are not even required, despite what the check-in official may think.
5. Let's book some more flights and do some more planning.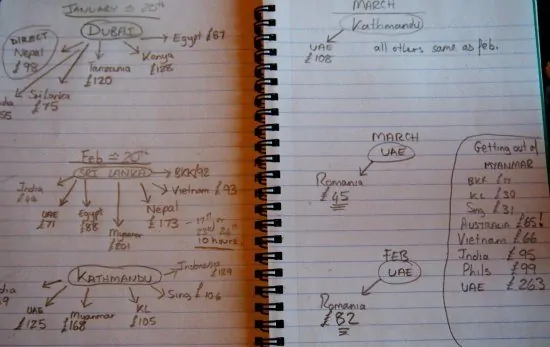 We thought about travelling to Oman from Dubai. We looked at accommodation prices on Agoda, checked that buses ran, costed out car hire and researched places of interest. But in the end we decided not to go. Why? Because the visas were expensive and getting there by bus, then hiring a car was a load of hassle. We decided that Oman will happen next time, we'll fly into Muscat instead of Dubai just to make it simpler.
Then we considered which order to put Nepal, Sri Lanka and India in.
This mostly came down to cost and convenience of flights.
We would normally overland between India and Nepal, but we've been warned against taking those border crossings due to current troubles. Also, the Indian e visa on arrival isn't issued unless you arrive via specific airports. So we had to fly.
This is what I did last night with notepad and laptop.
I went back to Skyscanner, typed in UAE, Sri Lanka and Kathmandu, destination "everywhere" and looked at our options.
Flights from UAE to Nepal and Sri Lanka were both excellent prices, as was India, but we had to start either at the bottom or the top.
We preferred to start in Sri Lanka, to leave Nepal until it warmed up, so we penciled that in.
Next, how to get to Nepal? We could fly to India and then fly on to Kathmandu, or we could fly from Columbo to Kathmandu via The Gulf, for about the same price. This flight was 10 hours, with a stop in the Middle East, but, it was a good quality airline, with screens and food rather than budget flights. Hmmmm…not sure.
6.Look at visa costs
Visas, everybody loves to hate them.
1 month visas, for all 4 of us, came in at $240 for India, $70 for Sri Lanka (kids are free), $120 Nepal.
That $240 annoyed me. Last year we spent around $500 on Indian visas. India is my favourite country and the new e visa on arrival is a great step forward, but this time, we decided no.
India will be another trip, probably a 3 month trip. Scratch India, take the luxury 10 hour flight.
If you weren't us, you probably should have looked at visas months ago. A very few countries can take weeks or months to approve and issue, we knew none of the countries we planned on visiting would give us any trouble.
7. Plans become concrete. Book more flights.
So we now know for sure that it's Dubai, Sri Lanka (1 month), Nepal (1 month).
We'll be flying back via the Middle East, most likely Dubai, but maybe somewhere else, we haven't got that far yet, Oman could still happen. Again, it will be down to what Skyscanner tells us.
The March departure from Nepal is much cheaper than February, something to do with the climbing season, so that works out well too.
8. Booking accommodation, you don't always have to.
We always use Agoda and we (almost) always book somewhere for our first night or two.
Why Agoda? Because we collect their points and redeem them against future hotel stays and because their customer service is excellent. We've cancelled bookings many times and never had a problem. Agoda are specialists for Asia, but we also use them whenever we can for Europe, London, even the USA. With Agoda we can enter our exact requirements, 2 adults, 2 kids, 1 room and their ages. The ages are important because you will find kids stay free deals for all ages up to about 12. Another reason to travel before they are 12!
We want freedom to travel around both Sri Lanka and Nepal in our own time, so we don't pre-book much at all.
Usually we just turn up in a town and go knocking on doors, don't be afraid to do that.
We've looked at prices, we know that both countries are extremely affordable. Again, you can use Agoda for this research
We've booked our entire stay in Dubai, Dubai is expensive. We've allowed 1 day for all the things we want to see and do there.
9. Deciding where to go within each country and how to get around.
We like to have a bit of a family discussion, see what everyone wants, we can work with that.
You don't need to plan too much, just go with the flow.
We'll read a Lonely Planet if we have one, we find it's THE best way to get an idea of what's available in each country and learn about the history, culture and food. We'll maybe look at travel blogs of blogging friends we trust. We'll use public transport or taxis, whatever works out best and cheapest. We'll have some idea of where we want to go, but we'll have no fixed itinerary.
10. Packing for months of multiclimate travel
Packing for a longer trip is really not much different to packing for a week.
These days we just throw whatever clothes we have into a bag along with a few essential travel items ( click through to see that post). Because we travel a lot we buy clothes that are multipurpose. Our bags will be full of jeans and long sleeved tops, they work anywhere, any climate.
Clothes are available wherever you travel, packing is no big deal.
For shorter trips, say 2-3 weeks, where multi-climate and multi-activity isn't an issue, we now fly carry on only. This saves us money on airline tickets. You can read all about the pros and cons of flying carry on only in this post. It also contains tips on toiletries for carry on and ideas on how many and which clothes you actually need to fly carry on as a family.
For longer trips we have things like sunblock, insect repellent, nail scissors, and penknives here at home, so I'm going to take them rather than have to scratch around and waste money on buying new at the other end. That's our choice, you do what feels right for you.
Choosing what baggage to take is an important part of your trip planning. My family always uses backpacks, suitcases on wheels wouldn't work for us at all. We have a post on choosing travel pack ( my choice), backpack or suitcase to give you more help.
For a 3 month trip I'm not packing school books, colouring pens, Lego, toys, all the usual stuff that we used to carry while travelling around the world non stop. That's the beauty of having a home base now. We won't worry about "school" at all while we're away.
We do take quite a few medicines in our first aid kits because kids always get sick when the shops are shut.
We made this pin for you to bookmark to Pinterest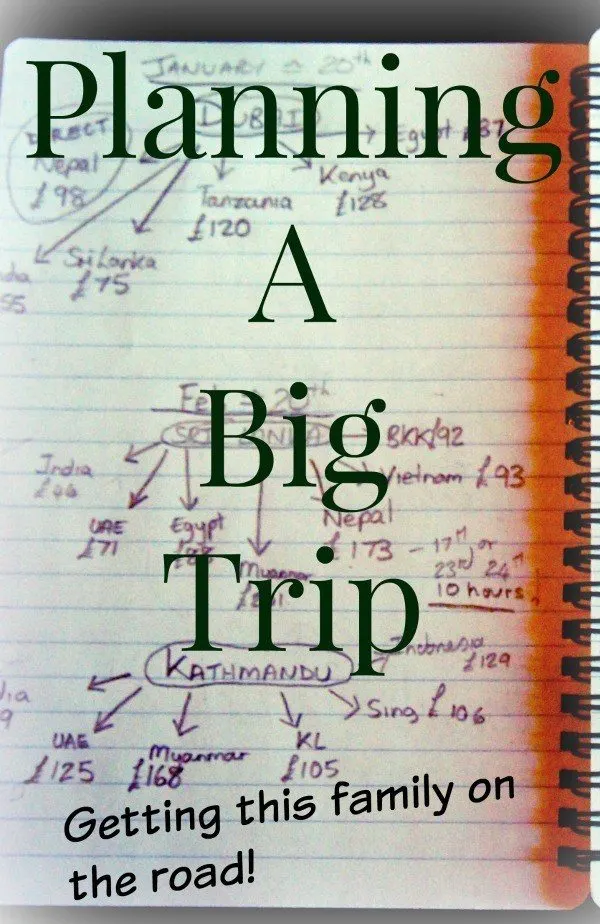 Important checks for Planning Travelling Around the World
Do you have at least 6 months left on all passports?
Do you have travel insurance?
Did you check if you need visas in advance?
Do you have any essential vaccinations? ( some come under the heading of "Non-Essential", for us)
Do you have malaria prophylaxis? (we usually don't)
Did you tell you bank you're travelling and tell them which countries. You don't want your money supply to be cut off.
Do you have spare bank cards in case of disasters?
Do you have a house or pet sitter organised?
Do you have a scan or photocopy of all essential documents? Email them to yourself.
Do you have a few passport photos?
Do you have everything necessary to get your kids into some of the tougher-to-enter countries, particularly if only one parent is travelling?
Have you checked baggage allowances for the airlines you're using?
Have you printed your boarding passes, hotel and car reservations?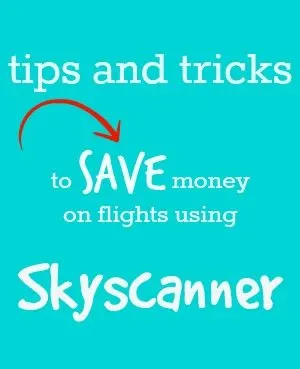 That's about all I can think of for planning a big trip. You don't need to worry about buying currency in advance, you don't have to have everything planned, you don't need traveller's cheques, you don't need clothes or gear for every eventuality. Just pack your bag and go. We're off in 16 days. Not our biggest trip ever, but an exciting one, we're itching to get back to Kathmandu. Are you planning travelling around the world in 2023? Tell us about it!
If you'd like to hire a car during your stay, use this car rental comparison tool to find the best deal!

We also suggest you take a look at this company to get a quote for all kinds of the more tricky adventure or extended travel insurance.

Try Stayz / VRBO for an alternative way to find rentals on homes/apartments/condos in any country!