Asia is full of brilliant, sun-drenched beaches that all the family can enjoy. If you're committed travel-lovers looking for a truly memorable experience and want to feel the warm sand beneath your feet, snorkel over coral reefs, or dine on the best cuisine Asia offers, here are the top beaches you should put on your list.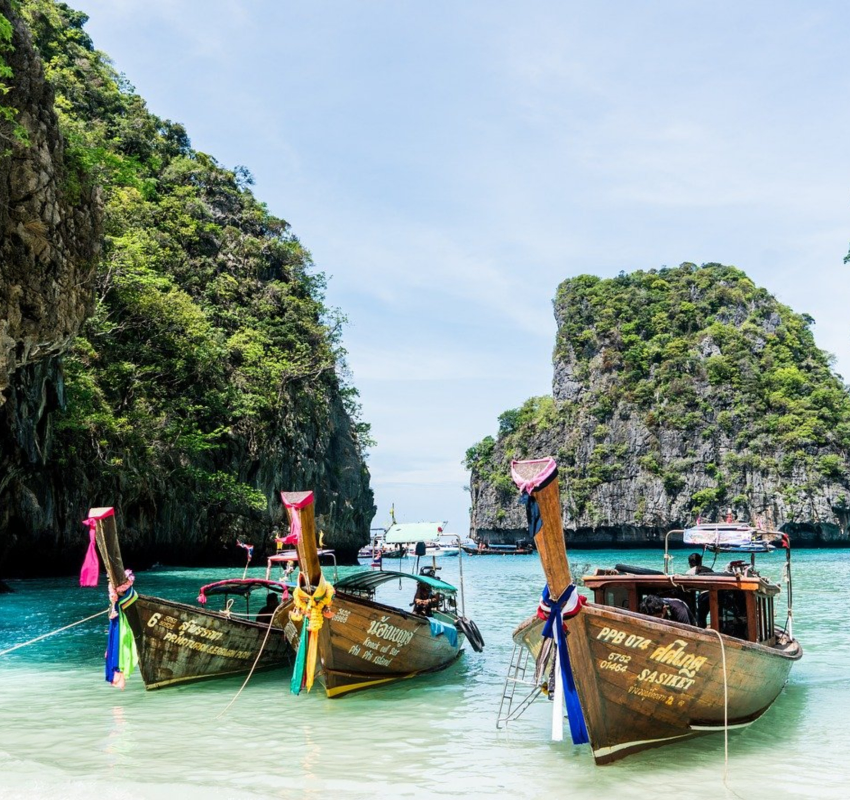 Best Asian Beaches
A list of the best Asian beaches could include the following, of course, best is down to personal opinion, what's best for me may not be best for you. There are thousands of beaches to choose from in dozens of countries in Asia, each offering something unique.
Yunokawa, Hakadate, Japan
Ganh Dau Beach, Phu Quoc Island, Vietnam
Mui Ne Beach, Vietnam
Havelock Island Andaman Islands India
Patnem Beach Goa
Om Beach, Gorkana, India
Ta Pho Beach, Koh Kood, Thailand
Phra Nang Beach, Railay, Thailand ( Railay)
Haad Rin Beach, Ko Pha Ngan, Thailand ( Full Moon Party Beach )
Tanjung Rhu Langkawi Malaysia
Gaya Island, Borneo, Malaysia
Sipadan, Malaysia
Pulau Derawan, Indonesia
Hikkaduwa, Sri Lanka
Bacuit Archipelago, Philippines
White Beach, Boracay, Philippines ( Check Borocay is open, it has been closed due to ecological destruction)
Akajima, Okinawa, Japan
Beidaihe, China
Iho Beach, Jeju Island, South Korea
Soneva Gili, Maldives
JBR Open Beach Dubai UAE (Yes, Dubai is in Asia)
Of these, Hidden Beach, El Nido, Philippines was voted number 3 of the best beaches in the world in the Flight Network 2018 List of Best Beaches (source) and number 1 in Asia with Maya Bay Phi Phi Islands being next in Asia, followed by Railay Beach Thailand. Maya Bay is currently closed to tourists to allow ecological recovery after shooting to fame in the movie " The Beach".
The beaches that follow are widely considered to be some of the best Asian beaches for families.
This post was partly submitted by a contributor and does not represent our personal opinion or experiences. It exists for information only.
El Nido Philippines
El Nido, Palawan, Philippines is widely considered one of the best beaches in the world. Crystal clear water, white sand and dramatic rock formations make this spot one of the most beautiful on earth. If your kids are up for a spot of kayaking, snorkelling or paddle boarding and are old enough to take on island tours, this is for you.
You can enjoy over-water villas, beach resorts with private beach clubs or humbler accommodation.
Otres Beach in Cambodia
Cambodia is booming as a luxury holiday travel destination and locations like Otres Beach are becoming increasingly popular both for newly married couples who want to stroll along the narrow strip of white sand hand in hand and those with families looking for an exotic location with plenty to offer. If you love clear water and warm breezes with stunning sunsets, this is one place you'll want to try.
Surrounded by beautiful bungalows and independent luxury resorts, it's long resisted the temptation of over-commercialization. The beach is split into two strips: Otres 1 and Otres 2, the first being the busiest. It's the perfect place for a long, leisurely swim or a gentle stroll depending on your mood.
Ganh Dau Beach, Phu Quoc Island, Vietnam
Located in the north west of Phu Quoc, Ganh Dau is one of many beaches on the island. Ganh Dau isn't as developed as many of the other beaches which can be overloaded with 5 star resorts and golf courses.
Here you can still find some secluded areas to enjoy the scenery without the crowds. You'll find bungalows more than big resorts with moderate standards. It is further from the capital and transport links which help to keep it more isolated than other parts.
Best times to visit are from December through to April. Rains will start in June but before that May and April will be oppressively hot.
Mui Ne Beach, Vietnam
Mui Ne beach is famous for its kite surfing. People will come from all across Asia to kite surf here during the season. Located 5 hours north of Ho Chi Minh City and 4 hours south of Nha Trang. Bus is the best way to get here but the train station is only 5 km away if you prefer train travel.
Mui Ne is approximately 15 km long and accommodation lines the length of the beach. You'll find something for any budget but will have to look harder if you're after the cheaper bungalows.
There are also sand dunes that are very impressive and certainly worth seeing. There is also a fishing village in the north where fisherman still use the traditional conical boats to go out and catch their daily fish.
Haeundae Beach in South Korea
If you prefer something less out of the way and right next to the beating heart of a busy city, Haeundae Beach is often tipped as the Miami of South Korea. You'll find it on the east edge of Busan and there are plenty of things to do and see, including day and night time cruises around the bay and excellent places to eat and relax such as the Gamcheon Culture Village.
The beach is clean and popular with families and an excellent place to spend the day. Nearby you'll find the Busan Aquarium which has some 250 different species of aquatic animals to amaze the kids, including the opportunity to get up close with some sharks.
Phra Nang Cave Beach in Thailand (Railay – Krabi)
Exotic and beautifully enigmatic, Phra Nang Beach is the perfect mix of local culture and tourist attractions. You'll be able to see fishermen heading out for their daily catch and visit their nearby shrine to the Indian princess who lost her life in a shipwreck. Boatmen leave gifts at this cave temple to protect them while out at sea.
Phra Nang Beach is reached by a short boat ride from Ao Nang Krabi and it's fairly close to Phuket. It is a gentle walk from the Rayavadee Resort. There are over 130 small islands in the surrounding area and lots to explore. There's certainly plenty here to keep both adults and children happy whether you're travel lovers on a budget or looking for the ultimate luxury experience.
Ngapali Beach in Myanmar
Another world of white sand and beautiful palm trees, Ngapali Beach has grown around traditional fishing villages and now sports some excellent luxury resorts and hotels to suit almost every taste. Kids who love to go kayaking or want to try snorkeling in the brilliant blue waters should be able to find more than enough to do. Mums and dads who want a relaxing round of golf won't be disappointed either.
If you want to have a really exciting treat, you can also opt for a balloon ride which gives you a birds eye view of the coastline around the Bengal coast. In addition, there are plenty of bustling markets and interesting places to eat. The truth is you can find something new and exciting every day at Ngapali Beach and still not cover everything during your stay.
Agonda Beach in Goa
Goa has always been about the lure of the exotic for committed travel lovers who want to taste absolutely everything the world has to offer. Agonda Beach is a popular destination and is less busy than nearby Palolem Beach with seaside huts that make it feel like you're living almost on top of the ocean.
For families there's the chance to take long walks along the white sand beaches and relax by the sea. When you're feeling hungry, you can always go for a bite to eat at the busy Fatima's Corner, which serves some of the most delicious seafood in the whole of Asia.
Radhanagar Beach in the Andaman Islands
This picturesque region of India is perhaps less well-known to your average tourist but keen travelers will certainly have come across it. The Andaman Islands are a beautifully undisturbed region with aqua blue seas and stunning coral reefs. Radhanagar Beach is on the south side of Havelock Island and has often been voted the best beach in Asia. Take a look at the Taj Exotica Resort and Spa, Andaman Islands
If you want to treat both you and your kids to a timeless location where you can dine on locally produced grilled fish and swim in the sea for hours, this is the perfect choice.
White Beach in Malay
The Philippines are becoming increasingly popular as a tourist destination particularly for families. White Beach in Boracay not only has the idyllic white sands and clear blue seas you might expect, there are plenty of amenities too. Close to the shoreline you'll find a host of luxury resorts to pamper the most experienced travelers.
Whether you want to go diving, relax at a beach side bar or simply want to soak up the sun for a while, there's everything you and your family might need all in one place.
Veligandu Island Beach in the Maldives
If you love your luxury travel and want to stay at a beachside resort where the accommodation sits on stilts over the clear blue water, Veligandu should be top of your list. There's so much to do and see here that you may have difficulty fitting it all into one visit, but there's no doubt both you and the kids will absolutely love it.
There are a variety of water sports such as snorkeling, water skiing and high speed boat trips to take advantage of as well as many activities further inland. The food is fantastic and there are interesting and entertaining music and dance nights at various locations throughout the year.
So what are you waiting for? Begin your Asian adventure now!
If you'd like to hire a car during your stay, use this car rental comparison tool to find the best deal!

We also suggest you take a look at this company to get a quote for all kinds of travel insurance.

Try Stayz / VRBO for an alternative way to find rentals on homes/apartments/condos in any country!