This post may contain affiliate links.
Antigua Guatemala is a stunningly beautiful city in Guatemala. Its architecture, history, and culture are sure to delight, along with the volcanoes that smoke around it. Antigua is a vacation destination popular with many and a popular location for retirement and expats. We were lucky enough to spend a full month there to really get to know this Guatemalan city. Luckily, we were there for Easter, when Antigua hosts spectacular processions, events, and the famous flower carpets. An Antigua travel blog, with insight into living in Antigua.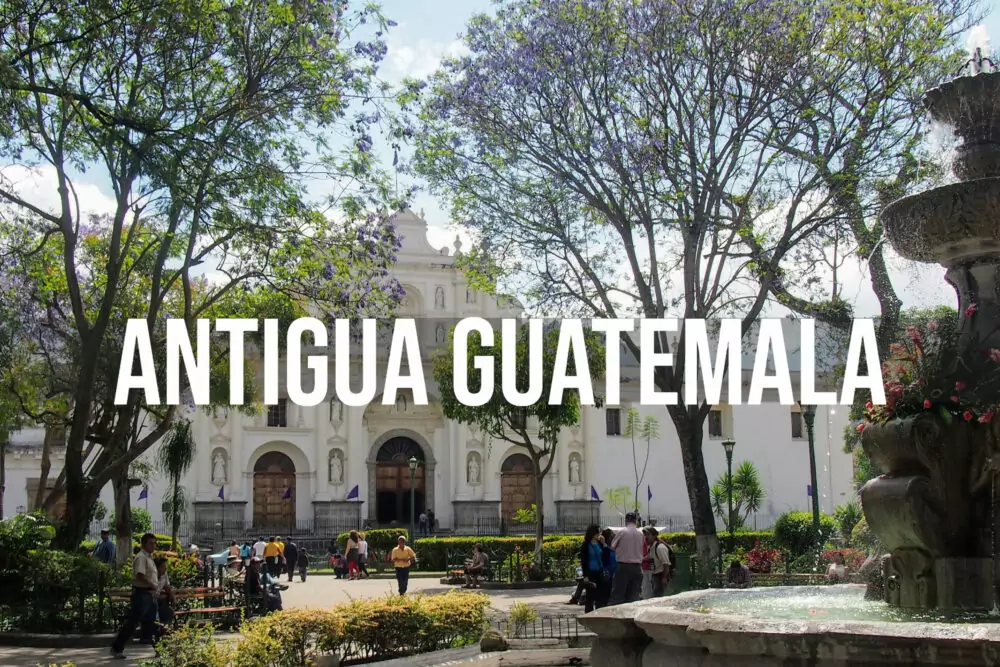 I posted on Facebook the other day that life was pretty fine, the kids were in the pool, I had a glass of red and all was right with the world.
Normal life has been resumed for a month of living in Antigua Guatemala.
That is exactly how life used to be back home in Port Douglas before we set off to travel the world. Same life, different spot.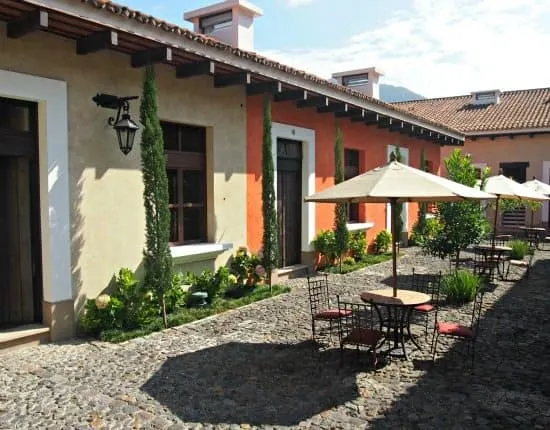 Pool, check, wine, check, kids not in school, check, dad, playing with them, sometimes check, blue skies, check, nice house, check.
I started out writing this post about how normal we are being. How we're not doing much at all.
By the end, I realised that what this post is actually about is how much learning is happening just through being here and how travel, or any exposure to life outside of our normalities, is a wonderful thing.
None of this would have happened if we hadn't ditched our old life in favour of exploring the world.
More on what a fabulous country Guatemala is will follow, today's post is about life on the road, in Antigua.
Antigua Guatemala
We are staying in a gorgeous villa just outside the old town of Antigua Guatemala, rented at just $30/night and we're quietly living our lives.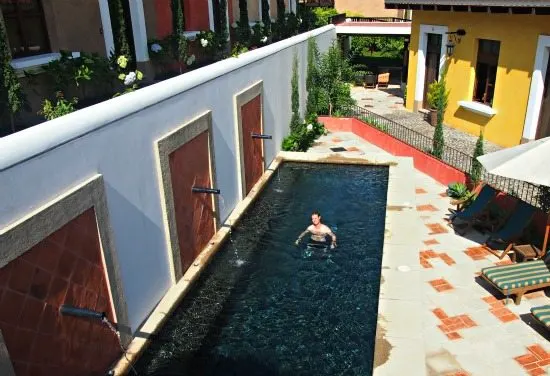 For the first time in 9 months we have a routine of sorts. I'm not one for routines, but empty days and kicking around the house calls for some sort of structure.
We rarely use AirBnb, but in Antigua this time, it was the best, and cheapest, way to go. The owners were a dream and fluent in English, being American.
There IS a language barrier in Central America. That's rare in many parts of the world, but the Spanish speaking countries of the Americas are an exception.
Fun Facts About Antigua Guatemala
Antigua Guatemala is about 1,530.17 m above sea level.
The area is highly volcanic and prone to earthquakes.
Antigua Guatemala has been destroyed over the centuries by fire, flooding, and earthquakes which prompted to capital to be relocated in a safer place, Guatemala City.
Much of the city of Antigua Guatemala was inspired by Italian Renaissance design.
The grid pattern of its streets is a very early example of town planning and dates from 1543.
Antigua Guatemala is a religious centre in the region and in the 16th and 17th centuries exported religious art and statues to the world.
The city of Antigua Guatemala is a UNESCO listed. World Heritage Site.
Antigua is packed with Christian churches, monasteries, and religious buildings dating back to the Spanish colonial era.
The city isn't just beautiful, it also has Baroque features designed to withstand earthquakes, such as the low clock or bell towers.
This beautiful city has brightly painted buildings, stunning public plazas, cobbled streets and fountains. It really is a beautiful place to visit with much to see and do.
Antigua Guatemala isn't a cheap place to visit, we found it quite expensive compared to other countries.
We felt safe in Guatemala by day but were warned to not go out at night and be careful with valuables. I know people who have been victims of pickpockets here and we recommend anti-theft bags and devices.
We had to take a child to a doctor in Antigua. He was great, and inexpensive.
The Easter Celebrations and flower carpets of Antigua Guatemala were absolutely stunning and absolutely worth going to see.
Antigua Guatemala simply means old Guatemala.
Where is Antigua Guatemala?
Antigua Guatemala is in the country of Guatemala. Antigua Guatemala is a city and is refered to as Antigua or La Antigua. Calling this city Antigua Guatemala distinguishes it from the island of Antigua which is one of the Leeward Islands in the Caribbean Sea.
Antigua Guatemala was the capital of the Kingdom of Guatemala. Antigua is not the capital of Guatemala, Guatemala City is the capital city of Guatemala. Antigua is the capital of the Captaincy-General of Guatemala.
Guatemala is in Central America, the southern part of the continent of North America. Central America consists of just seven countries and Guatemala has borders with Mexico, Belize, Honduras, and El Salvador.
Guatemala has coastlines with the Carribbean Sea to the east and the Pacific Ocean to the west.
Antigua Guatemala is in the southwest of Guatemala and is not on the coast. It is about 40 Km west of Guatemala City, which is where you're likely to arrive by air.
You can reach Antigua Guatemala for your visit or vacation, from La Aurora International Airport in 40 minutes to an hour. There should be taxis and buses available.
Life in Antigua Guatemala
So we get up, get washed and dressed and I throw the kids out of the house to play while I cook breakfast.
We all eat together, outside overlooking the pool. Big breakfasts with eggs, fruit and lots of vegetables.
Yes, I said vegetables, we're off wheat and dairy at the moment to try to fix D's rash, so we're being ultra-healthy and I'm dropping the pounds from our USA road trip and cruise ship blow-out .
In the mornings we're getting through some school work. Written work in the excellent books I picked up in the UK and blogging for the kids.
Blogging is covering loads of educational bases at the moment. My 7-year-old won't read, but he's more than happy to blog, so, if that's the way he wants it, that's what we'll do.
His blog is called Boy Around The World, click the link if you'd like to take a peek. D, now 9, has decided he's a food blogger, his blog is called World Food Kid. I'm waiting for them to start making some money and keep me for a change.
But the obvious school work isn't where the most learning is happening, there is so much more besides. Christianity, the Mayans, the Spanish invasion, music, art, language, it's all going on every day.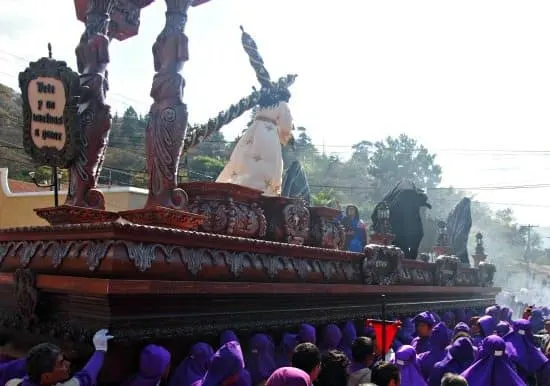 Then it's time to cook lunch, more fruit and veg, and eggs or beans, we're not eating meat at all. Another family meal and then it's up to them what they do.
They can use screens, watch movies, play Minecraft or Lego, swim, whatever. That gives me some time to work on the blogs.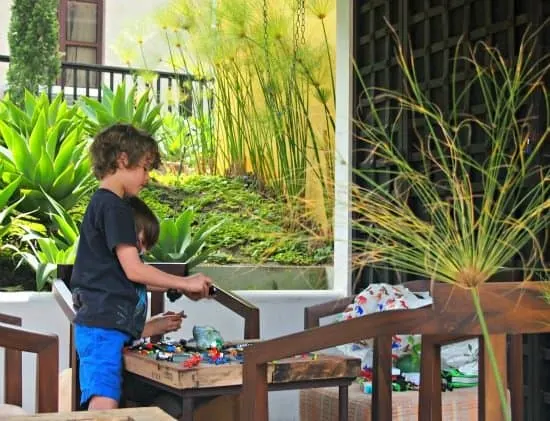 Maybe we'll take a walk down into town.
Antigua is so pretty, a glorious little town overlooked by volcanoes that intermittently worry us with dark smoke. It's normal, apparently, they just do that all the time.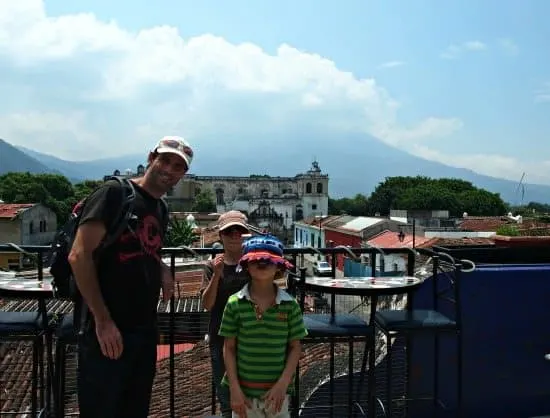 All that fruit and veg we're going through necessitates lots of trips to the market, it's a hike and we lug it all back up the hill in our backpacks.
Our Spanish is coming on quite well, nobody here speaks English. The produce market is huge and the fruit and veg are delicious.
We're trying new dishes, fried bananas and plantains, homemade guacamole every day and frijoles with everything.
We wander and explore, we're always finding little shops, galleries and interesting hidden courtyards. There are endless craft markets and stalls and we keep discovering doorways that lead to more hidden treasures.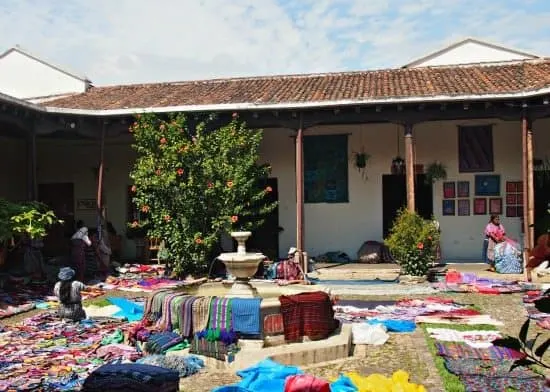 On weekends there is music in Central Park. Wonderful Central American musicians with flutes and pan pipes.
It's the sort of park where people just hang out, locals and tourists, to see what's going on and pass the time quietly.
The kids have their own drums and pipes bought from a friendly street vendor, they practice at home.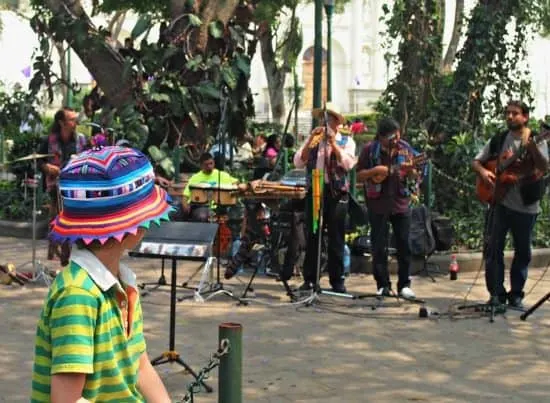 Every now and again we come across something totally unexpected, like our neighbours here, the emergency services guys, making their sawdust and flower carpet for a pre-Easter church procession.
We hung around for a few hours, watched the art, enjoyed the carnival atmosphere, tried the foods from the street vendors and saw the sombre but magnificent parade go by.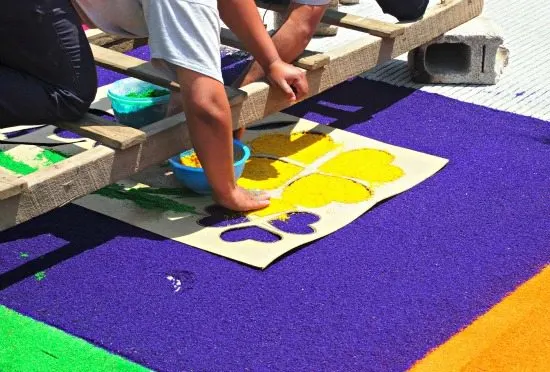 We cook another meal, maybe watch a movie and head off to bed to read or sleep.
And that's it, that's all we're doing. Normal isn't it?
We're hardly eating out and we're not going on any sight-seeing trips. We're not travelling. But just check out the learning. With almost zero effort, just living our lives, we are all picking up so much.
This is why we travel. Back to the Guatemala Travel Blog round up page.
If you'd like to hire a car during your stay, use this car rental comparison tool to find the best deal!

We also suggest you take a look at this company to get a quote for all kinds of the more tricky adventure or extended travel insurance.

Try Stayz / VRBO for an alternative way to find rentals on homes/apartments/condos in any country!