This post may contain affiliate links.
Just behind the clear blue Andaman Sea, the sand, the palm trees and the scrubby foreshore sits Novotel Phuket Surin Beach Resort. We checked in for a few nights to take a break from long-term family travel, to relax, pamper and unwind after 5 weeks exploring Thailand. Our stay coincided with the Phuket Ironman event my husband was competing in, perfect location, perfect facilities for preparation for, and recovery from, a huge physical challenge. Novotel invited us and we are happy to report on our experiences at this very enjoyable family hotel. It was a perfect choice of family holiday resort for our children, then aged 10 and 12, and for mum and dad to unwind in oasis-like tropical surroundings.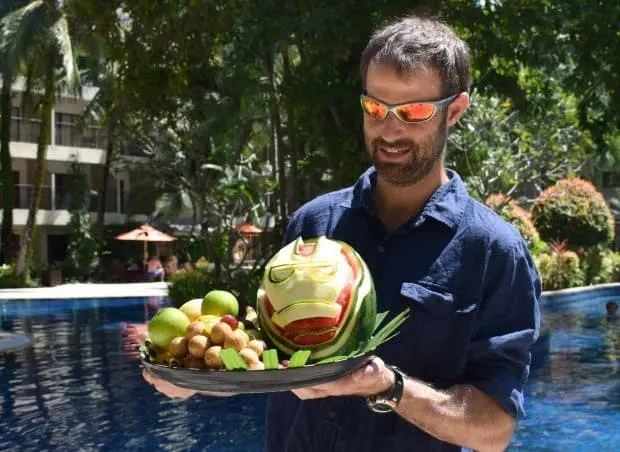 Novotel Surin Beach – Reviews
Phuket is one of Thailand's Andaman Islands, lying to the west of the mainland, in the deep south. It's rated as one of Thailand's best island destinations, has some excellent beaches of its own and is a good base for exploring smaller islands nearby. We'll be publishing a full post on Phuket soon.
Phuket is a hugely popular family holiday destination, and the hotels we saw on Phuket, both Novotel resorts, were outstanding hotels for families
What was Superb at Novotel Phuket Surin Beach Resort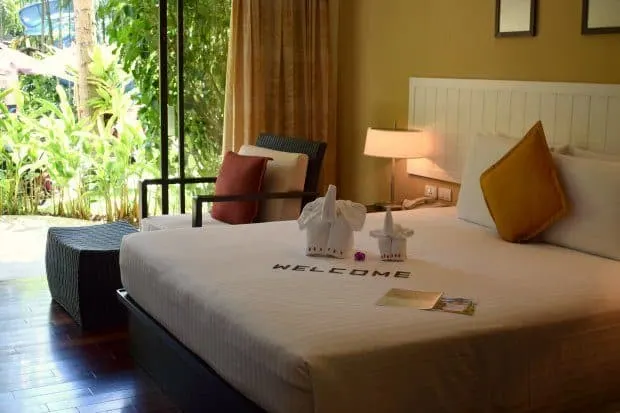 What was outstanding at this resort hotel was the provision for families. Kids came first, in the spacious 2 bedroom apartments, in the pools and slides, in the activities on offer for the whole family and in the excellent and diverse dining facilities.
We were new to Novotel, if all their hotels offer this standard of family support, we'll recommend them wholeheartedly to our readers. We also got a chance to try Novotel Phuket Karon Beach, we saw the same family provision there, leading us to believe that this is a feature of the Novotel chain.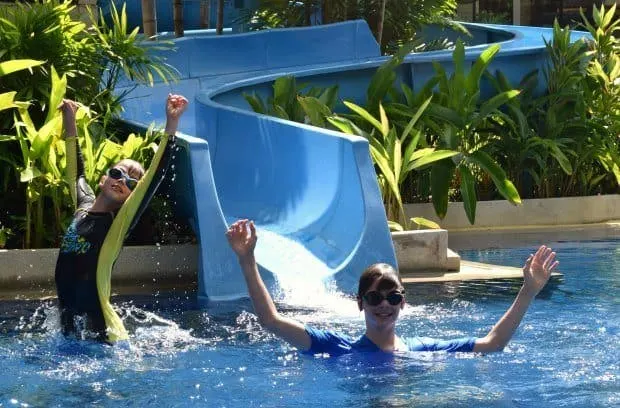 The hotel simultaneously pulled off child-friendly and adult luxurious. There was no holiday camp feel and the expansive pool areas and mature tropical gardens allowed adults to escape the excited squeals of kids speeding down the slides.
Children weren't in over-abundance, but there were enough for my boys to make friends. We visited outside school holidays, one of the perks of being worldschoolers.
Many children opted to hang-out in the kids' club building where movies, soft play and computer games were on offer throughout the day, along with special activities. Those activities included Thai boxing and dance, pretty special!
Guests who chose to dine in the hotel (we did, twice) could linger over a drink or dinner while little ones enjoyed their own special area, my older boys prefered to use the free pool table. The kids were nearby and could easily be supervised while enjoying entertainment of their own.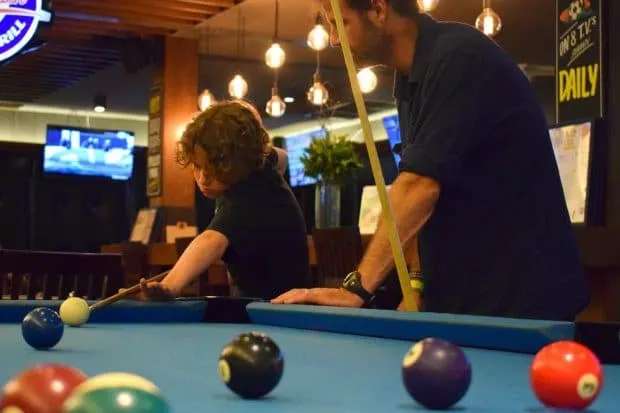 We liked that the kids' club ( Kids World) wasn't a baby-sitting service, it was entertainment for the kids which they chose to use or not, it wasn't just a place to leave them.
From the Moment We Checked in, Happy Children Were Priority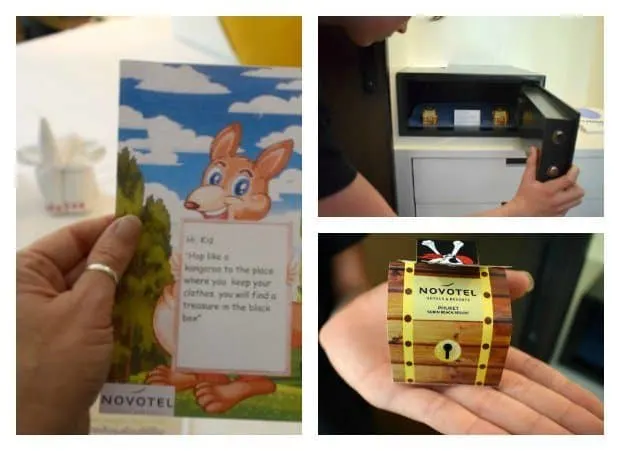 The staff at Novotel Phuket Surin Beach won our kids around from the second we arrived. Delicious welcome drinks, cool towels and a speedy check-in brought us painlessly to our hotel room. When the boys opened our door to see two beds set up for them with giant cuddly bears, Pokémon, and Nemo bedding, they knew they'd arrived somewhere that made kids feel special.
Exploring the master-bedroom they discovered a mini treasure-trail laid just for them. The clues lead them to chocolate rewards hidden away in a secret spot.
Towel elephants, a fresh fruit bowl and some inspired melon carving captivated them before they even saw the pool and slides right outside our sliding glass doors.
Food and Dining at Novotel Surin, Phuket, Thailand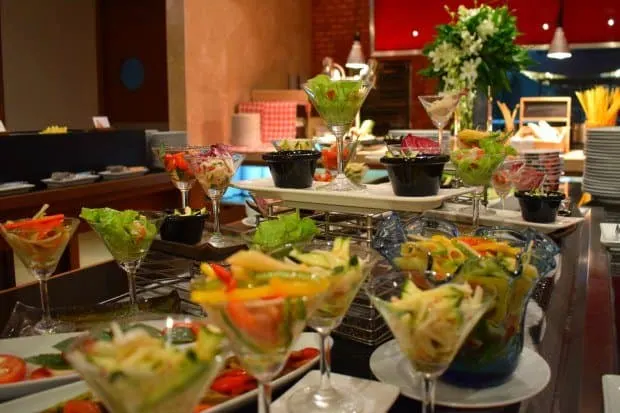 My husband is an executive chef and has worked in 5 star hotels for many years. Even though the Novotels hold 4 star ratings, the food was excellent. Breakfast was good and extremely diverse, featuring everything you would expect and more. The head chef here is from the US, he produces American classics, burgers, nachos and pizzas alongside good quality Thai food.
The hotel also has its own sushi bar and the Japanese food we tried was world-class. This is a chef with a lot of experience and a good kitchen team.
The hotel has various special dining events, we tried the Italian buffet evening. This was a real treat for the kids as they were tired of Thai food after 5 weeks of travel, pizza and pasta made to order was excellent and they tried and enjoyed just about every dessert on the buffet.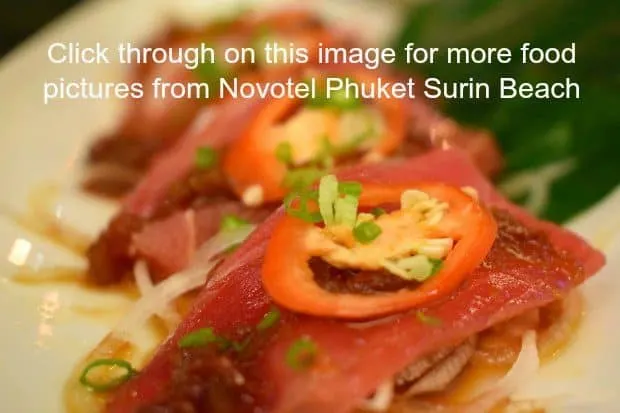 I would have liked to see a greater selection of wines on offer, wine varieties were limited.
The coffee maybe wasn't spot on, but it was free-flowing.
Other Facilities at Novotel Phuket Surin Beach
During our stay we tried out the spa, enjoying a 90-minute couples massage. I'm not a massage connoisseur but my husband was very pleased with his sports massage. It helped his recovery from the Phuket Ironman event that he'd completed that morning. The Ironman is at Laguna Beach, very close to Surin Beach indeed.
Guests can also enjoy a reasonably well-equipped gym at Novotel Surin Beach Resort. Gym staff coach Thai Boxing sessions for both kids and adults. Our whole family took a half hour boxing class it was a lot of fun.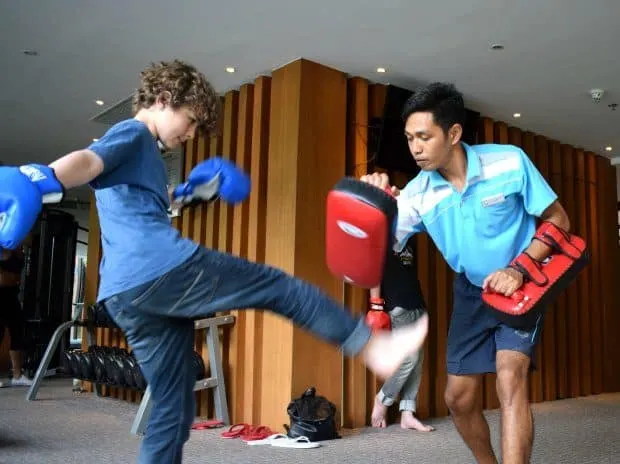 This hotel has only recently been rebranded as a Novotel and a hand-over is always a tricky process. What we saw during our stay was extremely impressive, to have everything running so smoothly in such little time is no mean feat to pull off.
The new Novotel Surin Beach Resort will, we hope, continue to get better and better as new plans are implemented. We left happy and impressed and had we booked this hotel for a family stay or even a relaxing couple break, we would have been pleased with our choice. We are more than happy to give Novotel Phuket Surin Beach Resort a very good review on our blog, all views are our own, we are under no compulsion whatsoever to give favourable reviews.
So thanks to Novotel for inviting us along.
Novotel Phuket Surin Beach Contact and Information
Website : Novotel Phuket Surin
Address: 106/27 Moo 3,
Cherngtalay,
Talang,
Surin Beach
83100 Phuket
Thailand
Tel: +66 76 303 300
Fax: +66 76 300 303
Email: info@novotelphuketsurin.com
Back to our main Thailand Travel Page.
Back to our main Phuket Travel Page.
For you, for Pinterest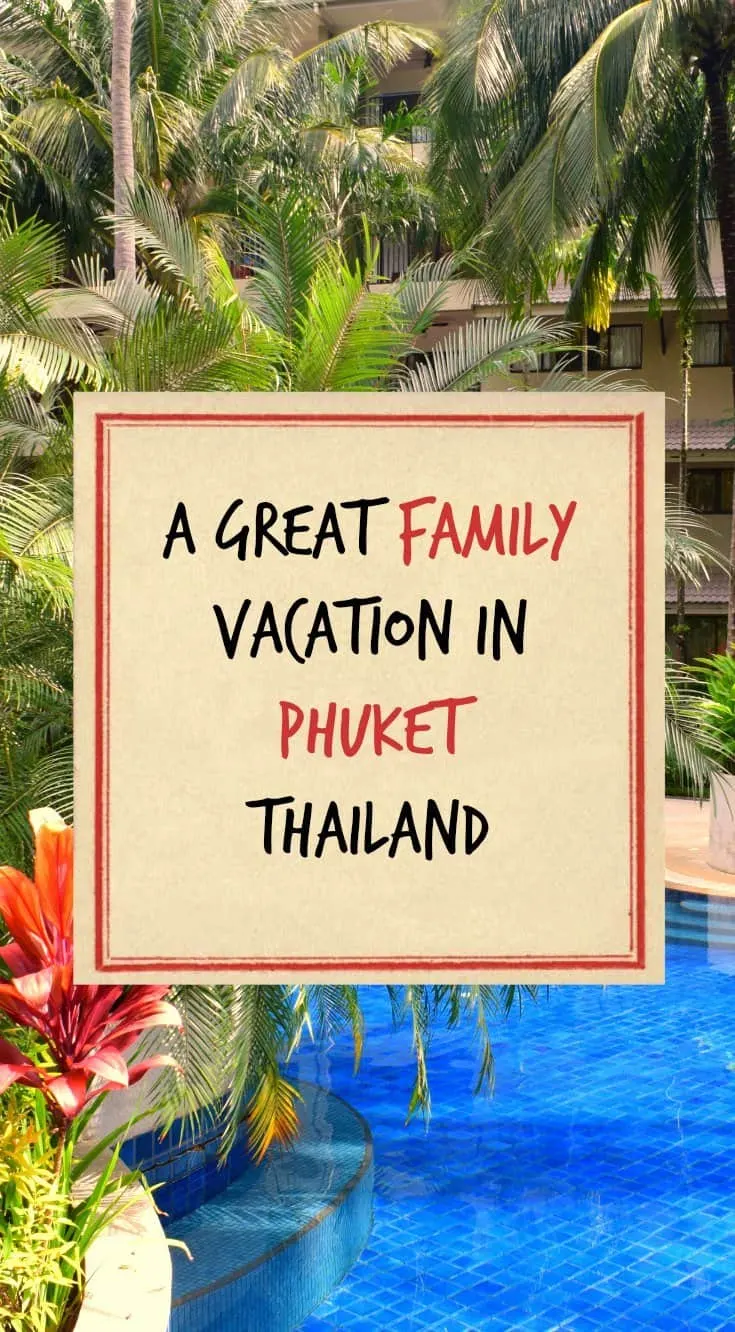 If you'd like to hire a car during your stay, use this car rental comparison tool to find the best deal!

We also suggest you take a look at this company to get a quote for all kinds of the more tricky adventure or extended travel insurance.

Try Stayz / VRBO for an alternative way to find rentals on homes/apartments/condos in any country!