This post may contain affiliate links.
Yesterday my husband, chef and dad at World Travel Family, competed in the Ironman Thailand Phuket half distance Ironman event. This was his second event in a couple of months, most recently he completed a full distance Ironman event in Tenby, Wales. (See photos and write up on Ironman Wales 2016 here). We travel the world competing in these events, usually sharing some images and words on the races on our websites and social media. Photos from Ironman Phuket 70.3 below,
It was an incredibly hot day, everyone suffered in the heat, so an extra well done to all the athletes competing. Those ice baths at the end were very much needed. Chef was in worse shape after this one than the full distance event in Wales. He wrote about the Laguna Phuket Ironman Thailand from a competitor's perspective on his website.
This time we caught up with an old friend, also competing, an ex Port Douglas triathlete and training buddy. He did superbly well, finishing 5th in his age group. He's worked very hard to get there, Chef is more….relaxed!
Photos from Ironman Phuket 2016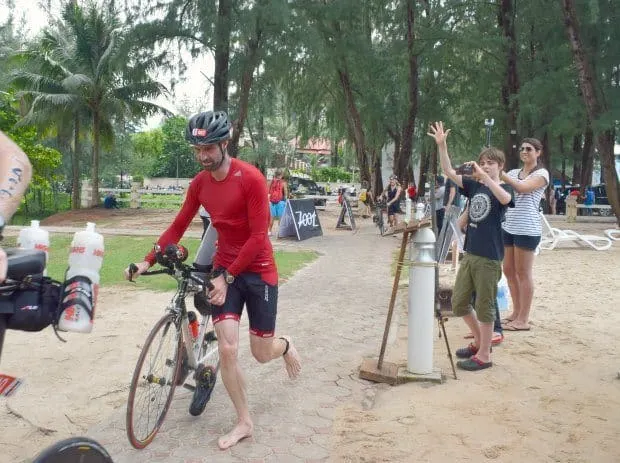 First time we caught up with Chef, at the bike-run transition behind Laguna Beach, Phuket.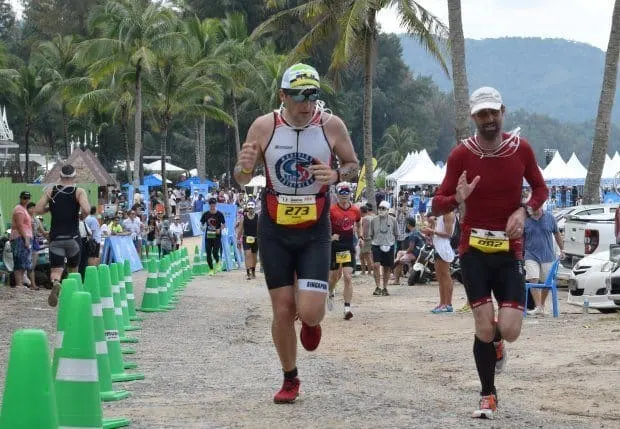 The first lap of the run and he still had the energy to wave.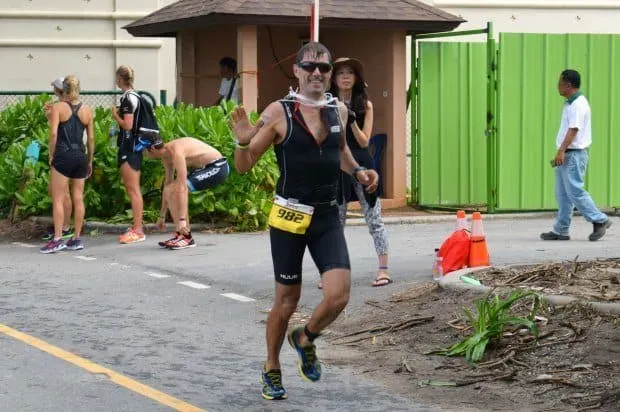 Fellow Ironman and former training mate Alan was looking more comfortable.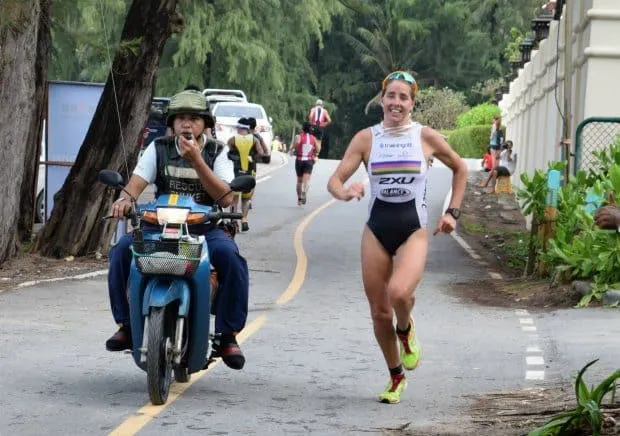 First woman coming in with a big smile on her face. 9th overall in 4 hours 21 minutes, Thailand-based Amelia Watkinson of New Zealand (The winner of the men's race was Tim Reed of Australia with an incredible 3 hours 48 minute time. (see full race report and split times here)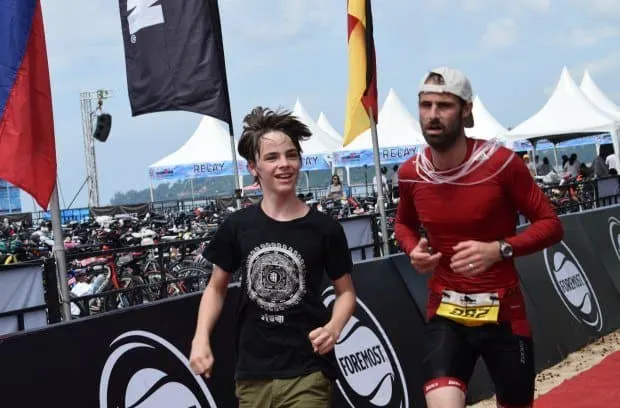 Kids were welcome to cross the finish line with their Ironman parents. D last did this when he was 6 years old in Cairns, unfortunately, that practice has now stopped for the Queensland event.
Chef was too out of it to even know what was going on by the finish, all he could think about was getting over that line.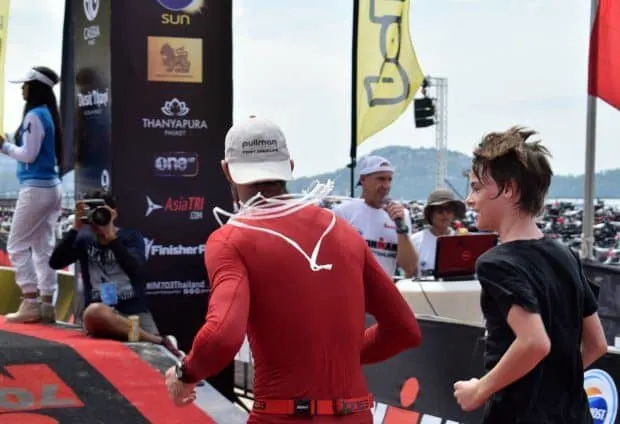 He made it, just. The heat was evil, the ice baths and Thai helpers on the other side of the line were very much-needed. As always, the atmosphere at the finishing line was fantastic, the joy and relief on those athlete's faces was contagious.
Some managed a little victory dance, some barely made it.
Chef finishes in 5 hours 26 mins, Alan in 4 hours 53 mins.
After Ironman Thailand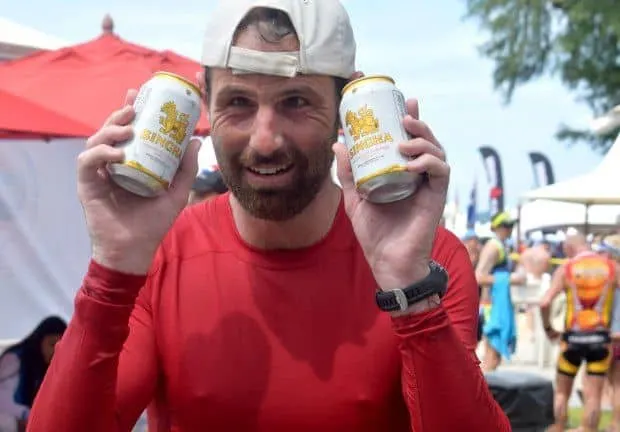 A good long while later our Ironman was on his feet again, free beer for all competitors. Thanks, Singha, my favourite! Chef was in no state to drink beer after the race so his sister and I got lucky. It was very welcome in the heat.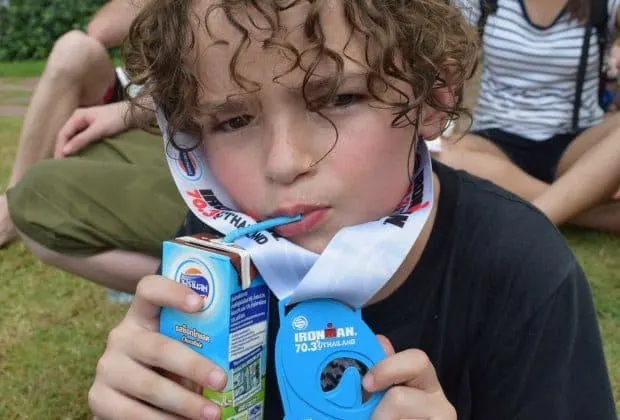 This event wasn't as well supported as other events we've attended, there were no cheering crowds lining the route, Wales was superb for crowd support. For those of us who did attend, it was a long, hot morning, eased by the sponsors, Foremost, makers of rather good chocolate milk.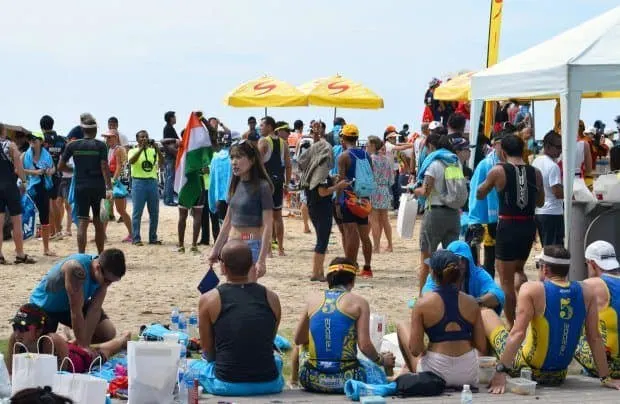 Athletes collected a lunch bag and got their strength back behind Laguna Beach. The food was good and we greatly appreciated that families could join their Ironman, sometimes this part of an event is athletes only, so family competitors rush out and can't enjoy it. It was great to sit and chill.
The athletes were loving this shower.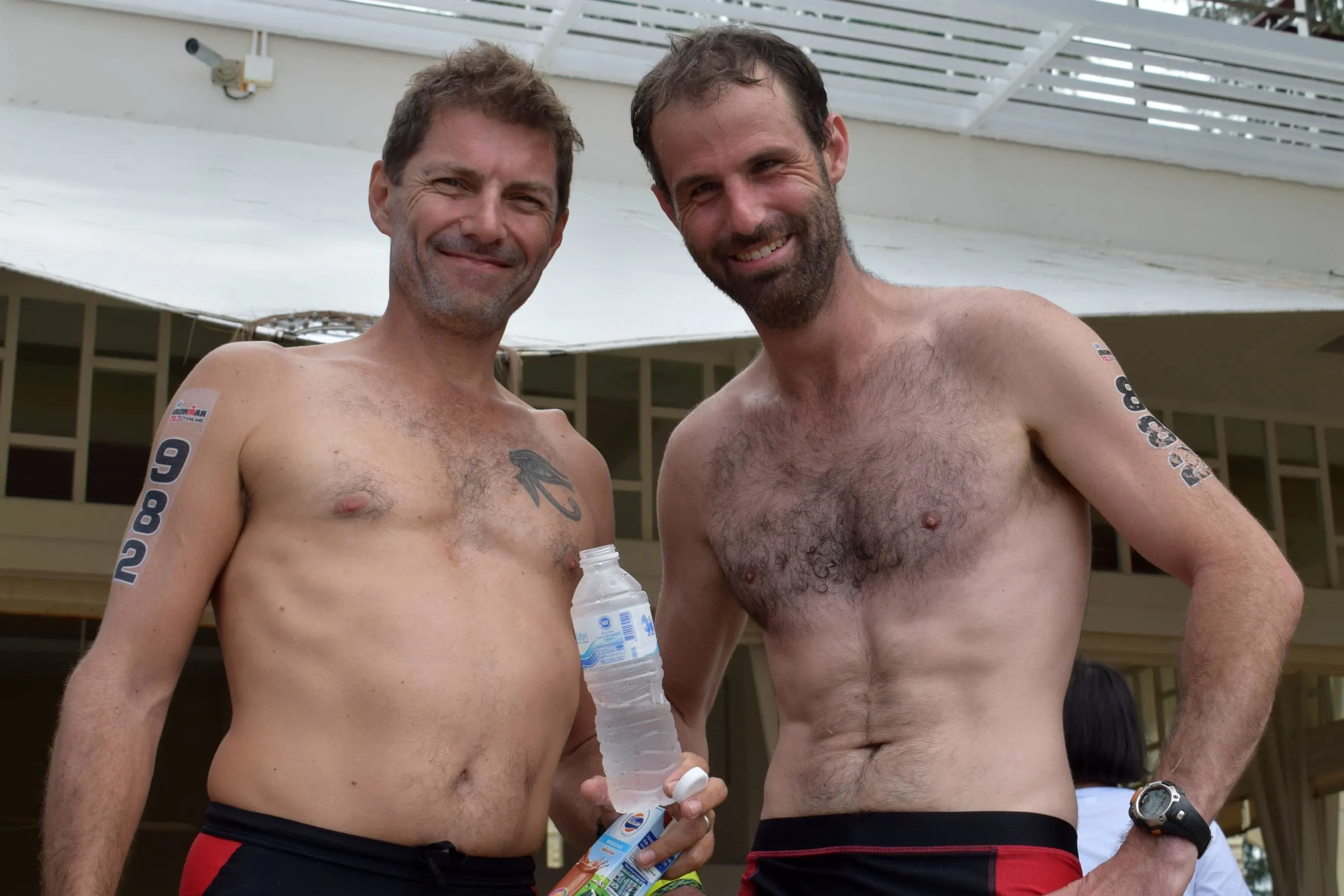 Getting back to normal after a sit-down and some food.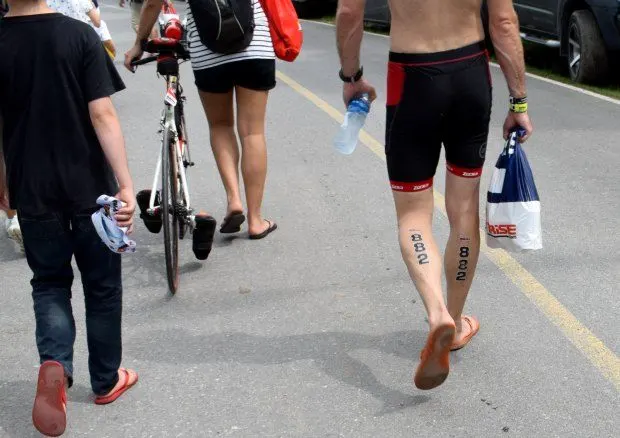 All over, time for a soak in the hotel pool and massage in the spa. What's next for our triathlete? 2017 could involve Ironman China. But we like to keep surprising you all.
Chef shares more about Ironman Thailand and triathlon on his site World Travel Chef, I'm just a spectator. Back to our main Thailand Travel page here.
If you'd like to hire a car during your stay, use this car rental comparison tool to find the best deal!

We also suggest you take a look at this company to get a quote for all kinds of the more tricky adventure or extended travel insurance.

Try Stayz / VRBO for an alternative way to find rentals on homes/apartments/condos in any country!