We're here in Vietnam with kids, two of them, plus two parents. Our first three days in Saigon (the wider area is Ho Chi Minh City) were sensational and I'll tell you a bit about how that went and all the wonderful things to do in Saigon along with where to stay and what to eat. We're in Saigon with kids, but our list of things to do should work for anyone. We had one major hiccup, lost baggage (see the end of the post), but it all came good in the end.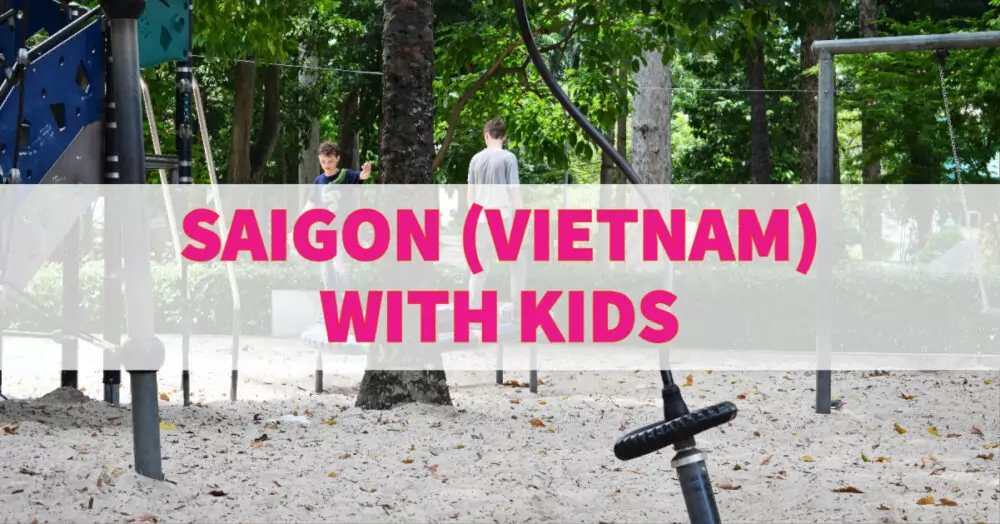 Saigon with Kids
Let's get Saigon on the blog. We loved Saigon, it was interesting, fun, our hotel was great and the food was good. We found prices to be very low for the quality we got and hotels were noticeably cleaner than usual for Southeast Asia. Saigon was a winner.
It's sad to see the internet being dominated by "Things to do in… " posts written by webmasters who haven't visited the destination, using stock images and brief snippets of information. This travel blog is real. We go there to bring you this content at our own expense and we travelled for over 6 years, ongoing. Thanks for being here.
Things To Do in Saigon With Kids
Here's a quick list of some of the best things to do in Saigon with kids
Find the playgrounds, hang out and use the play equipment at Tao Dan Park.
See a Water Puppets Show.
Watch a Lune Theatre performance.
Take kids to explore the Cu Chi Tunnels.
Visit the War Museum, but use discretion.
Visit Central Market.
Enjoy street food on the Walking Street Night Market in District 1
Take a cyclo tour of the city.
Visit a Hindu Temple
See a Cao Dai Temple
We had a few things to do in Saigon with the kids that we'd been looking forward to for years. Top of the list was the Cu Chi Tunnels and Cao Dai Temple tour.
This full-day tour, we organised in advance because we knew we'd be short of time.
It's easy to organise tours like this on the ground, but you need time to visit multiple local travel agencies and find the one willing to offer you the best deal.
They like to charge you as much as they can get away with in Vietnam. Meaning you need to do your research and have some travel smarts before agreeing to part with cash.
Because we booked in advance we had a pick up from our hotel on the day we'd arranged, allowing ourselves one day of in-country time-zone adjustment first. See how we organised that below.
I'm very glad we didn't do this tour on day 1, our body clocks were totally upside down but within a few days all signs of jet lag had passed.
We gave ourselves time to wander around Saigon, explore, eat amazing food, check out the market and visit the war museum.
Combined Cu Chi Tunnels and Cao Dai Temple Tour (with Video)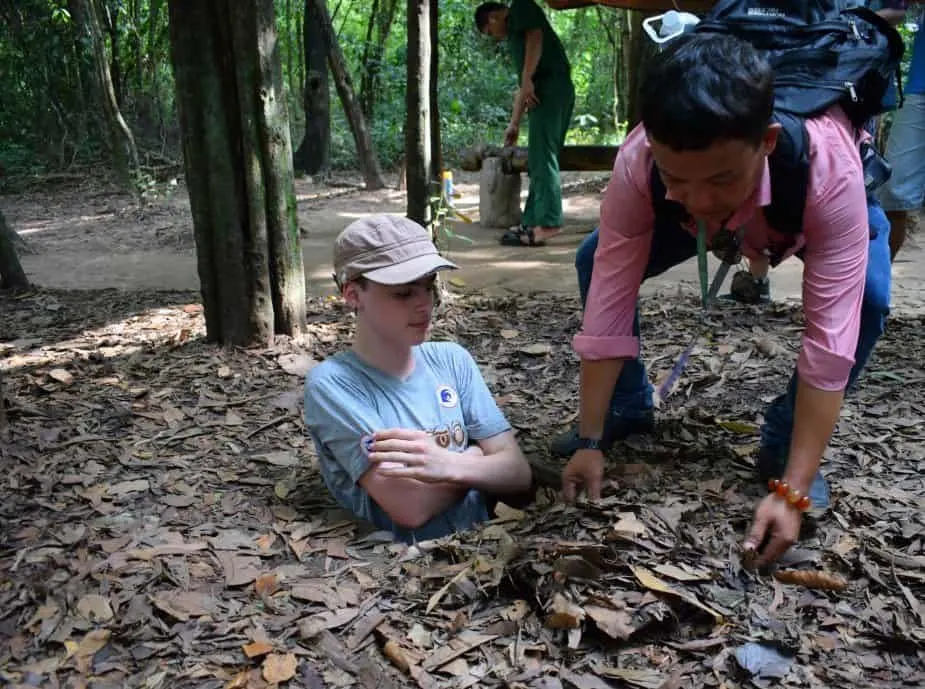 As I said, we booked this in advance and we visited both the tunnels and Cao Dai temple in one day ( book this tour here) and all transport, admissions, lunch and drinks included.
You can also visit the tunnels by themselves as a half-day tour ( see here). Of all the things to do in Saigon, this is our top pick. We can highly recommend this company, Get Your Guide, we've used them all over the world and when we expressed an interest in booking they extended us the offer of being their guests for the day, an offer we were very glad to accept despite the cost of these tours being low. All views are our own, as always.
We made a video of our tour, hope you like it.
To Book This Saigon Tour and Others in Advance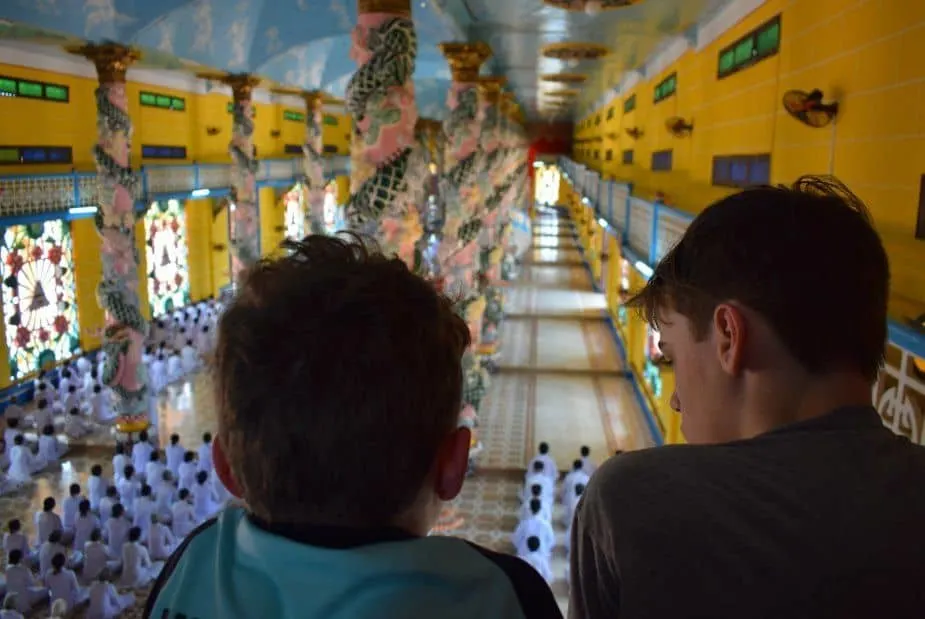 In Vietnam you may have more opportunities to see Cao Dai Temples ( there is a small one in Hoi An), but this tour guaranteed we got to see a ceremony, and it's well worth the trip. Other tours are possible from Saigon including Mekong Delta tours, dinner cruises, evening shows and food tours. Check out the options below.
Hindu Temple – Mariamman Temple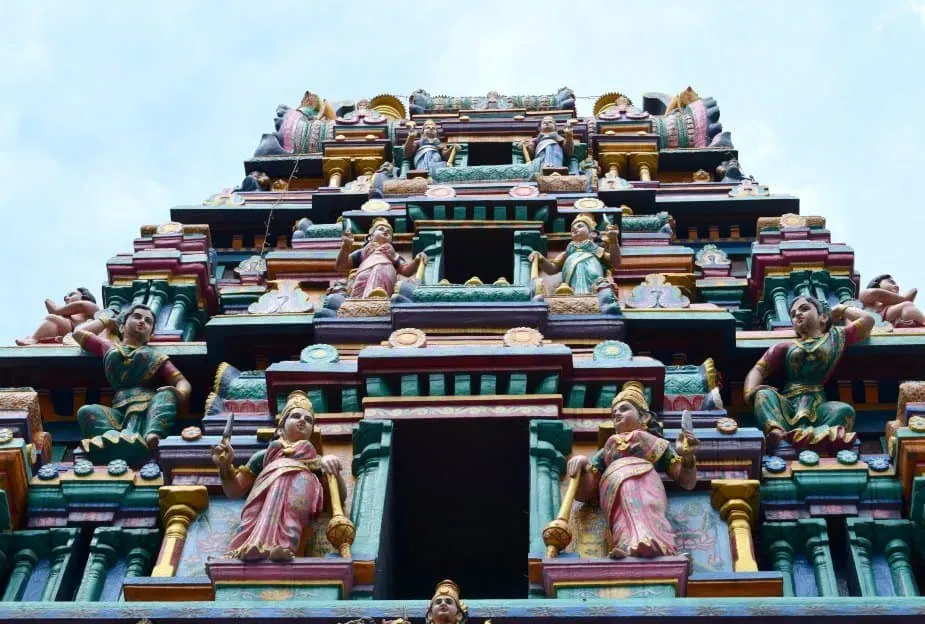 There are actually several Hindu temples in Saigon but Mariamman is the most significant. Visitors are free to enter so long as they show proper respect. When we visited the temple was busy with worshippers and Brahmins performing ceremonies. This temple is beautiful inside and out and is well worth a look as you explore this area of Saigon.
The War Remnants Museum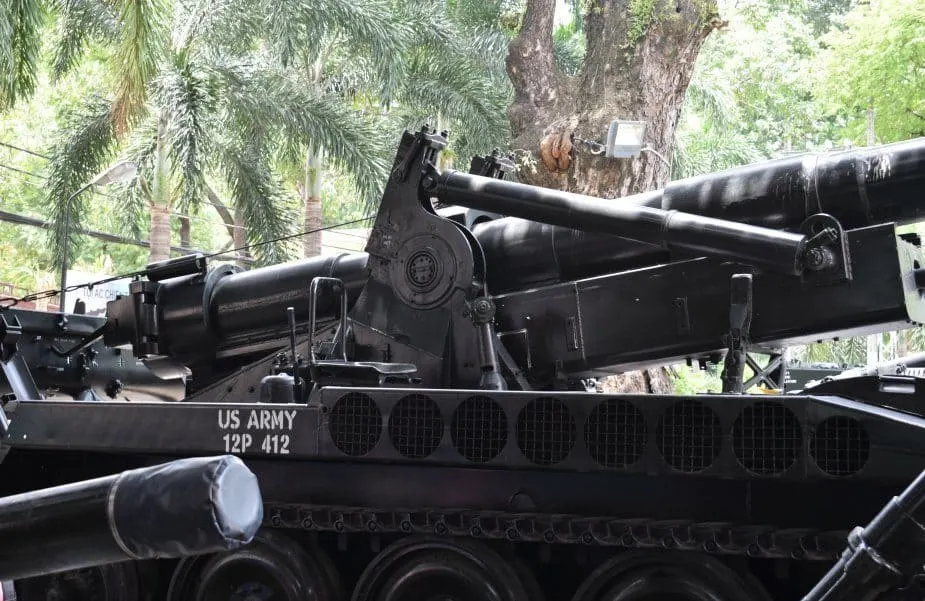 The War Remnants Museum is a must-do in Vietnam and a stark reminder of the atrocities of the Vietnam War. You'll find that in Vietnam it's called the American War. This one is popular, over half a million people visit annually.
Military hardware crowds the grounds, Fighter planes tanks and huge guns pleased the kids no end. To one side you'll find a mock-up of a prison and holding pen. It could be a little graphic for sensitive children. On the ground floor, there is plenty to learn, upstairs, proceed with caution if you have kids.
That floor is harrowing and I steered my younger son away from the more gruesome parts. It's still well worth visiting and the photography exhibition on the top floor is superb. Up here you will also find graphic images of disabilities caused by Agent Orange. Detailed posts will come on all this soon, I just wanted to check in and say hi before getting down to the serious work.
Central Market – Ben Than Market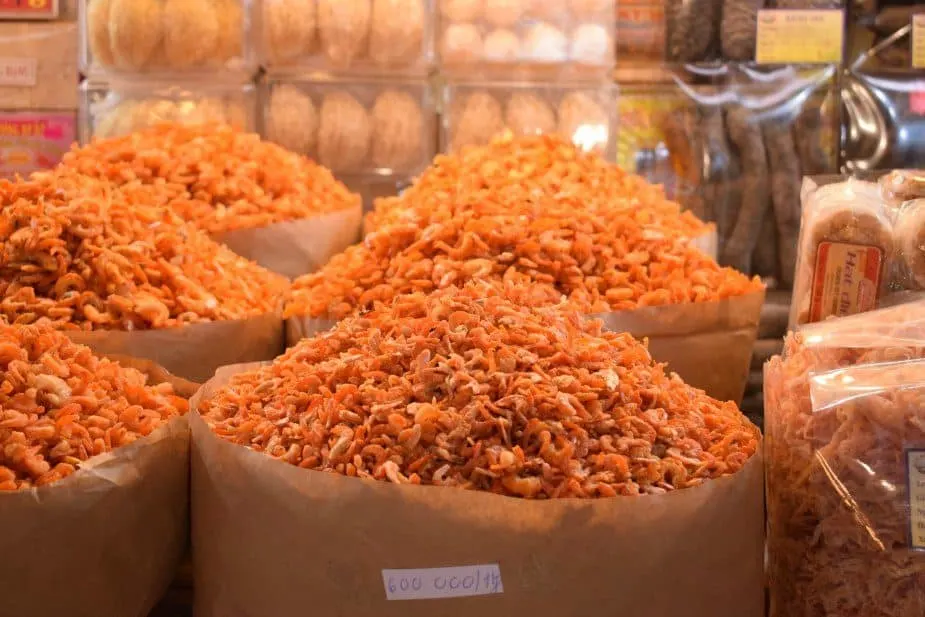 You can find almost anything at Ben Than Market in the centre of the city. It's an interesting place to explore and the historic building goes back to the 1880s. This one was within walking distance of our hotel in Quan 1.
Tao Dan Park – Playground, Sculpture, and Coffee Shops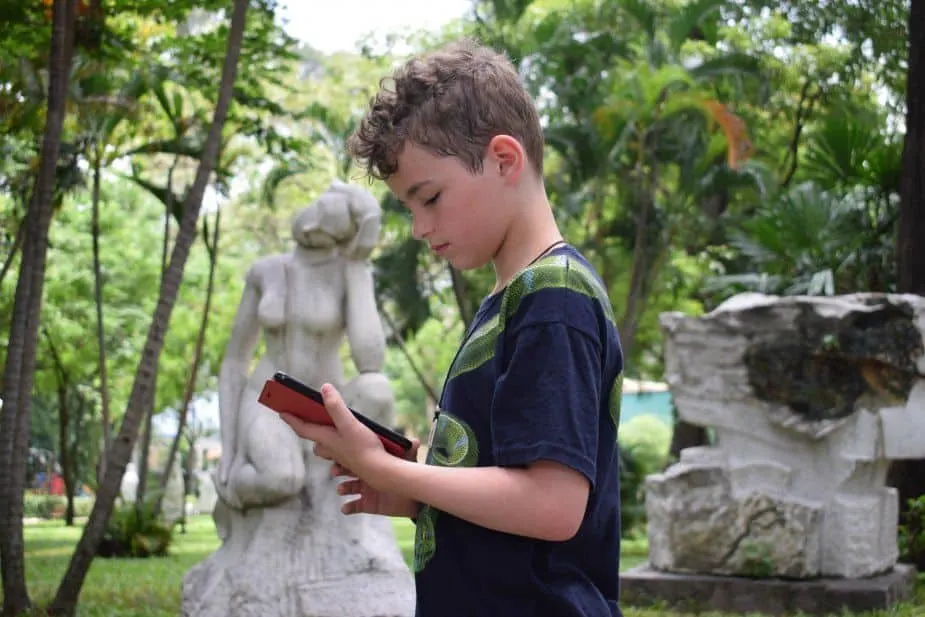 Tao Dan Park is a green lung in Saigon. Lovely shaded areas, well-manicured gardens and a sculpture park are a pleasure to explore. For kids there is a nice playground with good equipment for climbing and a coffee shop or two to take a break from the heat. This park isn't far to walk from the backpacker accommodation of district 1 and is close to Ben Thanh Market and Reunification Palace. The park covers some 10 hectares and includes beautiful shrines and pagodas.
Arts and Crafts Helping the Victims of Agent Orange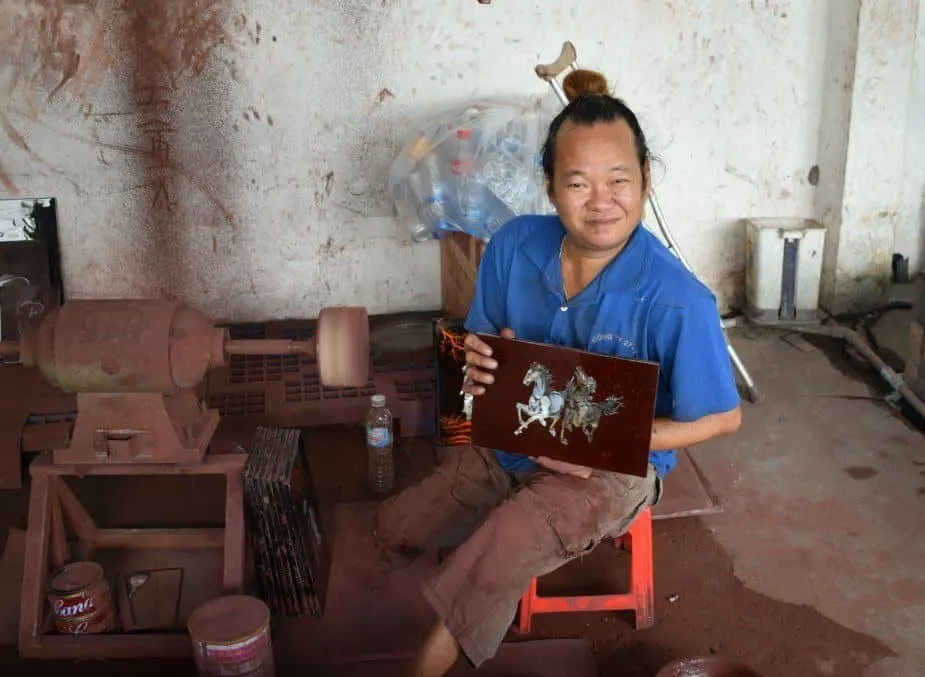 This one is a bit of a cheat as it was included on our tour above, but we enjoyed it so I wanted to mention it. It was certainly an eye-opener for the kids. Disabled people at this facility make beautiful art out of duck egg shells and resin. It's a retail opportunity, for sure, but it was very interesting to visit.
Walking Street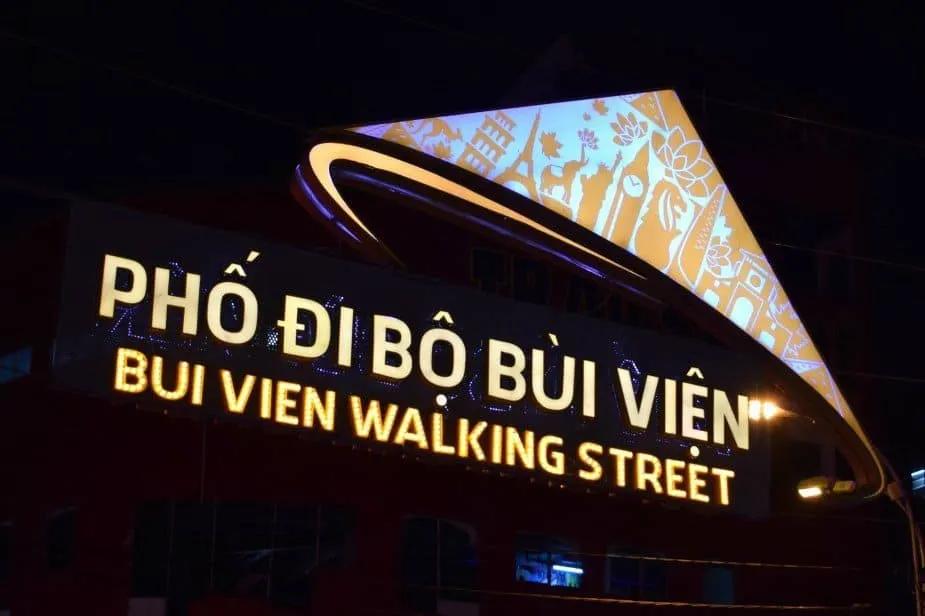 The main walking street, Bui Vien, is a good place to get dinner. It's full of small restaurants and surrounding streets have plenty of street food. Modern bars predominate at one end, but mostly it was pretty quiet. We stayed nearby in the backpacker area or District 1.
Saigon with Kids – Where to Stay in Saigon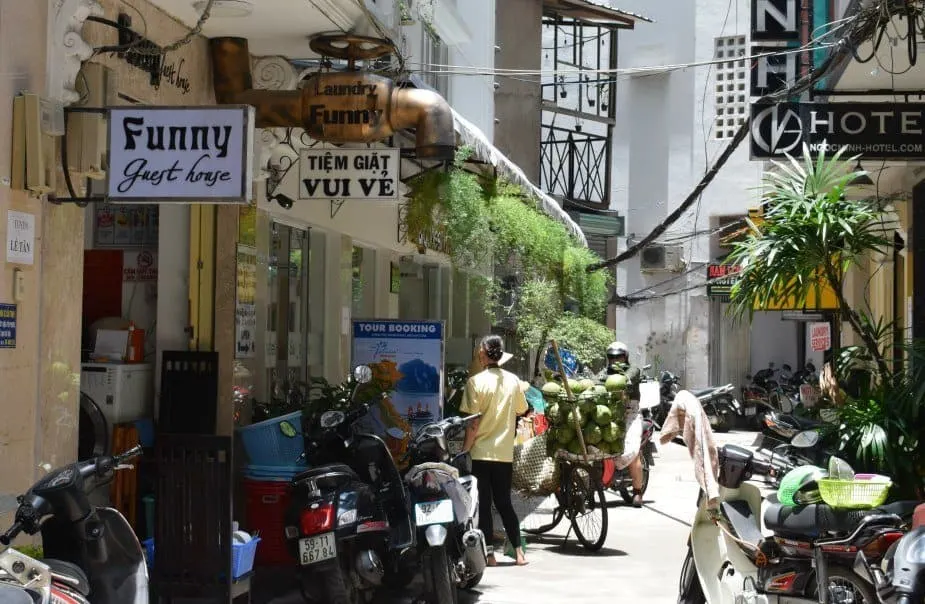 Quan 1, District 1 of the city was our choice. This quiet, clean, traffic-free side alley is a great place to base yourselves in Saigon and we can suggest 2 hotels we know are good. and have family rooms. There are plenty more here to choose from.
If you'd like to stay in the backpacker area, near the walking street but in a quiet, clean, side street, we can recommend the street we stayed on. We were sent here by friends who personally recommended Funny Guesthouse. That one was full so we took a family room in Phan Lan 2 Hotel, just 2 doors up. We had a room for 4 plus breakfast for under $30. It was immaculately clean, the staff were ultra nice and breakfast was good.
Arriving at Ho Chi Minh Airport, Lost Luggage, and Transfer to Saigon City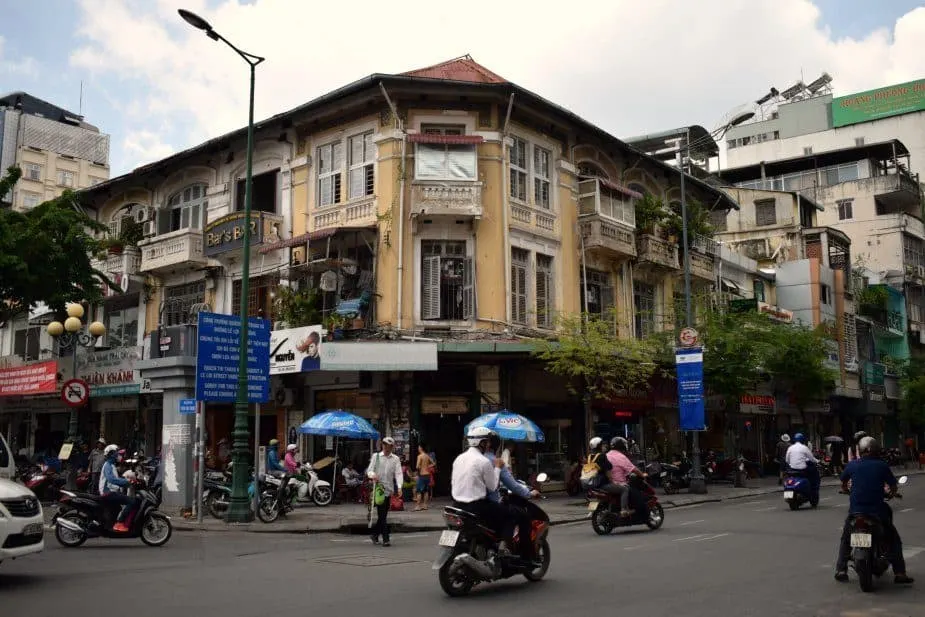 We flew from London, to Kuala Lumpur and on to Saigon with Malaysian Airways. At Heathrow, we sat on the runway for two hours as we waited for other connecting passengers to arrive. Our 12-hour flight became 14, but it was tolerable. The A380 s are pretty comfortable and in-flight entertainment kept us busy right from the moment we boarded.
The delay meant we had to get from one plane to the other pretty fast at Kuala Lumpur. We obviously moved faster than our baggage and the conveyor belt at Ho Chi Minh was devoid of anything from London. It's worth mentioning that this is the second time our bags have been lost during transfers at Kuala Lumpur airport.
The lost luggage office in Vietnam handled everything flawlessly, we filled in a form, handed over our luggage receipts and waited just a few hours before our bags (and Chef's triathlon bike) turned up at our Saigon hotel. It actually saved us the hassle of lugging our bags across town. At the airport we picked up a local sim card ($15 for about 17 GB) and paid in advance for a taxi, about $10 into town.
You should most certainly pack a toothbrush and clean underwear in your carry-on for days like these!
Note on Visas and Currencies for Saigon
Visa requirements change, please check this info, this was the situation when we were last in saigon.
You can get a 2-week visa on arrival for Saigon and it's free( for the right passports), but we have a 3-month visa, this has to be arranged in advance, either through an agency or through the Vietnamese Embassy in your country. We arrived with a form giving us permission to stay 3 months and had to pay in in US $ at the airport. Make sure you bring dollars with you.
Your Pinterest Image
Is Saigon Child Friendly?
Yes, Saigon is child friendly if you visit the places children will enjoy, keep them safe, particularly around busy roads, and don't make them walk too far! The heat can be really intense, so keep kids hydrated and out of the full sun and heat at the hottest times of the day. There is a lovely park and playground in the heart of Saigon which our kids loved and Vietnamese food, and people, can be very child friendly. If you have picky eaters you will be able to find western fast food in Saigon. Keep a close eye on your kids in crowds, hold hands, and just look out for them as you would in any city. There are dangers everywhere, nowhere is completely safe for kids or adults but we've always felt safe in Saigon.
Onward From Saigon
From Saigon we later travelled on to Hoi An. We took the sleeper train up from Ho Chi Minh to Danang and then transferred to Hoi An by road which was super easy. Unfortunately in Hoi An another hiccup, our accommodation fell through leaving us stranded. The good news is, we've now found a house. It's beautiful and it's cheap, more on that later. I bet you're dying to see what the cash-strapped digital nomad backpacker types call home in Vietnam.
So there you go, plenty of things to do in Saigon with kids, some awesome experiences for our family and some ideas for you on your travels. I haven't mentioned everything, but we'll be back in Saigon soon to check out more options. We're here a long time to bring you the best information we can. You can see our full Vietnam travel blog and guide here. We've had a lot of ups and downs in the last week, but mostly we've kept the smiles on our faces, we're really looking forward to the next couple of months settling into Hoi An. Can I just mention how amazing the food is again too? So over to you, any thoughts on Vietnam, any plans to visit? Pop back up to the top of the page and book that tour!
If you'd like to hire a car during your stay, use this car rental comparison tool to find the best deal!

We also suggest you take a look at this company to get a quote for all kinds of travel insurance.

Try Stayz / VRBO for an alternative way to find rentals on homes/apartments/condos in any country!