This post may contain affiliate links.
Tet, or Tet Nguyen Dan is the biggest, most important holiday, festival, or celebration in Vietnam. It marks the arrival of spring and is Vietnamese New Year, according to the lunar calendar. As it is based on the Lunisolar calendar, the date of Tet in Vietnam will vary on the Gregorian calendar each year, but Tet itself is several days, not just one. Tet is marked by the first night of the new moon and this can fall on any day of the week. Tet Nguyen Dan means feast of the very first morning and we were lucky enough to be living in Vietnam for the full duration of the Tet festivities, as well as western Christmas and New Year. Tet was a very beautiful time of year in Vietnam celebrated with flowers, family, traditions, cleaning, and feasting. Our Vietnamese friends shared some of their traditions with us over the Tet holiday.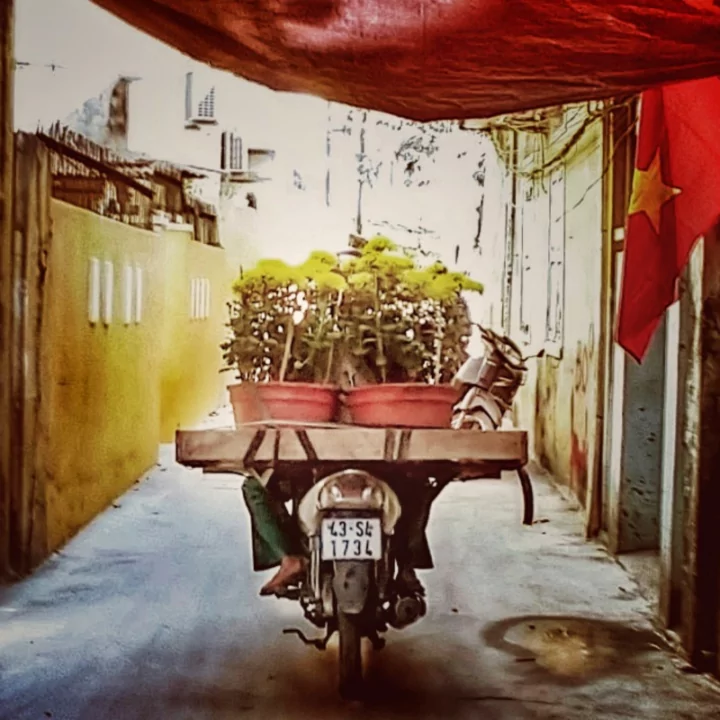 Tet in Vietnam
We've found all the information we can on Tet in Vietnam, including dates, personal experiences, what to expect, and information on whether or not Tet is a good time to visit Vietnam. All of our photos are original, taken by us in Vietnam during Tet.
Tet has several days and is a period of time rather than one day. There is a first day of Tet, second day of Tet, etc. Different traditions, specifically visiting family and respected members of society, are associated with each day. There is also the before, during, and after Tet periods. You will see much cleaning before Tet but during Tet sweeping is thought to sweep out the good luck. I wish we'd known all this in advance because we certainly didn't do too well with Tet etiquette.
Ông Công, Ông Táo Day (Kitchen God day) This falls on the 23rd day of the old year according to the lunar calendar. Our landlords visited with offerings and incense for our kitchen shrine.
Wrapping Chung cake "Banh Chung". This cake is symbolic of Tet.
Family reunion and Tất niên, a new year's dinner for family. Giao thừa – New Year's Eve. With prayers to God and Ancestors. Xông đất involves the first visits to a family after the new year. Rather like "first footing" in the west.
First day of the new year. Visit paternal relatives on the first day.
Second day of the new year. Visit maternal relatives.
Third day of the new year. Visit teachers.
Hóa vàng is the burning of offerings for ancestors. Offerings are often paper items symbolic of items used in life, you'll see paper clothes, shoes, and money for sale in shops for this purpose. This happens on the 4th day of the New Year. You will see offerings to ancestors being burnt often in Vietnam, not just after the Tet period.
Businesses will be reopened on an auspicious date, sometimes with dragon dancers visiting. We've seen this in Vietnam and in Kuala Lumpur, in small shops and huge malls. It's spectacular to see.
Tết Nguyên Tiêu is the final day of the Tet new year period and is normally on the 15th day of the new year. It may be marked by a lantern festival. We lived in Hoi An, lantern festivals go on all year. In fact, there are lanterns lit every night in Hoi An (for tourists), festival or not.
Please check all information in this post for yourself, we've given source links where possible. We aren't Vietnamese, we're just trying very hard to find out and to inform ourselves.
Tet in Vietnam 2023
When is Tet in Vietnam this year? In 2023 Tet in Vietnam should fall on Sunday 22nd January, with the holiday period being 21st January to 27th January (Sat to Fri).
Tet in Vietnam FAQs
When is Tet in Vietnam?
Tet takes place from the first day of the first month of the new year according to the lunar calendar (usually late January to early February) to the third day of the new year. Prior to the Tet holiday, you will observe many preparations in the form of house cleaning and decorations. Tet itself is marked by a public holiday, with most businesses being closed.
There may be organised celebrations with most families receiving visitors or visiting important members of their family and society during Tet. Our Vietnamese hosts visited us on the second day of Tet with traditional "lucky money" for the children.
Prior to Tet they gifted us a kumquat tree. If you're in Vietnam on or around Tet you will no doubt see Tet activities. It's a very beautiful time in VietnamWhen is Tet in Vietnam 2021? In 2021 Tet (Tet Nguyen Dan) in Vietnam falls around Friday February 12 th 2021 with the holiday lasting from the 10th to the 16th of February. The festivities can last 7 to 9 days.
Is Tet a Good Time to Visit Vietnam?
Yes and no. Tet is a wonderful festival to see and experience, and for this it's a great time to be in Vietnam. However, for travellers and tourists there may be some closures. Most tourist-focused businesses will operate. We found that tourist restaurants were open, however, most of the "local" restaurants and even the markets were closed. Usually hotels will still be open but you may have difficulty with buses, trains, and taxis. If you can find a taxi driver, expect to pay more during Tet. Of course, there will be a migration of people around Vietnam during the build up to Tet with people wanting to go home to be with their families. You'll find transportation options to be busy and likely full.
Is Tet in Vietnam the same day as Chinese New Year?
Yes. Both Tet and Chinese New Year fall on the first new moon of the new year, on the lunar (Lunisolar) calendar. They are on the same day. They are not on the same day as New Year in the West as they don't follow the Gregorian calendar. Tet and Chinese New Year are normally in late January or early February and the holiday period lasts several days with various traditions for each day of Tet or New Year.
Tet in Vietnam Traditions – Kumquats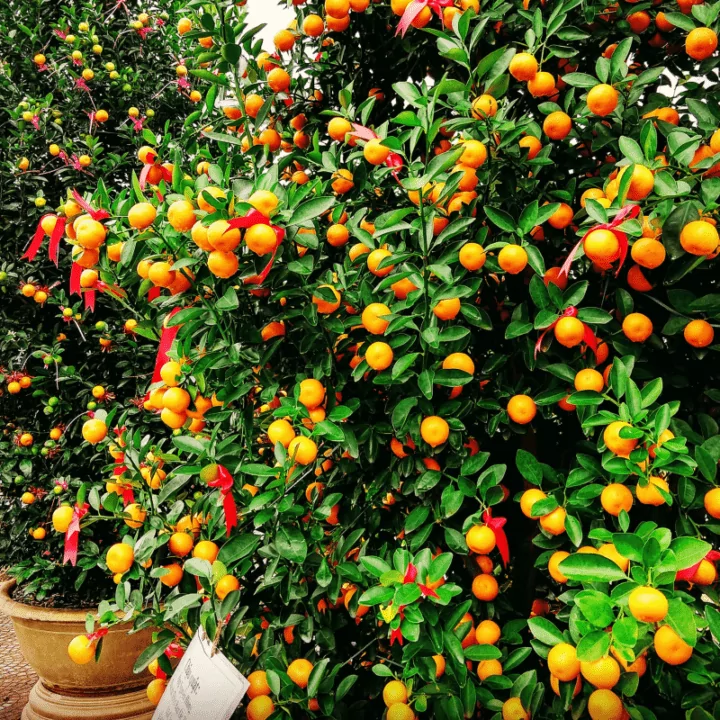 The Tet tree in Vietnam is the kumquat tree. Kumquats and kumquat trees are associated with Tet, good luck, and spring in Central Vietnam. In other parts of Vietnam, you might see cherry or peach blossom and trees.
During the Tet holiday, many people have a festively decorated kumquat tree outside their house. Ours was supplied, kindly, by our landlords. These trees or often rented from local growers for the Tet period.
We also attended a kumquat festival in Hoi An, just before the Tet holiday.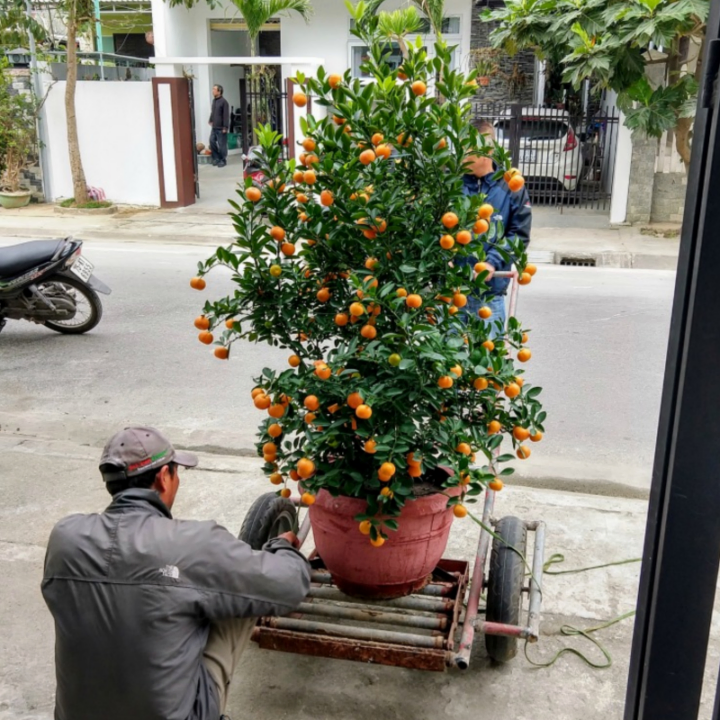 Does Vietnam Celebrate Lunar New Year?
Yes, Vietnam does celebrate Lunar New Year. In Vietnam the Lunat New Year celebrations are the Tet holiday.
Chinese New Year is Lunar New Year as celebrated in China and by the Chinese community, Tet is Lunar New Year as celebrated by the Vietnamese. Chinese New Year, Lunar New Year and Tet, are not the same thing, but they all fall on the same day or event, the beginning of the next Lunar New Year.
Lunar New Year is called Tet in Vietnam, or Tet Nguyen Dan in Vietnamese.
Tet in Vietnam Traditions – Lucky Money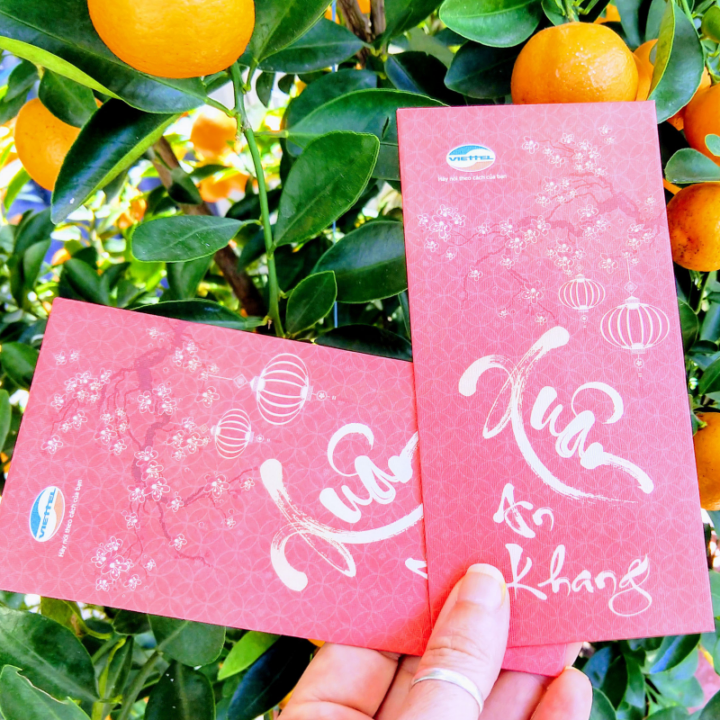 We didn't know anything about "lucky money" nor that it was associated with the Tet holiday in Vietnam until our landlords arrived, the day after Tet I think, with red envelopes for the children. It was a little embarrassing for us as we didn't know anything about the practice, and in our culture taking money from people is a little difficult. But we'll know for next time. I think maybe we were supposed to give their children lucky money too.
Vietnamese Tet Special Foods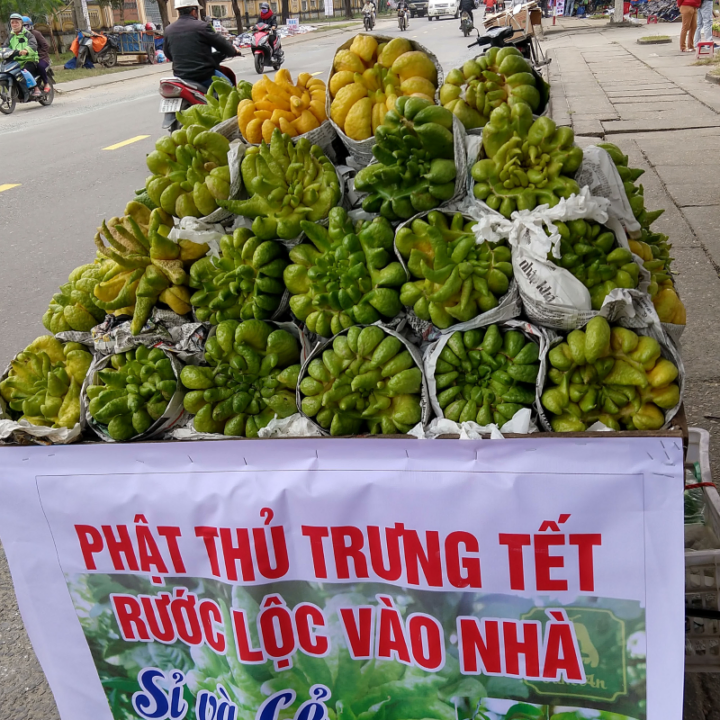 Tet involves feasting and the dishes associated with Tet include Chug Cake, pickled onions, and candied fruits. Our friends brought us some very spicy home-made pickled onions along with candied kumquats.
These Buddha's Hand fruits, in the photo above, we believe were intended as part of the traditional "five fruits" for offerings at family shrines. Friends told us this, but we haven't been able to find an authoritative source.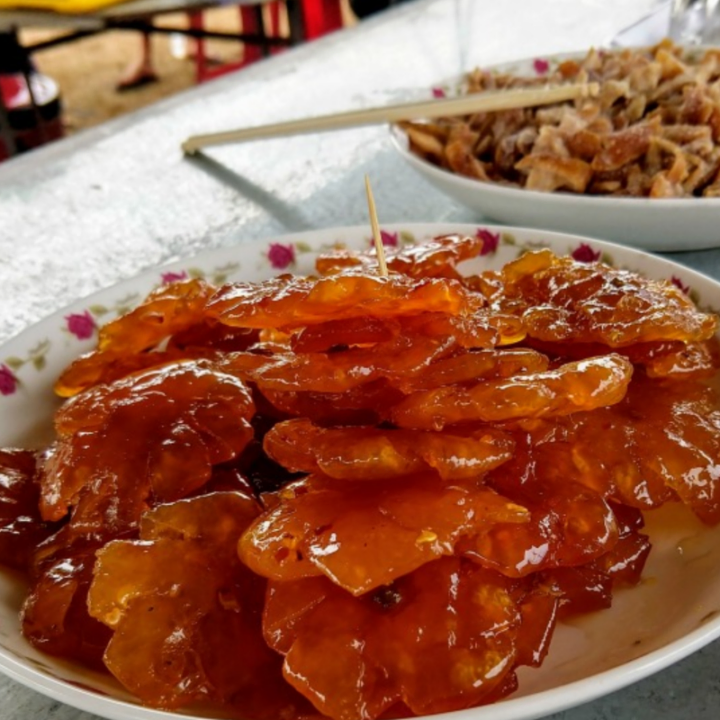 Other special foods consumed at Tet (source) include
Banh chung
Gio cha (Vietnamese sausage)
Thit kho trung (Vietnamese Braised Pork with Eggs)
Mut (Candied Fruits)
Melon seeds
Vegetable soup with pork skin (Canh Bong)
Dates For Tet This Year and Previous Years
| | | | |
| --- | --- | --- | --- |
| Year | Tet Date | Tet Period (holiday) | Chinese Zodiac. Year of the.. |
| 2024 | February 10th | 9th February to 15th February (Fri to Thurs) | Dragon |
| 2023 | Sunday 22nd January | 21st January to 27th January (Sat to Fri) | Rabbit |
| 2022 | Tuesday, February 1st | 31st January to 4th February (Mon to Fri) | Tiger |
| 2021 | Friday, February 12th | 10th February to 16th February (source) (Wed to Tue) | Ox |
| 2020 | Saturday, January 25th | unavailable | Rat |
| 2019 | Tuesday February 5th | unavailable | Pig |
| 2018 | Friday, February 16th | Wednesday 14th to Tuesday 20th February | Dog |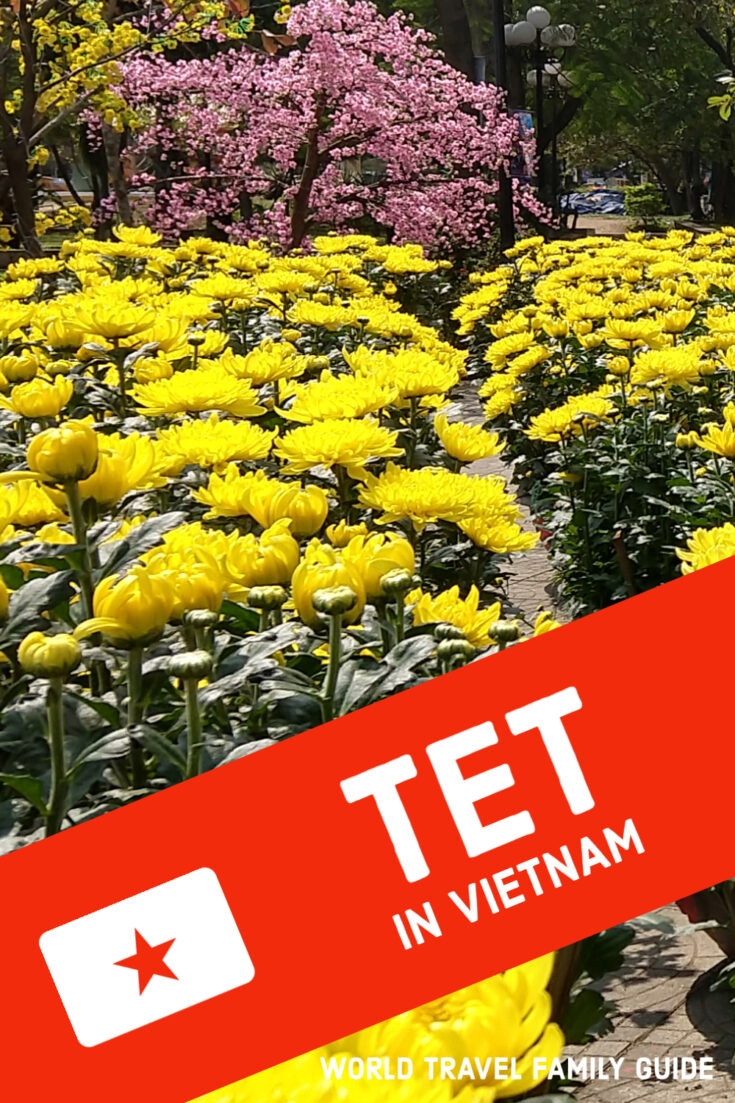 We hope you find our post on Tet in Vietnam interesting and useful. We have a lot of Vietnam content on this website as we lived in Vietnam and have visited often. Other Vietnamese content will be in the related posts and tags below. If you're looking for guides to Vietnam for travel or vacation, check out our Vietnam Travel Guide and Vietnam with Kids. Our post on Vietnamese food and eating in Hoi An should also be useful.
If you'd like to hire a car during your stay, use this car rental comparison tool to find the best deal!

We also suggest you take a look at this company to get a quote for all kinds of the more tricky adventure or extended travel insurance.

Try Stayz / VRBO for an alternative way to find rentals on homes/apartments/condos in any country!