This post may contain affiliate links.
Ho Chi Minh is about 930 km from Hoi An by road and is the largest city in Vietnam. The fastest way to get from Ho Chi Minh to Hoi An is of course, a direct flight (approx 1.5 hours) but there are cheaper and arguably nicer and more eco-friendly ways to make the journey.
Unfortunately flying to Hoi An from Ho Chi Minh isn't direct, neither is the train, both terminate in Danang. We cover your transport options in this post.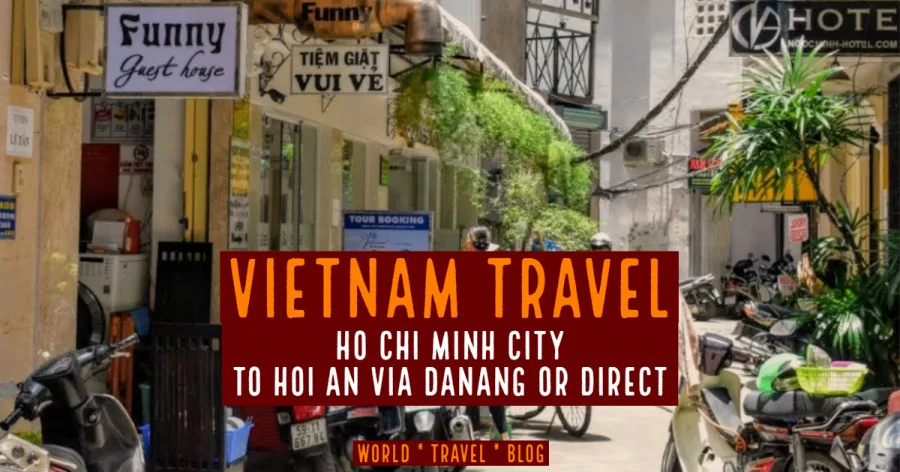 Ho Chi Minh was the old capital of South Vietnam during the American war. Back then it was called Saigon and the center of the city is still referred to as Saigon.
Hoi An is a small UNESCO-listed city located along a river just south of the DMZ and Da Nang, Vietnam's third-largest city.
Few people visit Vietnam without visiting Hoi An and getting from Ho Chi Minh to Hoi An can be done in a variety of ways. Some ways are better than others.
I made a little video on your options on this route (including the sleeper train) a bit further down the page and in this post we look at the best ways of getting from Ho Chi Minh to Hoi An, by air, rail or road.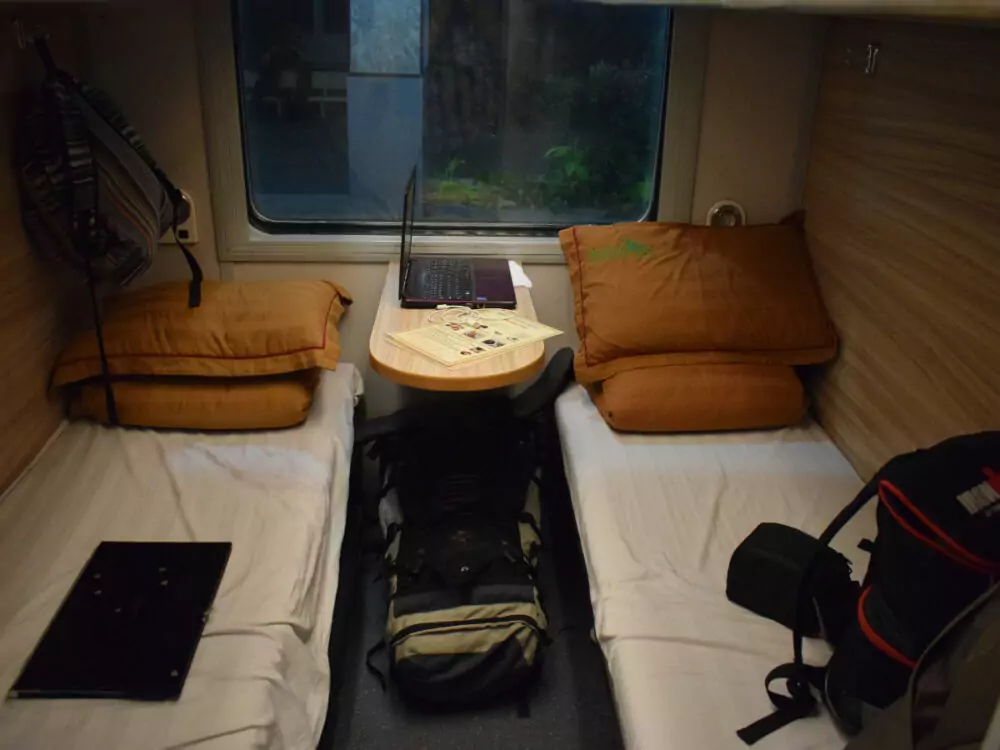 Please check and double-check all information for yourself, this post is intended as a guide based on personal experience and opinion.
To quickly compare transport options between Ho Chi Minh, Da Nang and Hoi An, and book them, go to this site. (12Go Asia) But scroll down and watch our video on Vietnamese transport options before you book!
Ho Chi Minh to Hoi An (Video)
Take a look at our video above, it shows you what the sleeper trains, buses, and road options are actually like on the Ho Chi Minh to Hoi An route, including how to get from Danang to Hoi An.
This will be necessary if you choose to go by train or fly.
There are three main options to take getting from Ho Chi Minh to Hoi An. Bus, plane or train. They all have their good and bad points and with the journey distance of over 800+km, you want to pick the right one for your needs.
The plane and train both actually go to Da Nang which is 30 km north of Hoi An.
Buses will go direct to Hoi An saving you the trouble of catching a taxi or another long bus journey once you arrive.
Could you save this to Pinterest?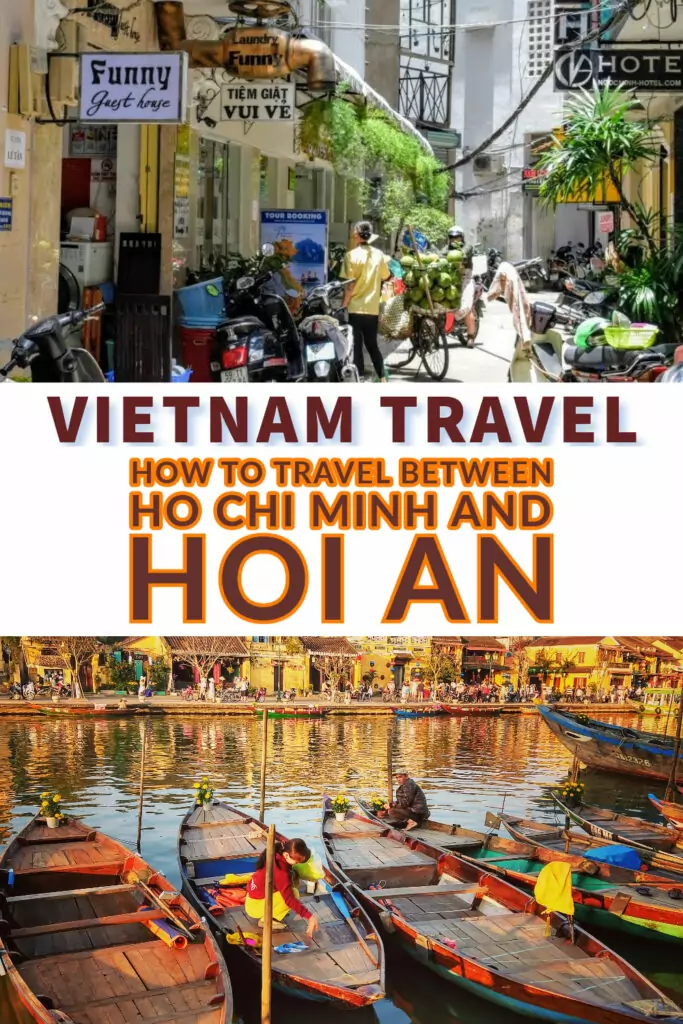 Ho Chi Minh to Hoi An by Air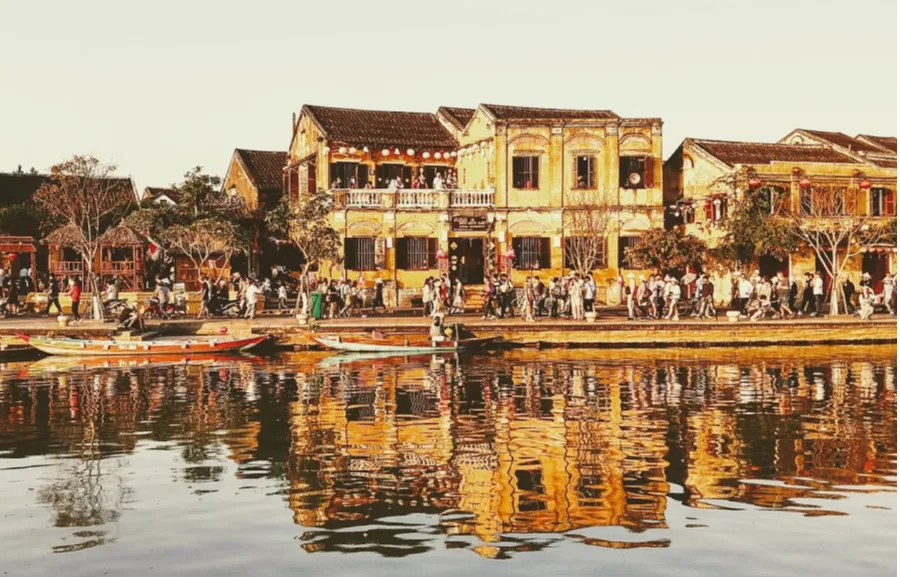 This is the quickest way to get between the two cities but Hoi An does not have its own airport. You'll need to fly from Ho Chi Minh to Danang.
Both Da Nang and HCM airports are very close to the centers of their respective cities so you won't be losing too much time getting to airports.
Use our Skyscanner tips to find the cheapest flight.
Da Nang is an international airport so it benefits from great connections across numerous airlines. The two big ones being Vietnam Airlines which is one of my favourites, and Air Asia.
Unfortunately it is hard to just get down to Saigon and most flights actually head further afield to Thailand, Cambodia or Malaysia.
Vietnam Airlines is the only real choice for direct flights.
If you are booking a long way in advance you can get some really cheap deals. They may even be cheaper than the train.
Vietnam Airlines has special deals for under $30 USD if you're not looking at the last minute.
From Danang Airport to Hoi An
The journey from Da Nang airport to Hoi An is about 30 minutes in a taxi from the airport.
The cost is approximately 400,000 to 500,000 Vnd depending on where in Hoi An you want to go.
You can book a private transfer in advance, from the airport to Hoi An, here. This site is also a very good place to book all of your Hoi An activities and tours, at a guaranteed price, with no haggling and hassle.
The public bus between Da Nang and Hoi An is currently not running, there is no yellow bus service. We checked this in April 2023 with a local resident.
Ho Chi Minh to Hoi An by Train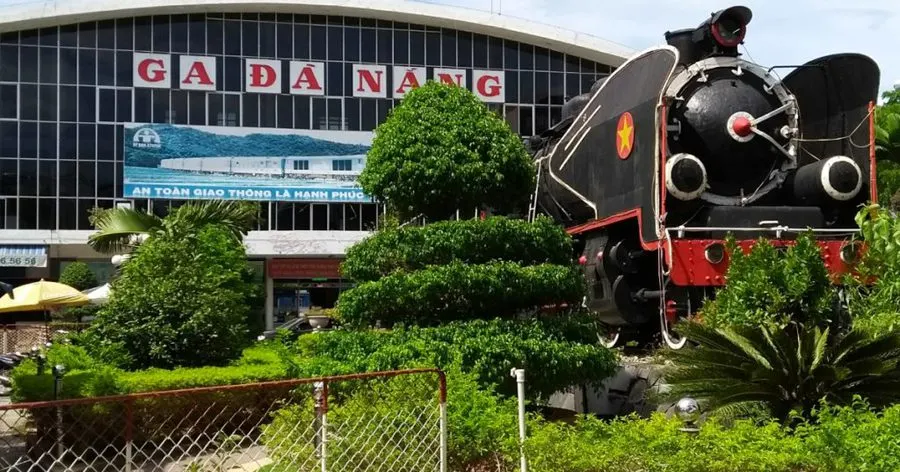 The railway network is my favourite method of travelling in Vietnam and it doesn't disappoint. The train station in Saigon is close to district 1 where most people will stay. A short taxi ride that will only cost a few dollars gets you to the train station. The train will take you to Danang, from where you can arrange transport to Hoi An, see paragraph below.
The journey is approximately 17 hours and there are numerous trains that run either during the day or overnight. Vietnam Railways is run by the Vietnamese government and they do a good job of running the trains. The company I use to buy our tickets online is 12goasia. Booking this way allows you to pay for and print your tickets before you leave home.
There are 4 classes on the trains, hard seat, soft seat, hard berth, and soft berth. The hard seats are wooden benches and not recommended for a journey of this length. The soft seats are good but not private in any way. The hard berths have 6 bunks, 3 each side. The soft berth has 4 bunks in one room and is perfect for a family of 4 like ours. All have a/c except the hard seat carriages.
The price for a soft berth was between $65 USD and $70 last time we travelled, depending on which train you catch. All prices are quoted in USD but if you buy directly in Vietnam they will charge you in Dong, the Vietnamese currency. Online the price and charge will be USD.
The difference between hard and soft berth is only a few dollars and even between the soft seat and soft berth no more than $10. For the price, I'd recommend the soft berth so you have some privacy and electrical sockets and a/c while you travel.
There is a private company that offers luxury carriages that are attached to the normal trains. These need to be booked separately and are only on certain trains. At the time of writing they only go from DaNang heading north to Hanoi or from Ho Chi Minh as far north as Nha Trang The cost for this service isn't cheap but from all accounts is worth it if you have some spare money floating around. Time-wise it is connected to the Vietnamese rail trains so it will get you there at the same time as a normal train. Trains and service change constantly, please check current information for yourself.
Getting From Danang Train Station to Hoi An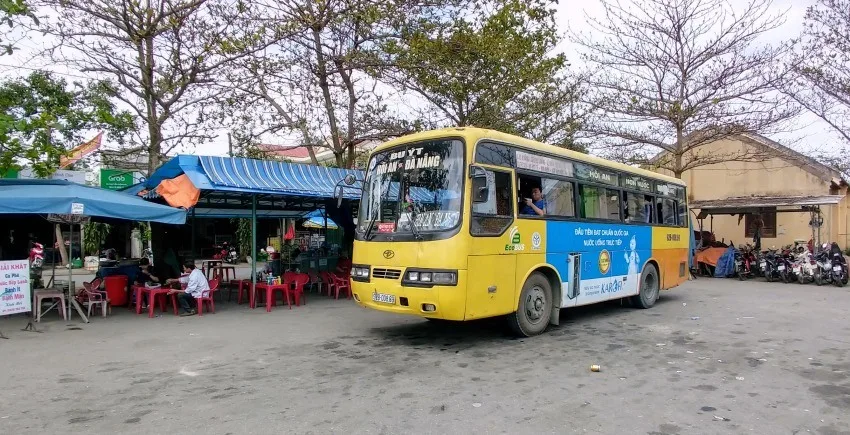 You can (usually) catch a local bus, taxi, private transfer, Uber or Grab, the distance is approximately 25 Km. We have a full post on how to get from Danang to Hoi An here. Book you private transfer vehicle here, shared minibuses are cheaper and you can also book these (and all Hoi An tours) on this site.
Is there a bus between Danang and Hoi An in 2023? No this bus is not operating in April 2023 according to local sources, you must book a transfer or car.
Ho Chi Minh to Hoi An by Bus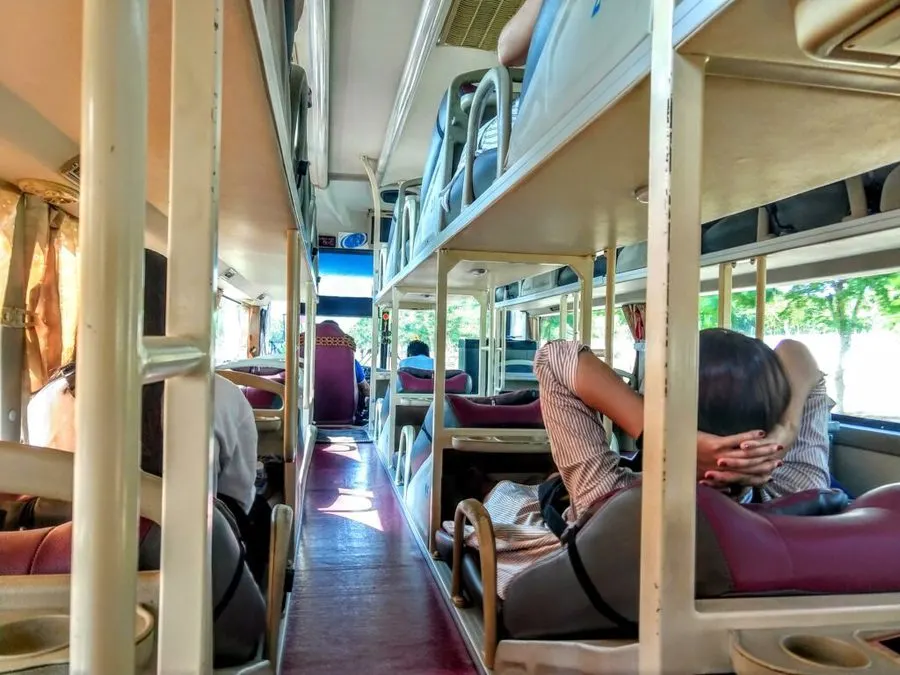 Anyone that has caught buses in Vietnam will have their fair share of stories to tell. While not so fast or aggressive in their driving as in neighbouring countries, buses in Vietnam rely on the horn and the road rules are more of a guide than a fixed law. The bus from Ho Chi Minh to Hoi An is the only direct route, skipping Danang.
The buses can be amazing if you get the right one. Semi-flatbed luxury with two decks isn't uncommon. Unfortunately, there are also some pretty ordinary buses so it pays to shop around and actually see what bus you are buying your ticket for.
A lot of the travel agents in Vietnam sell tickets from north to south or vice versa but people have complained of the buses getting worse the further you go due to the swapping of tickets and companies. We did it this way 20 years ago but I'd recommend only booking as far as each stop today. You won't save much more with a whole-way ticket and it gives you options when buying each ticket.
Pham Ngu Lao, in district 1 Saigon is where most of the tourist buses will leave from and arrive to. This is also where most of the tourist accommodation is located. Countless agencies will be able to sell you tickets and it will normally be cheaper going to these than buying from your hotel.
Departures run throughout the day including through the night and the vast majority of buses will head to Hanoi as the final destination. Make sure that your bus is going to Hoi An and not Da Nang. Even if they say it will stop there it's not uncommon for people to be dropped off at the intersection with the A1 and have to make their own way into town. Make sure the sign on both the ticket and bus state Hoi An.
Most buses will drop you within walking distance of Hoi An Old Town but won't go across to Cam An or An Bang beach. It's a short taxi ride to cover the 5 km to the beach.
Tickets normally cost about $40 USD for the tourist bus from Ho Chi Minh to Hoi An. A local bus would be cheaper but I'd not recommend doing over 800 km on one.
You can book all buses, trains, flights, and minibuses here, and compare bus types and prices side by side. This is a really good site for getting around Vietnam.
Best Way from Ho Chi Minh to Hoi An
I've always loved train travel and here in Vietnam, it doesn't disappoint. The soft berth cabin was great for our family of four including a triathlon bike which I could fit under the bottom bed. The A/C kept the heat down and I love waking up to a new destination rolling by the window. With food available to buy onboard or the option to bring drinks and food with you, you'll never go hungry. For me, this is the only way to travel long distances in Vietnam.
Younger travellers may prefer to save the $20 and get the bus but remember that Vietnamese are rarely 6 foot plus and broad in the shoulder. That combined with the constant weaving and horn blowing and it's easy to see why you won't arrive refreshed. We have a friend who takes valium to get her through these journeys ( not recommended by us).
If you're time poor then take the plane but with all the hassle of checking in and fluid limits bags etc I won't rush to fly when the distance isn't big and other options are available. Cost-wise it rarely works out cheaper than the train which being overnight isn't going to eat into too much time. If you want to know how to get further north to Hue from either Danang or Hoi An, have a read of my post on doing that here.
Booking a Place to Stay in Hoi An
Hoi An has accommodation options at all price points, from hostels to guest houses, homestays, resorts, and luxury all-inclusive hotels. We recommend you book in advance and know where you'd like to stay. There isn't much accommodation actually within the heritage-listed Old Town, but there is plenty clustered around the perimeter. You could also choose to stay in the countryside surrounded by rice fields, on one of the islands, reachable by a bridge, or on one of the beaches. You can see all Hoi An accommodation here.
If you want to stay weeks or months in Hoi An as we did, there are plenty of houses and apartments to rent. We suggest you book somewhere for a few days on arrival and organise your long term lodging once you're in Hoi An. It took us just a few days and our house was beautiful. See our post on living in Hoi An here.
Alternative Onward Travel From Ho Chi Minh
While most people head north from Ho Chi Minh, Vietnam has a huge area to the south and southwest. From the Mekong Delta to coastal towns and luxury islands off the coast.
Phu Quoc is one such destination that is making its presence felt internationally. A beautiful island that can be reached by road and boat. If you're in a hurry you can fly there in under an hour. Have a look here at some great ways to head south out of Ho Chi Minh.
Whichever route or transport option you pick, enjoy your trip from Ho Chi Minh to Hoi An. I hope I was able to make your journey easier to organise. It's my job, as a travel dad, to get my family around the world. I've kept them safe for 6 years of travel and I'm more than happy to help you too. Want to go look at our complete Vietnam Travel Guide & Blog page? There is a lot of content on our site about Vietnam, we lived there, in Hoi An, for 6 months.
If you'd like to hire a car during your stay, use this car rental comparison tool to find the best deal!

We also suggest you take a look at this company to get a quote for all kinds of the more tricky adventure or extended travel insurance.

Try Stayz / VRBO for an alternative way to find rentals on homes/apartments/condos in any country!