Last Updated 17/01/2023.
Kathmandu is a city in the country of Nepal in Asia's Himalayas. The city of Kathmandu is above sea level, at an average elevation of 4,344 feet (1,324 metres), so while Kathmandu is at altitude, its elevation is not great enough to cause altitude sickness. However, your body should be starting to acclimatise very slowly from the moment you get off the plane in Kathmandu airport. Tribhuvan International Airport is at an altitude of 4390 feet, although the airport's own website gives its altitude as 4390 m. The lowest point in Kathmandu is at the confluence of the Bagmati and Bishnumati rivers with an elevation of 1,280 meters.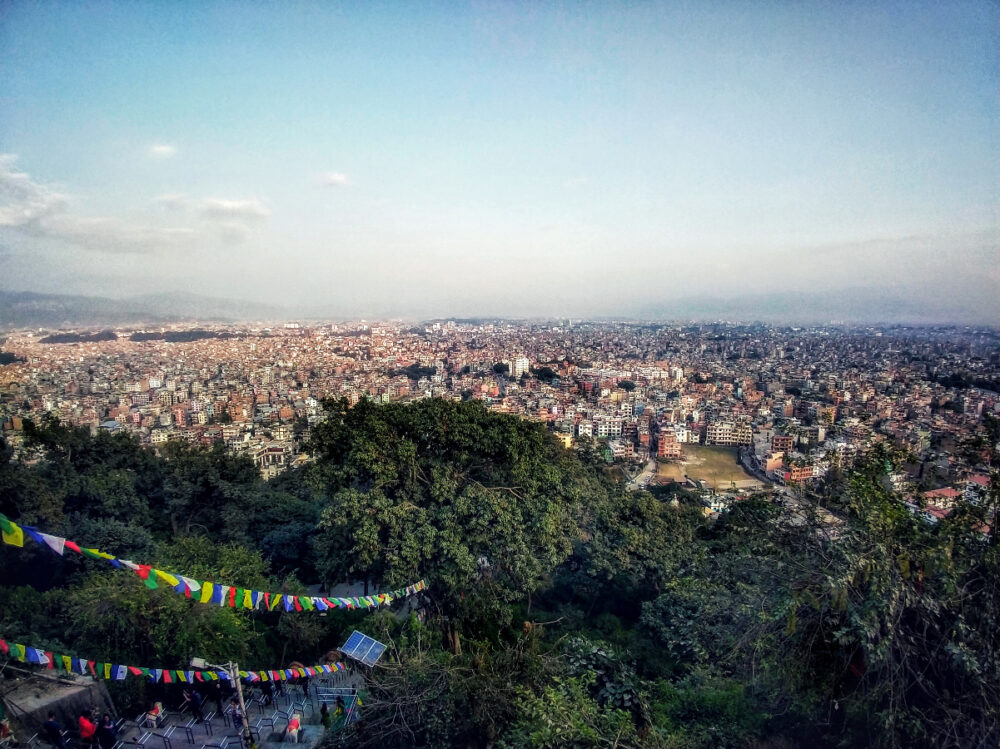 The elevation of Thamel, the tourist district in Kathmandu city, is reportedly 1,316m or 4,318 feet.
Kathmandu Valley or Kathmandu City Elevation
Kathmandu is a huge city, filled with temples and interesting things to do. It is built in the Kathmandu Valley surrounded by high mountains. The city lies in a bowl shaped depression in the mountains.
On these mountainsides you will find various lookouts and view points from where you can see Mount Everest and the snow capped peaks of the Himalayas. The air is thinner than at sea level but also badly polluted by Kathmandu's traffic and burning. Views of the mountains can be hard to find.
Too see the map in full click here.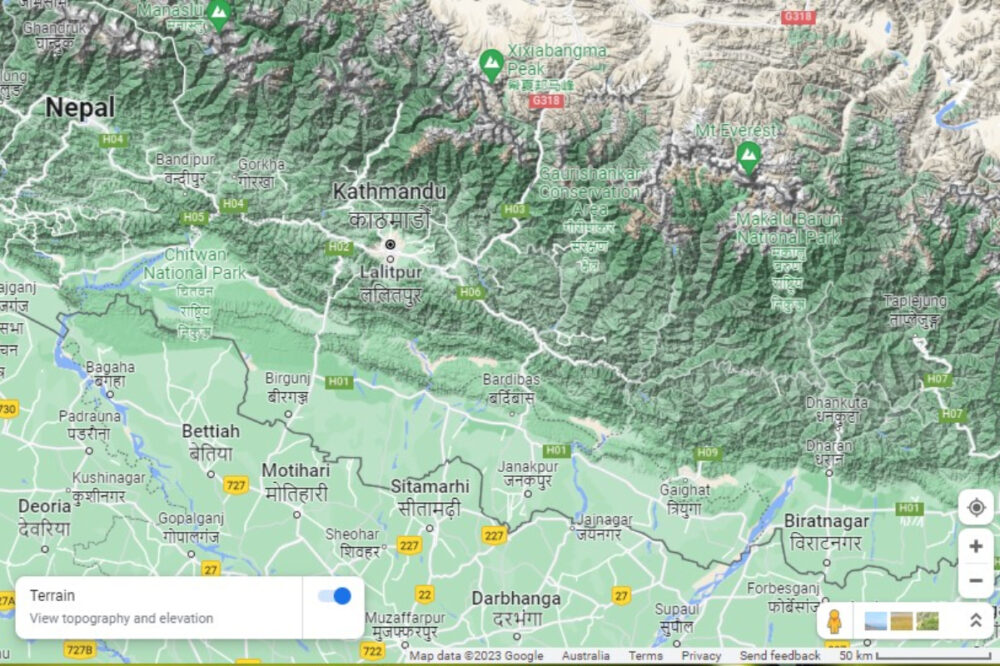 Swayambhunath Stupa, one of the higher parts of the city of Kathmandu is at a max elevation of 1,293m / 4,242 feet according to various sources and is reached via steep steps on one side, a road on the other side. There are great views of Kathmandu city from Swayambhunath, as you can see from our photo at the top of the page.
As you can see from the figures above, a lot of the data on Kathmandu's altitude that we can find online can be misleading and confusing.
Is Kathmandu the Highest City in the World?
No, Kathmandu is only at a moderate altitude although it is in one of the highest countries in the world. The highest city in the world is actually in Bolivia, Bolivia's El Alto-La Paz metropolitan area is at an average elevation of 3,869m above sea level.
View Points Around the Kathmandu Valley
Chovar, Nagarkot, Dhulikel, Kakani, Shivapuri, Daman, Bandipur,Godavari and Phulchowki are all high points around the Kathmandu valley with good viewpoints.
You may need to read our post about the difficulty of the Everest Base Camp Trek, or our post on the best hotels in Kathmandu Nepal.
If you'd like to hire a car during your stay, use this car rental comparison tool to find the best deal!

We also suggest you take a look at this company to get a quote for all kinds of travel insurance.

Try Stayz / VRBO for an alternative way to find rentals on homes/apartments/condos in any country!