This post may contain affiliate links.
This post is about the best beaches in Egypt. Hurghada is our family favourite. For the rest, I asked a friend, Emma, to contribute as she's spent a lot of time living in Egypt and visiting beaches, resorts, hotels, and more. Over to Emma and her take on Egyptian Beaches to help you plan your best beach for a holiday in Egypt.
Egyptian Beaches
I visited an Egyptian beach before I visited the Egyptian desert. Although over the course of my two years in the country I did eventually spend a few nights in the vast untamed sand, the beach is where it's at.
We had hardly been in Egypt for a month when we took our first trip to the beach. We had a long weekend and, like so many Egyptians, we headed to the North Coast and landed in a small beach town called Marsa Matruh (which borders the Mediterranean Sea).
While the water was clear and beautiful and the sea breeze was a welcome relief from the temperature (which was consistently over 100 despite the October date), I do not recommend visiting the North Coast during the off-season.
Food was hard to come by, and we ended up subsisting on potato chips, knock-off soda, and falafel from the lone still-open stand in town.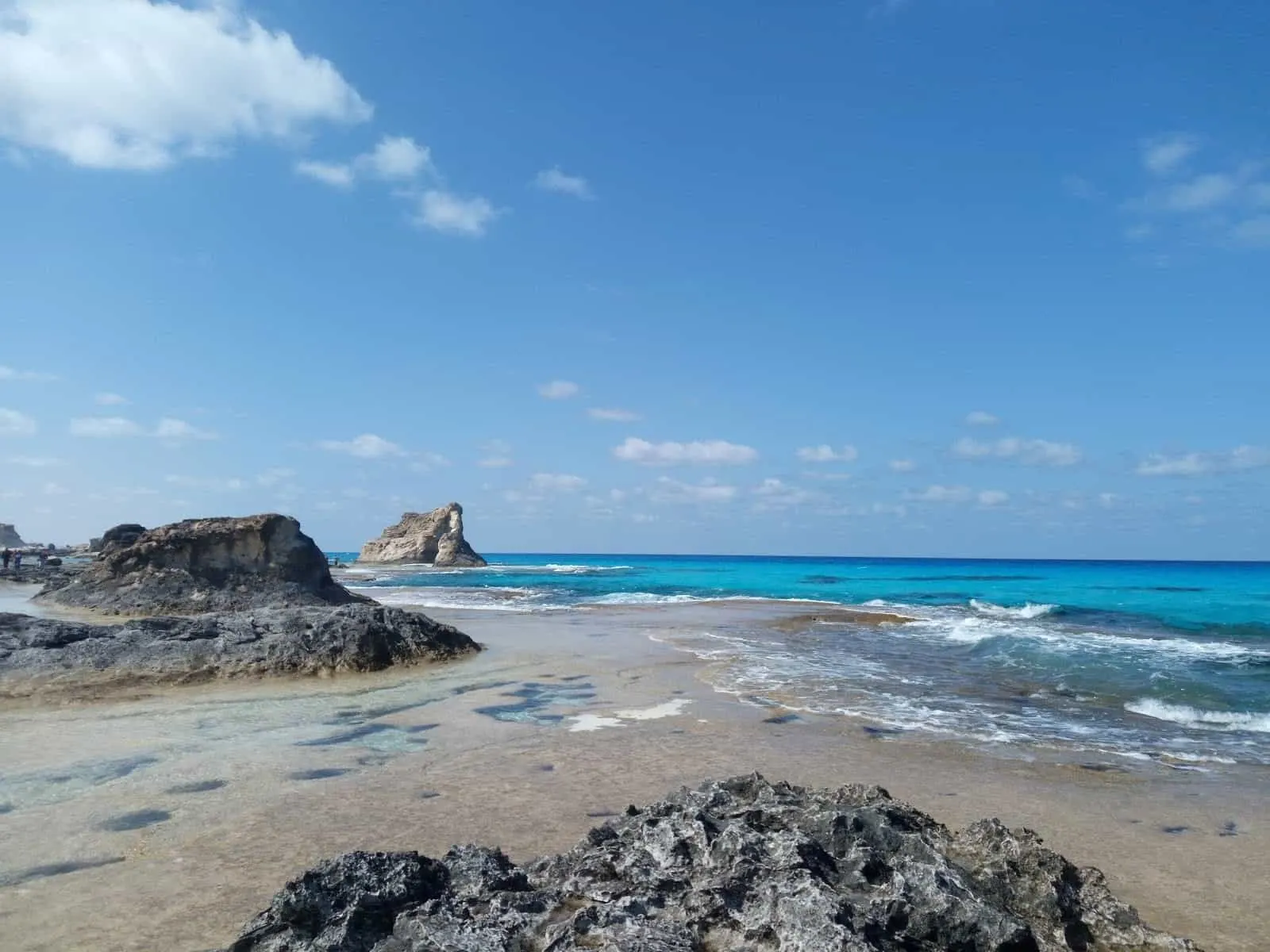 Nearly 6 months later, we were ready to give Egyptian beaches another shot.
My husband is a redhead, so he wasn't particularly eager to spend his Easter weekend relaxing in the hot sun, but with a couple of friends I was able to convince him that with plenty of sunscreen and a dedicated beach umbrella he'd emerge unscathed.
Sharm el-Sheik is a short one hour flight from the Cairo airport, and the smaller town of Dahab is just a bumpy hour long drive along the coast of the Red Sea from there.
While we flew through Sharm a number of times, we never actually stayed there- once we got a taste of Dahab it was hard to convince ourselves that a beach weekend would be well-spent anywhere else.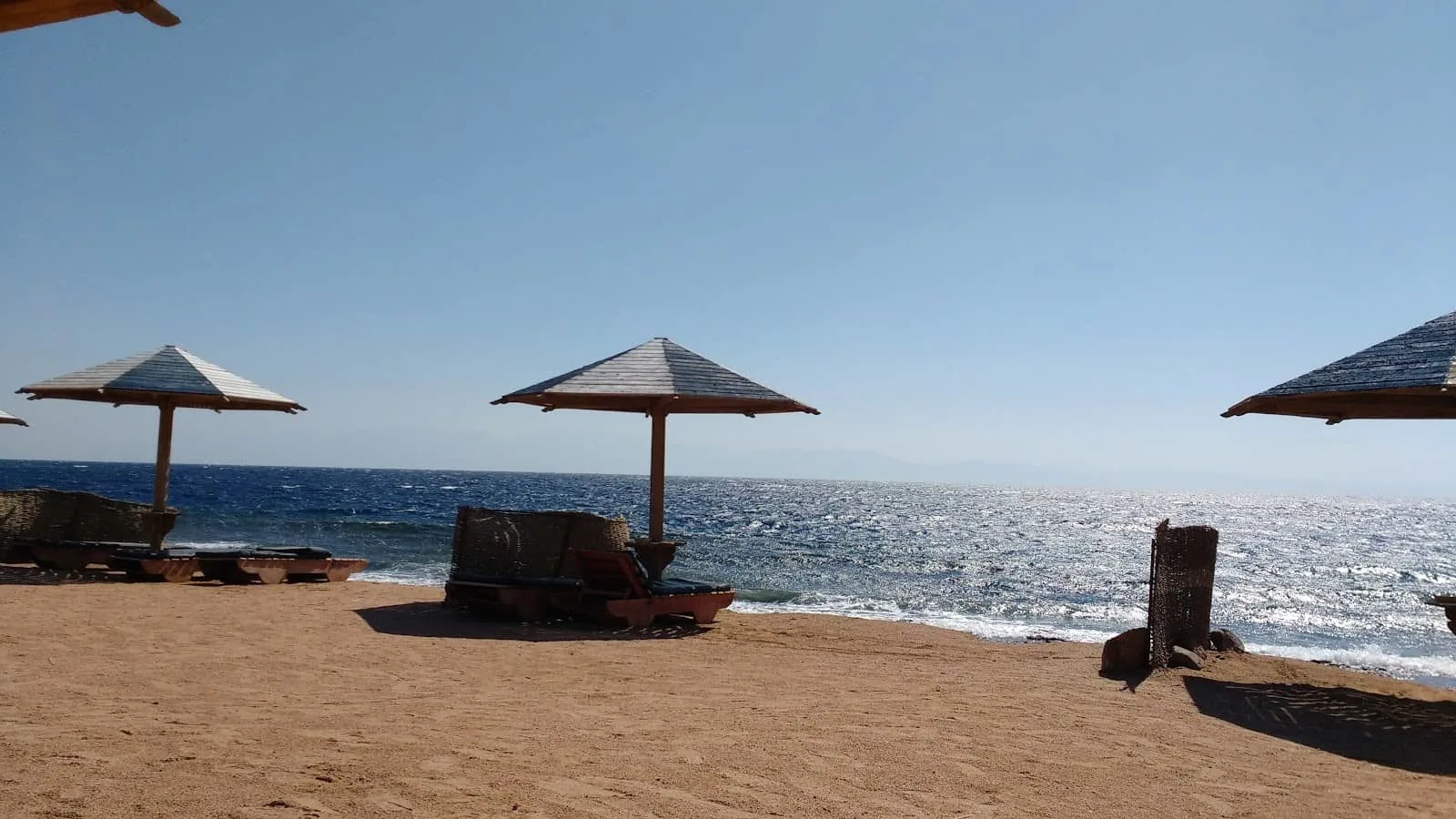 In Dahab- the name is pretty much synonymous with Egyptian beaches and relaxation- there are basically two strategies for relaxation and beach enjoyment: full-fledged resort and in-town hotel.
We visited often enough to experience both, and while there are many benefits to the resort, the hotel option offers more flexibility and greater opportunities for people-watching.
As a year-round beach town, Dahab doesn't really close down like so many other seasonal cities- it is just as awesome and active (well, the relaxed, slow-moving type of active that Dahab ever is) in the winter as it is in the heat of summer, though the summer months certainly bring out the tourists.
Although it was slightly cooler in the winter months- I didn't spend nearly as much time in the water- it was still pretty primo relaxation.
Resort-style Dahab
The town itself consists of pretty much one main stretch of shops and restaurants with small offshoots of local homes and businesses. Many downtown businesses are restaurants and dive shops, but as you wander away in either direction hotels and resorts start popping up all over the place.
Our first Dahab visit we stayed in an all-inclusive resort, something I had never even considered doing before the low price of Egypt tempted me.
It was so worth it, and perfect for a relaxing (and I mean) long weekend. We were served drinks by the pool, moved back and forth between lounge chairs around the pool and lounge chairs on the beach, and whiled the time away reading and watching the sea.
As an April vacation for four teachers inching towards the end of the year, this was the perfect choice.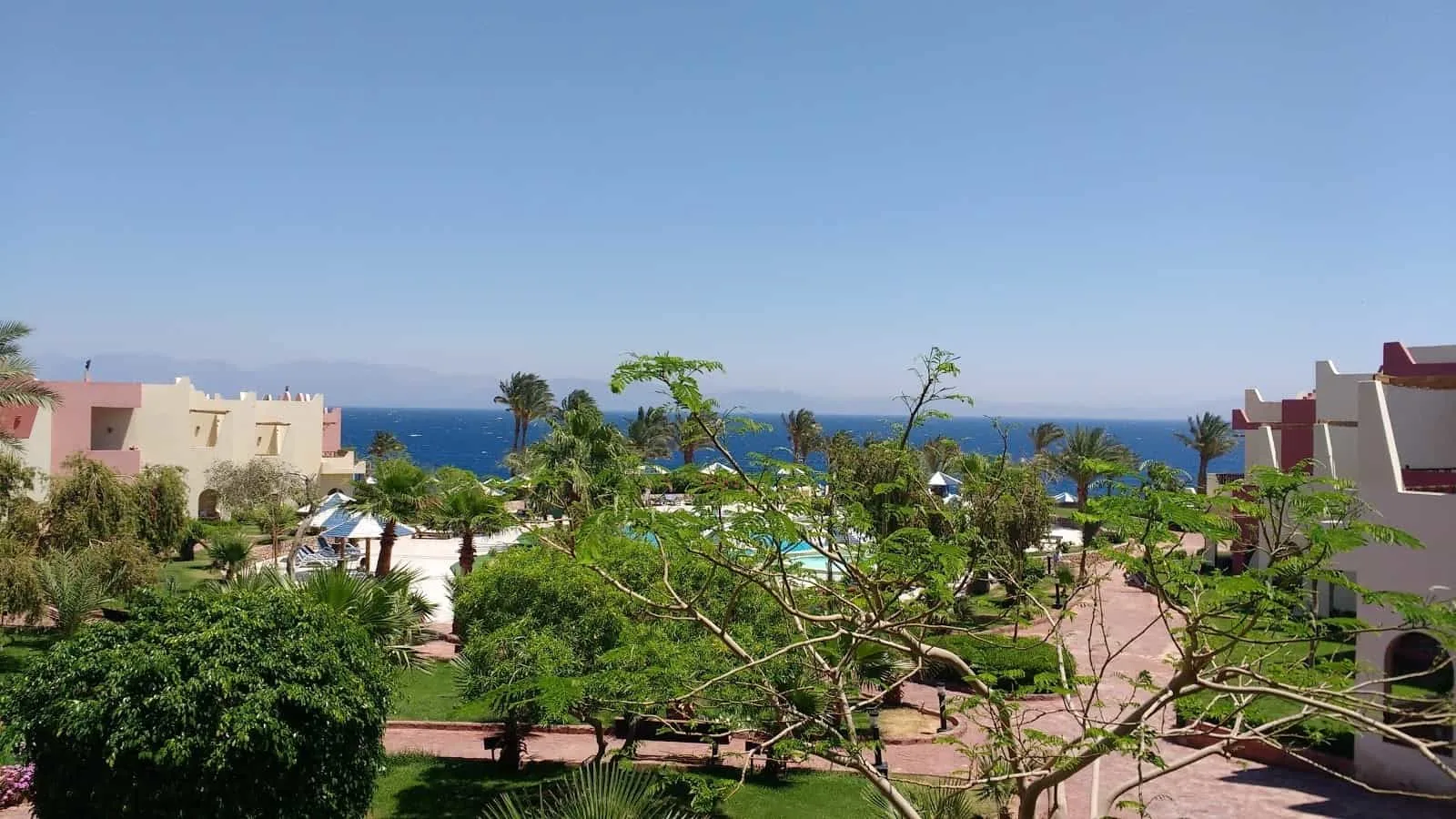 Hotel-Style Dahab
Although I fell in love with Dahab after that first trip and its combination of the sea and the sand and the calm, for our next Egyptian beach vacation we decided to go a different route: instead of reserving rooms in a resort a bumpy truck-bed ride away from town, we reserved hotel rooms right on the downtown strip.
Dahab isn't big, but its selection of seaside restaurants and cafes is plentiful enough to hop from place to place all day.
The strip of stores on the beachside offer lounging beach chairs in the sun as well as more traditional seating, so throughout the day people move through a pattern of sunbathing, diving in the water to cool off, and relaxing back up top while watching the divers emerge from the depths and the windsurfers attempt to keep their balance.
Food and drink options are plentiful and affordable, and the people-watching is among the best in the world. Want to know about food in Egypt? We have a full posts explaining Egyptian food and its origins, it's pretty interesting!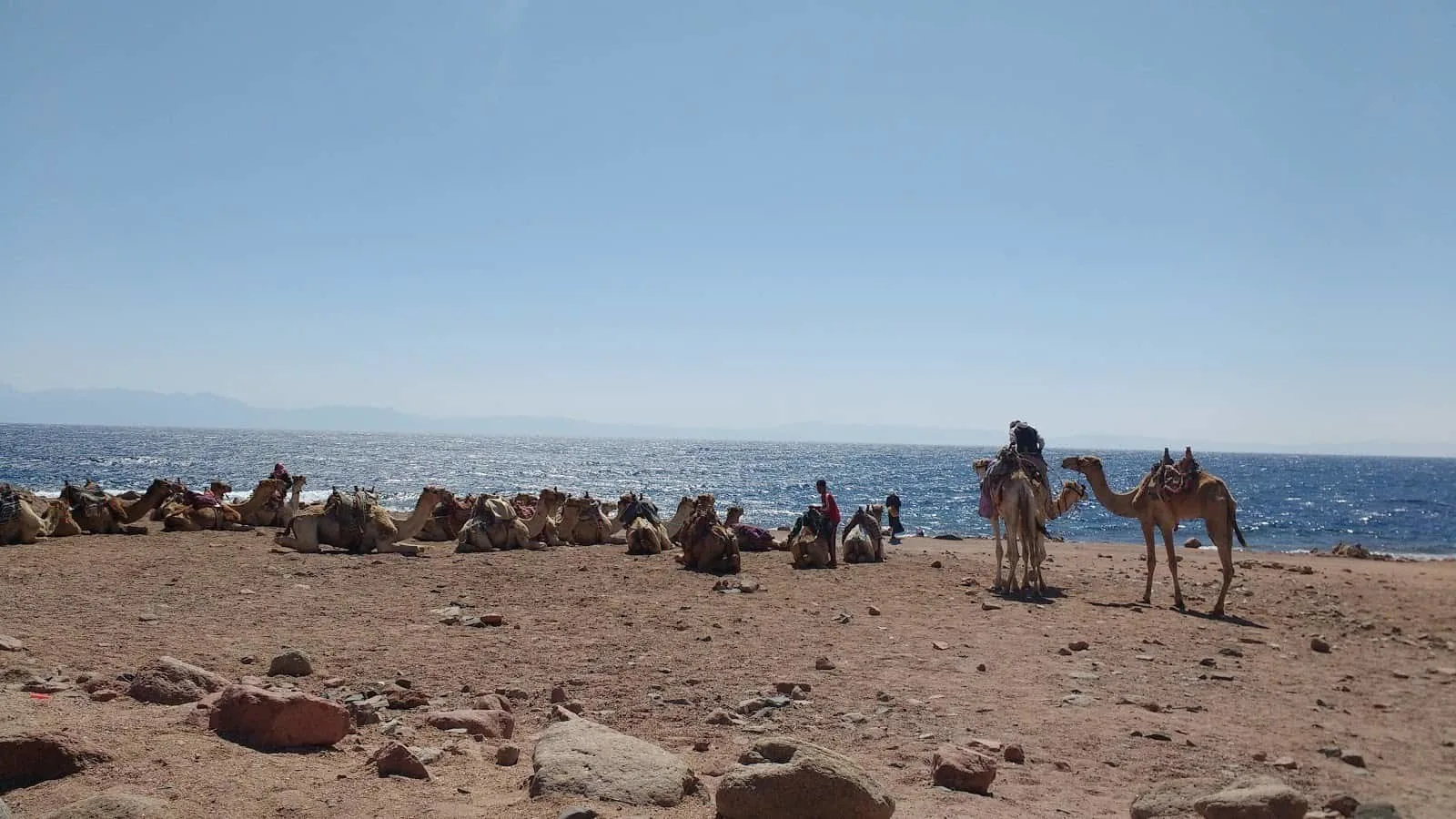 For the more active traveler, Egyptian beaches are full of options.
We visited Dahab so many times that even with our handful of do-nothing weekends we managed to do some exploring as well! Dahab is home to the Blue Hole, one of the most fantastic diving spots in the world (and also one of the more dangerous).
While I am not a diver, based on my snorkeling adventures- and rave reviews from legit diver friends- it is excellent and full of brightly colored coral, fish, and rock formations.
Quad biking is another must-do Egyptian beach activity.
Basically, a guide will take you on a four-wheeler tour of the desert mountains that lay alongside the beach. When we first discussed a quad bike tour, I was skeptical- I'd been on a four wheeler before, and I didn't fully understand the appeal. But, as with so many elements of the Egyptian beach, I fell in love with the new experience.
Whipping around with the wind blowing through my hair, the bright blue beach on one side and the craggy mountains of Moses, I felt free.
Safaga
Despite my adoration for Dahab, we visited a different location for a new experience as our farewell to Egyptian beaches.
The Red Sea is among the best diving locations in the world, and for our final hurrah before we all left Egypt for good, a group of us decided to rent a boat and spend a long weekend sailing, diving, and enjoying the sea one final time.
Safaga, another small town along the coast of the Red Sea, is about a six hour drive south from Cairo.
We got up each morning, walked the five minutes to the dock, boarded the boat, and spent a phenomenal 7 or 8 hours sailing the seas. We had rented diving (for them) and snorkeling (for me) equipment the first day, so for the rest of the trip we had it ready to go.
We'd sail for a little while, stop and get in the water for a few hours, and repeat. The water was so clear and the coral so bright that even as we approached each site the underwater formations were visible from the boat.
There is more to Safaga than the dock and our hotel, but we didn't do a whole lot of exploring. Between our fantastic boat days and the bar under our hotel (a rarity in Egypt), we didn't venture too far out of our little bubble.
We rode quad bikes to visit a Bedouin campsite and eat a traditional dinner one night, we grilled on the beach another and our raucous laughter mixed with the lapping waves to create a soundtrack I will never forget.
Emma Reeve-Lobaugh is a recent transplant to Colorado Springs, Colorado, where she lives with her husband in a book-lined home with a view of the mountains. Emma holds a BA and MA in English from the University of Northern Iowa in Cedar Falls, Iowa. She adores reading and writing and, after 7 years as a high school English teacher, she is currently pursuing her dream of being a full-time freelance writer. Thanks Emma, for your input on Egypt's Beaches. Don't forget to pin!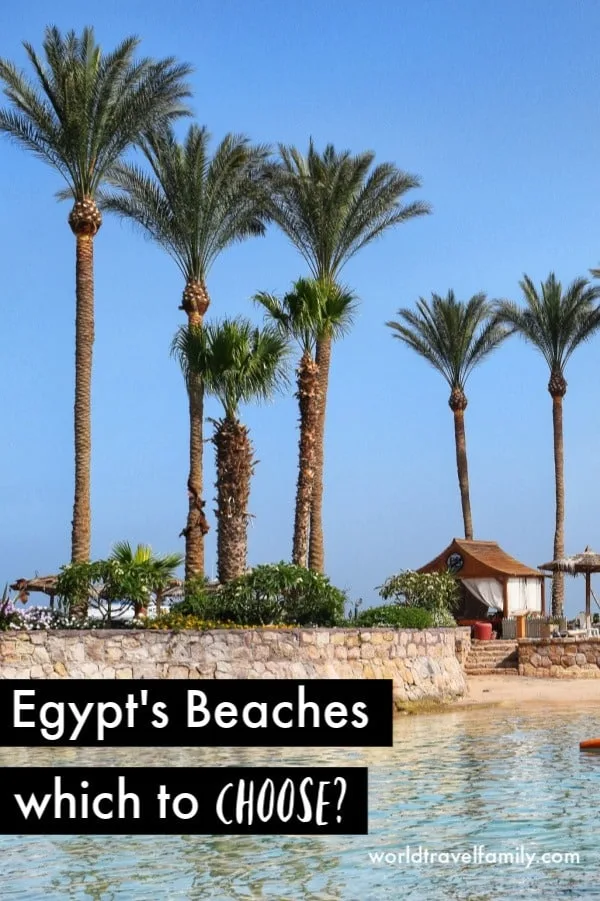 When you find yourself in Egypt, tired and dirty from your visit to the pyramids and sick of the crush of the heat and the dense population of Cairo, look no further than a visit to one of the many Egyptian beaches to lighten your spirits and soothe your soul.
If you'd like to hire a car during your stay, use this car rental comparison tool to find the best deal!

We also suggest you take a look at this company to get a quote for all kinds of the more tricky adventure or extended travel insurance.

Try Stayz / VRBO for an alternative way to find rentals on homes/apartments/condos in any country!