This post may contain affiliate links.
Yes, it happened, the day we never anticipated. After 5 and a half years of full time travel we met our first major booking related problem. We turned up to board our flight to be told that no, actually, we weren't getting on their plane today. Our tickets didn't exist, our flights had been cancelled and we were standing there at the check-in desk with 2 kids and 6 backpacks (which were, like me, overweight) with nowhere to go, as Go To Gate continued to message us with flight confirmations.
Our day started around 5am with the usual frantic packing activity that goes with a big airport day. I muttered, grumped and organised 3 people's gear into packing cubes and bags while Chef just shoved all his stuff into the top of his backpack, as usual.
The kids whined and complained about budget flights, no food, no movies, as usual.
I quietly agreed with them, but the budget flight had been a lot cheaper than the premium airlines.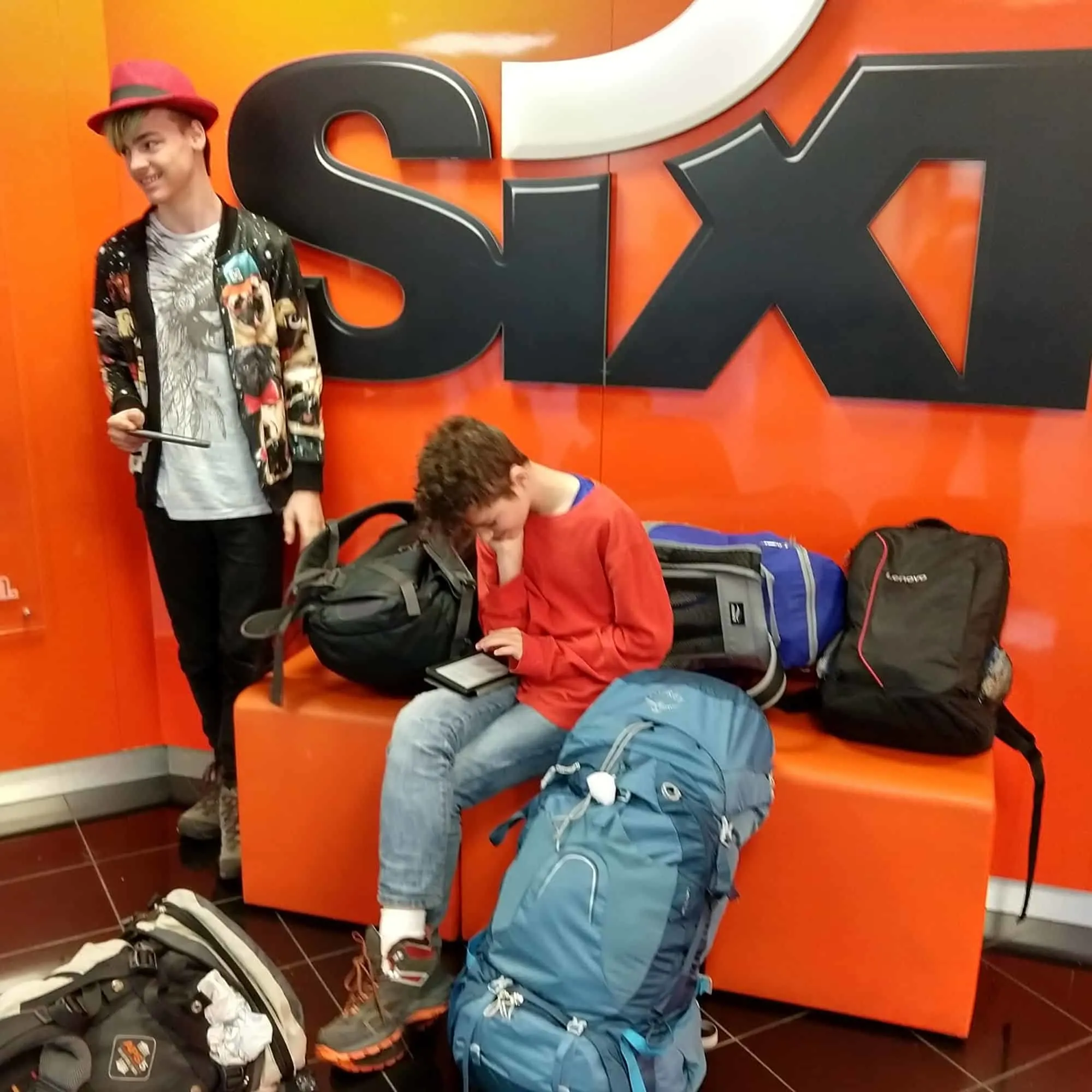 We had time to have breakfast at our Premier Inn in Crawley, near London Gatwick (which at under 5 UKP each was a real bargain, you'd barely get a couple of coffees for that in the UK usually) before driving to Stansted, just north of London.
A long drive and a crappy one, driving in London has become way worse since we left over 12 years ago, but unusually for the M25 and Dartford Tunnel, no delays.
We dropped off the car at Sixt, no sweat, no bother, no checks, because we'd reduced our excess to zero. After 2 bad experiences using 3rd party excess insurance recently we'd highly recommend you do this.
Another bus ride to the terminal, swaying precariously shouldering heavy packs and trekking gear, and we entered the over-populated mosh pit that is the Stansted terminal.
Stansted is not our favourite. It's generally clean, modern and staff are usually friendly, but there's nowhere to sit, no power points for charging, and some of the toilets were off the scale disgusting. It's not a great place to spend a day.
Luckily, I'd remembered just the day before to buy a new power bank, so our descent into insanity was cushioned by juiced up phones and Kindles.
We'd spent a few days, over a month ago, figuring out how best and cheapest to get to Nepal from London. We had flights booked on Pegasus, a budget airline, from Stansted to Istanbul and from Istanbul to Dubai. We then had a couple of days in Dubai before our Dubai to Kathmandu flight in the relative luxury of Etihad.
We were looking forward to getting to Dubai, but those 2 budget flights ahead of us, both around 4 hours, weren't sounding like fun.
Finding Out Our Airline Tickets, and Our GoToGate Booking, Had Been Cancelled
After handing our passports to check-in guy on the Pegasus desk, we could see something was wrong. Check-in guys don't normally disappear out the back with your passports.
"Do you have booking details?"
"Yes."
"Do you have confirmation?"
"Yes."
Everything seemed OK to us and the company we'd booked with, Go to Gate seemed legit and were still emailing us confirmations as we were standing at the desk.
Our money had been taken from our account, but our names just weren't on the list for that flight.
It took a while to figure out, but our seats, our entire airline booking, had been cancelled by Go to Gate with Pegasus.
They hadn't thought to tell us they'd cancelled, nor had they refunded our money or even cancelled our flight on their system. Everything was still "live" from our end, but our tickets just didn't exist. We weren't flying.
The only slight suggestion we had that something may be wrong had been when we tried to check in online the day before. We got a system error. That's not unusual, it happens regularly, so we ignored it and planned on checking in at the airport, no sweat.
Check-in-guy could do nothing and washed his hands of us, but as we were standing at a nearby counter frantically emailing and telephoning, the Pegasus supervisor appeared and was very helpful so I can't be down on Pegasus, it wasn't their fault. He said this happens not infrequently.
While my husband yelled down the phone at the Go to Gate telephone jockeys in Delhi, Mr Pegasus found me our best option. That had to be a direct Emirates flight, Stansted to Dubai, that evening.
Being last minute, direct and Emirates, it cost a lot, almost 2,000 pounds and Go to Gate were still holding our 700 UK pound booking money for Pegasus. We are now skint.
Screaming down the phone at Go to Gate really didn't help as operative after operative passed the buck. They had monumentally screwed up and they knew it, but the original problem the root of this cancellation, lay with Barclaycard.
We took a while to figure this out, but a combination of Barclaycard and GoToGate screw ups had landed us flightless at Stansted.'
I would never use GoToGate ever again, absolutely no way. I'm also inclined to say that I would be cautious with using Skyscanner again. It's a useful tool for finding the best days and routes and we've used them successfully for years but I'm not happy to book through them when third parties like GoToGate are involved.
From now on I'd prefer to book direct with the airlines and I think we'll be sticking to premium airlines, not budget, for a flight of any length.
I'm over budget airlines, after almost 6 years, that time has finally come.
Why Had Our Flight Been Cancelled?
It took ages to figure this out but both GoToGate and Barclaycard were at fault. Barclaycard cancelled our card a few days after we booked our flight because of a skimming or fraud event. We knew about it, we'd spoken to their people on the phone and had a conversation about how our flights MUST NOT BE CANCELLED.
They promised it would be fine. But still they issued a fraud alert that caused GotoGate to cancel our flights, so say GotoGate, Barclaycard claims this is impossible.
GoToGate were at fault for NOT TELLING US IN ANY WAY that our flights had been cancelled and keeping our flights active on their system while holding onto our money.
If you start searching online for information on Go To Gate reputation, you'll find plenty of social accounts with names like "GoToGate is a Scam". That doesn't bode well. We didn't know about this when we booked Go To Gate flights.
Once we got to the root of it, Barclaycard were extremely apologetic and instantly guaranteed us 500 UK pounds in compensation. To get the full amount refunded we were told to speak to a higher office which we couldn't do until we were back from the Himalayas. We were told that will be fine.
Now we need to get our cash refund from GoToGate, which hopefully won't be an issue, we don't know yet.
UPDATE: When I contacted Barclaycard for the second time, from Nepal, the woman I spoke to was rude, unhelpful, and refused to believe what had happened, had happened. She also refused to believe I'd already been promised 500 UK Pounds, despite my having the name of the guy I'd spoken to.
We had to claim under section 75 of the Consumer Credit Act which offers protection for purchases over 100 pounds in instances of failure to deliver and covers cost of replacement. We had to print, fill in and post paperwork with supporting evidence from Kathmandu, not the best arrangement.
GoToGate refuse to even talk, let alone refund our money as they placed all blame on Barclaycard. How any company can not return money after failing to deliver is beyond me, but that's what we were dealing with here.
Incidentally, from what we can see, Go To Gate are based in Sweden, which you'd think would be a solid, reliable sort of country.
In transactions like this, under the act, both Barclaycard and Go to Gate are equally responsible. That is the law.
Barclaycard eventually refunded all costs. It took several months and there was endless inconvenient paperwork – we were in Nepal – but they sorted it. I feel bad for them, despite their rude employee, it wasn't really their fault. The whole incident was just a big fat mess.
Our Very Expensive Replacement Flights After our Flight Cancellation
We spent a full day sitting in Stansted airport, it's not the nicest airport in the world, but still it could have been worse had we not had power packs .
We missed our first day in Dubai and arrived exhausted. Today has been a right-off but tomorrow, hopefully, we can do all the things we wanted to do in Dubai.
Flying with Emirates is always something to look forward to and we made the most of it. A brand new plane, comfortable seats, loads of movies to choose from, decent food and free-flowing drinks softened the blow of a crappy day. Chef and I tried to make up a thousand pounds in free drinks, but after 2 movies each we all nodded off to wake up over the UAE.
Our hotel in Dubai is good, we've used it before and we have a big family suite to chillax in, get our laundry done, indulge in wifi and be ready for a big day tomorrow. The lovely front desk staff at The Golden Sands even let us check in early and have breakfast, finally winning!
UPDATE: We have had 2 troll comments suggesting that having insurance would have fixed all of this. These people can't be travellers. We do have travel insurance, very good insurance, and always have, this one. But that is not, in any way, going to help you get on a plane when you find yourself stranded. It is also not going to be possible for us to deal with insurance nor the above 2 companies when we are about to head up Mount Everest. I also want to stress (as I already did in the post) that none of this is, in any way, the fault of Pegasus. Being a budget airline does not make them a bad airline and in 5 years, hundreds of flights, we've never had any sort of problem even close to this. Budget airlines do a great job in getting people from A to B at the best price and an airline's budget status has no bearing at all on the above issue. Likewise, Skyscanner, 5 years on the road full time, zero problems until now.
Onward now, onward to Nepal and Everest Base Camp. Tibet and Bhutan currently have a black cloud of financial uncertainty hanging over them but I'm open to the universe to provide after this disaster as it generally does. (Update, we made it to Everest Base Camp and Tibet, Bhutan had to be scrapped, sorry, but we'll get Bhutan on the website some other time) I've been working like crazy these last few months to get the money together and now a big chunk of our Bhutan and Tibet fund is gone.
Expect posts like this over the coming weeks, the stories, not the business posts as we spend three months, at least, in the mountains. This website is our record of our adventures exploring the world, we always hope you'll find our experiences useful. Soon, I'm going to write a post on budget v full-service airlines, flying premium is just so much nicer all round. Budget sucks in the comfort stakes and I never want to dread a flight ever again, even less, be refused a flight.
If you'd like to hire a car during your stay, use this car rental comparison tool to find the best deal!

We also suggest you take a look at this company to get a quote for all kinds of the more tricky adventure or extended travel insurance.

Try Stayz / VRBO for an alternative way to find rentals on homes/apartments/condos in any country!