This post may contain affiliate links.
There is no entry fee for the Daintree National Park, it is free to enter other than the privatised sections like the Mossman Gorge. There are two main parts of the Daintree National Park, Mossman Gorge is south of the Daintree River, the Daintree Rainforest extends north of the river through Cape Tribulation.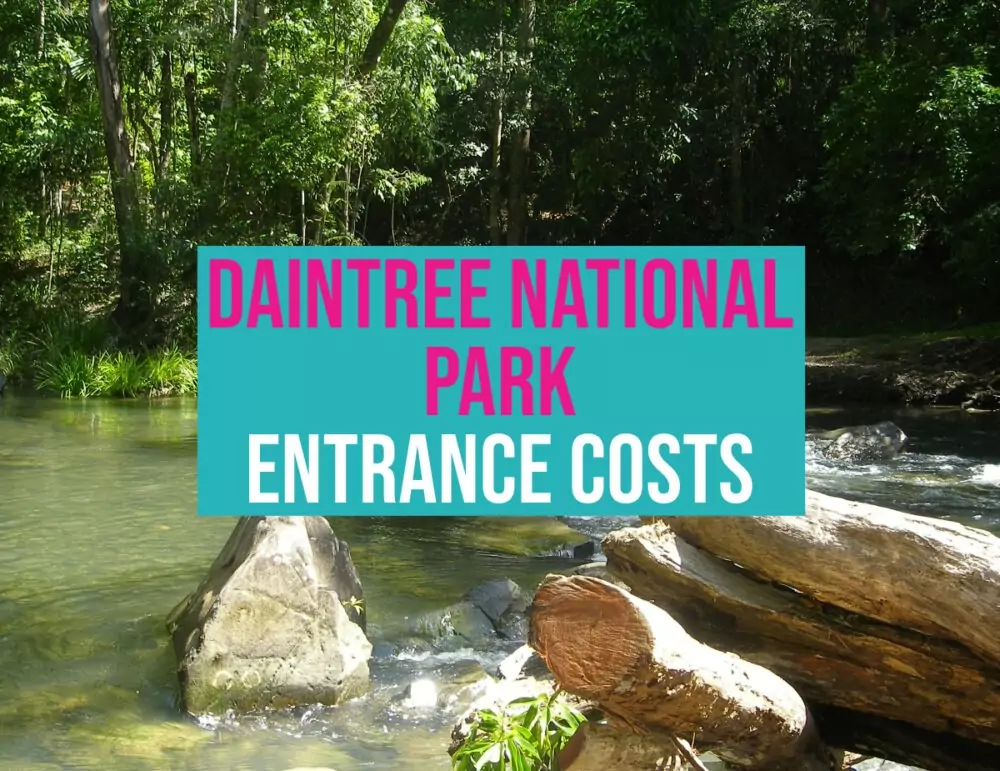 In this post we explain the best ways to visit the Daintree National Park and how much it costs to visit. We also give you a useful map.
Daintree National Park
The Daintree National Park is between 80 and 150 Km north of Cairns, in Tropical North Queensland. (source)
It is easy to enter the Daintree National Park in your car, or to take a guided tour.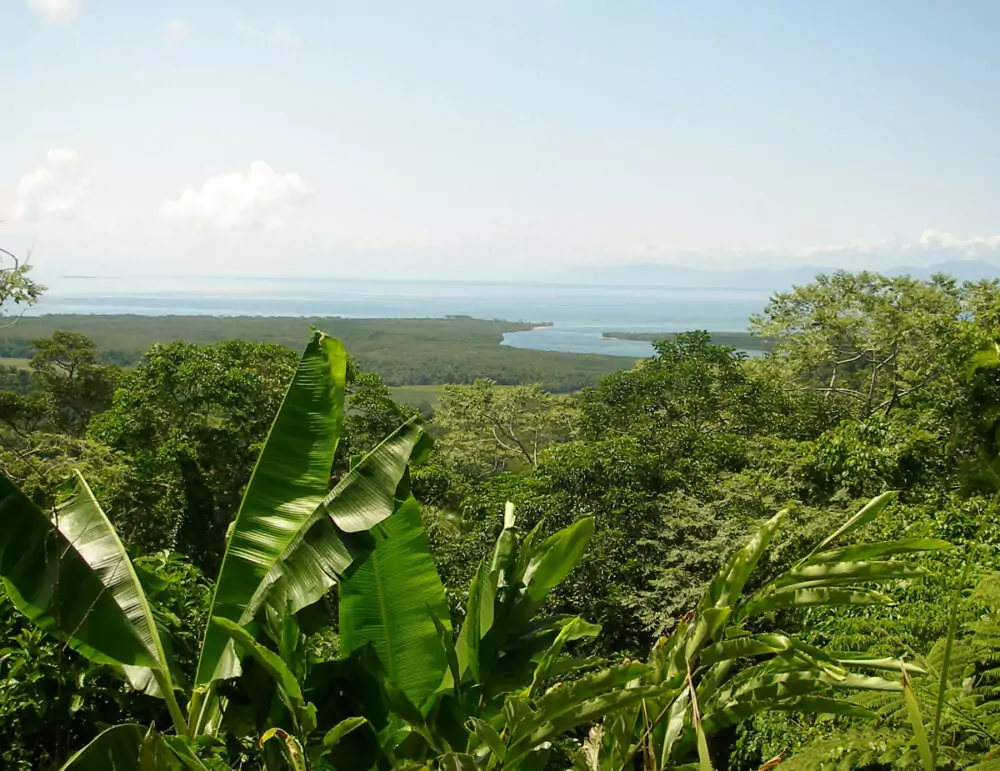 Daintree National Park is Cape York Peninsula Aboriginal Land or CYPAL and is made up of the Mossman Gorge and Cape Tribulation sections, with the Daintree River and Daintree Village cutting between the two.
Daintree National Park Map
We've marked the Daintree National Park's location on the map here. We've added pins for the attractions in the Daintree.
Daintree National Park Admission Fees
While the Daintree National Park is free to visit, there is no admission charge, visitors do need to pay to visit Mossman Gorge, or to use the Daintree River Ferry to cross to the north side of the river.
South of the river you can't really drive through the Daintree Rainforest, north of the river you can.
North of the river you will find the Daintree Discovery Centre, beautiful unspoiled beaches, designated
boardwalks few natural swimming holes and a scattering of tourist facilities and hotels.
There are crocodiles in the Daintree National Park, so please don't think these beaches are a good place for a swim. There are swimming holes that are considered safe. You can swim at Port Douglas's Four Mile Beach, check the status of Stinger Season.
The Daintree National Park is part of the UNESCO World Heritage Listed Wet Tropics of Queensland, it was listed in 1988.
How To See Daintree National Park
It is very easy to visit the Daintree National Park from Cairns, Port Douglas, or Palm Cove. If you have your own car you can simply drive up to the ferry, just north of Wonga Beach.
If you prefer to take a tour, we list some of the best ways to see, and experience, the Daintree National Park below.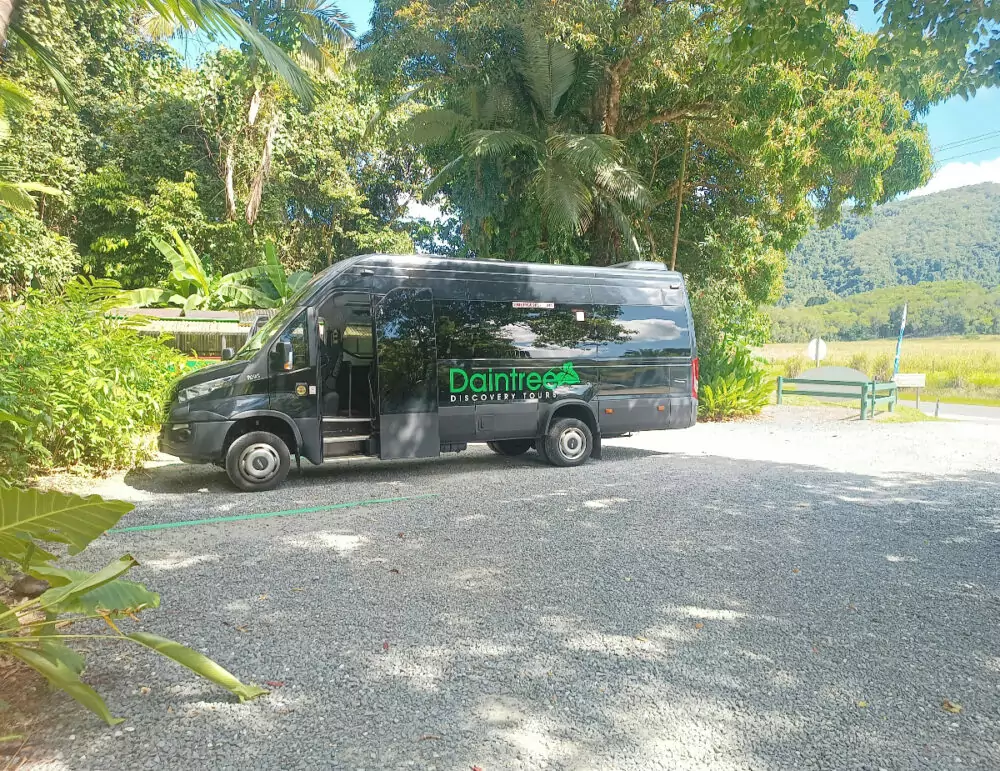 There is no to very little transport in this region, you can't simply catch a bus to the Daintree and there is no train line north of Cairns. Your best options for visiting the Daintree are below.
Daintree National Park Tours and Tickets
We think the best Great Barrier Reef tour from Port Douglas, is this one.

Daintree Discovery Tours are a good choice as they take you to Mossman Gorge, for a cruise on the river, and to the Daintree north of the river on a day tour. This tour is only available from Port Douglas, people staying in Cairns or Palm Cove can drive up and join the tour in Port. This is a great tour, including an Aboriginal "welcome to country" with the Kuku Yalangi. Book here.

From Cairns, book a full-day tour to Mossman Gorge and Daintree, including an optional river cruise and indigenous experience. Book here.

If you're staying in Palm Cove, book a full-day tour to Mossman Gorge and the Daintree here.

From Port Douglas you can visit Mossman Gorge without a car, book the shuttle to Mossman Gorge (return) here and enjoy the walkways and freshwater stream independently.

From Port Douglas, book a half-day (morning or afternoon) tour to Mossman Gorge and the Daintree River. This is a cheaper option and great if you're short of time. Book here.

To book a crocodile and wildlife cruise on the Daintree River, you need this link. for Solar Whisper (near the ferry), or this link for Bruce Belcher Cruises (towards Daintree Village). These two are usually the same price, both are 1 hour cruises.

To take a night walking tour in the Daintree Rainforest, spotting wildlife in the dark, go here. This particular tour is for families with young kids, there is also an adult tour.

It's also possible to go trekking in the Daintree National Park, look here.
How Much Does it Cost To Visit Daintree Using the Daintree Ferry?
At the time of publication (August 2023) the cost of the Daintree Ferry for a motor vehicle was $47 return. You can normally pay this at the ferry itself, or book online.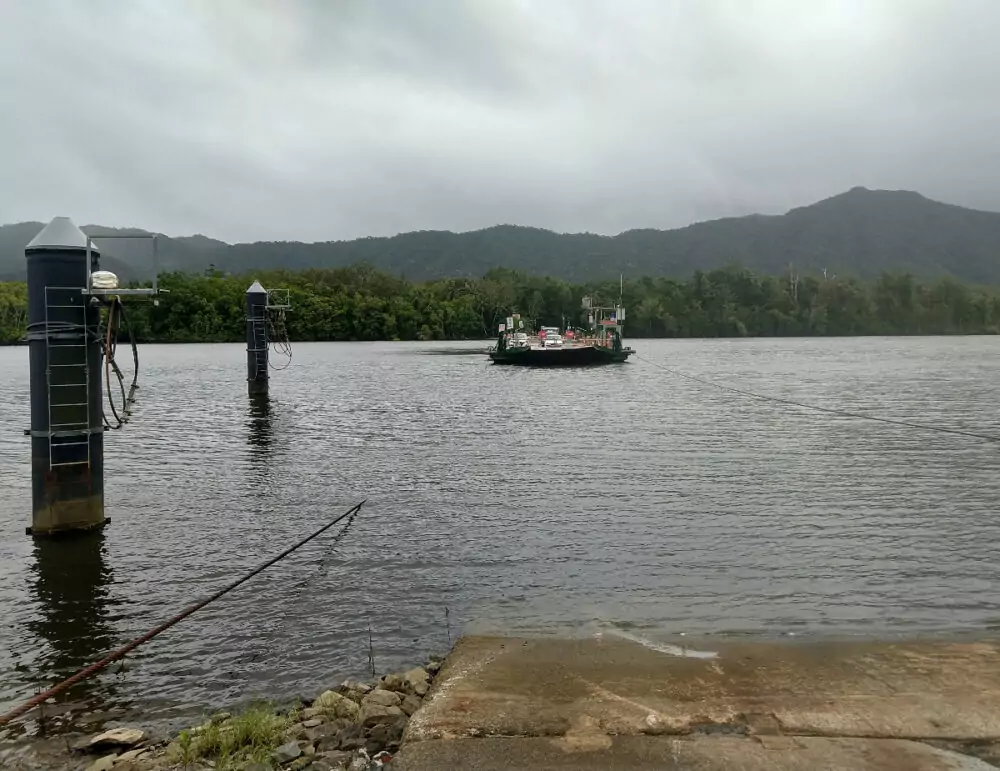 Obviously these costs can change at any time, so check, and book, at the Ferry's own website.
How Much Does it Cost To Visit Mossman Gorge?
The admission price for Mossman Gorge is currently $14 Au for an adult. This is actually the cost of the shuttle bus to the gorge from the car park and visitor centre. Visitors are not allowed to go to the Gorge without paying for the shuttle. Children are cheaper, babies, toddlers and infants are free.
Obviously, prices and terms change, please check for yourself at the Mossman Gorge website.
Do You Need a 4×4 or Offroad Vehicle to Enter the Daintree National Park?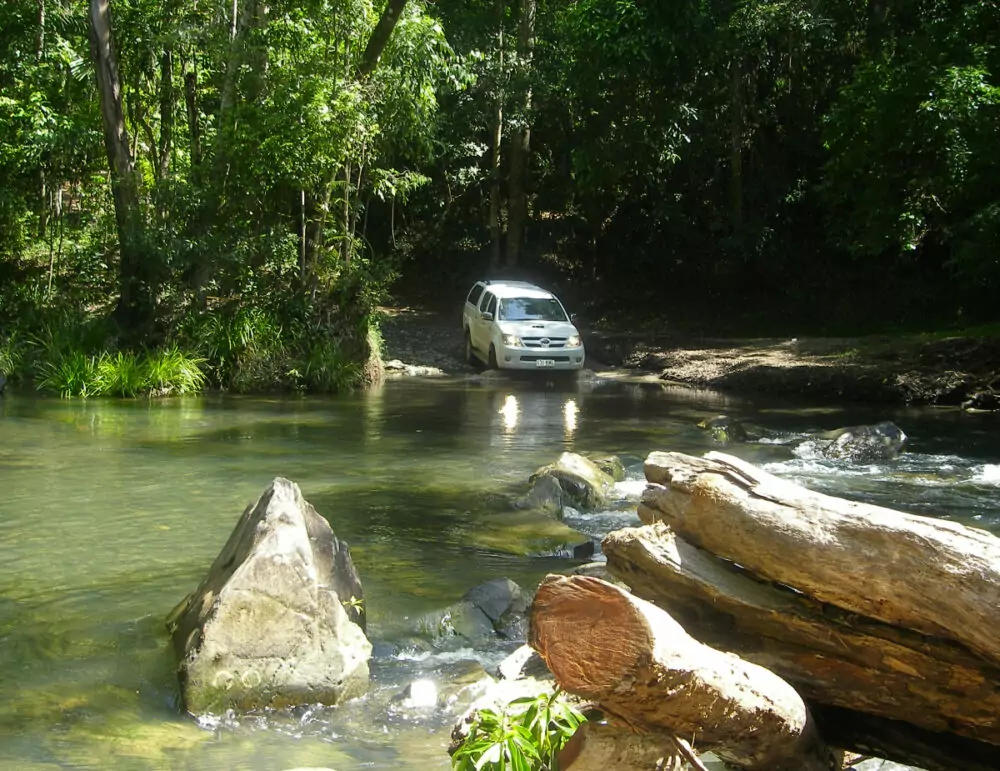 Many of the roads within the Daintree National Park are sealed and good. You can drive for a long way into the park without a 4 wheel drive vehicle. There are still a few creek crossings further into the park.
Can You Stay in the Daintree National Park?
Yes, there are various hotels, campsites, lodges, and campgrounds within the Daintree National Park and near the park.
Accommodation options include the award-winning Daintree Eco Lodge (click through to check it out, but this one is expensive!). The Daintree Ecolodge is south of the Daintree River, making it convenient for Port Douglas if you plan to take a reef trip.
A cheaper place to stay in the Daintree is Daintree Heritage Lodge, this place has rainforest cabins at a moderate price point. It gets rave reviews, particularly for it's natural freshwater swimming hole. See it here. This rainforest lodge also has family rooms.
For more information on the Daintree Rainforest, River, and National Park, hit the "Daintree" tab here.
If you'd like to hire a car during your stay, use this car rental comparison tool to find the best deal!

We also suggest you take a look at this company to get a quote for all kinds of the more tricky adventure or extended travel insurance.

Try Stayz / VRBO for an alternative way to find rentals on homes/apartments/condos in any country!