This post may contain affiliate links.
There is not a place called "Daintree Town" in the Daintree National Park or Daintree Rainforest areas of Far North Queensland.
This post explains a little more about where "Daintree" is, which towns are in the Daintre and those nearby.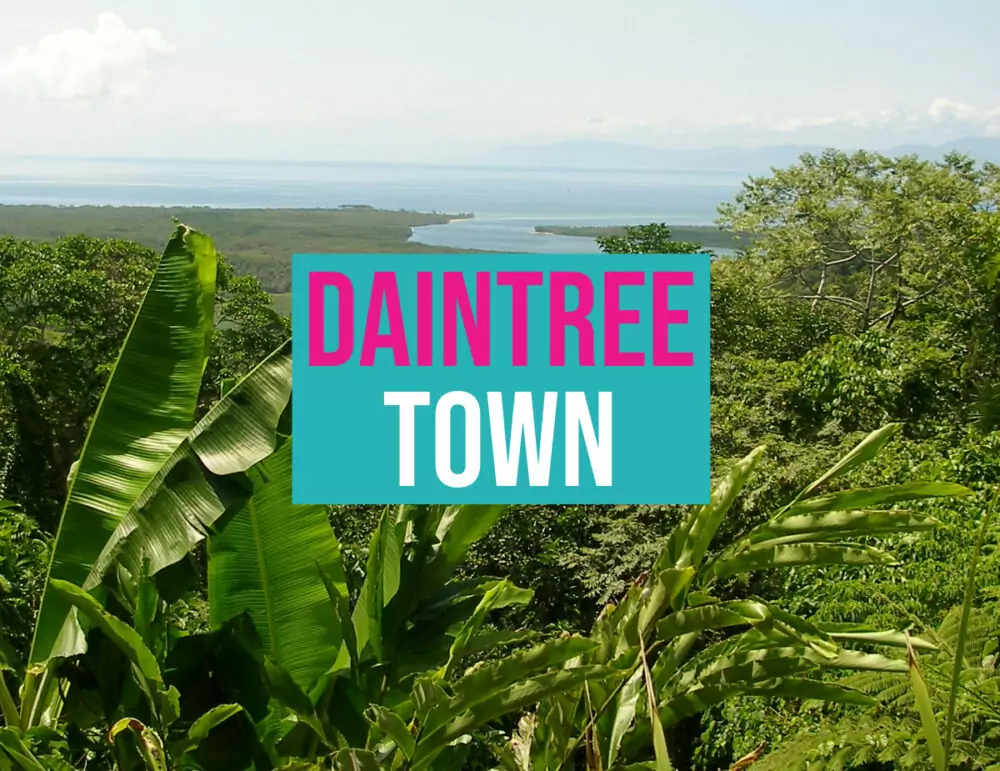 Daintree Town simply doesn't exist according to my extensive research.
Daintree
The Daintree statistical area is marked here on a map created by the Australian Bureau of Statistics. The population of the Daintree region in the 2021 census was 6,674.
You can see from this map that Mossman is included in "Daintree". Daintree has borders with "Port Douglas" and "Tablelands" to the south and "Cape York" to the east.
Its western border is the Coral Sea, with The Great Barrier Reef lying offshore.
The area known as Daintree is entirely within the Shire of Douglas, but the two aren't the same.
See this map of the area covered by the Douglas Shire Council.
How To See The Daintree Region?
These tours will allow you to see what Daintree has to offer.

Daintree Discovery Tours are a good choice as they take you to Mossman Gorge, for a cruise on the river, and to the Daintree north of the river on a day tour. This tour is only available from Port Douglas, people staying in Cairns or Palm Cove can drive up and join the tour in Port. This is a great tour, including an Aboriginal "welcome to country" with the Kuku Yalangi. Book here.

From Cairns, book a full-day tour to Mossman Gorge and Daintree, including an optional river cruise and indigenous experience. Book here.

If you're staying in Palm Cove, book a full-day tour to Mossman Gorge and the Daintree here.

From Port Douglas you can visit Mossman Gorge without a car, book the shuttle to Mossman Gorge (return) here and enjoy the walkways and freshwater stream independently.

From Port Douglas, book a half-day (morning or afternoon) tour to Mossman Gorge and the Daintree River. This is a cheaper option and great if you're short of time. Book here.

To book a crocodile and wildlife cruise on the Daintree River, you need this link. for Solar Whisper (near the ferry), or this link for Bruce Belcher Cruises (towards Daintree Village). These two are usually the same price, both are 1 hour cruises.

To take a night walking tour in the Daintree Rainforest, spotting wildlife in the dark, go here. This particular tour is for families with young kids, there is also an adult tour.

It's also possible to go trekking in the Daintree National Park, look here.
What is Daintree Named After?
Daintree is named after a man, Richard Daintree, well-known geologist and friend of George Elphinstone Dalrymple who was the leader of the first European exploration party in the Daintree River Valley in 1873.
The Kuku Yalanji people, of course, were the original custodians of this land, and it has been returned to them today. Kada Kaba is the wet place, the rainforest surrounding Thornton Peak, the sacred mountain Wundungu. Julaymba is Daintree (source).
Towns Near the Daintree Rainforest
Daintree Village is a small settlement on the Daintree River, south of the Cape Tribulation section of the Daintree Rainforest. It is named as a village, but often referred to as a small town. It's most certainly not a city!
Daintree Village is an embarkation point for crocodile spotting cruises on the Daintree River and has a jetty, a few small shops, and places to stay.
It was formerly a red cedar timber town, today you'll find cattle farms and tourism.
As you drive along the Mossman Daintree Rd. towards Daintree Village you'll pass a few other river cruise operators, a few hotels, cattle farms and scattered homes hidden in the foliage.
Mossman is a nearby town, a much larger rural town in the Douglas Shire and home to the Mossman Gorge. Mossman has a supermarket, fuel, schools, and shops.
It is inside the Daintree statistical area as marked on the official map above.
The Mossman Gorge is within the Daintree Rainforest and Daintree National Park. So Mossman is probably the closest town to "The Daintree" and maybe the only town in "Daintree."
Is it worth visiting Mossman? There's not much of interest to tourists in Mossman, but it's a good example of a rural Australian town. The Mossman sugar mill and cane trains are interesting and the ancient rain trees on the Mossman Daintree Road are beautiful.
A market is held under the rain trees on Saturday mornings.
If you are driving to the Daintree River from Cairns or Port Douglas, you will pass through Mossman. The section of road north of Mossman to the Daintree River has beautiful views of the Coral Sea in places.
Port Douglas is also a town, it's south of Mossman, so further away from the Daintree Rainforest and not included in the "Daintree" statistical map.
There are no towns in the Daintree Rainforest, most settlements are designated as villages.
Cape Tribulation, Cow Bay, and so on have small settlements, sometimes referred to as villages or localities.
Syndicate is in the Daintree National Park south of the river, near Mossman, but it's not a town.
A town is defined as a built-up area with a name, defined boundaries, and local government, that is larger than a village and generally smaller than a city. (Oxford English Dictionary).
Map of Places and Towns in The Daintree Locality
We made a map for you, with places of interest marked. You can open it here in Google maps.
What's the Nearest City to the Daintree Rainforest?
Cairns is the nearest city south of the Daintree Rainforest.
Cairns has an international airport and railway connection and as such is a gateway for visitors to the Daintree Rainforest and National Park.
Cooktown is the nearest city north of the Daintree Rainforest and is reachable via two roads, one along the coast through the Daintree Rainforest, one inland.
A city is a relatively permanent and highly organized centre of population, of greater size or importance than a town or village(Encyclopedia Brittanica)
Do People Live in the Daintree Rainforest?
Yes, absolutely, people can and do live in the Daintree Rainforest.
North of the Daintree River there is very little by way of infrastructure so most residents rely on solar power and rainwater collection or bore water. Some residents commute south for work, using the Daintree Ferry.
Why did I write this post about a place that doesn't exist? There was wrong information online, so I thought I'd fix that. We live in this region and I didn't know exactly what or where "Daintree" was today. Maybe I've made mistakes or read the wrong information, there is a lot of AI generated spam on the internet these days. If you have any further information on this I'd love to know. Leave it in the comments please so we can all figure this out together!
For more information on the Daintree Rainforest, River, and National Park, hit the "Daintree" tab here.
If you'd like to hire a car during your stay, use this car rental comparison tool to find the best deal!

We also suggest you take a look at this company to get a quote for all kinds of the more tricky adventure or extended travel insurance.

Try Stayz / VRBO for an alternative way to find rentals on homes/apartments/condos in any country!