Let's face it. Barcelona is an amazing city. The astounding architecture, coupled with a special European charm makes it one of the continent's most beguiling cities. But, once you have had your fill of the magnificent Sagrada Familia, and the other city sights, you can enjoy some wonderful day trips from Barcelona too. Join us as we take you outside of the art capital of Spain. Time to explore the exciting world just outside Barcelona's city walls.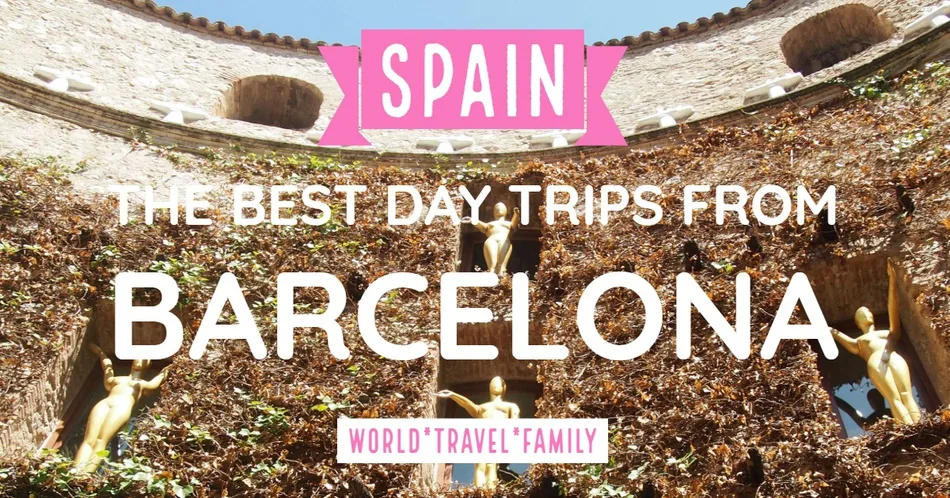 This post contains our personal opinion only and you must double check all information for yourself. Opening times, prices and availability do change from time to time. This post contains affiliate links, they cost you nothing extra and allow us to make commission. Obviously there are thousands of things to do in and around Barcelona, here are a few of our best ideas.
Best Day Trips From Barcelona
We found some of the best day trips from Barcelona to share with you. Of course there are more. If you read you'll find one of my very favourite experiences in the world. You can use our index below to find the tour of experience for you. Don't forget to hit the red Pinterest button and choose your favourite image.
We include cultural, foodie, wine lovers', active, outdoors, beach, and art lovers' day trips. Take your pick!
Tossa de Mar
100 km northeast of Barcelona sits the majestic coastal medieval town of Tossa de Mar. This busy resort town has been nicknamed 'Blue Paradise'. This is thanks to the hue of the Mediterranean here. But it is not just about the beaches. Stepping into the incredibly well preserved old town is like a step back into history. Its labyrinthine alleys and ancient houses will entice and charm. The cultural gem of Tossa de Mar is a popular day trip from Barcelona for beach lovers and history lovers alike.
Montserrat Monastery
Monserrat is the name of a rocky mountain range just outside Barcelona. The historic Benedectine Monastery perched atop one of the stunning peaks is one of the most popular day trips from Barcelona. Inside the Basilica is a rare black Madonna statue who is said to have healing powers.
For some, a trip to Montserrat may be a religious pilgrimage. For others, it is simply a welcome escape from the bustle of Barcelona city. Whatever your reason for visiting, you will be astounded by the spectacular views from the top. Around the Montserrat Monastery, you can find cable cars. A funicular will take you up even higher up the mountainside.
The 3-hour return hike up to St Jeroni will give you endless sweeping views over Catalonia from Montserrat's highest peak.
There is a restaurant on site and travel from Barcelona takes roughly 1.5 hours each way. The Monastery is open from 7.30 am to 8 pm daily. Entry is around 16 Euros per adult.
Note that the Tabernacle housing the famous black Madonna closes between 10.30 am – 12.00 pm every day at time of publishing. Please cheack this for yourself.
Girona
Similarly, the atmosphere in the medieval old town of Girona provides a welcoming calming contrast to Barcelona. Wander through narrow cobbled streets and explore the ancient city walls. The recent season of Game of Thrones was filmed in Girona too. So you can also enjoy invoking Braavos and King's Landing with a tour of filming locations.
Girona is a great day trip from Barcelona as it is only 1-hour's drive from the city. Don't miss the Girona Cathedral, the Church of St Felix, and Sant Pare de Galligants Abbey. Likewise, check out the old city walls, and the spectacular views of the River Onyar.
Sitges
Sitges is a popular seaside resort town about 30 km to the south of Barcelona. It is famous for its gay scene. Sitges also hosts a renowned annual International film festival in October. The best time to visit is during Carnival in June. People flock from all over the world to watch one of the world's most flamboyant festivals.
People also visit Sitges to enjoy the beautiful sandy beaches. There are 17 beaches here, of which 3 are nude beaches (Platja dels Balmins, Platja d'Aiguadolc and Playa del Muerto). On a nice day in Catalonia, the beaches of Sitges are an easy day trip from Barcelona. The beautiful climate in this part of Spain makes it possible to visit the beach year round. There is more to Sitges than just the beaches though. Wander through the narrow streets and quaint avenues of the attractive town too.
Tarragona
Tarragona was once one of the most important Roman cities in current day Spain. It is a designated UNESCO world heritage site thanks to the wealth of important Roman ruins in the area. Visit the impressive 2000-year-old Roman Amphitheatre, the Necropolis, the Old Bullring and the National Museum of Archaeology. Enjoy the sensational views from the Balcó Mediterrani.
Visit the intriguing Devil's Bridge which was built in the 1st century AD using stone without mortar. Legend has it that the Devil built this bridge in one night for a shepherd. He wished to easily get his sheep from one hill to the other. The Devil asked for payment of the first soul to cross the bridge. The first soul was a sheep!
Tarragona is only a 30-minute train ride from Barcelona.
Mountblanc
Inland from Tarragona, and 1.5 hours from Barcelona, Mountblanc is one of the best-preserved medieval towns in all of Europe. The grand fortified walls enclose narrow cobbled streets and atmospheric buildings. Climb to the top of the church tower for the best view over the area.
Oller del Mas
Oller del Mas is found 60 km northwest of Barcelona. This atmospheric and historical family-run winery can be combined with a trip out to Montserrat. The historic Oller del Mas specialises in the full-bodied 'Pecapol Negre'. This is definitely worth a try for red wine lovers.
Penedes Wine Region
Only 1 hour from the bustling hear of Barcelona, the Penedes Wine Region makes a spectacular day trip from the city. The area is made famous by its Cava 'bubbly' and is also known for the delightful dry reds and whites.
Priorat Wine Region
This world-famous wine region is in an area south of Barcelona in a place of unexpected beauty. The wines of Priorat are known for their 'powerful flavour'. Enjoy tasting the region's wines and strolling among the picturesque vineyards.
Salvador Dali Museum, Figueres
My favourite art museum in the whole world. This authentic town is the birthplace of Salvadore Dali. As such, Figueres houses many attractions related to this much loved Spanish artist. The Gala-Salvadore is an engaging tribute to the famous and revered Dali. The museum is named for Salvadore's wife, Gala and is open daily from 10 am to 5.15 pm. From Barcelona, it's a 1.5-hour drive to get there. You can combine the Dali Museum at Figueres and stunning Cadaques in a one day tour from Barcelona. See that here.
Cadaques from Barcelona
This beautiful seaside town was where Salvadore Dali lived. If you love the man and his art, or if you simply love picturesque Spanish villages, you must come here. See one tour option to take you to Cadaques,here.
Collserola
Only a 15-minute train ride from central Barcelona, Parc de Collserola is packed with biking and hiking trails. Collserola is the largest metropolitan park in the world. It is about 22 times larger than New York's Central Park. This is a fantastic expanse of unspoiled nature.
Collserola is the perfect place to get into the fresh air just outside of Barcelona. Pick up a map from the information centre, and get exploring!
Vall de Nuria
If you are looking to escape the hustle and bustle of the city, Vall de Nuria in Queralbes is a perfect day trip from Barcelona. The only way to get into the stunning valley is to hike, or by rack railway. The train takes you through over 12 km of unspoilt mountain scenery to an elevation of 1000 m. All while you are surrounded by the dramatic 3000 m peaks of the Eastern Pyrenees. The landscape of deep gorges and green valleys with rushing water makes for a scenic day trip for nature lovers. There are numerous walking tracks and historic buildings in Vall do Nuria. You can find all of this approximately 2 hours north of Barcelona.
Vic
Vic is also a day trip from Barcelona worth making. With an attractive central square, historic Vic has long been one of the most important towns in Catalonia. There is a 2nd-century Roman temple that was found underneath a castle. And the fantastically muralled walls of the Catedral de Sant Pere de Vic are astounding. On Tuesdays and Saturdays, the Placa Major comes alive with artisan markets. At only 1.5 hours north of Barcelona, Vic is a beautiful day trip from the city.
Sailing at Port Vell
Hire a private yacht from Barcelona's Port Vell and head along the breathtaking Mediterranean coastline. This is a unique and relaxing day trip from the city.
Kayaking and Snorkelling in Costa Brava
One hour from Barcelona, the stunning coastline of the Costa Brava awaits. Paddle your way around magnificent volcanic rock formations. Find the best spots for snorkelling in the clear waters of the Mediterranean Sea. You can book a kayak tour like this here
PortAventura Caribe Aquatic Park
Get your thrills at this awesome water park which is located 1.5 hours away from the city. The whole family will enjoy pools and slides for every taste, including Europe's highest free fall waterslide! It is open from 10.30 am to 6 pm daily.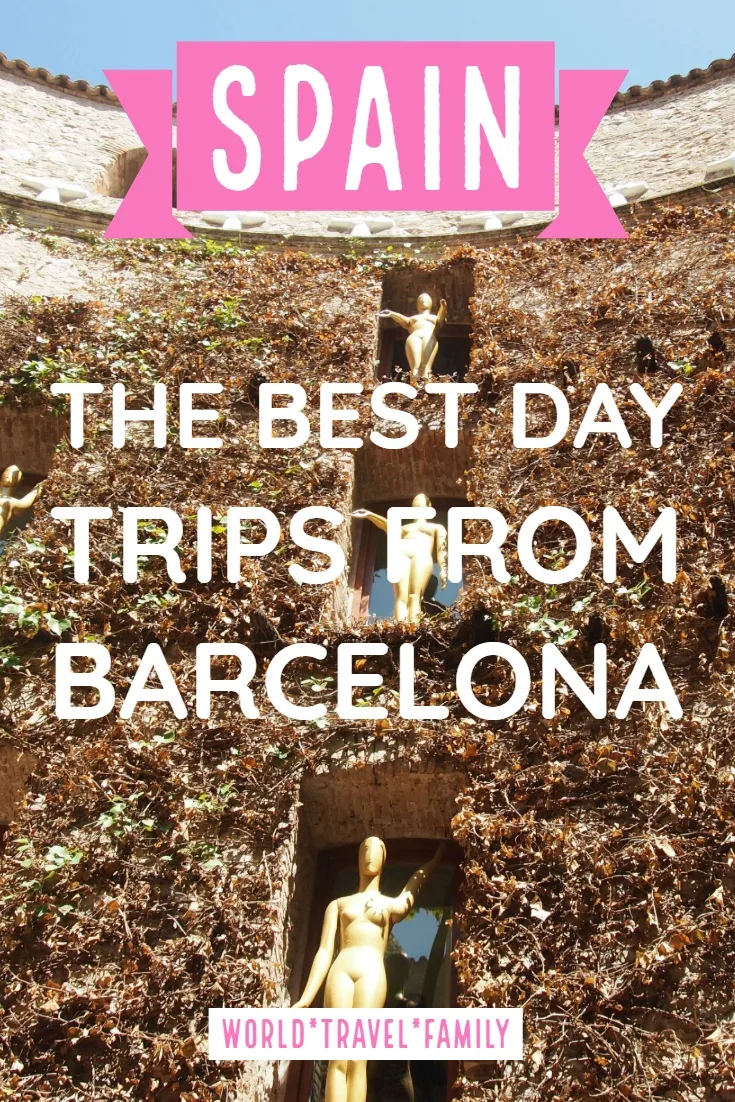 Save this, or one of our other images, to Pinterest!
What's Close to Barcelona for a Day Trip?
If you'd like to check out a huge list of ideas for trips and tours in and around Barcelona, you can do so here.
This list will help you plan your trip to Barcelona and explore the fascinating Catalonia region of Northeastern Spain. Whether you are a nature lover or wine enthusiast, you will find something to tempt your tastes here. The varied and exciting day trips from Barcelona make it an enticing place for your next holiday!
If you'd like to hire a car during your stay, use this car rental comparison tool to find the best deal!

We also suggest you take a look at this company to get a quote for all kinds of travel insurance.

Try Stayz / VRBO for an alternative way to find rentals on homes/apartments/condos in any country!