This post may contain affiliate links.
Hungarian food is worth its weight in gold. The most iconic traditional dishes in Hungary are a real treat for your tastebuds and a threat to your waistline. Despite the latter, these mouthwatering dishes are a good reason for visitors to return to Hungary, year after year.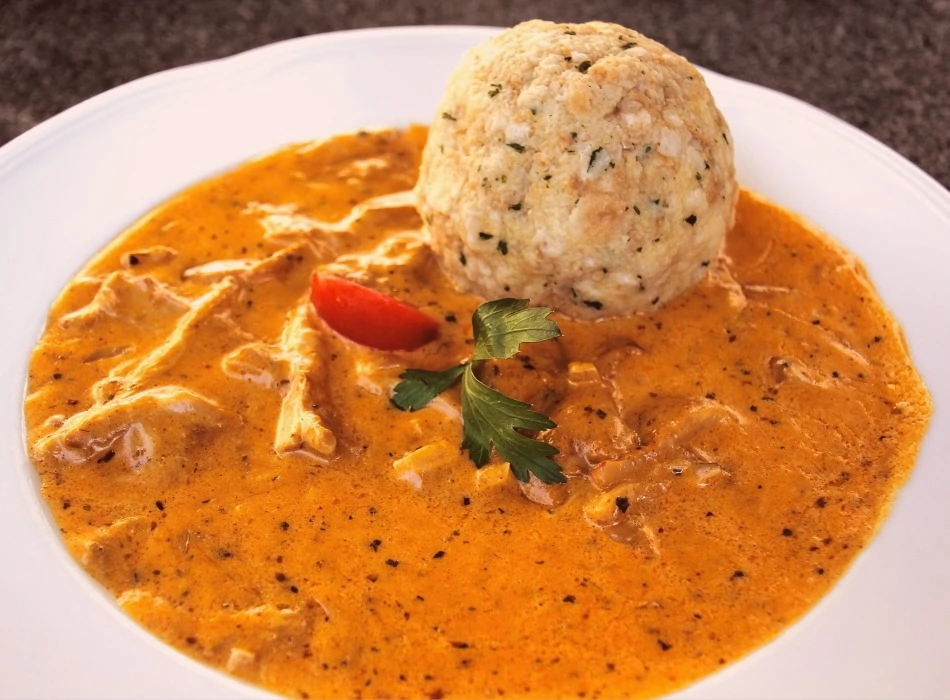 Thanks to its Central European location and eventful history, Hungary has a distinctive cuisine.
The most well-known dishes have elements of 1000-year-old traditional meals. In addition, Ottoman, Jewish and Austrian cultures had a strong influence in popular Hungarian foods today.
This post was written in collaboration with a Hungarian friend.
Hungarian Food
It's important to understand that a dish is considered Hungarian not necessarily because it was invented in Hungary. More important is the fact that it's been there for centuries.
Hungary is most famous for its traditional dishes, but the contemporary food scene is definitely worth discovering too. It's lively and exciting and evolving continuously.
You'll find a vast array of modern and fusion dishes based on traditional ones. These pop up in fast food bistros as well as upmarket restaurants countrywide.
For instance, in 2019, there were six Michelin-star restaurants in Budapest. That's a relatively large number in the region.
Above all, it shows you how much hard work and invention goes into maintaining the country's reputation. Furthermore, it's a sign of being true to the centuries-old heritage of serving excellent food.
Thanks to Hungarians escaping wars and conflicts of the country's turbulent past, typical Hungarian dishes became widely-known. They made the food in Hungary famous as they were trying their luck in all corners of the world.
Let me introduce you to the most iconic culinary elements this beautiful country has to offer.
History of Hungarian Food
Some very traditional dishes like pörkölt, fisherman's soup or gulyás soup date back centuries. The base form of some of the well-known Hungarian meals has an even older history.
These originate in the nomadic, Central Asian past of the Hungarians.
A considerable culinary change happened in the 15th century when King Matthias – probably the most well-known king in the country's history – started to invite chefs from Italy to work for him.
Many new techniques and ingredients were introduced under his rule.
Another significant change in the culinary scene happened during the Turkish occupation, which started in 1541 and lasted for more than 150 years. Many elements that are considered today as the most important and fundamental for cooking traditional Hungarian dishes were introduced in this era.
Potato, corn, tomato and the iconic paprika entered the country during the Turkish rule, giving the traditional dishes a new twist and a few extra layers to enjoy.
The red paprika powder – which can range from fiery hot to mild and sweet – became extremely popular. Today it's the base of the most well-known Hungarian dishes.
Food in Hungary – the most famous dishes
Below is a short compilation of the most famous foods in Hungary. As I mentioned before, travellers are ready to return to the country every year for the food alone. It's that good.
Take a look at what the traditional Hungarian kitchen has to offer and don't forget to try some of these delicacies when travelling to Hungary.
Pro tip: many fast food places in Hungary still serve the dishes in single-use plastic plates with plastic spoons and forks. Bring your own metal or wooden cutlery, so you can enjoy all the mind-blowing meals and do something for the environment at the same time. Also, bring a small travel food container for the leftovers, because of the same reason and because the portions in Hungary can be, well, big.
Stew – Pörkölt
Pörkölt is definitely the most well known of the Hungarian dishes. There's a lot of confusion around this dish, and it gets often mixed up with gulyás, or goulash. A frequent mistake in international articles and blog posts.
The pörkölt, or stew, is a firm favourite, you can find it in households and restaurants alike.
The stew usually consists of veal, beef, pork, chicken or sheep, with beef being the most popular. The sheep stew has a very characteristic, intense flavour and a slight odour, and it can deter many.
Still, if you take your time to find a restaurant with a reputation for serving excellent sheep stew, you won't regret it.
Want to see and taste something authentic? Consuming sheep is part of the Hungarians Central-Asian, nomadic heritage. Visit the town of Karcag, home of the real sheep dishes, and check out the annual Sheep Cooking Festival (Birkafőző Fesztivál).
One of the popular restaurants in Budapest to try pörkölt is the Menza Restaurant.
Goulash soup – Gulyásleves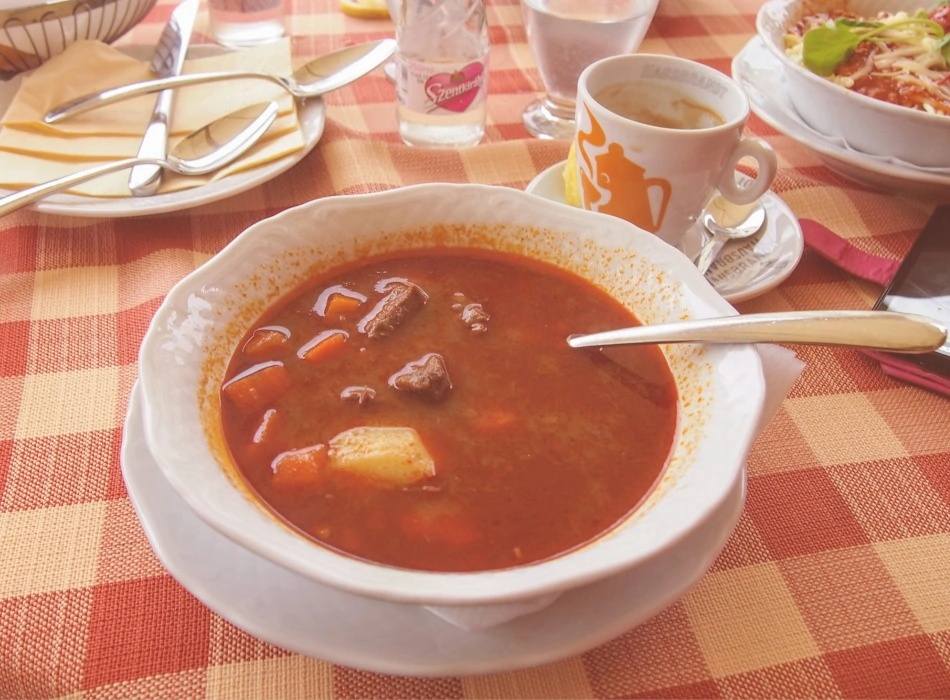 That's the one that's not a stew, so not pörkölt. The gulyás or goulash is a soup with meat and potatoes.
A frequent ingredient in this soup is a type of egg noodles called csipetke, very popular with the locals.
There are different varieties from region to region. The gulyásleves was a traditional meal of the herdsmen guarding horses, cattle and sheep in the Hungarian steppe.
The best gulyás is the one that people prepare in a kettle over an open fire. It is by far one of the most popular dishes amongst the food in Hungary.
Almost all restaurants have one or more variations of it on the menu. Worth to try in Budapest: Gettó Gulyás, a restaurant serving traditional Hungarian food in the old Jewish Quarter.
Chicken paprika – Paprikás csirke
The recipe starts with the usual chopped red onion and red paprika powder base. This thick stew is made of chicken thighs, drumsticks, green pepper (not the peppercorns) and a large amount of sour cream.
The paprikás csirke is a base item amongst the food in Hungary, part of almost all Hungarians' childhood memories. Just like the pörkölt, this one comes regularly served with nokedli, a typical Hungarian dumpling-type noodle.
For authentic food in Hungary, once in Budapest, try paprikás csirke in the Terv Presszó, a restaurant with a long history. With friendly prices and a retro feeling, this is a popular establishment with both locals and tourists.
Stuffed cabbage – Töltött káposzta
The stuffed cabbage is another widely-popular dish, typical for the autumn-winter season. It's made more at home than in restaurants, but of course, the best restaurants serving traditional food all have it on the menu.
The prepared cabbage leaves are stuffed with a meat mixture – usually pork meat with rice and spices -, rolled up and cooked. There are distinctive variations, all equally amazing.
For some of the best examples of food in Hungary, including töltött káposzta, try the popular Csarnok Vendéglő in Budapest.
Fisherman's soup – Halászlé
Thanks to the relatively big rivers and lakes in the country, the halászlé, or fisherman's soup is a traditional dish with a long history. There are regional variations, with slightly different ingredients and thickness.
People cook the traditional fisherman's soup in a kettle, over an open fire. If you want something really characteristic, try the fish soup of Szeged.
You don't necessarily have to travel all the way to this Southeast-Hungarian city. If you only have a few days in the country, try the restaurants near you, this is one of the most frequent dishes on the menus.
If you are a real fish enthusiast though, the Szeged Fish (or Fish Soup) Festival, usually held at the end of summer, might be a good programme for you.
One of the famous restaurants in Budapest serving quality fisherman's soup is the Szegedi Halászcsárda, right next to the River Danube. Fun fact: the town of Szeged is actually on the River Tisza, 180 km from Budapest, so watch out which address you choose!
Schnitzel – Rántott hús
The Schnitzel is an excellent example of how the cultural and culinary exchange happens over time. It's a typical Austrian dish, originally a veal cutlet, that's breaded and fried.
Thanks to Hungary's shared history with its western neighbour, this dish became extremely popular in Hungary. With time, chicken and pork Schnitzel became common.
You'll get a good rántott hús in a wide variety of restaurants, all over Hungary. In Budapest check out Menza Étterem és Kávézó for a traditional version of this dish.
Chulent – Sólet
The sólet is a typical Jewish meal. And a good example of cultural diversity. If you base yourself in Budapest, it's absolutely worth to try a sólet in one of the reputable restaurants. Hungary's largest city and capital has a long – and at times heartbreaking – history of its Jewish population.
The sólet comes in many variations. The traditional version consists of slow-cooked beans, pearl barley and meat (beef brisket or goose leg). The ingredients are cooked together on low heat, traditionally for 12, sometimes even 24 hours.
For the best sólet in town, take a look at the Rosenstein Vendéglő, which is a well-known restaurant in Budapest. Fülemüle Étterem, a cosy place with family recipes and great sólet is another good choice.
Do note that although quite a few excellent restaurants are serving Central European Jewish food in Hungary, not all of them run a Kosher kitchen.
Vegetable stew – Főzelék
The főzelék is a dish type, a vegetable stew with some spices. It often comes with meatballs, sausages, pörkölt or even fried eggs as toppings.
The most well-known in this category is tökfőzelék. That is a vegetable stew of planed or grated summer squash (this type has greenish-white flesh and a very mild taste). Fresh dill makes this dish so characteristic.
Other popular varieties are spinach, green peas and kale. When checking the menu, look for the words spenót, zöldborsó or kelkáposzta főzelék.
You will find vegetable stews even on the menu of the most upmarket restaurants. For an authentic experience though, try one of the smaller eateries, like Hokedli in Budapest.
Tomato and green paprika stew – Lecsó
The lecsó is another firm favourite amongst the food in Hungary, especially with locals. Many households prepare this dish in the second half of the summer when the ingredients are fresh.
It's one of the real home-made meals, but you can find it in a few restaurants too.
It's closest to the ratatouille and is usually a stew of ripe tomatoes and sweet green peppers, with red pepper powder.
Many people eat it with sausages, but it's also perfect in the summer heat with some delicious fresh bread to dunk into it.
In Budapest, a popular choice for lecsó is Hadik Kávéház. Another firm favourite is the A séf utcája in the Downtown Market Hall (Belvárosi Piac). You'll find this little restaurant in the Gallery, shop number 3.
Deep-fried flatbread – Lángos
Lángos is the only widely-known Hungarian flatbread, which is making a come back after a few years of ignorance and drop in popularity.
This type of flatbread is fried in oil and comes with unlimited variations in toppings. The most popular ones are lángos topped with mashed garlic, sour cream and grated cheese, or all three of these together.
Thanks to the street food revolution going on in the country, small-sized street food stalls that sell lángos became popular again and are present countrywide.
One place that's popular with both locals and tourist is the centrally located Lángosh on Zrínyi Street, near St. Stephen's Basilica in Budapest.
Cold fruit soup – Hideg gyümölcsleves
People in Hungary eat soups as the first course of a meal. That goes for the very popular cold fruit soups too.
Once you see it in a picture, or on the menu of a restaurant, you might wonder, what? It looks more like a dessert!
Restaurants generally prepare it sweet and serve it with whipped cream, which is unusual for many visitors. But believe me, in the hot summer months, you have to give it a try.
Quite a few local fruits are great ingredients, from apples to apricots and raspberries, the cold cherry soup being the most famous of all.
If you are going to Hungary in the autumn and have the chance, do try the quince soup!
You'll find several fast-food type eateries and bistros serving cold fruit soup in Budapest, like the one named Leves., which is the Hungarian word for soup.
Practically, you can try your luck in many places, from the small traditional restaurants to high-end ones and the traditional taverns.
Cottage cheese balls – Túrógombóc
Cottage cheese, mixed well with semolina and eggs, formed into medium-sized balls and cooked in boiling water. The túrógombóc is an all-time favourite that serves as a savoury or as a sweet dish.
It comes generally topped with sour cream and fried breadcrumbs, or even some kind of jam — a very characteristic item of the food in Hungary.
To try the túrógombóc, you can choose between numerous restaurants in all categories. One good choice in Budapest is the Börze Kávéház és Étterem, in the very heart of the city, close to the Parliament building, St. Stephen's Basilica and Chain Bridge.
It is a relatively new café and restaurant, with breathtaking interior design, bringing the guests back in history to the beginning of the 20. century, when the grand café life was blooming in Paris, Vienna and Budapest too.
Pancake – Palacsinta
The local crêpe. Immensely popular everyday dish. You can find it in almost every restaurant and every household. The pancake serves as a dessert, filled with different jams or cocoa powder.
In addition, cinnamon sugar or sweet cream fillings are also popular. The variations are endless.
Hortobágy pancake – Hortobágyi palacsinta
There's one pancake that's a savoury dish though. You will encounter it as a starter or a main course with some side dish. That's the Hortobágyi palacsinta, or Hortobágy pancake, stuffed with minced meat and served with a nice paprika-sour cream sauce.
It's a lesser-known item amongst the amazing array of food in Hungary. Worth a try if you want to experience the typical Hungarian flavours or are visiting Hortobagy National Park.
To try the pancake with meat – considered a speciality by many visitors – try local, authentic restaurants, or the ones called Csárda, that are next to main roads in the country. These establishments served as rest houses and inns from the middle ages.
If you are only visiting Budapest, try the restaurants called Gettó Gulyás or Korhely.
Gundel pancake – Gundel palacsinta
The Gundel palacsinta, or Gundel pancake, is another bright star of the pancake section. It comes filled with a sweet, ground walnut mixture, served with warm chocolate sauce.
If you dig a little bit deeper into the history of food in Hungary, you'll come across the name Gundel. Once in Budapest, try this dream of a pancake in the historical Gundel Restaurant itself.
Established in 1894, it certainly has a history like very few restaurants have. As a result, it comes with a price tag that matches its reputation. In other words, it's expensive.
To immerse yourself in the myriad of sweet pancake types, try one of the crêpe houses. These are increasingly popular restaurants serving all kinds of pancakes countrywide.
Food in Hungary for vegans and vegetarians and special diets
In case you are vegan, vegetarian or on any kind of diet, you'll have to skip most of the traditional food in Hungary. Do your research and in addition, ask in advance, there are solutions.
The number of restaurants catering to the needs of vegans, vegetarians and different diets is on the rise. People in Hungary encounter dietary health issues too, like lactose or gluten sensitivity, for example.
As a result, more and more traditional restaurants serve unique dishes, tailored to the exact nutritional needs.
Drinks that pair with food in Hungary
There are three main categories of local alcoholic drinks that pair well with Hungarian food. Those have to be on your list. Because all three categories have a wide selection, some bistros and restaurants even have their own range of exclusive Hungarian spirits.
Local beer and wine would be the first two categories. You can find a few traditional and widely popular beer (sör in Hungarian) brands in the country. Borsodi is one of them.
As well as with food, the drink section sees a lot of innovation lately. As a result, quite a few craft beer labels came up, with amazing products.
Wine production has a long history in Hungary. Grape cultivation dates back as far as the time of Romans. There are 22 wine regions in the country, with very different products.
You'll find red and rosé and white. And from dry to sweet and extremely sweet. The selection is massive. You can try specialities like the world-famous Aszú wine from Tokaj.
Moreover, its condensed version, the Aszú essence, a nectar-like speciality.
Pálinka is the name of the local spirit. Plum and apricot are the most famous, but a wide variety of local fruits make excellent pálinka.
This type of drink used to be extremely strong, but nowadays, the alcohol content tops at around 50 volume per cent.
As pálinka has a renaissance, a considerable number of high-quality producers popped up in the last few years.
How to enjoy food in Hungary
First of all, enjoy Hungarian food with an open mind. Over time, Hungary and the Hungarians always had a few different ethnicities living together in the country.
The wide range of culinary treats is the result of this multiculturality. These meals and dishes are all considered traditional food in Hungary.
One thing to keep in mind, though, is that the typical food in Hungary can be a real threat to your waistline. It's a meat-centred cuisine.
Moreover, it's rich in calories and contains either cooked (often with fat) or deep-fried dishes. It's certainly not the best decision to plan your slimming diet for the exact time of your visit to Hungary. (If you follow standard low fat dietary advice)
There's just so much this amazing country has to offer. For instance, if you eat meat, give the different Hungarian cold meat products a try.
For example, one of the most popular products is the smoked salami. Therefore, you can find it in almost every grocery store and every hotel's buffet breakfast.
In addition, make sure to try the myriad of traditional spirits. All of these are certainly a significant part of the Hungarian lifestyle and cuisine.
To sum up, there's an exciting, lively culinary scene in Hungary. In addition to the offers of restaurants, make sure to check out the many food and drink festivals. These are held annually, all over the country. If you're interested in food, you'll certainly have an amazing time there.
If you'd like to hire a car during your stay, use this car rental comparison tool to find the best deal!

We also suggest you take a look at this company to get a quote for all kinds of the more tricky adventure or extended travel insurance.

Try Stayz / VRBO for an alternative way to find rentals on homes/apartments/condos in any country!