Last Updated 11/05/2022.
Australia with kids. What does it have to offer? Is it worth the mammoth flight to take your kids to Australia? If you're already in Australia, where are the best places to take kids? We talk about some of the epic, unique, and awesome things your kids can experience in Australia. Australian fun things, educational things, and, are there any negatives other than drop bears?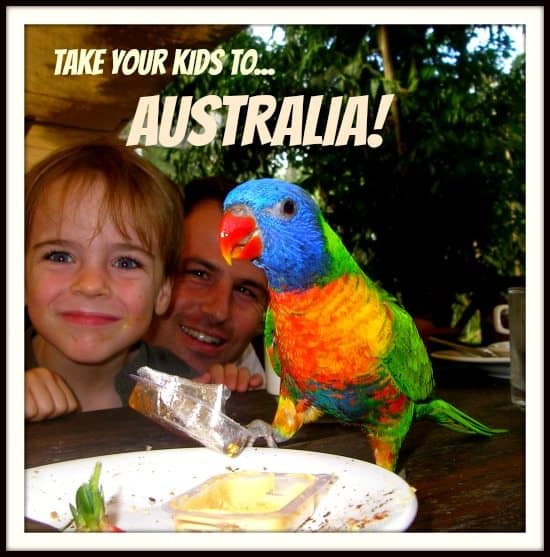 Travelling Australia with kids is incredibly popular, plenty of families are on the road at any given time with camping set-ups doing a "big lap" but if time is limited, what does Australia offer in terms of vacation or holiday travel and things to do with kids that are fun and uniquely Australian?
Our history of travel in Australia is as follows, just so you can be sure I know my topic. In 2001 I toured The Great Southern Land as a young (ish) backpacker on my first RTW.
It was an awesome experience, camping at Uluru, taking The Ghan, diving on The Great Barrier Reef, and patting my first kangaroo.
I made 2 more trips over the next few years, after I married the Aussie Chef.
When my first child, now a teenager, was born in London he had to go and see his relatives, so I made the trip to Australia with an 11 month old.
Three years later we moved to Port Douglas, Australia with our second 11 month baby and spent 6 glorious years living in Oz with the kids.
Australia is a great place for kids and for families, so here are some reasons to visit Australia with kids. Maybe even reasons to consider moving to Australia with young kids.
Australia with Kids Info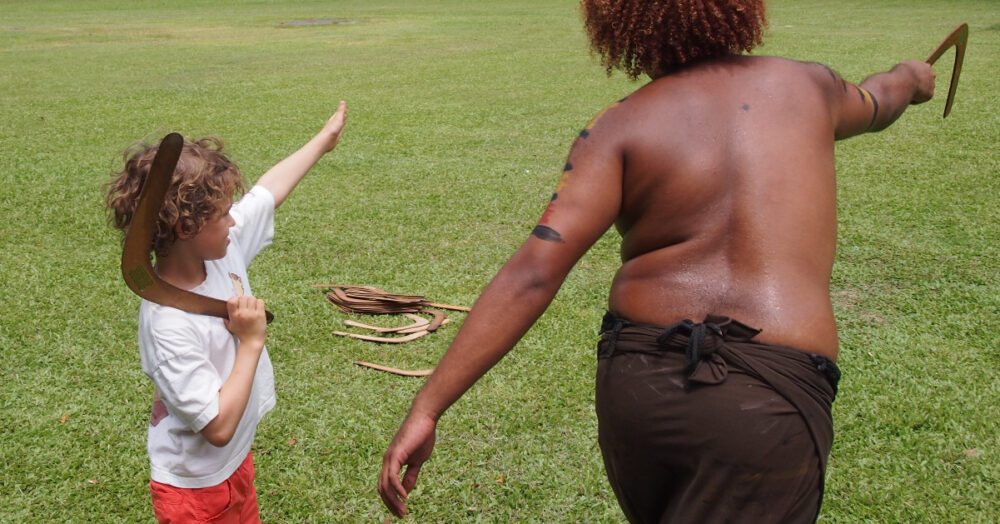 Australia is a great place to take kids with plenty for them to see, do, and enjoy.
Australia is very child-friendly but you may find long distance drives between cities difficult with kids. Also, for overseas visitors, the flight is a long one, be prepared.
The Flight Isn't So Bad
I know everybody thinks flying for 24 hours plus is a living hell, but honestly, it's not so bad flying with kids.
The flight is normally broken up into manageable chunks with a change in between.
We flew to Dubai on Emirates, that's just under 7 hours, then carried on into Sydney that first time with baby D.
These international flights are really quite comfortable for me, they feed you incredibly well and the in-flight entertainment is fantastic.
If your child is old enough to watch movies or read, you're good, nothing to fear on long flights.
Australian Wildlife and Nature Parks Kids Will Love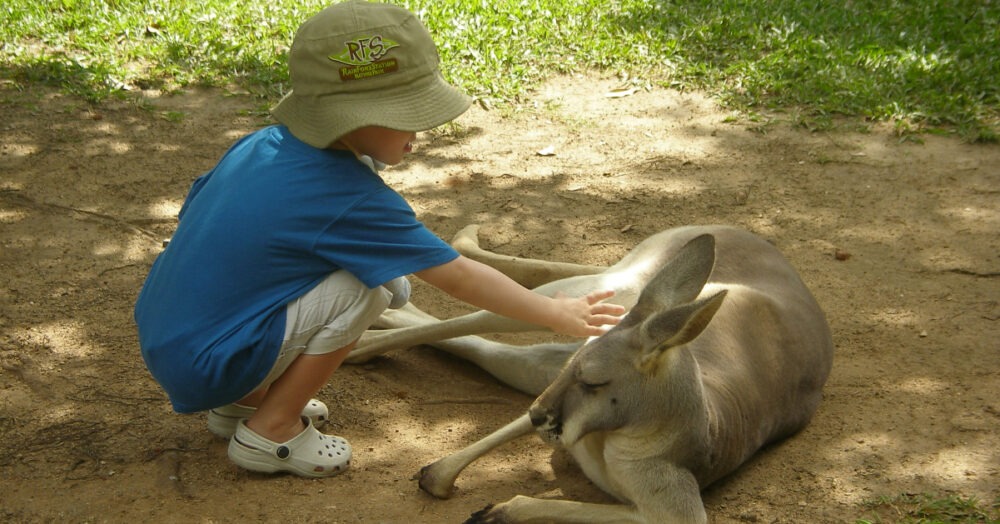 You really can see kangaroos, cockatoos, galahs, possums, crocodiles and wallabies wild.
You'll see them from your car, from the train, even in suburbia. I've been lucky enough to see wombats, echidnas, dingos and cassowaries on the road, too.
If time is short and the children want to get up close and personal with Australia's fauna, there are wildlife parks and local zoos everywhere. My personal favourite is the Wildlife Habitat in Port Douglas, my children used to go every week and never got tired of hand feeding the wallabies and lorikeets (top picture).
Under Sea Life, Downunder, for Kids to Explore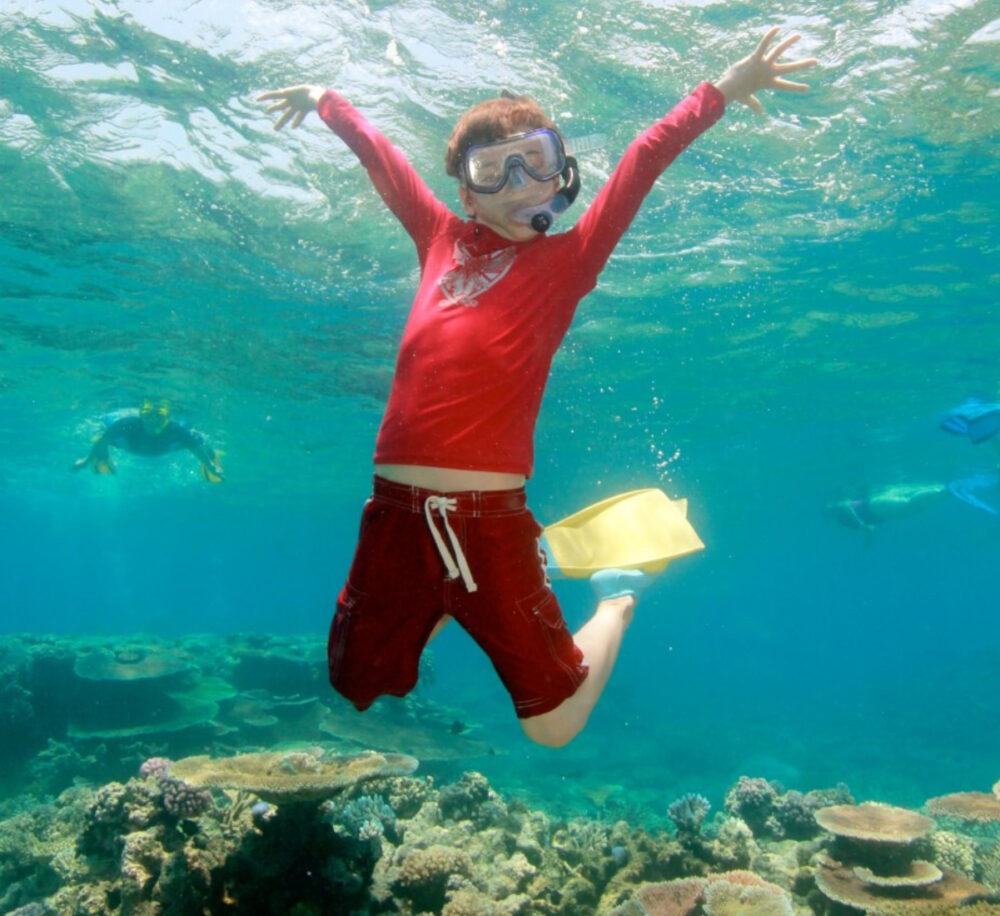 I'm not suggesting you take the kids scuba diving (my kids scuba dive, they had to wait until they were 12), but even young children can enjoy a day on the Great Barrier Reef marine park.
My boys truly started snorkeling at 6 and 8 years old, but I know kids who started younger. Before that we still went, the big reef operators have mini-subs and underwater viewing areas that are great for kids. The boys would splash about on the sidelines and watch the huge maori wrasse coming for food. A day on the GBR really is a day like no other.
Learning About Aboriginal Culture and History – Great For Kids
I really think children should find out about Australia's history and the incredible culture of the Aboriginal people.
If you can't make it out to Uluru , which would be my choice, there are plenty of places to meet Aboriginal people and learn about their world.
Everything from the didgeridoo players at Sydney's Circular Quay to ancient cave paintings, guided cultural walks and Aboriginal Culture Parks.
We had a wonderful day at Tjapukai, a culture park just outside Cairns, learning about dance, music, weapons and medicines.
Australian Museums, Zoos and Aquariums
As part of your Sydney itinerary, don't miss Taronga Zoo. Taking the ferry from Circular Quay across the harbour is an iconic trip. The water sparkles beneath the Harbour Bridge and you can see dolphins sometimes.
The zoo itself is excellent and has the best view of any zoo in the world, right across the harbour to the CBD. You'll find Australian wildlife along with the usual zoo animals.
Canberra has Questacon, the National Science and Technology centre. It's a full, hands-on day for curious little scientists.
Townsville, Perth, Sydney and now Cairns, have excellent aquariums, sorry if I missed out your favourite, these are the ones I know and highly recommend.
As you travel around the country you'll find smaller, more quirky museums, like Herberton Historical Village on the Atherton Tablelands or the Old Melbourne Gaol. Ned Kelly was executed there.
There are still plenty of unique tourist attractions, restaurants, and sites to see aside from the smaller museums of Melbourne. If Melbourne seems like a place that you want to check out, then by all means you should try to visit at least once in your life. And it's a great place to take the family, too!
Just Google museums and attractions for whatever part of Australia you're visiting, there are some fascinating places to visit.
Australian Beaches with Kids
There are 11,011 beaches, in total in Australia.
Seek out the quiet calm beaches for smaller children, Australia can have some pretty powerful sea conditions.
Port Douglas's Four Mile Beach is sandy, gently sloping and calm and has a stinger net for the summer months. You could check out iconic Bondi Beach in Sydney and see if you can spot the Bondi Rescue crew. Or head to The Gold Coast for Surfers Paradise. There is a beach for every age group and every activity.
Swimming Pools and Water Parks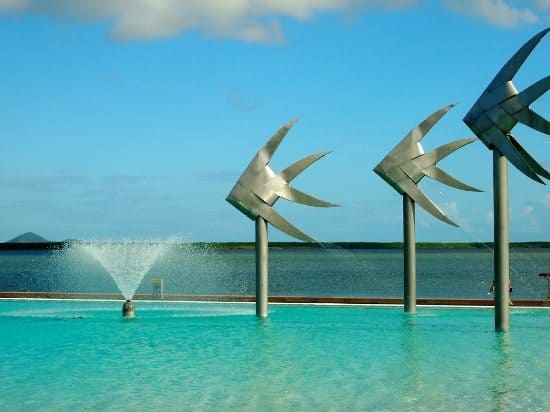 Australia does water attractions really well. In Far North Queensland, where we have a few issues with stingers and crocodiles, there are plenty of places to take the kids for a swim or a splash around, best of all, they're free.
Try The Lagoon or Muddies Playground in Cairns or the Esplanade in Townsville.
If you're looking for big water parks, The Gold Coast has Whitewater World and Wet 'n Wild. Perth has at least ten water parks, you'll find them dotted all over the country.
Bucket List of Things To Do in Australia With Kids
You won't be able to fit all of these into your vacation, but here are some of the best things to do in Australia with kids and for families:
Pat a kangaroo, cuddle a koala.
Learn to surf.
Snorkel on the Great Barrier Reef.
See Uluru.
See as many of Australia's "Big Things" as possible.
Go to Bondi Beach and see the guys from Bondi Rescue.
Go camping in the bush and admire the milky way.
Ski
Swim with wild dolphins
Visit Australia's Gold Coast theme parks.
See wild crocodiles and visit a crocodile show.
Visit Australia Zoo, Steve Irwin's legacy to all kids.
Visit Questacon Science Museum in Canberra.
Visit a sheep station and see shearing.
Attend one of Australia's iconic "shows".
Play the didgeridoo and throw a boomerang.
Pan for gold.
Walk in the world's oldest rainforest.
There are many more things to do in Australia that kids would love, what would you add?
More Reasons to Love Australia With Kids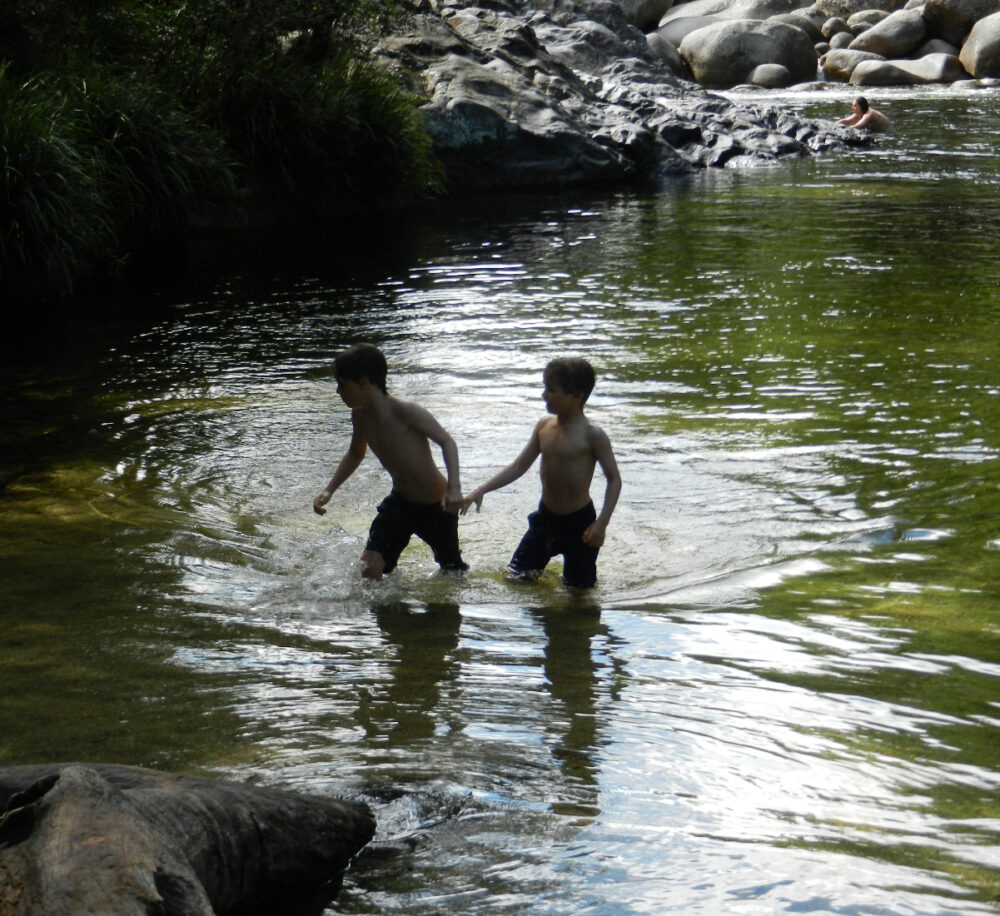 How am I doing? Is that enough reasons?
Do I need to mention the climate, you'll always find somewhere that's just the right temperature for you. You can enjoy just about any sport or activity you like, including skiing, or sample the incredible food and wines Australia produces.
The children should enjoy Australia's chocolate, tropical fruits and dairy products, some of them will enjoy the fantastic seafood.
Camping is immensely popular, in a tent or a mobile home, facilities are great. You can even find free camping and public gas barbecues are everywhere, often in the many kids' playgrounds. I hope I've convinced you, go on, take your kids to Australia, click "like" if you want to go! Want more info on Australia with kids – head to our main Australia Travel Blog page and start planning your itinerary and figuring out the logistics.