This post may contain affiliate links.
Cairns, Australia, is one of the stepping off points for snorkelling the Great Barrier Reef, but is there a beach in Cairns? No, actually, there's not in Cairns City itself. There is a pretty esplanade walkway and a narrow strip of sand but mostly Cairns has a busy estuary and salt water crocodiles, big ones. We also have stinger season in this part of the world, jellyfish visit our waters from around November to May, making unprotected swimming a fairly bad choice.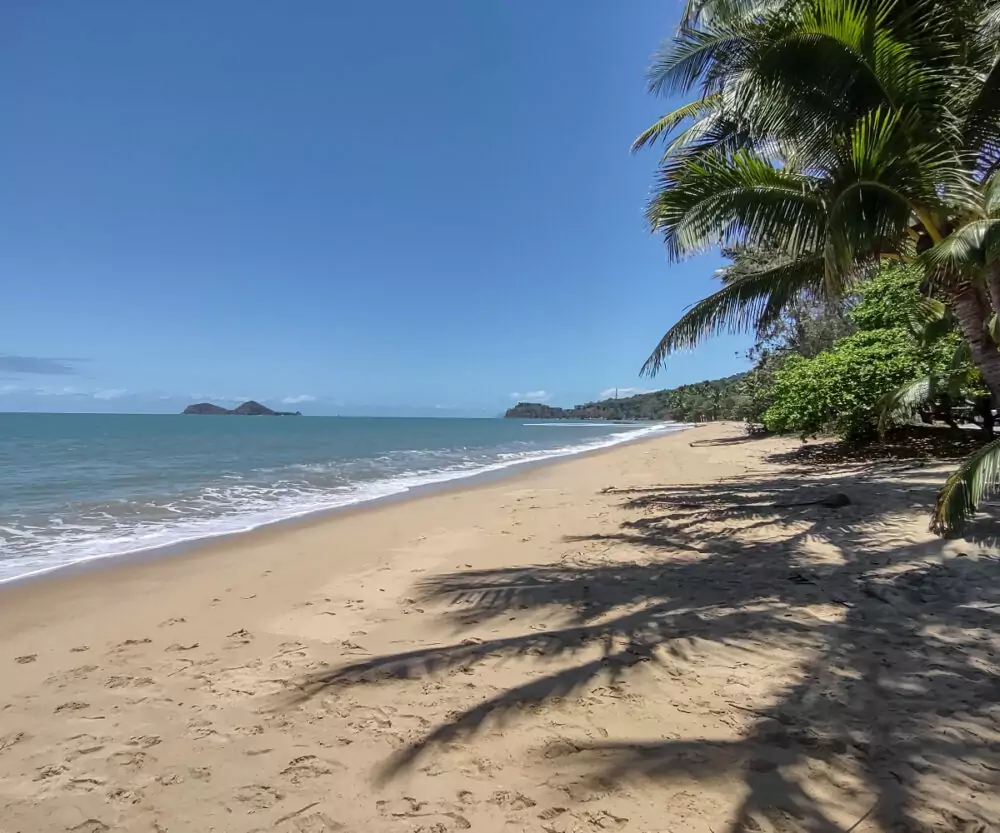 So, on a hot, tropical day what to do to cool off? If you really want a beach you can drive a little way north of central Cairns, there are plenty of beautiful beaches between Cairns CBD and Port Douglas, many with stinger nets to keep you safe.
The best options for getting wet, we think, are The Lagoon, Muddies and Sugar World if you want to stay close to Cairns City. For more on local beaches, visit this post. Four Mile Beach in Port Douglas, or Palm Cove may be better choices if you'd like to take a beach vacation in this region, plus tour the Daintree Rainforest and see the Great Barrier Reef.
We also have some stunning freshwater swimming holes and waterfalls nearby. Information on these and other swimming spots in and around Cairns.
Is There a Beach in Cairns?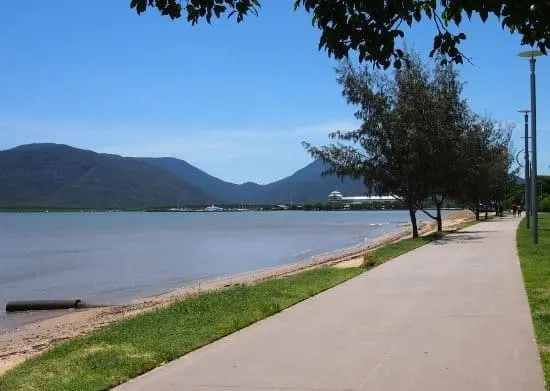 Well, technically I guess you could call this Cairns Beach but other than the annual Ironman event, nobody swims here.
Cairns City beach is at the opening of a muddy estuary and busy harbour.
We also have crocodiles up here so you're much safer using the Cairns Lagoon, below. It's just behind the esplanade with views out to sea and it has sand or grass to sprawl on.
You may as well be at the beach. If you'd like to swim in the sea, with the protection of a swimming net, head north of the city, to the Northern Beaches, Palm Cove, and Port Douglas.
The Lagoon, Cairns Esplanade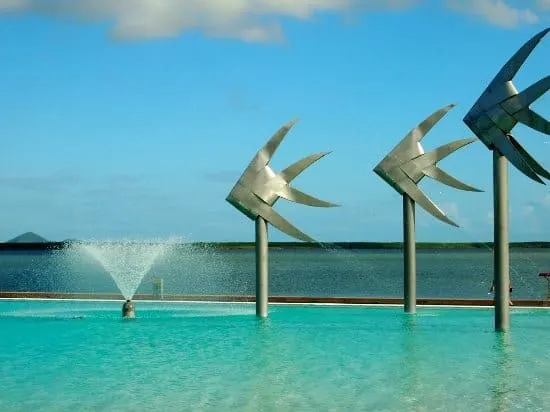 This is fantastic, swimming in Cairns at its finest.
A huge open-air lagoon pool, right on The Cairns Esplanade, with glorious views out to sea. Best of all it's free.
The Lagoon pool slopes off gently from the artificial sandy beaches, making it a safe place for children to play in the shade (so maybe we could say that there is a beach in Cairns).
When you're done with swimming in The Lagoon, knock up a quick lunch on one of the gas barbecues, they are also free.
Changing rooms and showers are free too. You do have to pay for a locker. Sorry about that.
The pool is usually open from around dawn every day except Wednesdays when it opens at noon, there are lifeguards to keep an eye on everybody.
Obviously this could all change at no notice and there are sometimes unexpected closures, so please check the Cairns Council website for their information any special events.
Muddies, Cairns Esplanade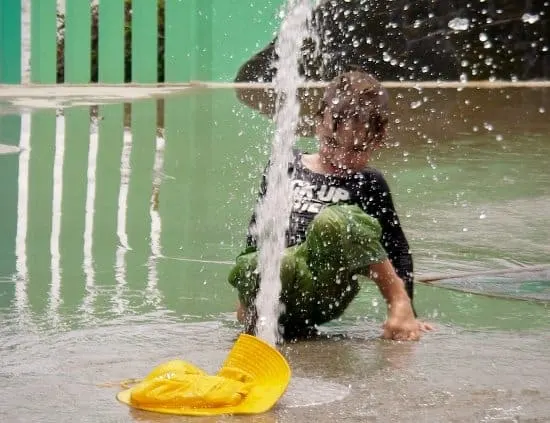 Muddies on The Cairns Esplanade, is a little north of The Lagoon. It's a huge sprawling playground area complete with fountains to splash around in.
It's for kids, but I don't think any grown-ups would get into trouble if they really wanted to get soaked in the water jets. So long as they had children with them. Muddies is free.
There is a cafe on-site as well as more free gas barbecues.
Is There a Water Park in Cairns? Yes, Sugar World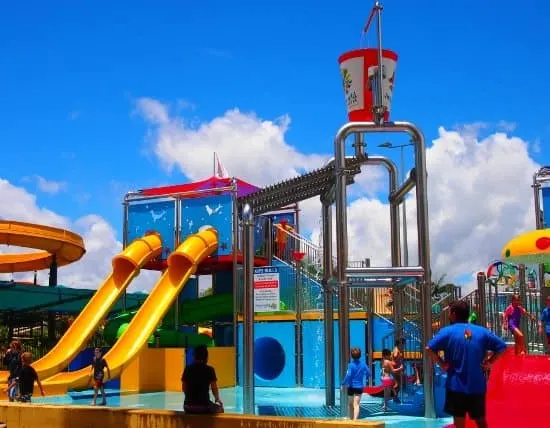 Sugar World is, admittedly, a small water park and it is a fair way out of Cairns, but a water park on a hot day is always welcome and most days are hot up here in the tropics.
Unfortunately, this isn't free, but the price reflects the size of the park, so it's not expensive.
Sugar World is only open on weekends outside of school holidays, which is a shame for homeschoolers.
We enjoyed a great family day out at Sugar World recently, there are only really three big rides but we all had a ball, the children had never seen one of the big water parks, so this place blew them away.
There is plenty to do here for small children, shallow pools and smaller water slides. You'll have to check if Sugar World is open currently on their website, there are planned upgrades and closures in winter 2022.
It's been a long time since we visited this attraction so much may have changed.
Beaches In and Near Cairns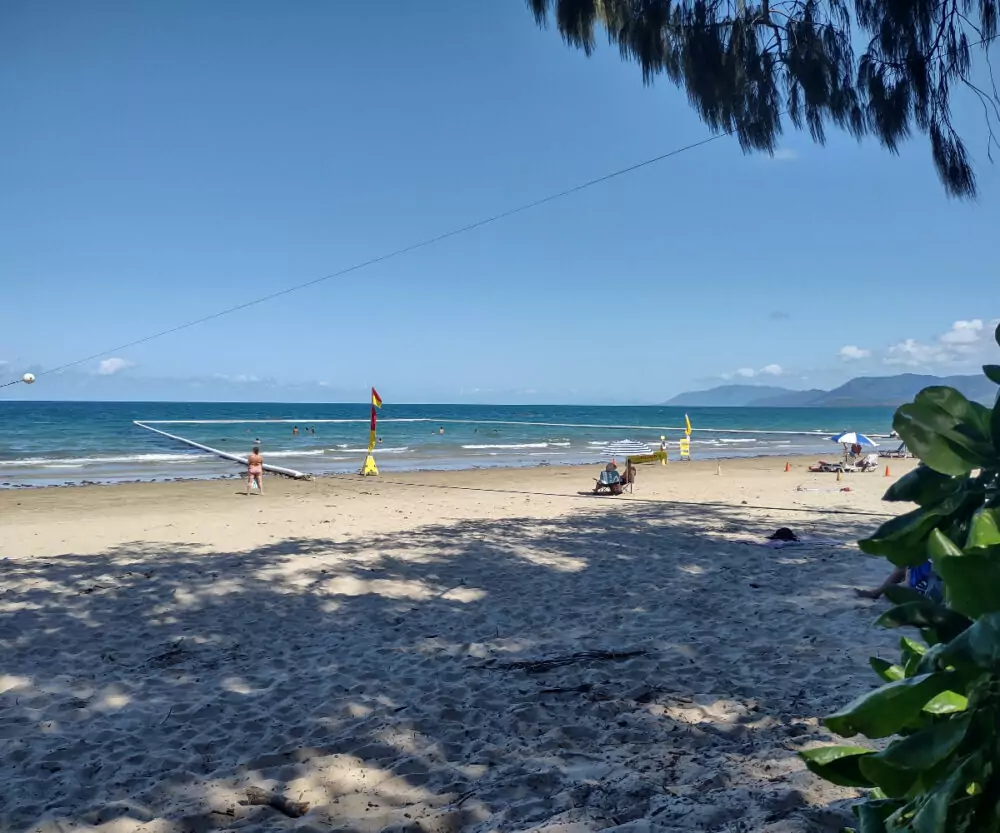 The two beach holiday destinations that compete with Cairns are Port Douglas and Palm Cove, both to the north of Cairns.
Port Douglas has beautiful Four Mile Beach. The drive to Port Douglas from Cairns is about an hour. Port Douglas Beach has a swimming enclosure in Stinger Season.
Palm Cove, about 40 mins north of Cairns also has a beautiful beach, with a net.
Most of the Cairns beaches, the Northern Beaches, do have stinger nets. These are Machans Beach, Holloways Beach, Yorkey's Knob Beach, Trinity Beach, Kewarra Beach, and then Palm Cove.
Between Palm Cove and Port Douglas you'll find Ellis Beach, Wangetti Beach, Pretty Beach, Oak Beach, Thalla Beach and Pebbly Beach, and then Port Douglas's Four Mile Beach. There are more beaches north of Port Douglas before the Daintree River, but stinger nets are very few and far between once you pass Port Douglas.
For more information on Cairns, Port Douglas, Northern Beaches, Daintree Village, Daintree Rainforest and the Tablelands, head back to our main Australia index page. We're locals, we know this part of the world well.
If you'd like to hire a car during your stay, use this car rental comparison tool to find the best deal!

We also suggest you take a look at this company to get a quote for all kinds of the more tricky adventure or extended travel insurance.

Try Stayz / VRBO for an alternative way to find rentals on homes/apartments/condos in any country!