This post may contain affiliate links.
We are having a very nice time here in Antigua Guatemala, quietly living our lives for a month. the Guatemalan food culture in Antigua is very different to what we're used to on the backpacker trail in Asia. For some reason we expected everywhere to have plenty of inexpensive eating options, it's not really the case here. So lets talk a bit about food and where to eat in Antigua.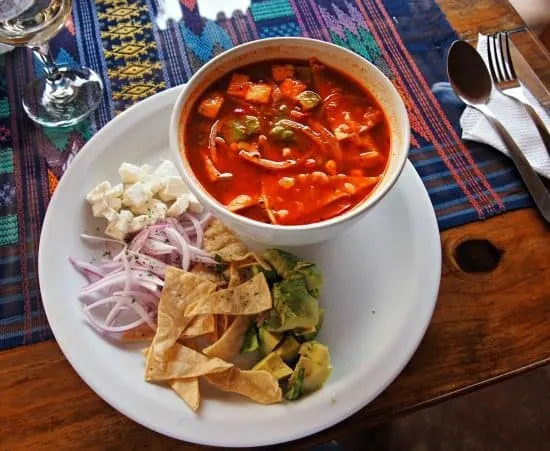 When we first arrived in El Salvador the Central American staples of beans and corn were new and fairly exciting to us, but 6 weeks down the line we're struggling a little. Struggling to find restaurants or places to eat that we can afford, as well as struggling to find variety.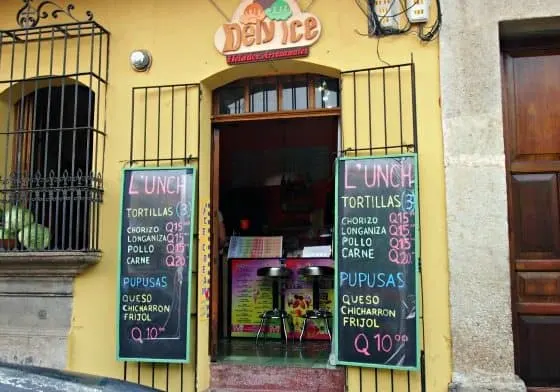 Financial necessity keeps me cooking at our rented villa, the Antigua market is great for fresh fruit and veg but I LOVE to eat out.
I love being out there, watching the world go by and trying the local foods of the region. Sitting at home isn't for me.
We're managing to eat dinner in a restaurant just once or twice a week, each time costing us $40 to $50. It's a delicious and lovely treat, but we certainly couldn't do it every day here. For the last 9 months in Asia we've eaten out 3 times a day, every day near enough. I miss it!
Budget Options For Food in Antigua
Where to eat in Antigua Guatemala? These are the local food options.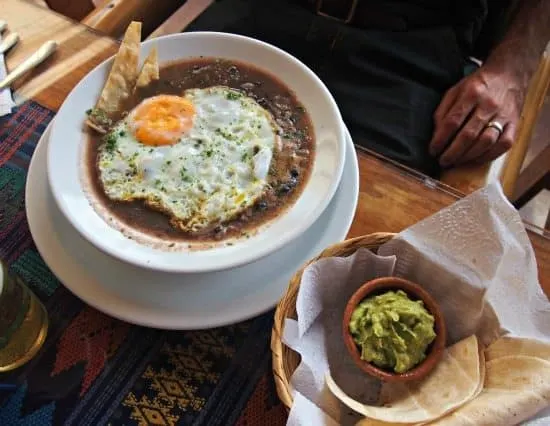 Self Catering
There are plenty of beautiful villas to rent in Antigua at very good prices for a long stay. We have a small, but well-appointed kitchen here and we've been enjoying whipping up guacamole and fruit smoothies, but we need to get out! There is a small supermarket in town and a huge fresh produce market, shopping is fun and easy.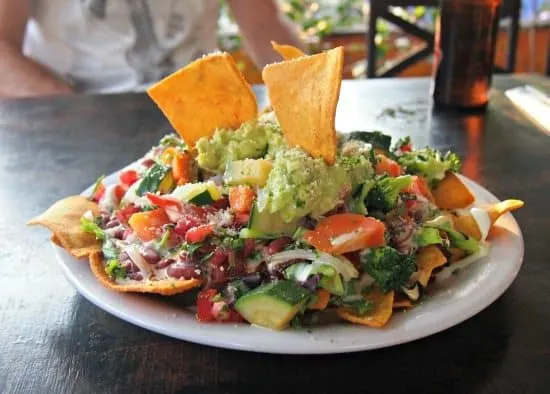 The Market
Towards the back of the Antigua produce market there is a large food court. As you enter the labyrinth vendors accost you with rapid fire Spanish, everyone wants you to eat at their stall. I'm finding it really easy to pick up the Spanish, particularly the food words, so don't worry too much about coming here if you don't speak the lingo.
The Guatemalan food we have tried here has been good, soups, beans and eggs, black corn tortillas freshly cooked, but there isn't much variety. There would be a lot more choice for meat fans, fried chicken is everywhere. We have paid around 20Q, $3/head for fairly large meals for lunch.
Small Restaurants.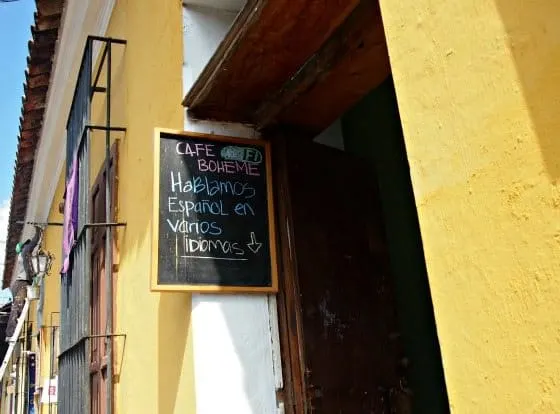 There are some but not as many as there are up-market restaurants. We have tried a couple of restaurants selling tacos, burritos, pupusas, and nachos, the usual Central American menu.
We quite often find that these places are shut when we walk down to town, it's a bit unpredictable.
We found a nice little place this morning for breakfast, Cafe Boheme, 25Q ($3.60 AU) for eggs, beans, cheese, bread and coffee, not bad value. The fancy cafes and coffee shops around Central Park are more expensive.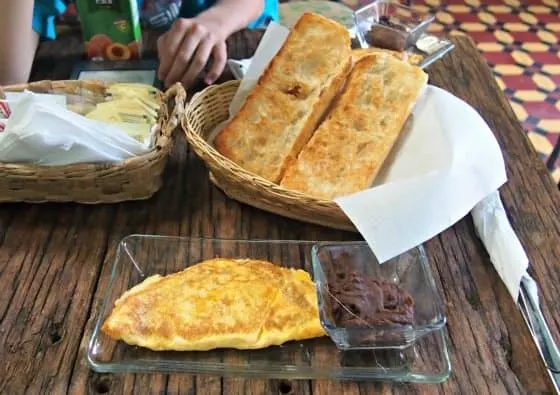 Junk Food
There is Mc Donalds, Burger King, Pollo Campero, pizza places, all the usual suspects and fast food restaurants in Antigua.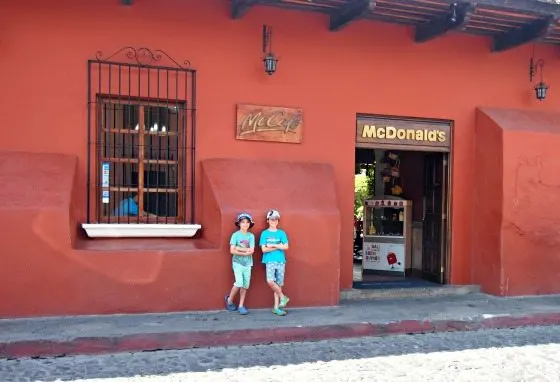 We love the way the fast food restaurants are hidden inside old buildings in Antigua, you'd never know they were there. Mc Donalds has a lovely courtyard out the back and a small kids' playground, under 8s only.
Street Vendors and Strret Food in Antigua
Watch out for the women with cloth-covered baskets, ceviche stalls and juice stands. They have all sorts of goodies for sale. These would be our top tip for eating on a budget in Antigua.
We're not so keen on eating as we walk or sitting on the kerb, or we'd use them more often.
When there has been an Easter procession event the street food vendors have been out in force, we found a lot more street food in the festival atmosphere. The kids loved the meat on a stick and roasted broad beans with a squeeze of orange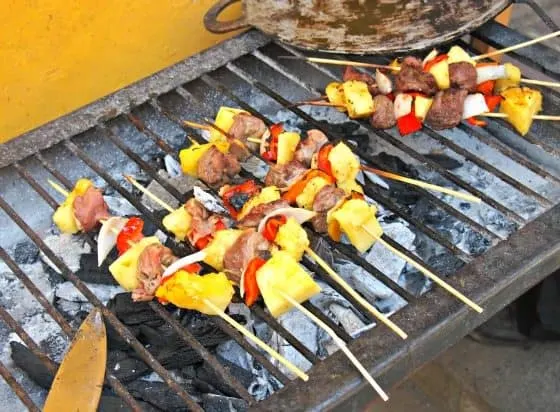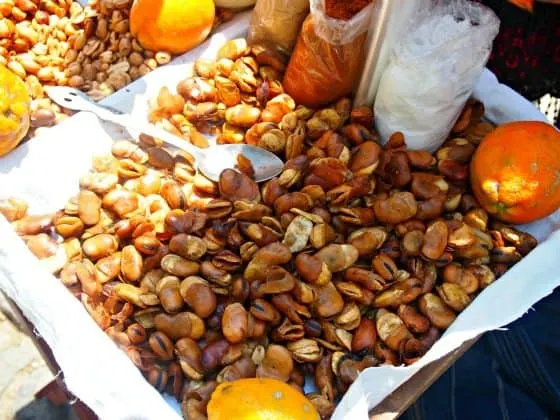 Upmarket Dining in Antigua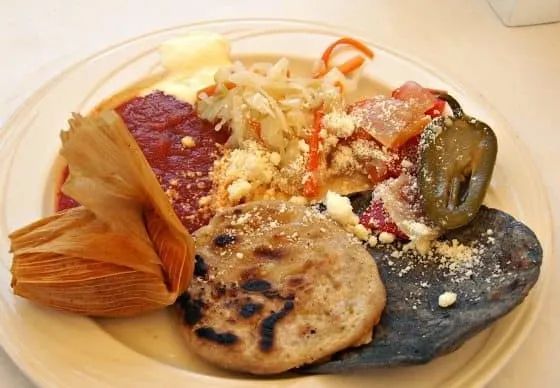 There are endless restaurants here serving every sort of cuisine. Steak houses, sushi, Indian, Thai, crepes, even some Central American. If you came here with plenty of money you'd have a wonderful time trying them all. Some restaurants even have armed guards on the door, I guess to protect wealthy customers.
We particularly like Casa Santo Domingo. Free shuttle buses run up the hill to the restaurant. The Sunday morning bunch buffet is delicious, featuring regional specialities rather than international breakfast fare. This place is more than a restaurant, it's a destination, you'll find a kids' playground. art installations a zip line course and incredible views at the top of the hill.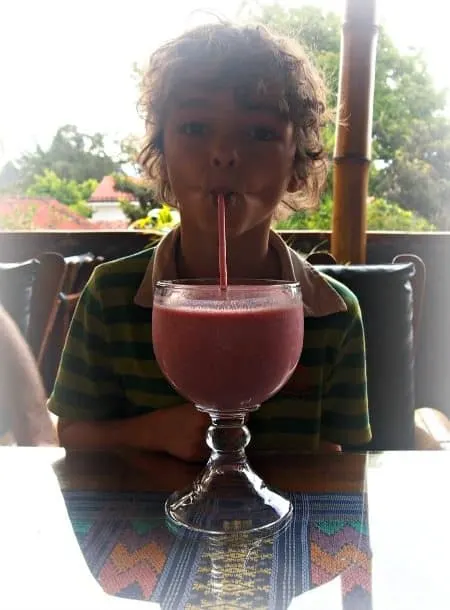 Another favourite is Sky Cafe. The portions here are vast, so we manage with two shared mains between four. Even then it puts a dent in our pockets. Cafe Sky has a wonderful roof top terrace with views of Antigua and the volcanoes, I'd eat here every day if we could, the food and service are excellent.
You can save this to Pinterest!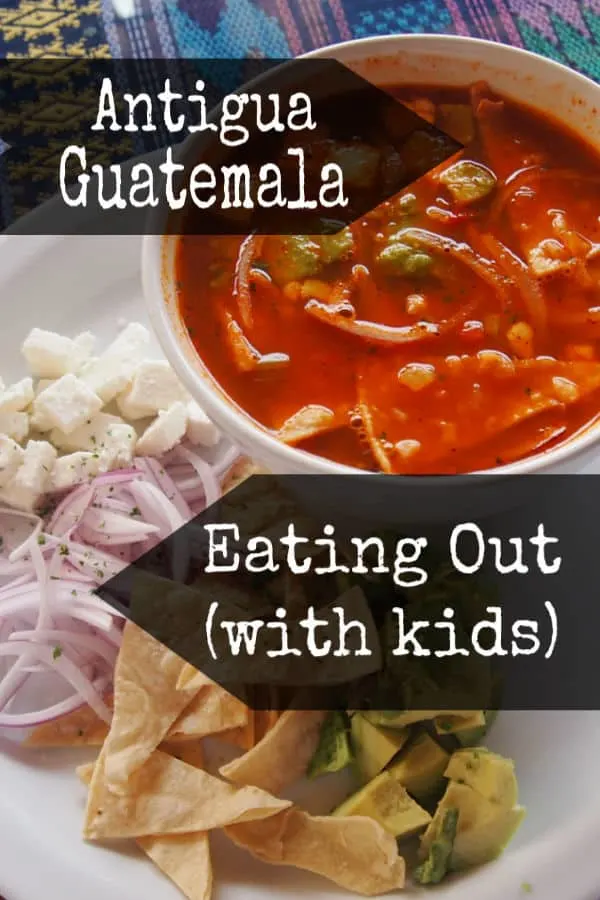 So, yes, it's an interesting culinary experience, a good one. I never knew there were so many ways of serving beans and corn.
Refried beans and guacamole will certainly be featuring on our menu back home in Australia after this experience and we're all a lot slenderer and healthier after our junk food fest on our USA road trip. But I could murder a Sri Lankan breakfast, a Thai curry or some great southern Indian food !
Back to the Guatemala Travel Blog round up page
If you'd like to hire a car during your stay, use this car rental comparison tool to find the best deal!

We also suggest you take a look at this company to get a quote for all kinds of the more tricky adventure or extended travel insurance.

Try Stayz / VRBO for an alternative way to find rentals on homes/apartments/condos in any country!