There are two sides to Niagara Falls. No, not the US side and the Canada side. I mean the "Gosh isn't nature amazing!" side and the crazy fun side. We enjoyed both, although the crazy fun side of Niagara falls, Clifton Hill, came as a complete surprise to us, we weren't expecting that at all.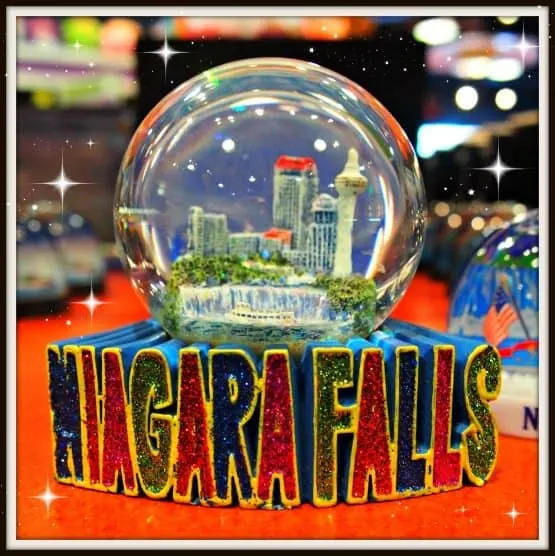 We could have handled it in one of two ways, stuck our noses in the air and tutted at the blatant commercialism or do as we did, get stuck in and have a really good fun at Niagara Falls.
Clifton Hill, Fun at Niagara Falls
There are loads of attractions to see on Clifton Hill and it's a great place to visit with kids. Here are a few of the things to do on Clifton Hill that we enjoyed as a family.
Things To Do on Clifton Hill
After a totally awe-inspiring and slightly terrifying ride on the Niagara Sky Wheel ( click the link to see the pics, just WOW!) we got stuck into some slightly different attractions on Clifton Hill.
Temperatures in Niagara in January (winter) were well below freezing so we kicked off with some indoor mini-golf.
Not just any mini golf, glow-in-the-dark mini golf. After all the mini golf practice we had on our Atlantic Crossing cruise the kids whizzed around like pros and loved the glow-in-the-dark concept. I don't think they'd ever experienced anything like that before.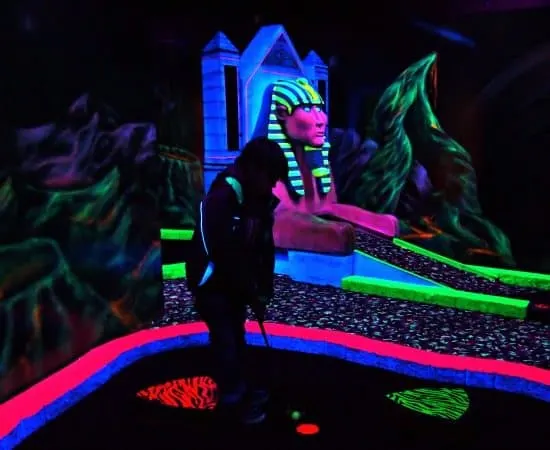 Next stop was the huge, indoor Canada's Midway amusement arcade, this one took us right back to Barry Island, the kids couldn't get enough of the arcades there and this one was much bigger.
We played about feeding tokens into machines for a while before trying the two big indoor attractions.
First up, a ride that crossed a ghost train with a target shooting ride ( similar to our favourite ride at Legoland Malaysia) with the added bonus of the boys' new favourite, glow-in-the dark. Chef and I get very competitive on these things. He beat me this time, I accepted defeat graciously.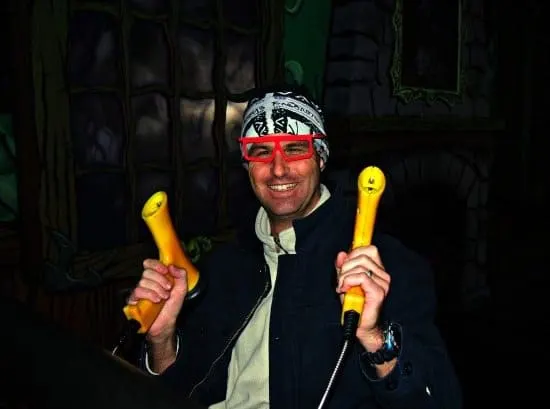 Our final fun of the afternoon and one that had all four of us laughing and screaming out-loud was the 5D Cinema ride. I won't spoil the surprise, but it was really good fun being part of the action on screen.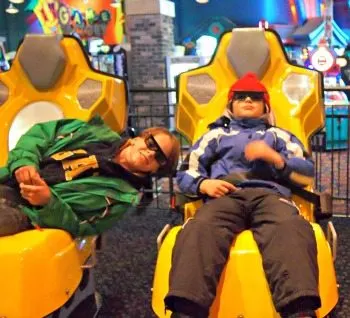 The last stop of the afternoon was the wax museum, Movieland, next door. It was WAY better than we expected. OK, so the likenesses weren't great, but we had such a good laugh.
The kids recognised all sorts of characters, from Michael Jackson to Darth Vader. There was no mistaking this family.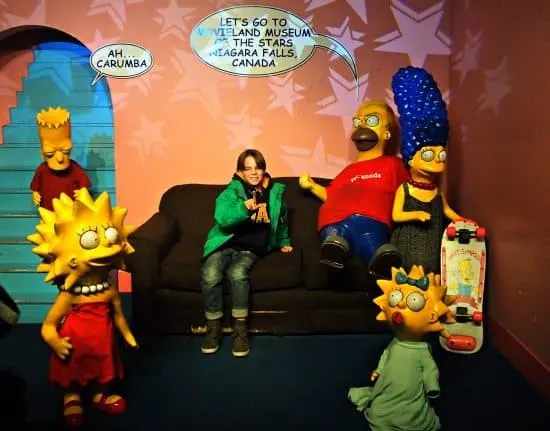 There was a scary horror walk towards the end, Chef took it on, we 3 stayed out and screamed a bit at the noises we heard.
What a lovely change! Clifton Hill was something different and totally good fun for all four of us. You can buy tickets individually or as a bundle with a Clifton Hill fun pass, it includes the Sky Wheel which we highly recommend.
There are loads of other attractions on the Canada side of Niagara falls to try, the main street, Clifton Hill looks like this.
Things to do on Clifton Hill? Book the 6 Attraction Fun Pass Here (Including the Sky Wheel). Alternatively, book your Niagara Falls boat tour here.
Yes, took us by surprise too!
Where To Stay Near Clifton Hill For Families
There are plenty of family-friendly accommodation options near Clifton Hill and Niagara Falls Ontario. One solid choice is The Country Inn and Suites by Radisson, this hotel is also extremely good value and has rooms for families. Enjoy your time at Clifton Hill and at Niagara Falls!
Best fun things to do on Clifton Hill? Book the 6 Attraction Clifton Hill Fun Pass Here (Including the Sky Wheel). Alternatively, book your Niagara Falls boat tour here.
Visiting Niagara Falls and Clifton Hill in Winter
Winter, we thought, was a great time to see Niagara Falls and Clifton Hill. There was snow on the ground and Niagara Falls was all but frozen solid. It was very cold, but we were still able to enjoy the indoor fun attractions on Clifton Hill and the Sky Wheel. We found cosy places to eat and try Canadian speciality foods like poutine. We had a great time at Clifton Hill and we hope you do too. It would be great to see Niagara Falls in summer too, and take that famous boat ride into the mists of the falls. Look out for special Christmas and Holiday things to do at Clifton Hill. Check those out here.
We're really disappointed we couldn't get further into Canada and have a good look around, but we learned a few facts about Canada in our short time there and really enjoyed Clifton Hill and Niagara Falls from the Ontario side. I didn't see my moose, but time is short, we have to be in New York tomorrow and in Florida in just 3 weeks. This is quite the road trip, Canada to the keys. We'll be back!
If you'd like to hire a car during your stay, use this car rental comparison tool to find the best deal!

We also suggest you take a look at this company to get a quote for all kinds of travel insurance.

Try Stayz / VRBO for an alternative way to find rentals on homes/apartments/condos in any country!